Del Castillo Named First-Team Academic All-American
CORAL GABLES, Fla. – The University of Miami's Christian Del Castillo was recognized for his excellence on the field and in the classroom, earning a CoSIDA Academic All-America distinction, as announced Thursday by the College Sports Information Directors of America (CoSIDA).
Del Castillo was one of 12 student-athletes named to the NCAA Division I CoSIDA Academic All-America First Team. The 12 members of the first team have an average GPA of 3.75.
The Miami native was an offensive force in his debut season with Miami, earning a spot on the ABCA/Rawlings NCAA Div. I Southeast All-Region Second Team. The outfielder earned All-ACC second-team recognition after being Miami's top hitter in 2021. Del Castillo, who transferred to Miami after graduating from Seton Hall, paced the Canes with 73 hits, a .439 on-base percentage and a .369 batting average.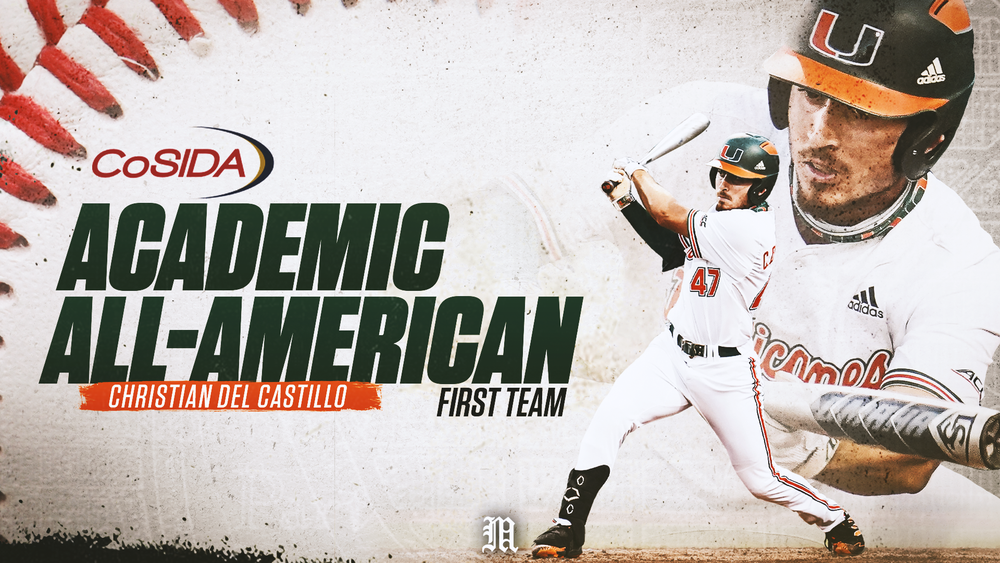 Del Castillo's 40 RBI and 11 doubles ranked second-most on the team. He led the Hurricanes with 23 multi-hit games and his 10 multi-RBI performances are second on the 2021 team. Del Castillo stole seven bases and posted a .934 OPS while starting all 54 games in 2021.
An outstanding student, Del Castillo earned his master's degree in biochemistry and molecular biology. He was twice named to the Athletic Director's Honor Roll and the Book Buster Club, while receiving two Graduate Awards of Academic Merit. The 2021 Miami baseball team MVP and Rookie of the Year was also named to the ACC Honor Roll and tapped into the Omicron Delta Kappa Leadership Honor Society. He was previously named to the CoSIDA Academic All-District First Team.
Del Castillo is the first Hurricane baseball player to be named an Academic All-American since infielder Jim Burt Jr. was selected to the second team in 2004. Right-handed pitcher Alex Santos was Miami baseball's last first-team honoree in 1999.
The complete CoSIDA Academic All-America Teams can be viewed HERE.