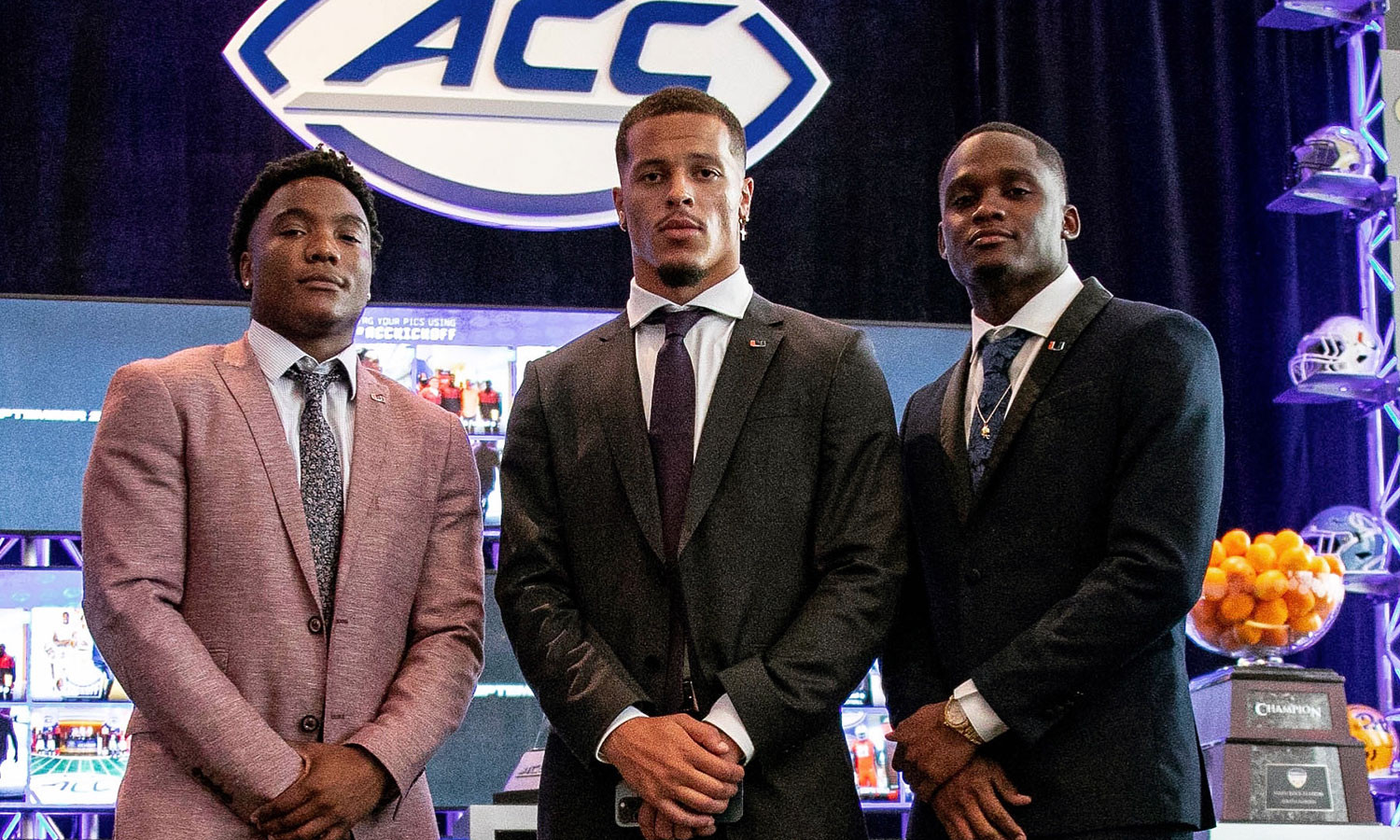 He helped lead the Hurricanes to eight wins during a season unlike any other. Threw for 2,686 yards and rushed for 538 more, a single-season record for any Miami quarterback.
He accounted for 27 touchdowns, earned All-ACC Honorable Mention accolades and was an ambassador for the Hurricanes on and off the field in so many ways.
But that wasn't enough for D'Eriq King, who believed he – and the Hurricanes – could do better.
And so, ahead of last year's finale in the Cheez-It Bowl, King announced his plans to return to Miami for one more season, an opportunity given to him and countless student-athletes across the nation because of the COVID-19 pandemic.
Not long after King's announcement, senior receiver Mike Harley shared that he was returning to Miami for another season, too. Redshirt junior safety Bubba Bolden decided to stay as well. So did junior defensive tackle Nesta Silvera.
And all of that, Hurricanes head coach Manny Diaz said, created a movement.
"Guys that are experienced came back for the right reasons," Diaz said Wednesday in Charlotte at this year's ACC Kickoff event. "They want to see Miami win and they want to set an example for the younger guys coming into our program, which to me at Miami, we've not always had. We've not always had really strong, veteran leadership that's been around long enough to influence our recruiting classes. I think with the senior class, the super senior class that we have, they can help not just transform Miami [in] wins and losses this year, but actually going forward."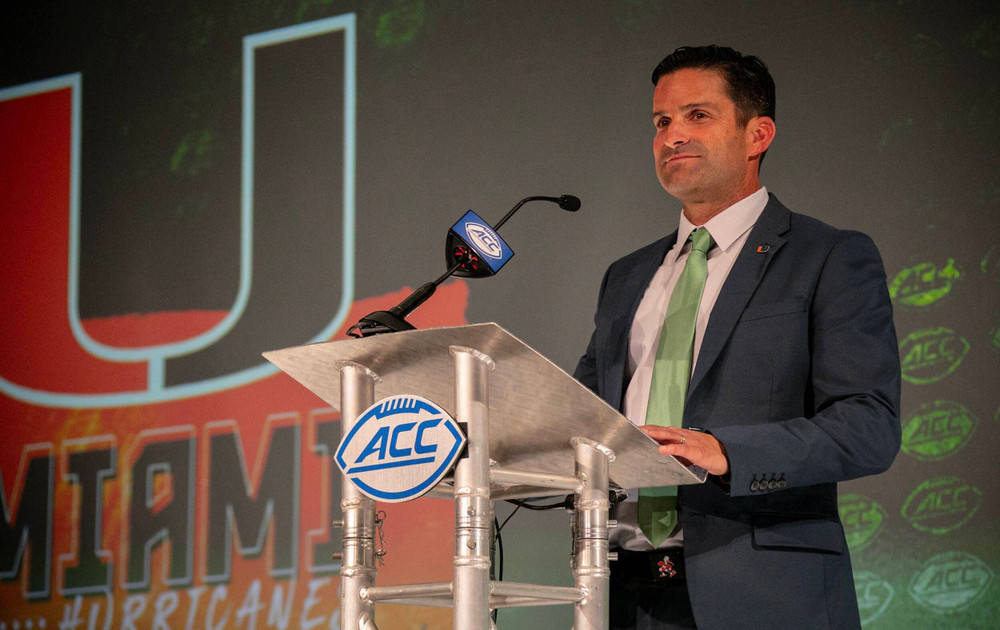 Added King, "Me coming back, it was an easy decision. Being [the] starting quarterback at the University of Miami is pretty big, right? I love the University of Miami [and] my teammates. Last year, I feel like we had a decent year, a good year, but it wasn't our standard, right? This year, we all wanted to come back. A lot of us decided to come back and try to reach our standard and try to do everything the right way. Not having an offseason [program] last year, going through the whole COVID season, I want to give my all to the University. I want to see the University win. That's why I decided to come back."
Having King, Harley and Bolden back will, no doubt, be a significant boon for the Hurricanes, who will open their season in Atlanta on Sept. 4 against defending national champion Alabama in the Chick-fil-A Kickoff.
Harley led Miami's receiving corps with 57 catches for 799 yards and seven touchdowns last year. He also finished as the Hurricanes' leader in all-purpose yards with 1,040.
Bolden, meanwhile, led the Miami defense with a team-high 74 tackles. He also broke up three passes, had 6.5 tackles for loss, a sack, an interception and forced four fumbles  – all of which helped him earn a spot on the preseason watch list for the 2021 Chuck Bednarik Award, which is given annually to the nation's top defensive player.
While Miami's veteran trio will no doubt have an impact on the field, it's what they can do in the locker room that could be even bigger.
And none of them are shying away from the responsibility that comes with being among the older players on the roster.
"I kind of keep the main thing, the main thing. Come to workouts, do all the things right, the little things right. Keep my locker room clean, show up on time to practice [and] meetings. It's going to translate to the field," Harley said. "This team in general, like Coach Diaz said, we just don't do it, we love it. When it comes to a sprint, being the first, showing the young guys the way, with me, I just want to be like that leader that the young guys never had; a big brother the young guys never had, to the receiver room and to this team."
Said Bolden, "We all came back for a reason. We want to win."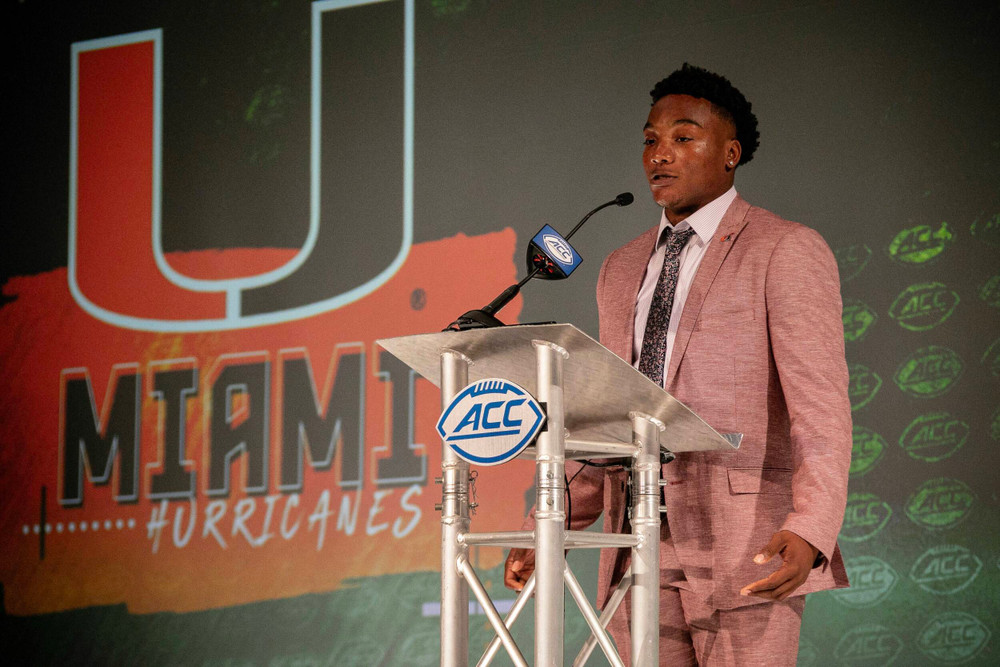 Here, a few more highlights from the Hurricanes' ACC Kickoff appearance in Charlotte on Wednesday:
♦ King, who tore his ACL in the bowl game, told the ACC Network that he was "feeling great" as he continues his recovery and rehabilitative work ahead of the start of preseason camp.
"The trainers and physical therapists that worked with me had a really good plan for me and I've just been following it to the 'T,'" King said. "I feel pretty good. Still taking it day-by-day. I feel great right now."
Though King did not participate in Miami's spring drills earlier this year, he made it a point to stay connected with his teammates as much as possible.
The quarterback called the plays during the final quarter of Miami's spring game and was a regular presence on the sideline at practice. And even during some of the toughest moments of his recovery, he still made time to work with his receivers.
"Yeah, the chemistry, it never stopped. Even though he got injured, he's been rehabbing. I've been with him. He'll be sitting down on the bench, throw a tennis ball at me, football at me, just get the younger guys going every day," Harley said. "He's back on his feet now, running, dropping, doing steps and everything. We've just been consistent ever since day one."
♦ Earlier this year, Diaz announced he would resume playcalling duties for Miami's defense and on Wednesday, he spoke to the man who initially brought him to Miami about why that was important to him.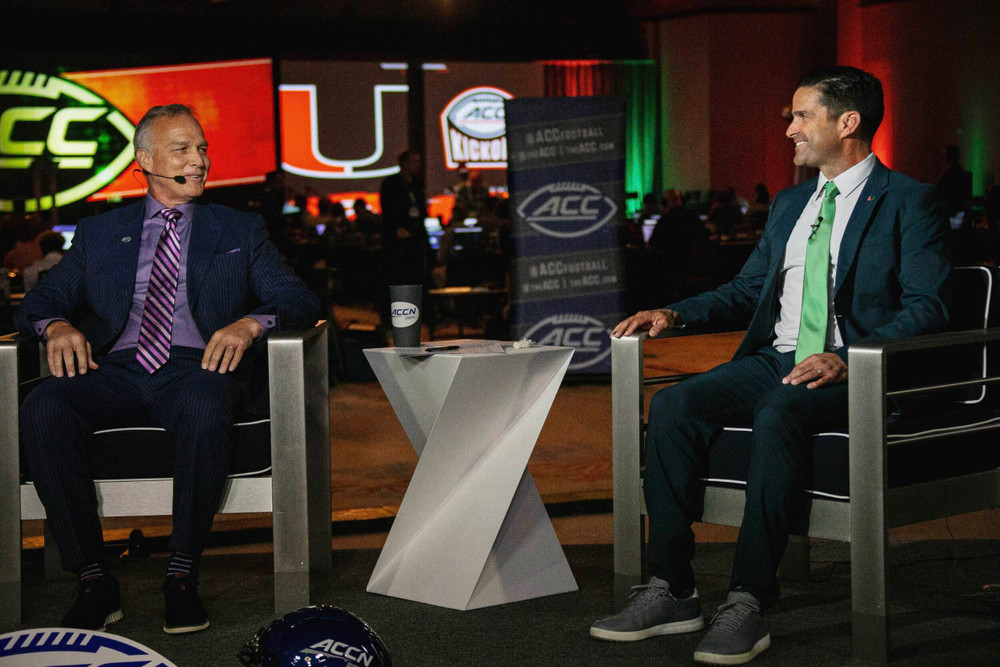 "I heard you say this one time: you get to compete again at practice. When you're a head coach and something good happens, something bad is happening to the other side of the ball. To be able to get back in there and compete with the kids, I think there's a juice that comes with that," Diaz said during an ACC Network interview with former Hurricanes coach Mark Richt, who hired Diaz as his defensive coordinator at Miami in 2016. "Having a guy like Rhett Lashlee – who I can trust to run the offense – and we have a very experienced team where I don't have to worry about the guys thinking 'Oh, that's not our head coach. He's only for the defensive guys'…It was the right time to do it."
♦ The Hurricanes know they'll face a challenge in replacing NFL-bound defensive ends Jaelan Phillips and Quincy Roche, who combined for 12.5 sacks and 30 tackles for loss last year.
Still, both Diaz and Bolden said they believe new faces will step up and shine in Miami's pass rush – just as others have before them in Diaz's system.
Among the players who could fill those roles? Transfer Deandre Johnson, who had 28 tackles, six tackles for loss and 4.5 sacks in his final year at Tennessee; redshirt freshman Jahfari Harvey, who had 18 tackles, five tackles for loss and 1.5 sacks last season and Zach McCloud, who shifted from linebacker to end earlier this year.
"We've done this before. You saw it when you were the head coach," Diaz said during his conversation with Richt. "We lost some great defensive ends, whether it was Chad Thomas and then Joe Jackson and [then] Jonathan Garvin. This time last year, no one knew who Jaelan Phillips was going to be. How do you replace Greg Rousseau? I think our guys take a lot of pride in who's going to be the next defensive end. And what I enjoy as the head coach and also [being] the playcaller and coordinator, is when we spread the wealth, we don't really depend on one guy to get all the sacks. We like being a high-volume, TFL, sack unit but with a lot of guys sharing in that production."
Said Bolden, "That's one thing we produce at the University of Miami, defensive ends. We lose two guys, but two new guys are going to step up. We've got Jahfari Harvey, Zach McCloud, Deandre. New guys will step up to the plate. You've also got linebackers. Every player on the team can get to the quarterback somehow, some way. That's the way we play our defense, the play calls that Coach Diaz calls. Somehow, some way, we'll get to the quarterback."