Hurricanes Anticipating MLB Draft
CORAL GABLES, Fla. – The University of Miami baseball program will look to continue its pipeline to the pros with this week's 2021 Major League Baseball First-Year Player Draft.
Miami has several MLB Draft prospects in the 2021 pool, led by top-100 catcher Adrian Del Castillo. Several Hurricanes will hear their names called over the three-day, 20-round MLB Draft set to begin at 7 p.m. Sunday with the first round and the initial set of competitive balance selections.
The first day of the draft will be televised on ESPN and MLB Network. Rounds 2-10, plus the second set of competitive balance selections, take place starting at 1 p.m. Monday, while Rounds 11-20 are on Tuesday beginning at noon. MLB Network will televise the second round of the draft and all three days will be streamed on MLB.com.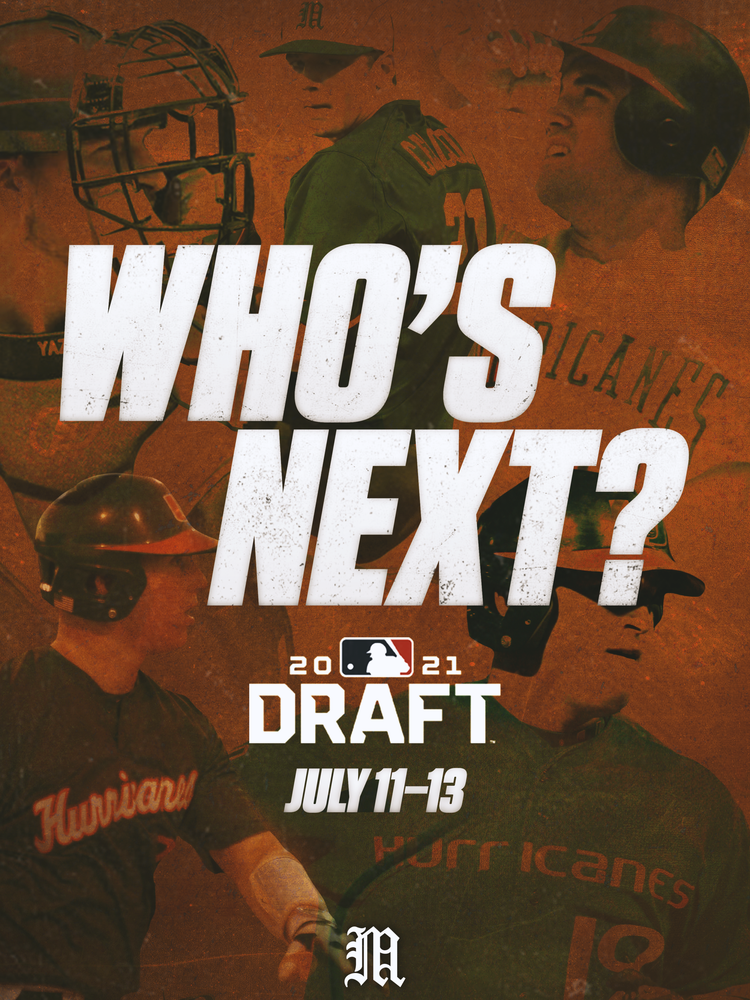 Miami baseball has produced 298 MLB draft picks all-time, which is the most of any school in the ACC. A year ago, Slade Cecconi became the 29th Hurricane selected in the first round of an MLB Draft when the right-handed pitcher was taken with the 33rd overall pick by the Arizona Diamondbacks.
The Hurricanes have produced 88 selections within the top five rounds of the draft, including three a year ago. Cecconi, right-hander Chris McMahon (2nd round, Colorado) and shortstop Freddy Zamora (2nd round, Milwaukee) are the most recent Hurricanes to be drafted into professional baseball after being selected in the shortened five-round 2020 MLB Draft last June.
The 2021 MLB First-Year Player Draft will take place on July 11–13, in Denver, Colorado, in conjunction with the 2021 MLB All-Star Game on July 13.