Ready for Life in the NFL
CORAL GABLES, Fla. – For Greg Rousseau, being back at Paradise Camp seemed almost surreal.
As he made his way around the Carol Soffer Indoor Practice Facility and the Greentree Practice Fields on Saturday night and spoke to countless young football players, he couldn't help but remember how not all that long ago, he'd been in their very same shoes.
In 2017, Rousseau was a wide-eyed camper that attended the all-star recruiting event created by former Hurricanes coach Mark Richt a year earlier.
Then a three-star defensive end prospect at Champagnat Catholic in Hialeah, Rousseau arrived that night hoping to make an impression on Richt, the rest of Miami's coaching staff and some of the Hurricanes legends that were on-hand serving as player-coaches, including Calais Campbell and Vince Wilfork, among others.
Consider that impression made.
Rousseau eventually signed with Miami and in 2019, went on to have one of the most dominant freshman campaigns in program history. That season, he totaled 15.5 sacks and 19.5 tackles for loss, marks which led the ACC and ranked second and ninth among all FBS players, respectively.
He was named a Freshman All-American by several outlets and became just the second Hurricane in program history to earn recognition as the ACC Defensive Rookie of the Year and he was named a first-team All-ACC selection, too.
In April, he was selected in the first round of the NFL Draft by the Buffalo Bills and on Saturday night, he became the first camper to return to Paradise Camp as an NFL player-coach.
His journey as a Hurricane, Rousseau noted, had come full circle.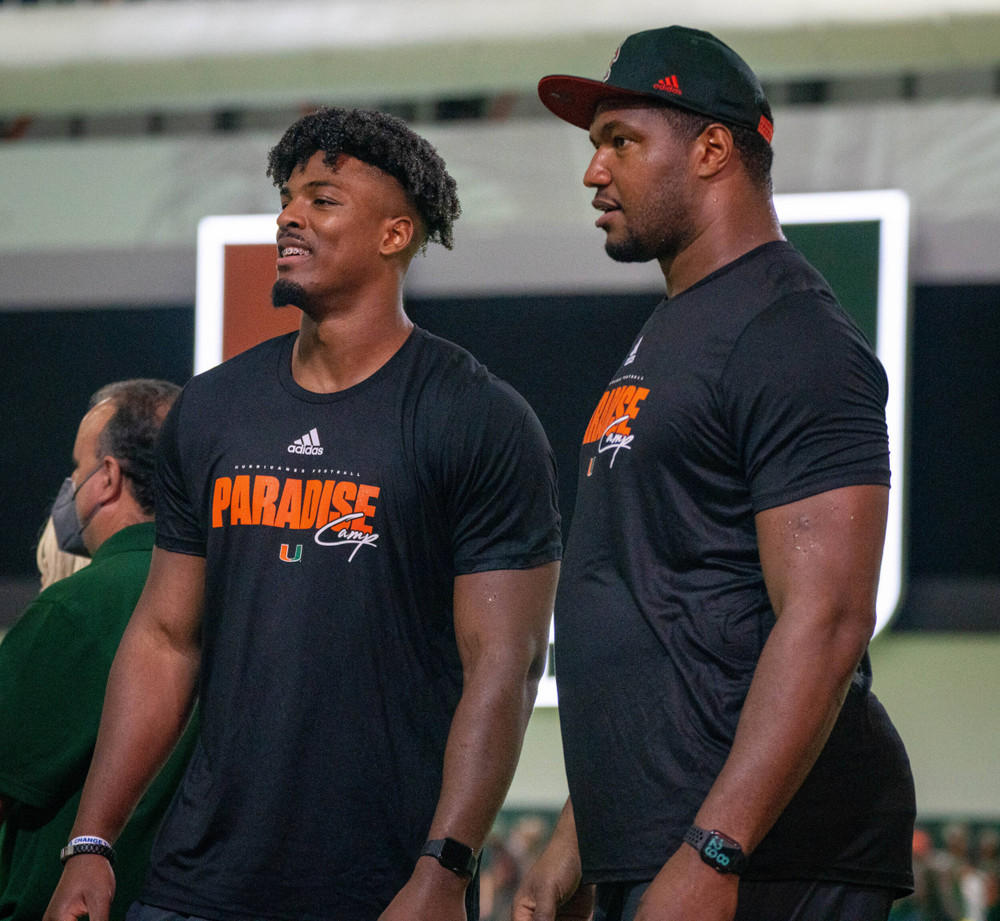 "It's an other-worldly experience listening to these guys when you come to Paradise Camp because that's exactly where you want to be in life," Rousseau said. "You're just looking at it from the outside and you're like, 'Man, maybe someday, I'll be talking to these kids' and now, I'm the one talking to the kids…It's pretty crazy."
Rousseau wasn't the only one of the newest members of Miami's NFL fraternity to be at this year's Paradise Camp.
Former teammate and fellow first-round NFL draft pick Jaelan Phillips, who was selected by the Dolphins, was in attendance, too. So was former Hurricanes kicker Jose Borregales, who signed a free-agent contract with the Super Bowl champion Tampa Bay Buccaneers earlier this year.
The trio haven't played in their first NFL games just yet, but they have gone through their first minicamps and have begun making the adjustment to life as a professional football player.
And while each knows there is still plenty of work to do, there's no doubt they're all still celebrating every step of their respective journeys.
"It's exciting. I still can't believe I'm in the position I'm in," said Phillips, who led the Hurricanes with 15.5 tackles for loss and eight sacks last season and earned first-team All-American honors by the American Football Coaches Association. "It's literally a god-send. I can't even describe it. It's like a movie, the way everything went. Even little things like getting my number. This is the first time linebackers can wear No. 15…It's a blessing and it's so cool to be down here still with the Dolphins."
Added Borregales, "This is something that all of us dreamed of, one day playing [in the NFL] and it's actually happening right in front of our eyes. You take time and you look back at your life, see where you are now and it's a great feeling that you made it this far. But you know the work isn't done yet. It's just going up from there."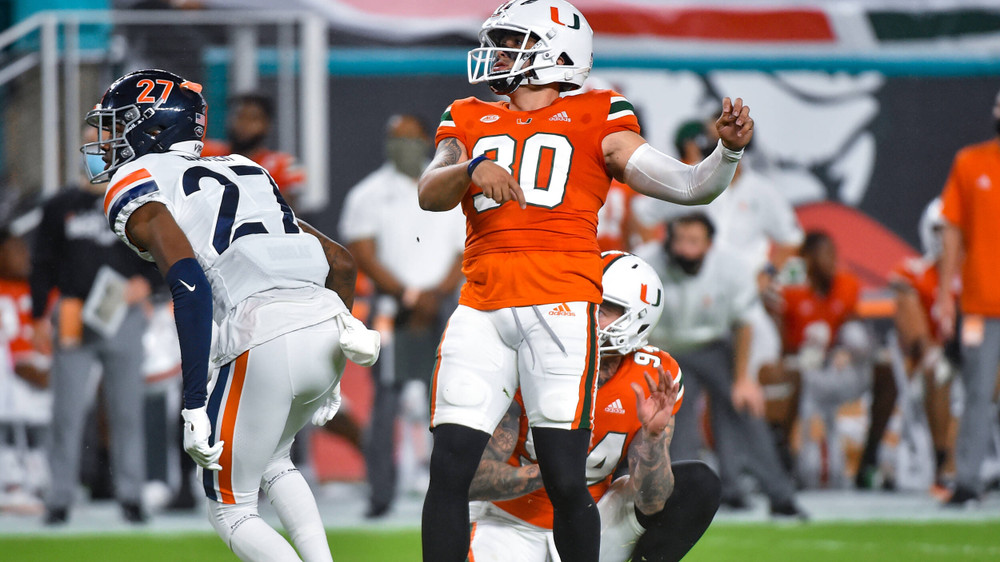 None of them, of course, know how their first seasons in the NFL will unfold, but for Rousseau and Phillips, there is already a big of good-natured back-and-forth, given that the two share a division and will face off against each other at least twice a season.
For Rousseau, playing with the Bills means at least one trip home to Miami a year, while Phillips will get to suit up on a weekly basis at Hard Rock Stadium – the same place he played his final year of college football.
"There is definitely going to be a little friendly competition between us, but it'll be fun," Phillips said. "It's always nice to see familiar faces when you're out there and I'm just so happy for Greg and the situation that he's in."
Said Rousseau, "We're going to have to do a jersey swap, for sure…It's awesome. You know, it was awesome for us as people [to be first-round draft picks], but it's also awesome for the University, to be able to have two first-round picks. That doesn't happen very often. There's so many college teams and for us to be one of the teams to have that happen, especially at the same position, it's a testament to the defense. It's a testament to the coaching, to the training staff, to everybody in this entire building you know, because like me, Jaelan, Jose, Quincy [Roche] and Brevin [Jordan], we didn't do this by ourselves. It's all the people around us, pushing us to be better players, better people. It was everybody in the building…you can't do this by yourself. It's all about hard work, dedication and the people around you. We're super blessed."