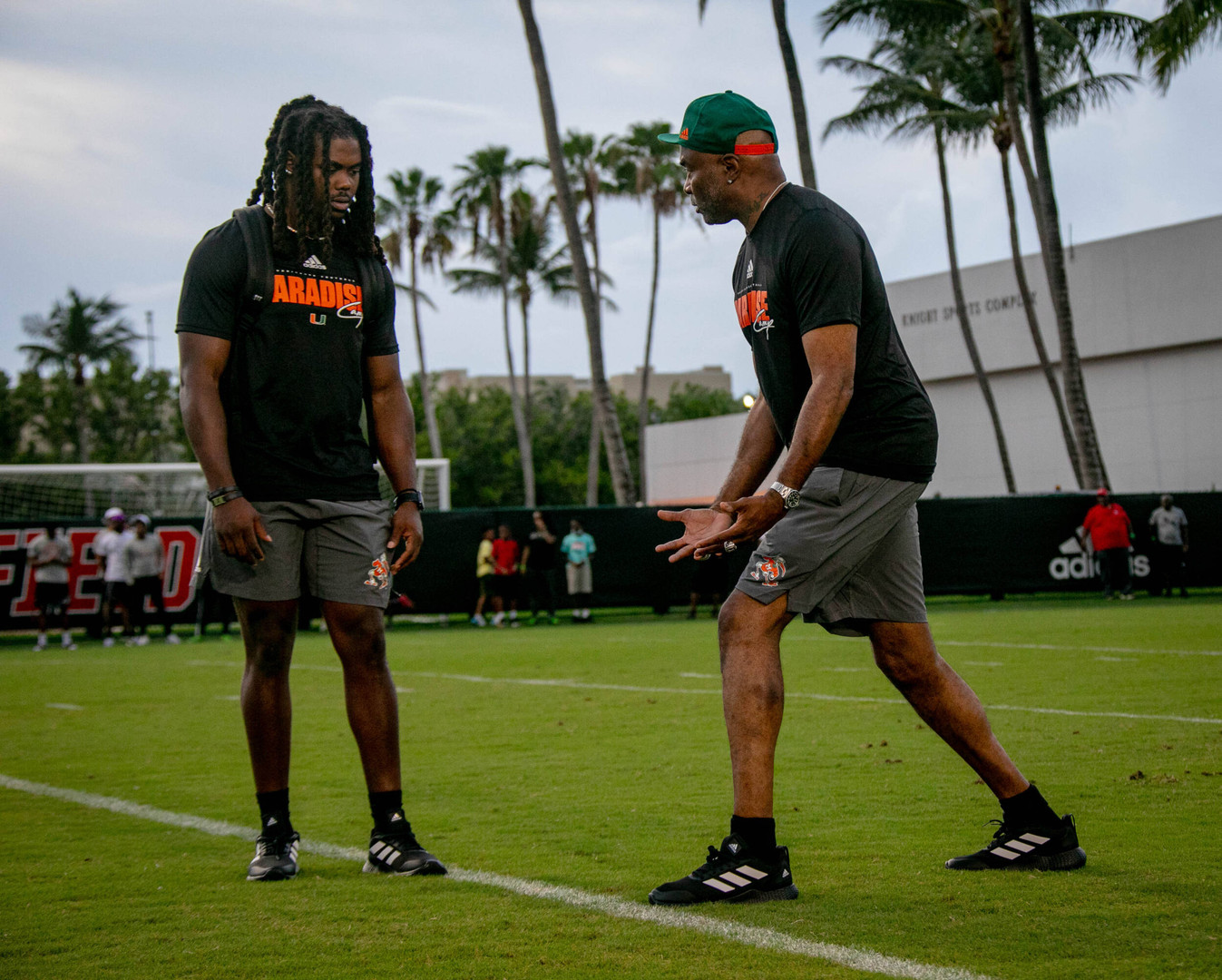 CORAL GABLES, Fla. – On one field, Michael Irvin and Lamar Thomas demonstrated how to run routes. On another, Joaquin Gonzalez and Brett Romberg led offensive linemen through drills.
And at one point in the evening, as young football players milled about, Calais Campbell pulled Greg Rousseau to the side and showed him some of the moves that helped him earn the NFL's Defensive Player of the Year award in 2017. Soon after, Jaelan Phillips joined the conversation.
On Saturday night, nearly two dozen former Hurricanes football stars returned to the Carol Soffer Indoor Practice Facility and the Greentree Practice Fields to participate in one of the more well-known events hosted by the Miami program: Paradise Camp.
For many of them – whether they were an NFL Hall of Famer or a younger alum still playing in the league – the opportunity to be part of Paradise Camp was a no-brainer, their chance to give back to the program they believe changed their lives.
"You come to The U and you'll always have support. It's a deep thing. You will always have support," Irvin said. "All of us showing up all the time, it's important to show whatever kid is thinking about coming here…we want them to know, right here, buddy, you will always have that support and I think that's very important…It's not like a family. We are a family."
Added Gonzalez, "Any excuse to come back to Coral Gables, even though I live in Miami, is always welcome. It's always awesome. To do it under these circumstances, such a beautiful backdrop, all about football and talk to the younger generations, to me, I thoroughly enjoy it, maybe more than the kids do. It's an opportunity."
Irvin, the Hall of Fame receiver who has been at several past Paradise Camps, helped kick off the evening's festivities by addressing a large crowd that included approximately 300 campers, their families and high school coaches.
Behind him, Miami head coach Manny Diaz smiled and an awe-inspiring group of Hurricanes nodded along as Irvin spoke. Among them were Edgerrin James, Lamar Thomas, David Njoku, Calais Campbell, Trent Harris, Ufomba Kamalu, Jon Beason, Sean Spence, Antrel Rolle, Duane Starks, Deon Bush, Kenny Phillips, Sheldrick Redwine, Brian Monroe, Javarris James, Lamar Miller and K.J. Osborn.
Also there were the three newest members of the Hurricanes' NFL fraternity, Jaelan Phillips and Greg Rousseau, who were both first-round picks in this year's draft and kicker Jose Borregales, who signed a free agent contract with the Super Bowl champion Tampa Bay Buccaneers.
While past Paradise Camp events have primarily featured Miami greats who have already completed their careers, Diaz felt it was important to make sure Hurricanes currently still playing in the NFL could share their perspective with the campers in attendance.
"It's really neat. It's fun to have them share the stories of their first minicamps and things like that," Diaz said. "The alumni that were here in the 80s, 90s and early 2000s are awesome. But I do think it's important that our recent alumni feel that you don't have to be 20 years removed to have the pride of the program. To see guys like K.J. Osborn, [Sheldrick] Redwine, Trent Harris here…the more we can do that, the better we all are."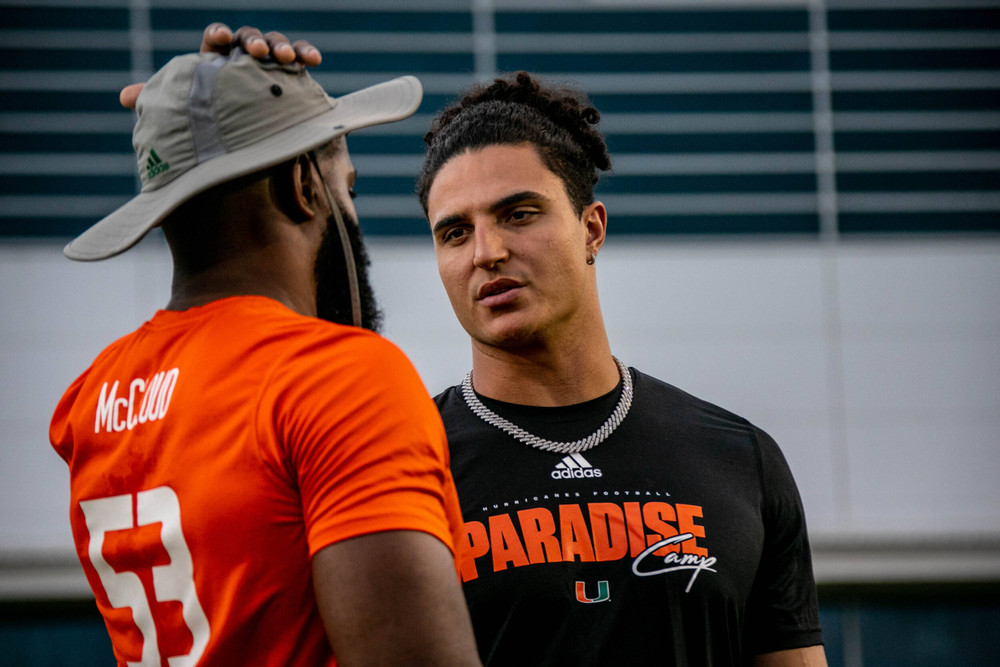 And just like some of the campers competing on Greentree, some of Miami's younger football alums couldn't help but be a little awed themselves at having the chance to catch up with some of the greats who helped make Miami a powerhouse program.
"It's surreal just because I've watched all those guys play, whether it was highlights or actual games. So, them actually knowing my name and you know, having them dap me up, it was crazy. It was exciting, too," Borregales laughed. "I wasn't trying to be starstruck, but I'm this kicker up there with all these d-linemen and these safeties and it was just…it was a good day."
For Rousseau, being a part of this year's Paradise Camp was especially memorable.
Four years ago, he participated in the event as a high school prospect hoping to make an impression on Miami's coaching staff. Saturday night he became the first former camper to return to Paradise as an NFL player-coach.
"It really means everything to me. Just comping from being a recruit, being in their shoes when I came to Paradise Camp and now being able to be blessed where I'm at, it was a wild dream for sure," said Rousseau, who was the Buffalo Bills' top-overall pick in this year's draft. "I'm glad everything worked out the way it did and I'm glad to have been able to have the opportunity to play for Coach Diaz and to learn from the whole entire staff and be a part of this program. It just means something to be part of The U. It's special here. It's different. There's no place like it…and for me tonight, everything came full circle."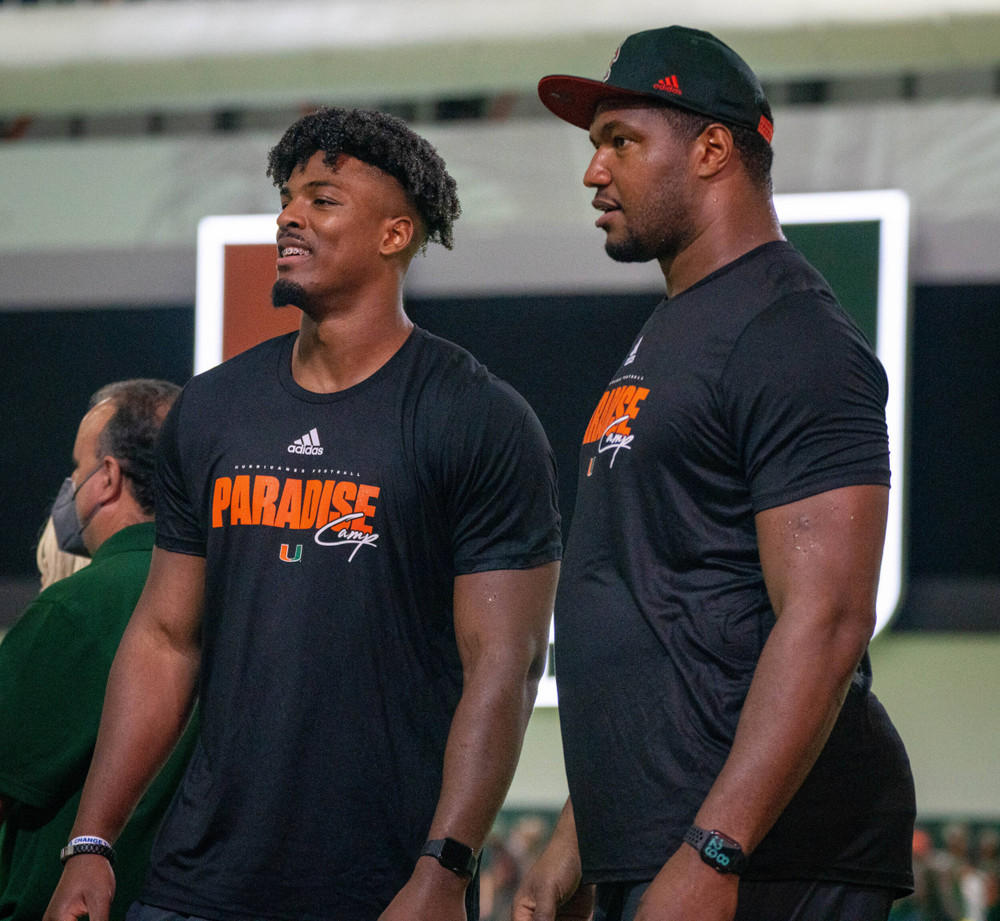 And while every Paradise Camp has had its share of memorable moments, for Diaz and many of the former players in attendance, this year's event felt especially meaningful.
Because of the COVID-19 pandemic, the event was canceled last year. And though they are always welcome in Coral Gables, many alums hadn't been on campus in months. As they saw each other in the hallways of the facility or on the field, hugs were exchanged and laughs were shared.
Saturday night, Diaz said, was an opportunity to re-open Miami's doors not just to potential future Hurricanes, but to the greats who perfected their craft on Greentree and have long called Miami home.
"It's like having our program back. Not being able to have visitors or people coming to our doors, not being able to have our alumni come through here, something has been missing," Diaz said. "I think that connection with our players and our alumni, even the connection with our coaches and our alumni, when we don't have it, you feel like something's missing. I think just seeing it tonight, seeing everybody here tonight, seeing the passion that these guys have for the program, we're able to present a unique experience for our campers, but it's also a unique experience for the people in our program."