Working Together to Fight Injuries
CORAL GABLES, Fla. – It is one of the first places they visit when they become Hurricanes.
After settling into their dorm rooms, getting their schedules, equipment and any gear they may need, Miami's wide-eyed freshmen make their way to the weight room and are, via David Feeley, given their first real taste of college football.
With guidance from Miami's Director of Strength and Conditioning and his staff, the newest Hurricanes are put through a series of rigorous early-morning workouts designed to strengthen not only their minds and bodies, but the bonds they've started forging as teammates.
"It's seeing each other push each other when we're conditioning. Even when we're lifting weights, if it's a max-out day, you see everyone around you screaming, just to make sure you get that weight up or finish that squat," said Hurricanes kicker Andy Borregales. "It brings us all together because we're seeing each other struggle and then gain from that struggle, together, as a team."
All of that, Feeley knows, is essential to making sure the freshman in particular, and the Hurricanes as a whole, are successful once the season begins.
But those first workouts are also an opportunity for him to gauge something just as critical: how ready those players' bodies are to handle the physical challenges that await.
That's why Miami's newest arrivals – whether they're freshmen or transfers – are put through a battery of tests that gauge mobility, strength and stability.
"When those guys first get here and are all screened, every one of those players has an individualized prescription of exercises to work on their deficiencies. If we don't improve how they move, they're going to get hurt. It's just a matter of when it's going to happen," Feeley said. "It could be on the field, in the weight room, on the track, anywhere. But our strength staff has taken everything they've learned and they're able to implement it in real-world scenarios…Every player is worked with and it's on an individual basis."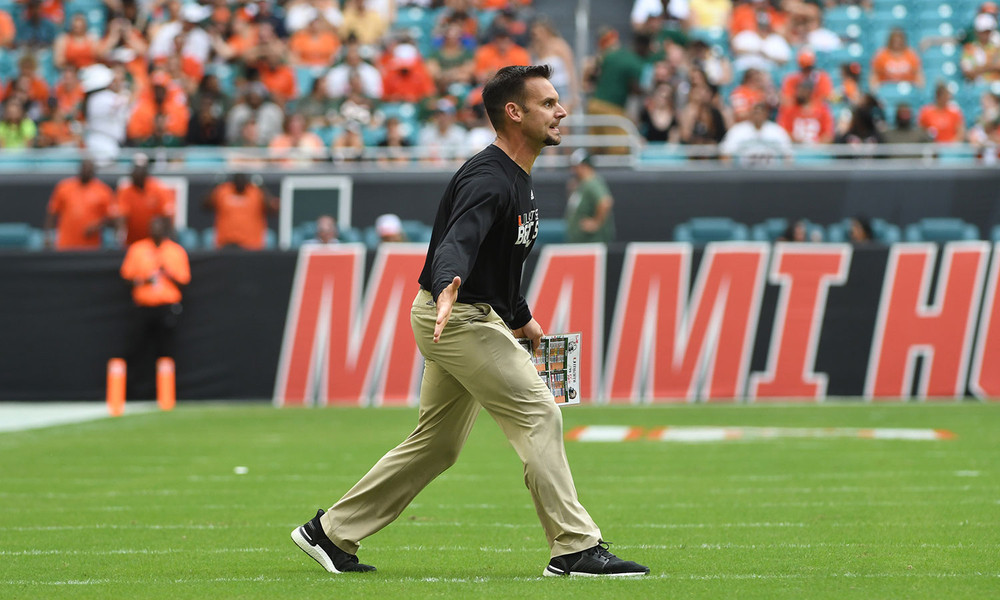 Feeley and the rest of the Hurricanes' strength and conditioning staff, which includes Jordan Barber, Victor Ishmael and Kevin Kroboth, are heavily involved in the testing process, as are Miami's team doctors and members of the Hurricanes' athletic training and physical therapy staffs.
And the initial intake testing isn't the entire extent of it. Once a baseline has been established, Miami football players are tested multiple times a year to see how their bodies are responding to their specialized workouts.
The formula and the Hurricanes' holistic approach to injury prevention – which also includes workload monitoring and management – have paid off, particularly when it comes to reducing the incidence of one of the most common injuries in football.
Over the course of Miami's last two football seasons in 2019 and 2020 – since Feeley and his staff have been at Miami – no Hurricane has missed game time because of a hamstring injury. In contrast, between the 2017 and 2018 football seasons, 10 different players missed 14 games because of hamstring injuries, according to data analyzed by Dr. Ignacio Gaunaurd, an associate professor in the Department of Physical Therapy at the Miller School of Medicine.
That, for all of the Hurricanes, has been a source of pride.
"Football is a contact, collision sport so at times, there will be collision injuries. But the soft tissue injuries are really preventable and Dave and his staff, along with the medical staff and our nutrition staff have all done a phenomenal job," head coach Manny Diaz said. "They all work together to keep our guys healthy and I think the players get that. They understand that everyone is aligned and everyone is on the same page and that page is about what makes them the best they can possibly be. I think everybody benefits from that."
The football program's success at preventing hamstring injuries also caught the attention of experts outside Coral Gables.
Last fall, Dr. Thomas Best – one of Miami's team physicians and an expert in hamstring injuries – learned from a member of the NFL's Scientific Advisory Board that the league was soliciting research proposals that would provide funding for clinical research being conducted into the prevention, treatment and rehabilitation of hamstring injuries.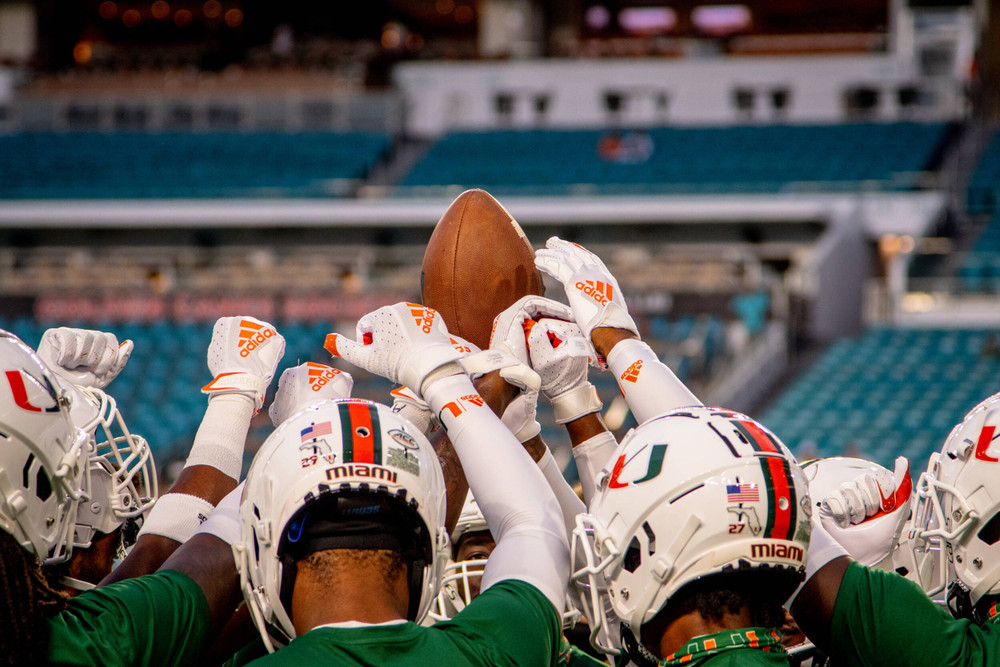 Best and Gaunaurd – along with Dr. Luis Feigenbaum, Miami's senior associate athletic director for performance, health and wellness – partnered with the Miami Dolphins and worked to put together a research grant proposal using the data produced by Feeley and his staff, along with the Hurricanes' athletic training and physical therapy staffs.
Of the 89 submissions for funding, Miami was one of six selected for the final presentation round to the NFL's Scientific Advisory Board.
While Miami's proposal ultimately wasn't selected, the University's effort – and the teamwork behind both the grant proposal and the Hurricanes' approach to injury prevention – made an impression on all those involved in the process.
"We felt we were in an elite class and we're disappointed we didn't get the call, but we did reach the highest level of consideration prior to that and that's huge," Feigenbaum said. "It was huge…I think going through the process set up a more concrete way to look at our data, both prospectively and retrospectively. We just want to make sure we continue to uphold the standards of care delivery and identification of risk moving forward."
Continuing to preserve the health of Miami's football players will, of course, remain a priority for all of the members of the University's performance, health and wellness department.
And the group says Diaz and his staff's willingness to adhere to the science and data it has collected has been a huge part of Miami's success on the injury prevention front.
"I honestly think it starts with the medical staff, Dr. [Lee] Kaplan and Dr. Best, knowing and being our advocates with the coaching staff and letting them know 'Look, this is really important' and coach Diaz and his staff are like 'We're 100 percent on board with this. Do what you can in order to help our athletes.' It starts from there and trickles down," Gaunaurd said. "We have open communication and I think there's a lot of respect between rehab and strength and conditioning and athletic training. At the end of the day, we're all working together to help our student-athletes. Those key components, that top-down approval and support from the leadership and all of us working together to help our student-athletes has been the key to our success."
Added Best, "It's not one-directional. That's clear. This is truly multi-directional in that everybody has a voice and it is pretty much an equal voice…that teamwork, that collaboration and a head coach that supports this and asks for this information is absolutely huge. Absolutely huge."