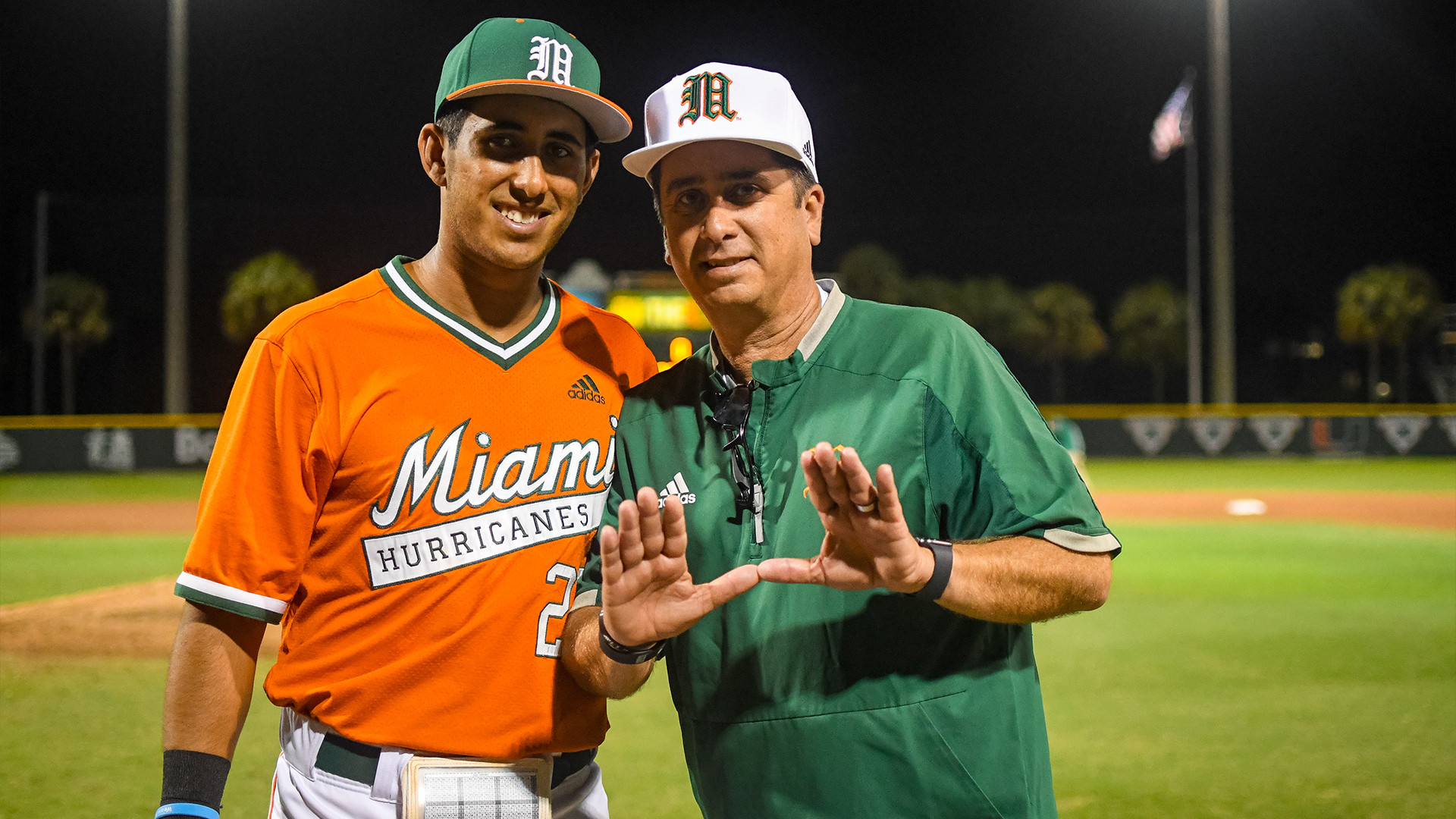 CORAL GABLES, Fla. – Fathers want the best for their sons and sons grow up wanting to make their fathers proud.
Those dreams have become reality for Miami infielder Anthony Vilar and his dad, Henry.
"It's been a dream come true. I would have never dreamt it any better," Henry said. "You can plan and you can dream and you could wish, but you really can't foretell how everything's going to fall into place. The other day we were pulling up pictures of him and video of him running around as a three-year-old at one of the alumni games and it's incredible to think that same little guy ended up getting to where he's at now."
Where Anthony is now is right where Henry always hoped he'd be, playing baseball at the University of Miami just like he did.
"It's a huge accomplishment and I know it was always a dream of mine," Anthony said. "I'm sure it was a dream of his for me to play at UM and be able to watch me play there. I look at the last three years and it's been good knowing that he is watching me play. He appreciates it and I appreciate it as well."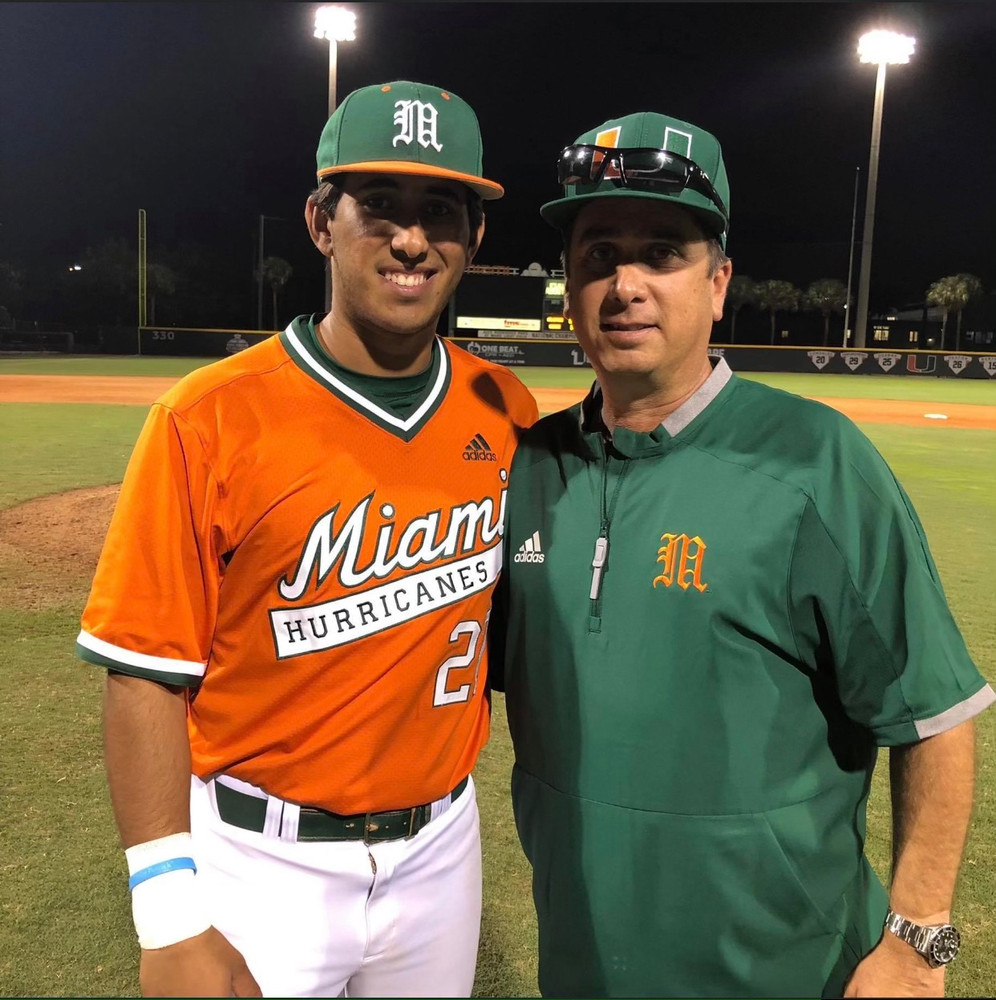 The Vilars share a special bond that is obvious to anyone who sees them. They are as close as any father and son can be and their bond was built around the game they love: baseball.
"It played a huge part in our relationship," Anthony said. "We grew up together around baseball. He coached me for all of my little league since I was probably seven or eight years old until I was 14 years old. He was always the coach and we had our own teams so I think our relationship definitely got stronger throughout those years. And then throughout high school and college, he's been the guy that I hit with on my own and that I talk to after games. That bond of not even just being a dad and his son but also being a coach and a friend and a mentor has been huge and I'm really thankful for it."
"Not intentionally, but baseball has probably been everything for us," Henry added. "Ever since he was a little kid, I was hoping and wishing that he would like it and have an interest in it. Then seeing that he had a little bit of ability as a little kid — three, four or five, six years old and he's got some ability — and then you start seeing his interest in it increase as he's growing up. The more he would put into it, the more I would put into it so it bonded us together from the age of five to now that Anthony is 22. It's been lots of baseball between us and I've loved every second of it."
The love affair with America's pastime grew organically. Much like a farmer looking to nurture his crop, Henry planted the seed in Anthony at a young age and let it grow over time. There were games of catch that blossomed into playing little league and beyond. And then there were the countless days at The Light watching their beloved Hurricanes play.
"I remember it was just a sight to see," Anthony recalled of visiting Mark Light Field. "I loved going to The Light with my dad and we had so much fun at the games together. And I felt like I learned so much at those games. Like I watched all the guys that came before me play and I saw the culture of Miami and the program and was there for so many historic things. I remember seeing so many wins and going to see them in the playoffs and watching them in Omaha.
"Going to the park was always fun," Anthony added. "A lot of kids would just be running around and playing tin foil ball, but I was mostly always watching the game and trying to learn. And I think that's what was really important for me, just learning the game and always being there and always watching and always wanting to learn more."
For a former Hurricanes infielder, the opportunity to share a love of baseball and the Hurricanes with his son was incredible.
"It was a great feeling to be sharing that with him there, but with no expectation of knowing whether he was going to like it, or even being good at it, or even have a chance to play high school baseball," Henry said. "It was just a matter of enjoying that time with them, whether it was the shakes or the ice cream, or the chasing the foul balls and having him step on the field, anything that would attract him to it and he loved it. There wasn't a day that he wouldn't want to be there watching a game."
It was in those trips to The Light where Henry saw Anthony had a keen interest in baseball that went beyond what kids his age typically did.
"The interesting part was he wasn't ever a kid that wanted to be running around playing in the back or throwing wall ball or whatever. He always was the kid that wanted to watch the game," Henry said. "I would catch him watching at a very young age, watching the highlights and watching ESPN, looking at lineups and knowing everybody in the lineup. I was like, ' You know more guys in the rosters than I do.' So, that showed me his interest and I knew I should continue to pour time into it because he liked it. I never forced it on him. It always had to come from him. He liked it, so we kept on going. We didn't back off. Being at The U was always something that he looked forward to."
So, Henry committed to giving his son as much time around the game as the young ballplayer wanted. That led to a strengthening of their bond and an increased development of Anthony's skills to the point that he became a high school standout at Henry's alma mater, Westminster Christian.
With his profile as a prospect rising, college programs started to seriously recruit Anthony. While he grew up a Hurricane, Henry actually thought his son was headed to play for an ACC rival.
"He had other opportunities to go to other universities, UNC being one of them," Henry said. "That's where I thought we were going to end up but his heart growing up was always at The U."
Anthony mulled his options and decided to become a Hurricane. While he knew his dad would be thrilled, Henry was not the first person to learn of Anthony's decision. Instead, the youngest Vilar turned to the patriarch of the family, his grandfather, Enrique.
"I look up to my grandfather the most, baseball-wise. He's the first person I wanted to tell when I committed because he's a big reason why I chose to play at Miami," Anthony said. "I wanted to be able to play in front of him and the rest of my family but, mainly, it was him and my dad and my mom. That's the reason I told him that I picked Miami before I told anyone else and why I mainly chose to stay in Miami and play for Miami. I wanted to play in front of them and know they'd be able to watch all the games."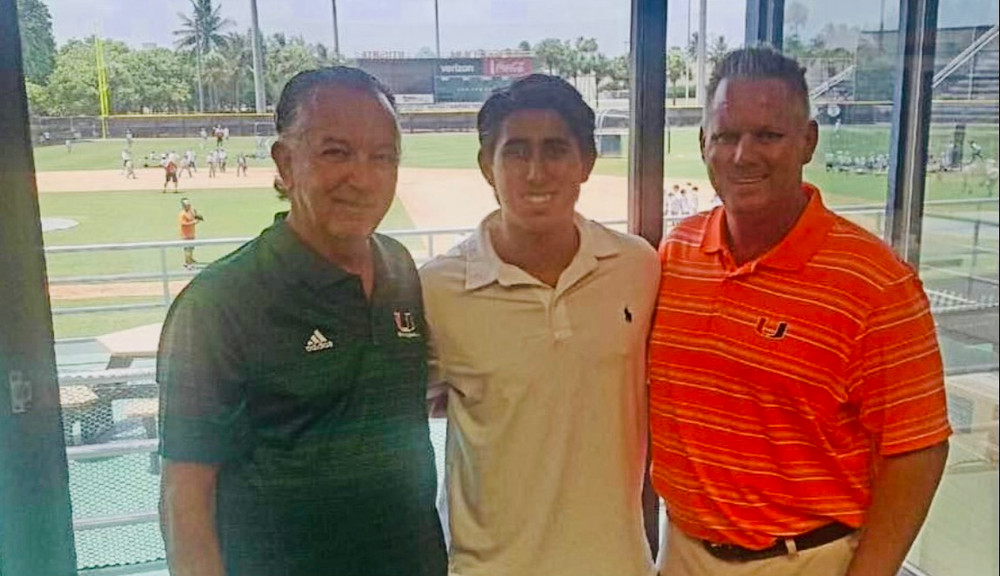 The Vilars are three generations of baseball-loving men and that trio of Enrique, Henry and Anthony are at the center of Henry's favorite baseball memory.
"One of my favorite memories was just being able to take him to Cooperstown, and being able to have my dad and him together walk into the hall of fame and experience that together," Henry said. "That's the one memory that always stayed on my mind. Other than that, of course, I love the memories of his first high school start, his first high school hit and I'll never forget the first time I saw him in a UM uniform on the field."
The Vilars played a huge role in Anthony's decision to stay home and play for the Hurricanes. His family is always in the stands at Alex Rodriguez Park and Henry has been at all 131 games in Anthony's Miami career.
"They've been there my entire life just watching and supporting me," Anthony said. "It means so much to me that they're at every single game and even going on road trips. I don't think my dad has ever missed a game on the road either, so I'm very appreciative of that and it's awesome that they get to watch all the games."
A proud father, Henry is overjoyed with all Anthony has accomplished at The U.
"He's more than exceeded any expectations that I ever could have ever dreamed of as a father tossing a ball to a kid at three or four years of age," Henry said. "There's nothing more for him to fulfill for me. Everything that I've ever dreamt of or that I could possibly dream of was fulfilled by him wearing the green and orange. Then you look at what he's done like starting every game. Those are things that no one ever created as a goal because they're so hard that you don't ever even set goals like that. It was always something that he did on his own. He always said, 'Don't worry. I'm going to do it.'"
For Anthony, knowing that he has made his dad proud makes his outstanding Hurricanes career mean even more.
"He's told me that it's more than he ever could have asked for," Anthony said. "I don't think it's what he expected from when I was a little kid, but I think I've grown in the sport and I've gotten better every year and that's helped me get where I am today. And he just loves that I'm able to play at Miami where he played and he loves that he's able to watch me play every game."
Henry has taught Anthony a lot about baseball and about life. One of those lessons came in Miami's annual alumni game. With Henry coaching the alumni and Anthony suiting up for the Canes, the Vilars had a unique opportunity to compete against each other and that was not something either took lightly.
"One thing my dad always taught me is that we're always trying to win," Anthony said. "He's always talked about it with me that when he played against his dad in softball or whatever game it was, it didn't matter who that was on the other side. When you play in between the lines, it's game time and there are no feelings for one another. I know he was coaching trying to beat us the last few years. Luckily, we'll be on the same side again whenever I am on the alumni team for those games and we'll try to beat the new guys."
For Henry, the prospect of having Anthony on the alumni side is an exciting one and it provides another opportunity for a special moment between father and son.
"I'm very much looking forward to it," Henry said. "I was looking forward to this year being able to try to get in some type of shape to play against him. I did it in high school. I promised him I would and I accomplished that and I wanted to do it as an alumni player at UM, too. That didn't get to happen but I'm very much looking forward to hopefully in the future turning a double play with him as alumni teammates."
The moment when Henry and Anthony are both on the alumni side will bring the father and son full circle on their baseball journey.
"Going through the whole coaching thing with him and then watching him have success in high school and then actually being able to see him on the field at UM and doing things that I wasn't able to do at UM because of obviously a talent differential between him and me, it's just been a special journey for us. The fact that he was able to accomplish all of that and we were able to enjoy all that together, not only as a father and son but also as a family is a dream come true. You can't script it any better."