Palmquist Earns First-Team All-America Honor
CORAL GABLES, Fla. – The University of Miami's Carson Palmquist joined an elite group of Hurricanes as the left-hander was named a first-team All-American by the National Collegiate Baseball Writers Association.
Palmquist was among the 23 players selected to the NCBWA first team, becoming the 36th Hurricane to earn first-team All-America honors. The left-handed pitcher is the first Miami player named a first-team All-American since Zack Collins and Bryan Garcia were selected in 2016.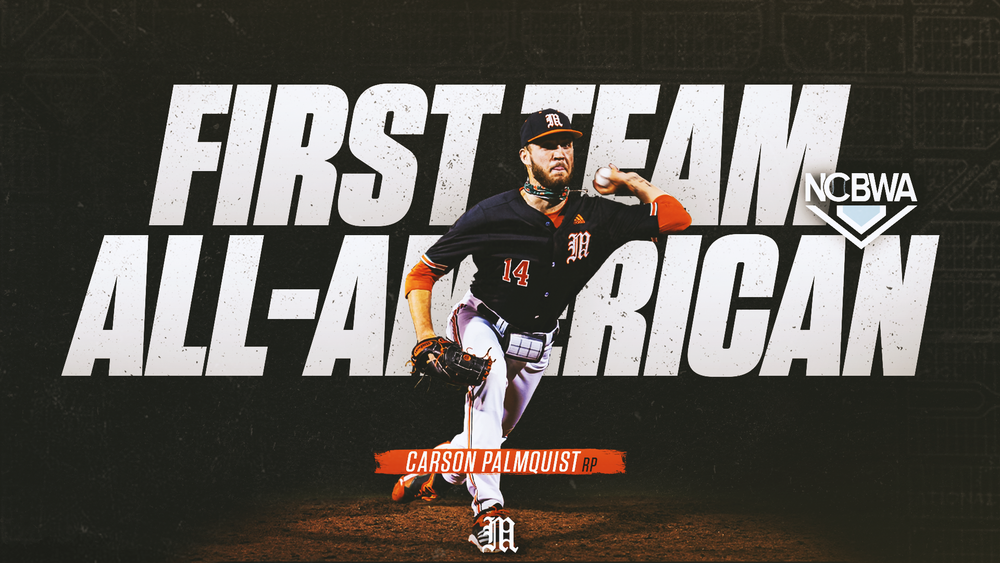 The most dominant closer in the ACC and one of the top relievers in America, Palmquist earned his first-career All-America honor when he garnered second-team distinction from Collegiate Baseball. He was also named a Freshman All-American by the NCBWA and was joined by infielder Yohandy Morales on Collegiate Baseball's Freshman All-America team announced last week. He was also named to the ABCA Southeast All-Region first team on Wednesday.
Palmquist, who was also named to the 2021 ACC All-Freshman Team, was also named the All-ACC first-team relief pitcher after an incredible first full season in Coral Gables. The southpaw was named a semifinalist for the Dick Howser Trophy. He is the only freshman among the 10 finalists for the 2021 NCBWA Stopper of the Year.
The Fort Myers, Fla., native finished the 2021 season with an ACC-leading 14 saves that rank third nationally. Palmquist wrapped up the season with a 2.22 ERA, allowing just 11 earned runs over 25 appearances.
Palmquist's 75 strikeouts paced all Miami pitchers and he averaged 15.1 strikeouts per nine innings pitched with a 9.4-to-1 strikeout-to-walk ratio. His 14 saves tie him for 10th place in a single season in Miami history, joining former standouts Robbie Morrison (1996) and George Huguet (2001).
The complete NCBWA All-America teams can be viewed HERE.