Ready to Reopen the Doors
CORAL GABLES, Fla. – For weeks, their office has been abuzz.
Prospective student-athletes and their families have been called. Events have been planned. Flights have been booked. Official visits have been coordinated. Camps have been scheduled and adrenaline is flowing.
Since learning in April that the 15-month dead period prompted by the COVID-19 pandemic would be lifted on June 1, Miami's football recruiting staff has been operating "at 100 miles per hour" with one goal: making sure the Hurricanes are ready to shine when the doors to campus are re-opened and recruits return to Coral Gables.
"I think there's a lot of excitement, a lot of pent-up nervous energy," said Andy Vaughn, Miami's director of player personnel. "Coaches are excited to get these kids back on campus, meet them face-to-face and get off Zoom. I think the kids and their families are obviously really excited to go and see these places and not just watch videos or presentations for every [school] they're interested in. They want to get a real, genuine feel of the people and places because there's a lot of life-changing decisions that have to be made. I don't think anyone takes that for granted."
Added David Cooney, Miami's director of recruiting, "To get a chance to actually dap somebody up or give a mom a hug, to just be able to have some type of real contact with these families, we're ready. Excitement is at an all-time high. We can't wait to get them all on campus, love up on people and use our greatest asset, which is our personalities."
While Tuesday will mark the first day recruits can visit Miami since before the pandemic began last year, recruiting never really stopped for the Hurricanes or any major college football program.
In-person contact was limited, but by using technology like Zoom and FaceTime, coaches and recruits were still able to connect and create meaningful relationships. Andrew Rossetti, Miami's assistant athletic director for video services, created presentations that helped recruits and their families learn more about Miami's campus and staff and showcased the resources designed to help student-athletes succeed on and off the field.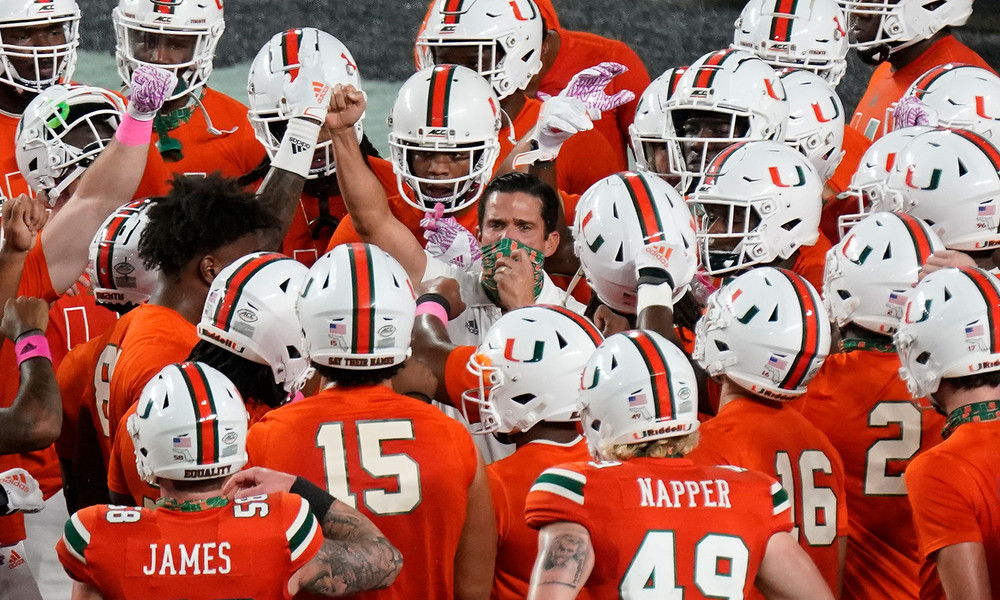 Dominique Nwoko, who joined the football staff as its new creative designer during the pandemic, learned about Miami quickly in order to put together eye-catching graphics that dominated social media and captured recruits' attention, while Brooke Wilson – Miami's assistant director of recruiting – helped coordinate countless Zoom meetings with recruits and Hurricanes coaches and staffers across the athletic department.
Despite all the challenges they faced in 2020, Miami's coaches and the recruiting staff helped the Hurricanes sign a top-10 recruiting class filled with plenty of top-notch prospects including  five-star defensive tackle Leonard Taylor, five-star safety James Williams and four-star quarterback Jake Garcia, who enrolled early and got invaluable playing time during spring drills.
That class, for many Miami staffers, was a unique source of pride.
"I think our coaching staff did an amazing job of just kind of adapting and making things feel as normal as they could under those tough circumstances so that the families and the kids were able to kind of make it their norm," Cooney said of recruiting during the Covid era. "It was nothing to set up a Zoom call or get on a FaceTime call or get on the phone and have some conversations with a kid and their family…My hat's off to our staff because they made a lot of the current freshmen that just came in feel welcome. They made them feel at home and genuinely show that they cared and I've always said that's our strong suit, our coaches and our staff. It shines through, even on Zoom."
Said Wilson, "Given the circumstances of Zoom and having to really showcase what we have to offer virtually – which is tough – I feel like we just kind of blew it out of the water the last year. But, with that said, we can't wait for Tuesday to open up and finally get kids back on campus…We're going to have a lot going on throughout the month of June, really and it's going to be amazing."
As successful as Miami was on the recruiting front last year though, there's no doubt expectations are high ahead of what's expected to be a more traditional recruiting cycle.
There's also no doubt the Hurricanes are eager to resume the in-person contact that coaches know is essential to creating long-lasting relationships. Coaches are also eager to show off how UM's campus has grown and how everything Miami has to offer can create a college experience unlike any other – on and off the field.
"There's nothing we don't have in the city of Miami," Cooney said. "If you love hunting, you can go hunting. If you love fishing, you can go fishing. Our city, that's our advantage and that's part of what we missed last year."
Along with all the recruiting events, unofficial and official visits, the Hurricanes expect to host several camps in June that will give recruits and prospects something else they haven't had much of over the course of the past year: the opportunity to showcase their skills in front of college coaches.
For Miami's coaches, meanwhile, it will be an opportunity to again do the kind of invaluable in-person evaluations that haven't been available to them in more than 15 months. And that, head coach Manny Diaz says, will be crucial in helping the Hurricanes shape their rosters in the coming years.
"Camps are massive," Diaz said. "In my time here, the players that have had the greatest success when they come on our campus are the ones that have been the most competitive and a lot of times, they showed that while they were in camp. There's a whole class that basically missed the camp circuit, so to be able to get not just the [2022] prospects on campus but to really get to evaluate the '23s and '24s, the rising sophomores and juniors, will be huge.
"It's not just the measurables. You can get that off a website. It's about seeing how do they respond to adversity? What is their competitive spirit? Do they make people around them better? Do they go harder when the competition gets harder? Those are the things you find out in the summertime."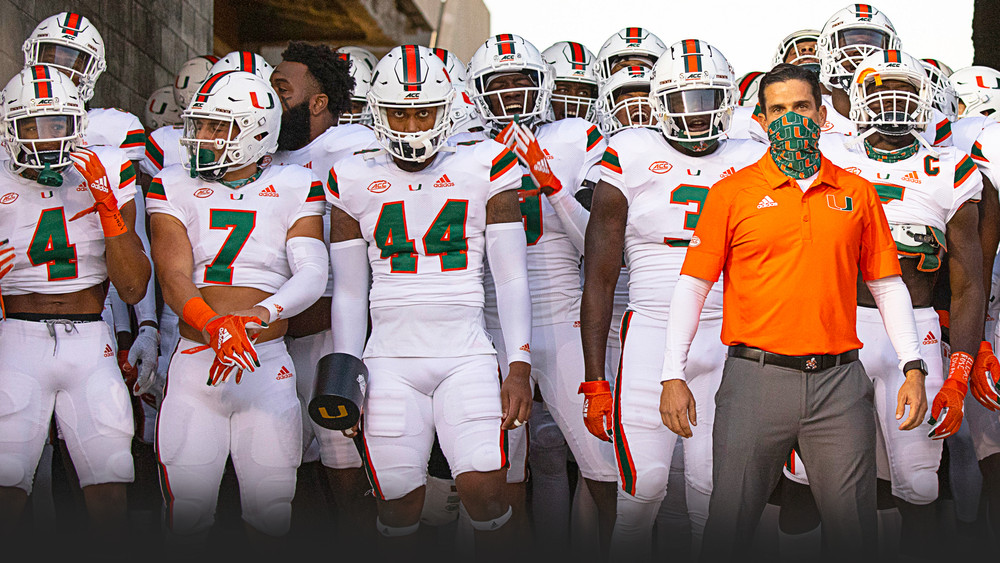 As they prepare to welcome recruits back on campus this week and throughout June, the Hurricanes say they expect to build on all they learned over the course of the year. Some of the technology they relied on during the dead period won't suddenly disappear.
But across the board, the Hurricanes know the best way to illustrate how special Miami is to do it in person.
Finally, they'll have that chance again and they're determined to continue working together to make the best of it.
"We've got a lot of good things going for us and when kids and their parents come on campus, it's kind of like 'Wow, I'm able to see something and this is something I can be a part of,'" Rossetti said. "You see the emotion because it is an emotional decision for kids and their parents when they're deciding on a college. You get to see the expressions on their faces when they see something they enjoy and that's my favorite part."
Added Diaz, "Whether people are coming officially or unofficially, we want them to get a real sense of what the Miami and Coral Gables communities are all about, who we are as people and what type of environment and culture we're building here. If they really get a true sense of who we are, we will find a class that fits our vision for success. We've done it the last two years. We're excited about those guys and we'll keep finding guys that are all about the things that we want to be about."