Perez-Somarriba Advances to Second Straight NCAA Title Match
ORLANDO, Fla. – For the second consecutive time, Estela Perez-Somarriba of the University of Miami women's tennis team is headed to the NCAA Singles Championship final.
The top-ranked player in the country and the second overall seed in the tournament, Perez-Somarriba defeated No. 17 Janice Tjen of Oregon, 7-6 (7-4), 6-0, in a semifinal matchup Thursday afternoon at the USTA National Campus.
With her victory, Perez-Somarriba becomes the 17th two-time finalist in NCAA Singles Championship history and just the 13th to reach the title match in back-to-back tournaments. In addition, she moved to 17-2 all-time in the event, tying the record for the most victories by an individual player.
"Stela was able to make changes against an opponent that was ripping winners. I think Stela served well and returned well," Miami head coach Paige Yaroshuk-Tews said. "She started points well today, which was big. When you play somebody that hits a ball as big as that girl was hitting the ball, you have to start the points big. You have to hold your ground on the baseline. You just have to be kind of relentless with your groundstrokes and she was able to do that."
Before taking 13 of the final 16 games, Perez-Somarriba lost each of the first three. Tjen won the first two games, following it with another hold to grab an early 3-0 lead.
Perez-Somarriba countered with three straight wins of her own, capped with a hold at deuce, to even the set. Tjen, a freshman, then took a 4-3 lead and a 5-4 lead, before Perez-Somarriba held to make it 5-5 in the opener.
The Madrid native broke at love to take a 6-5 edge, but Tjen broke back to force a first-set tiebreaker, Perez-Somarriba's second in as many days. This time, though, she came away with a win.
Perez-Somarriba jumped out a 4-0 lead that grew to 6-1, before Tjen staved off three set points. The fourth one was the charm, giving the reigning national champion a 7-6 (7-4) win in set one.
"I think it was hard for Stela to believe that somebody was coming up with such huge forehands, just time and time again. So, she kept testing it and testing it," Yaroshuk-Tews shared. "And then after the first three games, we decided, 'Okay, her forehand is really big and it's really consistent.' And we kind of changed up the game plan a little bit and the match started changing."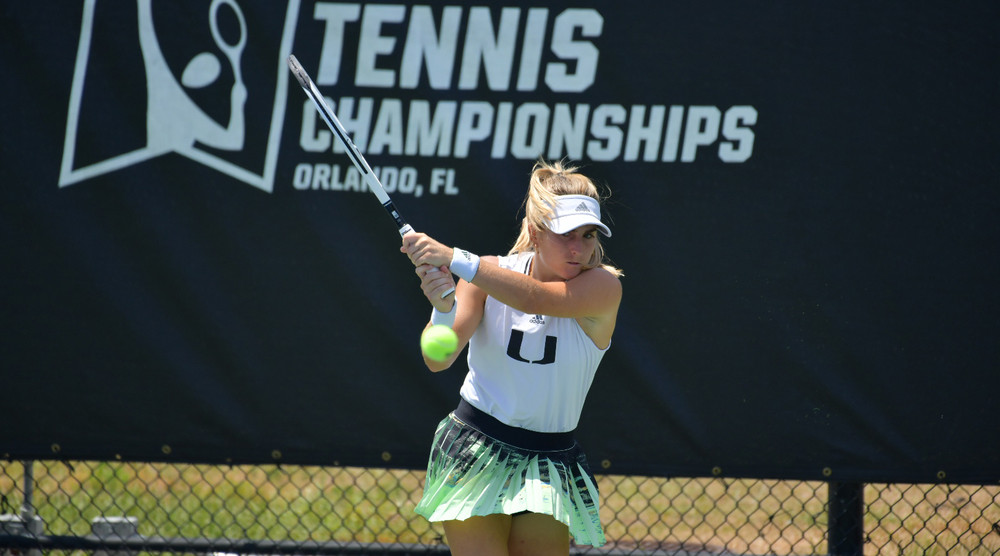 Once she took the lead, Perez-Somarriba never let Tjen even begin to mount a rally. She took each of the first three games of set two, including a break at deuce in the second one, before Tjen took a medical timeout with a 0-3 deficit.
After that, Perez-Somarriba won two more games at deuce, including rallying from a 40-15 deficit in the fourth game, to go in front, 5-0.
In the sixth and final game, she never lost a point, breaking at love to wrap up a 7-6 (7-4), 6-0 victory, clinching a second consecutive spot in the NCAA title match.
"Locked in. I think she raised her level," Yaroshuk-Tews said of the final set. "Obviously, we started the second set with some different patterns that we didn't start the first set with. Opponent gave us a couple more free balls. It looked like she might've lost a little bit of confidence on the forehand side. [She made] some errors that we weren't seeing in the first set. And then Stela, once again, was just relentless, stepping up to the balls, dictating play and the kid couldn't really do much."
Perez-Somarriba is the first player to go to back-to-back NCAA finals since Stanford's Nicole Gibbs in 2012 and 2013. She is also the first two-time finalist overall since Virginia's Danielle Collins, who made the championship in both 2014 and 2016.
Collins is the only other ACC player to appear in the NCAA Singles Championship multiple times. Audra Cohen went once while in the ACC with Miami—she claimed the Hurricanes' first crown in 2007—and once while in the Big Ten with Northwestern.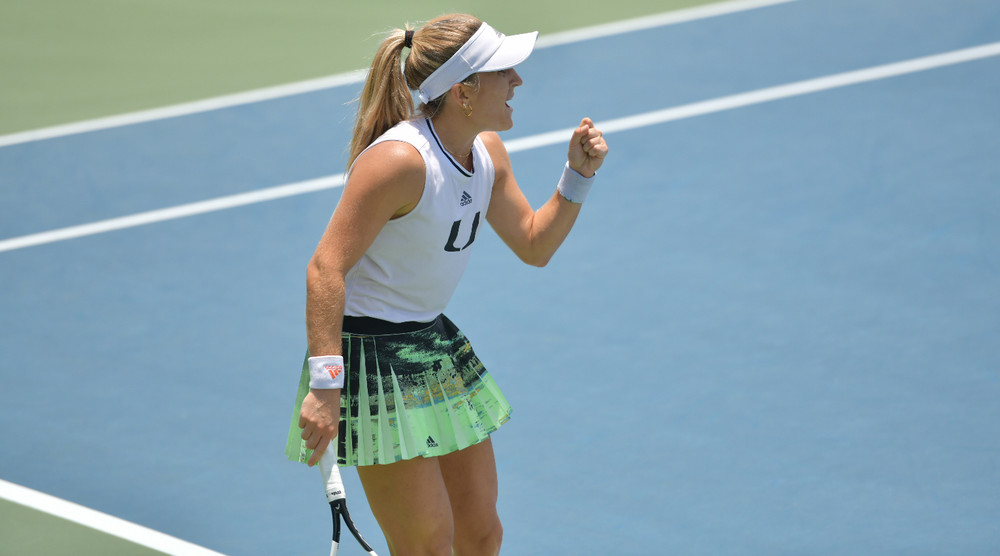 Additionally, Perez-Somarriba became just the fourth player ever to reach 17 victories in the NCAA Singles Championship. She joins Baylor's Zuzana Zemenova (17-3 from 2005-08), Stanford's Sandra Birch (17-2 from 1987-91) and Stanford's Patty Fendick (17-2 from 1984-87) on the list.
Only two other players even reached 16 wins, with the aforementioned Gibbs tallying a 16-1 mark from 2011-13 and Cal's Jana Juricova posting a 16-3 ledger from 2009-12.
Along with her NCAA Singles Championship achievements, Perez-Somarriba also improved to 18-0 in singles play at the USTA National Campus, as well as upped her career record against top-25 foes to 30-11, including 20-4 in straight sets.
"Truly incredible. I'm not even really thinking about it, I'm not even really focused on it. I don't think she is either," Yaroshuk-Tews said of Perez-Somarriba's continued NCAA tournament success. "It's so big that you don't want to focus on it. I've been telling her since day one, it's a first-match mentality. We're going to look at it the same way tomorrow. We're going to come out here and play. Let everybody around us do what they want to do, but it's a first-round mentality. Stela has got to focus on her controllables. She's going to meet a great opponent. Let's play some great tennis first and then see what happens."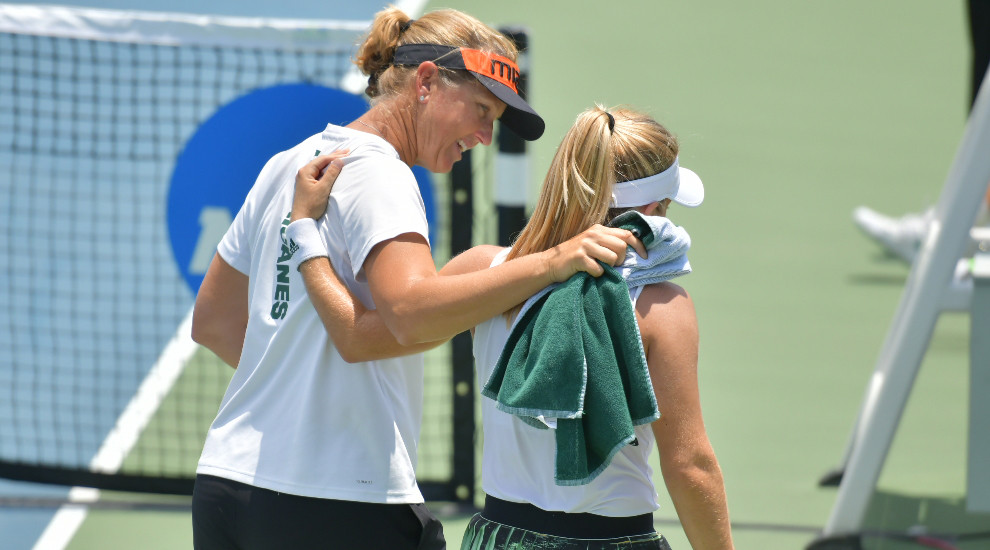 Perez-Somarriba will take the court Friday at noon for the last match of her decorated career, as she is set to square off with Virginia's Emma Navarro, who is both ranked and seeded third.
The two players met during the regular season, with Perez-Somarriba handing Navarro what still stands as the lone singles loss of her young career, a 1-6, 6-4, 6-3 decision April 4 in Coral Gables, Fla.
Perez-Somarriba's appearance in the NCAA Singles Championship title match will be the fourth by a Hurricane, solely the fifth-most of any program in the country.
For more information on the NCAA championships, including schedules, brackets and live stats, visit the tournament homepage HERE.
To keep up with the University of Miami women's tennis team on social media, follow @CanesWTennis on Twitter, Instagram and Facebook.
THURSDAY RESULT
NCAA Singles Championship Semifinals
No. 1 [2] Estela Perez-Somarriba (UM) def. No. 17 Janice Tjen (OR), 7-6 (7-4), 6-0
FRIDAY SCHEDULE
NCAA Singles Championship Final
12 p.m.: No. 1 [2] Estela Perez-Somarriba (UM) vs. No. 3 [3] Emma Navarro (VA)
NOTE: Cover photo is courtesy of USTA/NCAA