Perez-Somarriba Rallies to Reach Third NCAA Final Four
ORLANDO, Fla. – After losing the opening set and the first five games of the second set Wednesday afternoon in the NCAA Singles Championship quarterfinals, Estela Perez-Somarriba of the University of Miami women's tennis team stormed back for a thrilling three-set victory.
The top-ranked player in the nation and the second overall seed in the tournament, Perez-Somarriba posted a scintillating 6-7 (5-7), 7-5, 6-3 comeback triumph, in three-plus hours, over seventh-ranked and seventh-seeded Abbey Forbes at the USTA National Campus.
In doing so, Perez-Somarriba became the seventh player ever to earn three NCAA Singles Championship semifinal berths, including only the third in the last three decades.
"I just think it shows you just how big this kid's heart is and how well she understands sports and the moments in sports, for herself and for her opponents and in tournaments," Miami head coach Paige Yaroshuk-Tews said. "[She understands] how hard it is to advance and move forward. She knows what the kid on the other side of the net is feeling. Today, she just had ice in her veins. Look, she's the whole package."
Perez-Somarriba started the match strong, breaking at deuce in the opening game and then winning each of the next three to build a 4-0 lead. Forbes, the Pac-12 Singles Player of the Year, battled back to even the set at 4-4.
In the ninth game, Perez-Somarriba won back-to-back points to break at deuce and go up, 5-4, but Forbes fought off two set points in the next game, also breaking at deuce to make it 5-5. Perez-Somarriba and Forbes then exchanged breaks yet again, leading to a tiebreaker.
Neither player led by points at any time in the tiebreaker until it came to an end with Forbes holding on back-to-back serves for a 7-6 (7-5) win in the first set.
The second-year sophomore won the first five games of the second set, including breaking at deuce in the third and fifth games, to seemingly take full control of the match. Then, Perez-Somarriba began her climb back into it.
After tallying a break to get on the board, Perez-Somarriba held at deuce in the next game, fighting off a match point to keep her career going. From then on, the Madid native continued to roll, winning each of the next five games without ever even facing another match point. Her 7-5 second-set win sent the match to a decisive third one.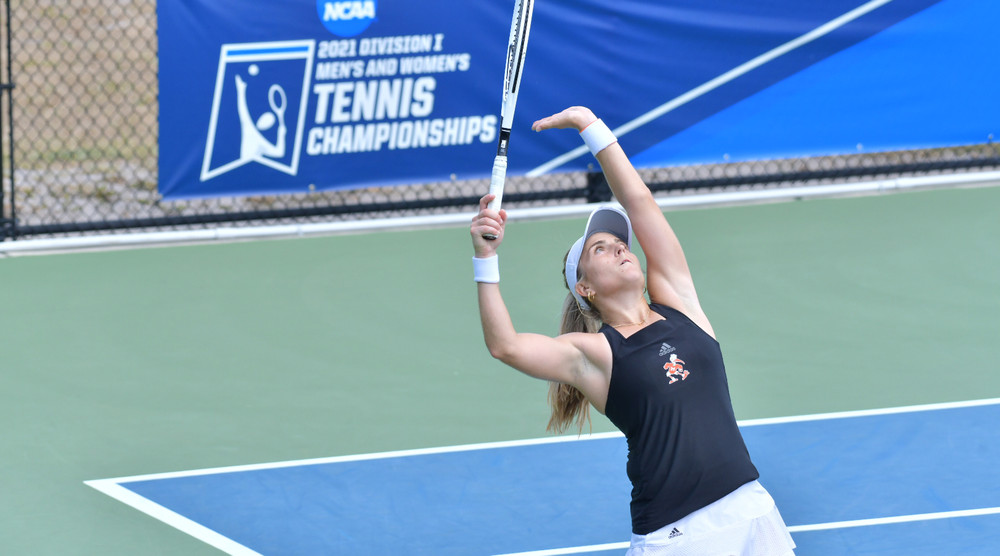 Forbes held in the opening game, but Perez-Somarriba won each of the next four games at deuce—including rallying from a 0-40 deficit in the third game—to build a 4-1 advantage. The next three games were all holds, including one from Forbes to stay alive and make it 5-3.
Perez-Somarriba took a 40-15 lead in the 10th game, but Forbes fought off two match points to force a sixth deuce game in the final set. As she did in each of the first five, Perez-Somarriba won it to seal the victory, 6-7 (5-7), 7-5, 6-3, clinching a third trip to the NCAA Singles Championship Final Four.
"I kept telling Stela, 'Listen, we got to play our game. We're going to miss some balls, but it's all about feel.' I wanted her to find her feel because she had lost her feel there in the second set," Yaroshuk-Tews shared. "She listened, she kept her head calm. Her legs were on fire, moving better, in-out with the movement. Then she starts getting some momentum, building momentum, her opponent starts playing a little passive. What do you know? We turn the second set.
"We go three sets and it starts getting physical," Yaroshuk-Tews continued. "We found a pattern that we liked and that she knew was successful and worked well. It wasn't always easy to find. I give an unbelievable amount of credit to Abbey Forbes. What a competitor, what a match. So gritty, such a worker. And once again, Somarriba just hangs around and battles and believes and listens and perseveres and wins. What a day."
With her victory over Forbes, Perez-Somarriba improved to 16-2 all-time in the NCAA Singles Championship and 17-0 in singles competition at the USTA National Campus. She also moved to 18-5 in her career against top-10 foes, with seven straight wins.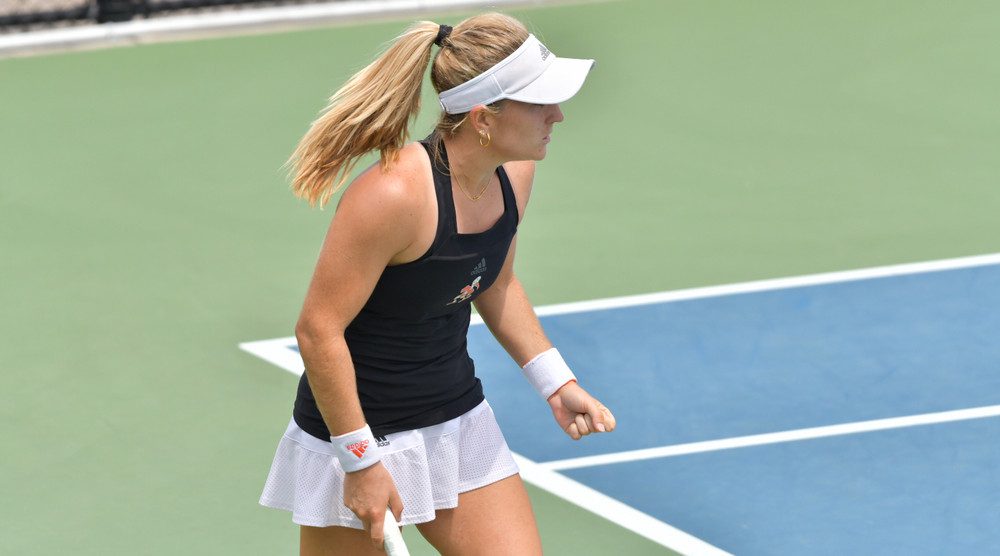 The fifth-year senior joins Stanford's Nicole Gibbs (2011-13), Baylor's Zuzana Zemenova (2005, 2007-08), Stanford's Sandra Birch (1989-91), Stanford's Lisa Green (1987-89), Stanford's Patty Fendick (1985-87) and Trinity's Gretchen Rush (1984-86) on the list of three-time NCAA semifinalists.
Perez-Somarriba, Gibbs and Zemenova are the only three to achieve the feat in the last three decades, with Perez-Somarriba (2017, 2019, 2021) and Zemenova the only ones ever to do so in non-consecutive years.
The two-time ACC Player of the Year is the first player from the conference with three Final Four berths and is one of just three players in NCAA history, alongside Zemenova and Green, to make four Sweet 16 berths and three Final Four appearances.
"By far, this is the toughest draw I've seen Stela have. These are the toughest opponents I've ever seen her play back-to-back," Yaroshuk-Tews said. "To do it in general is pretty outstanding. To do it this year is crazy good. But I think she's just gaining confidence with every situation that she's been seeing up to this point. The kid is not ready to go home. The kid is not ready for this to end. And she just believes so much."
Miami—one of three current Division I schools to ever produce a three-time NCAA semifinalist—has now sent a player to the Final Four in eight of the last 17 tournaments, with a total of 10 bids. Both those marks are the most of any team in the country dating back to 2004, Yaroshuk-Tews' third year at the helm.
More recently, a Hurricane has reached the semifinals in five of the past six tournaments, also the top mark of any program in the nation since 2015. Overall, Miami now has 11 NCAA Singles Championship Final Four bids, tied with Georgia for the third-most of any program.
Perez-Somarriba is one of three semifinalists from the ACC, alongside second-ranked and second-seeded Sara Daavettila of North Carolina and third-ranked and third-seeded Emma Navarro of Virginia.
Perez-Somarriba's opponent is the lone non-ACC semifinalist and lone unseeded player remaining in the field, No. 17 Janice Tjen of Oregon. The two will square off Thursday at noon with a spot in the national championship on the line.
"I told her today, we're going into this match [in the] quarterfinals of the NCAA tournament with a first-round mentality. And that's how I want her play tomorrow; I want her to go out with a first-round mentality," Yaroshuk-Tews said. "Like, 'There is no way that I'm losing this match. There is no way I'm going home. There is no way this kid is beating me.' Whatever happens, happens. We look forward to the battle. I think that is another great thing about her. She doesn't fear it; she looks forward to it."
Tjen is set to be the third player from a Pac-12 school Perez-Somarriba meets in this tournament, alongside Forbes and USC's Salma Ewing, all of whom play at the top position for their team.
For more information on the NCAA championships, including schedules, brackets and live stats, visit the tournament homepage HERE.
To keep up with the University of Miami women's tennis team on social media, follow @CanesWTennis on Twitter, Instagram and Facebook.
WEDNESDAY RESULT
NCAA Singles Championship Quarterfinals
No. 1 [2] Estela Perez-Somarriba (UM) def. No. 7 [7] Abbey Forbes (UCLA), 6-7 (5-7), 7-5, 6-3
THURSDAY SCHEDULE
NCAA Singles Championship Semifinals
12 p.m.: No. 1 [2] Estela Perez-Somarriba (UM) vs. No. 17 Janice Tjen (OR)