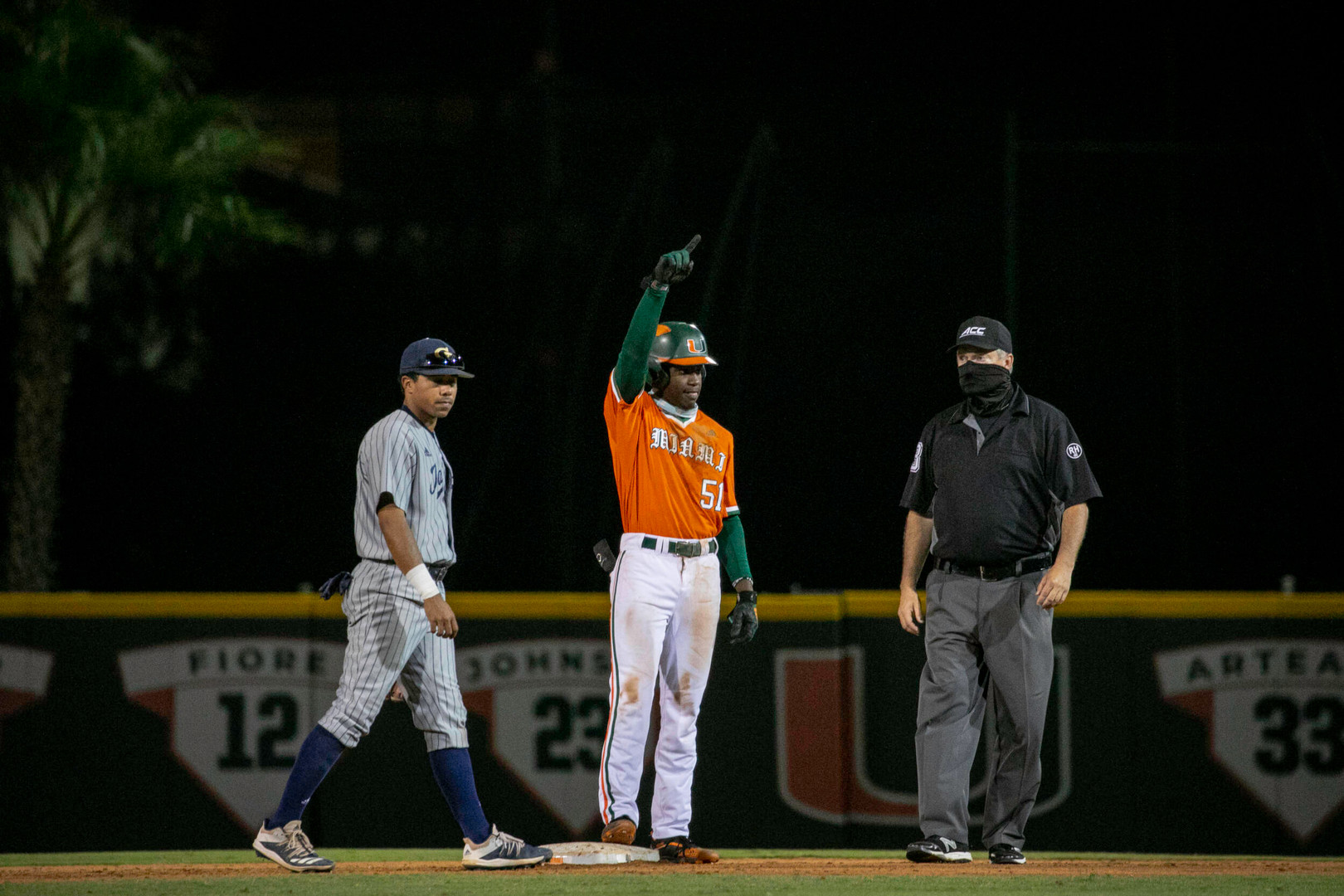 CORAL GABLES, Fla. – It was one of the indelible images from an unforgettable afternoon.
Tony Jenkins – arms outstretched, eyes closed, his smiling face lifted to the sky – was the picture of pure joy after scoring the go-ahead run in Miami's 5-4 thrilling comeback win over Georgia Tech on Sunday afternoon. There was, quite simply, no way for the veteran to hide his emotions in that moment.
Nor should there have been a reason to, not with the season Jenkins has endured.
Earlier this year, the senior – one of the players expected to be a leader and a force for the Hurricanes – navigated one of the toughest stretches of his college career, coming up empty on 28 straight trips to the plate.
After hitting .300 with a double, a home run, five RBI and three stolen bases during Miami's COVID-shortened 2020 season, Jenkins lost his spot in the starting lineup and became, in essence, a defensive replacement when needed and as supportive a teammate as possible.
He could have complained. He could have gotten angry.
He did neither.
Instead, Jenkins doubled down in the weight room, the batting cage and the classroom, telling himself that if he continued to power through, eventually, Miami coaches would call on him again and when they did, he was going to be ready.
"It was definitely tough for me," Jenkins said. "I feel like, especially being a veteran guy, that I played an important role on the team. At the same time, I told myself I could do one of two things: I could pout about it or I could just work hard and be ready when I got my opportunity."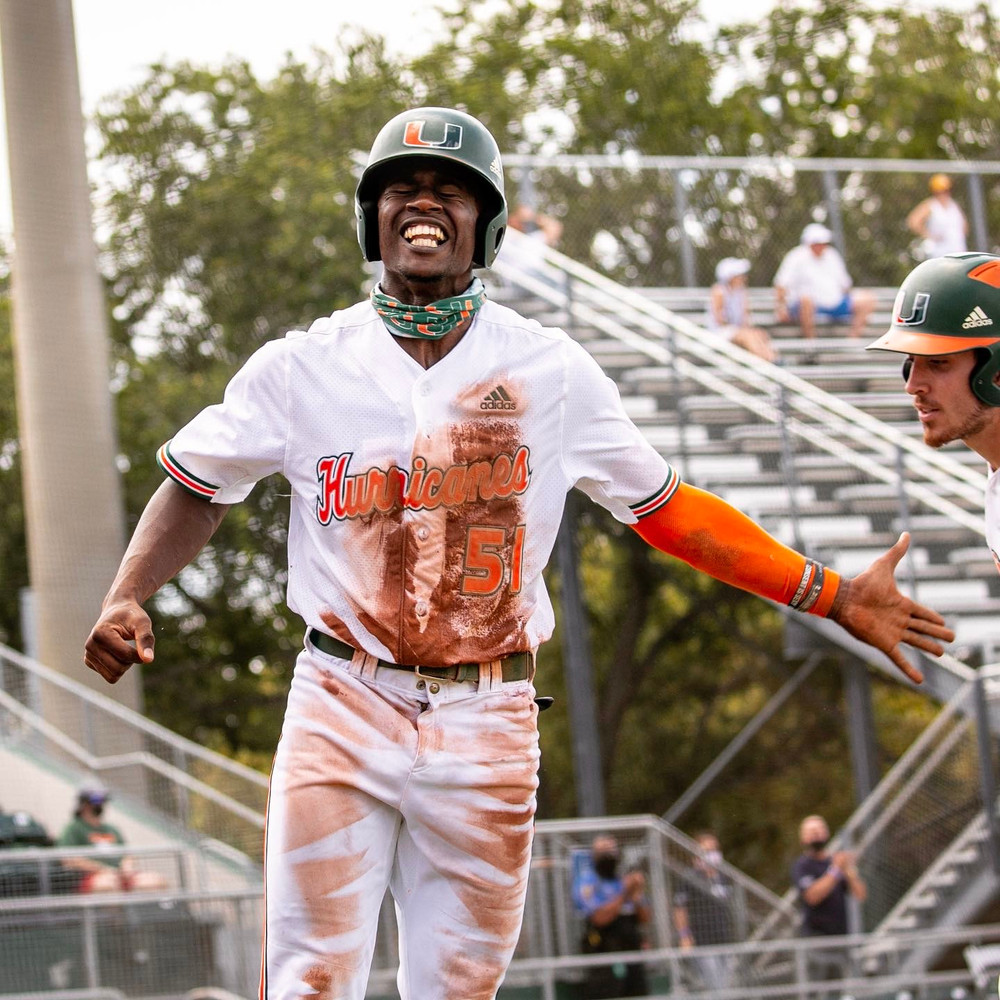 Jenkins, who is set to graduate this summer with a degree in criminology, found motivation at home knowing that while his 3-year-old son Jesiah may not understand all the complexities of a challenging baseball season, he could certainly learn from his father's example.
"Just getting to be able to see him every day, coming home to him even after practices and after games, it just gave me an extra motivation, extra courage and extra confidence," Jenkins said. "I couldn't quit, even if I wanted to give up. I couldn't do it. I know he's looking up to me and I wanted to set a great example for him. That was a big reason behind it all for me."
Jenkins wasn't wrong when he told himself another opportunity would eventually come this season. Miami's coaches put him back in the starting lineup against Appalachian State earlier this month and Jenkins delivered, notching three hits and scoring three runs in the leadoff spot.
A week later, against the Yellow Jackets, he was one of the Hurricanes' most clutch performers.
In Miami's 10-3 bounce back win Saturday night, Jenkins tied his season high with three hits and three RBI. His RBI single in the fourth scored the eventual winning run and a seventh-inning double scored two more.
Sunday, with the Hurricanes trying to fight back from a 4-0 deficit, Jenkins had a two-run double in the seventh inning that brought Miami within a run.
Later in the inning, Jenkins scored the eventual winning run on an Adrian Del Castillo single and Miami went on to earn what head coach Gino DiMare termed the "biggest win of the year."
That Jenkins' memorable performance came with Jesiah in the stands during the weekend in which Miami honored its seniors only made it all the more special.
"It was definitely a different feeling. It was amazing. I just so happened to be back in the lineup this weekend and that's special," Jenkins said. "I've been with some of these guys for four years and I've known some of them way before even coming to Miami. Being able to be out there with them, celebrating our Senior Night and winning, it was just a great feeling. I can't even really describe it. I'm just happy for all of us, one for making it this far with baseball, and two, a lot of [seniors] graduated, so that was a huge plus. I'm just thankful and blessed that I got the opportunity to come to Miami."
Said DiMare, "He's a guy that hasn't complained, hasn't moped. Here's a four-year guy that hasn't played a whole lot this year and he's had some battles. He's had to go through some injuries and different things that he's dealt with throughout his career, but he's waited his time and he's gotten an opportunity and I love it. He's taken full advantage of it. Good for him…I couldn't be more happy [for him]."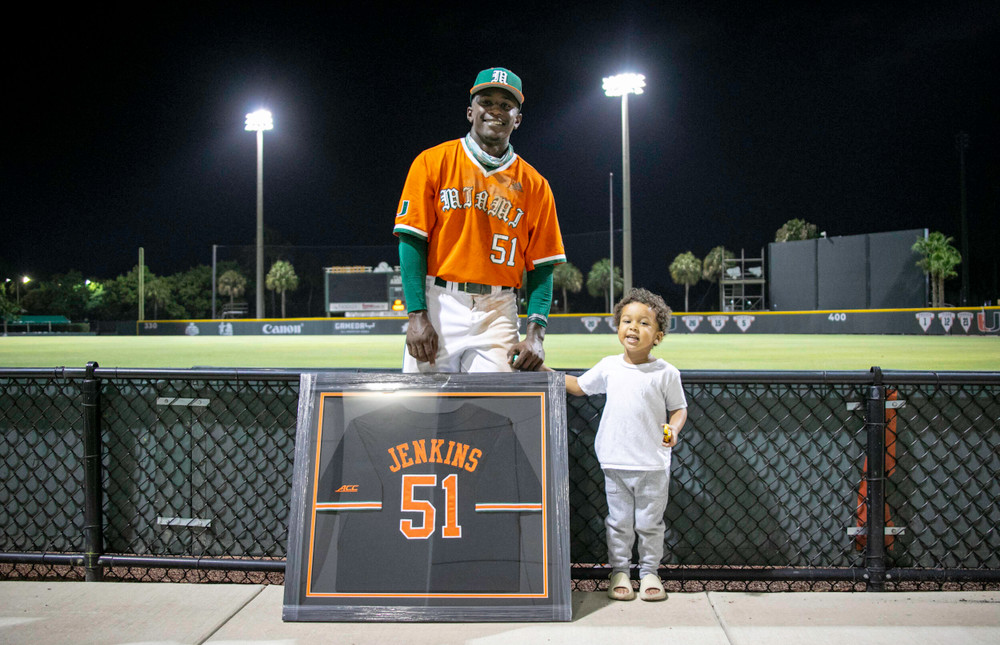 Still, as exciting as the last two weekends have been for Jenkins personally, the outfielder knows his work isn't finished. And the Hurricanes aren't done, either.
This weekend, they'll travel to Louisville to close out the regular season. After that, the ACC Tournament and NCAA Tournament await and Jenkins believes he and his teammates have learned from some of the ups and downs the season has brought them.
Now, it's time for them to build on that and truly show what they can do together.
"I know we can do what we've been saying we were going to do since the summer in those team meetings and that's win a national championship," Jenkins said. "I believe we can do that. I believe we have one of the most talented teams in the country, but it's a matter of everyone wanting it and I believe we do. We just have to continue to work hard and pull for each other and believe in each other. I feel like everything else will take care of itself after that."