FAU (29-23, 18-14 C-USA) at Miami (29-16, 17-15 ACC)
Roster | Schedule
May 17, 2021 | 6:00 p.m.
Alex Rodriguez Park at Mark Light Field | Coral Gables, Fla.
CORAL GABLES, Fla. – Entering the final week of the regular season, every game matters as the Miami Hurricanes jockey for positioning ahead of the ACC tournament and NCAA postseason.
The Canes will travel to Louisville this weekend to close out the regular season with a key ACC series, but Miami's players and coaches have their attention on Tuesday's home finale against FAU. The midweek matchup could do a lot for the Hurricanes as they look to finish strong down the stretch.
"It'd be a huge win tomorrow," infielder Anthony Vilar said. "That would mean we went undefeated in the midweeks and that was obviously a big goal of ours. We emphasized midweeks before the season so that's our goal. Just win the last midweek tomorrow and finish the season undefeated in midweeks."
The Canes are 7-0 in midweek games in 2021 and have a chance to make some history on Tuesday against the Owls. Since joining the ACC, Miami has never won eight midweek games without suffering a loss. The Canes were 12-1 in midweek games in 2016 and went 4-0 in midweek games in 2006. Miami last went 8-0 in midweek games in 1998.
"We've played well, we've swung the bat well, we've pitched well, we've defended well, we've played really complete games in the majority of them and the midweek games are important," head coach Gino DiMare said. "For us, we're playing in-state teams that have high RPIs so it's good for RPI. They're important games and we've done a good job with the midweeks and we need to carry it over to the weekends. There is no doubt there's been a difference in our play and the inconsistencies on the weekends as opposed to really consistently playing well during the weeks."
After combining to go 11-14 in midweek games in 2017-18, including a paltry 3-8 in 2018, the Hurricanes went 10-3 in midweek contests and returned to the NCAA tournament in DiMare's first season as head coach. The success in midweek games has continued under DiMare, with Miami going 20-4 in those games since he took over in 2019 – including 7-0 this season.
"A couple of years back, that was maybe one of the things that lost our streak to the NCAA tournament," outfielder Jordan Lala said. "Once Gino was the head coach his first year, he pretty much preached these midweek games mean a lot. We can't take them for granted. We've been doing good this year and we've been doing good in the past with our midweek games."
But closing out the season undefeated in midweek games will not be an easy task. FAU has taken at least one midweek game from Miami in each of the previous three seasons and the Owls are looking for a big win to boost their NCAA tournament resume.
"Beating a team three times in a year is definitely tough," infielder Alex Toral said. "FAU beat us once last year and they beat us once in 2019 as well. It's definitely hard to go undefeated in those games and they seem to always play us tough and they can swing it so we're going to have to come out and be aggressive tomorrow."
Aggressive is the same mindset that Miami starting pitcher Alex McFarlane will take to the mound when he faces FAU on Tuesday at Mark Light Field.
"My mindset is just attack," McFarlane said. "Attack with the same mentality I've been doing all year. I'm just trying to get outs, trying to get the team to win."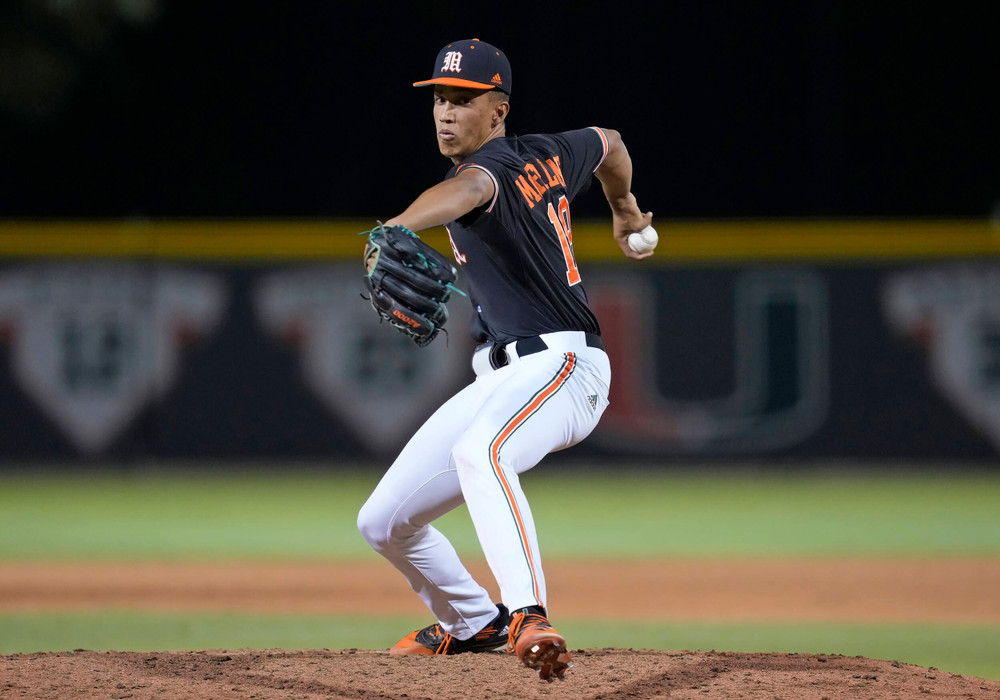 Win is something Miami has done fairly often over its last seven games, going 6-1 in those contests. The Canes have also won 14 of their previous 15 games at home, including a 12-game stretch the ended Friday against Georgia Tech. But Miami's series win over the Yellow Jackets built up some momentum that the Canes hope to capitalize on this week against FAU and Louisville.
"It's already the end of the season and it's good to have momentum going towards the end of the season," Vilar said. "We're not going to take tomorrow's game lightly or any other game throughout the rest of the season. We're going to use the momentum from Sunday's game against Georgia Tech and just carry it over to the midweek and then to Louisville."
Momentum is a big thing in sports and teams often ebb and flow with the momentum they are riding. For Miami to accomplish its goals this season, the Hurricanes will need to keep momentum going on their side and that begins Tuesday against FAU.
"A win tomorrow will only help us because we have a chance to make the NCAA tournament and be in a good position if we finish strong," Toral said. "I know that if we're playing our best baseball going into Louisville and going into the ACC tournament, it definitely means something to the team and that starts with tomorrow's game against FAU. If we are playing our best, it shows that everybody's hot and riding a hot wave. The energy you had the game before if it's good and they could carry it over to the next game, that's only going to help build that momentum and hopefully, we can make a deep run in the ACC Tournament and maybe win our first one since 2008."
"Every game is the most important game of the year like Gino says, so we know tomorrow's game is very important," Vilar said. 'We're going to do whatever we have to do to come out with a win."