CORAL GABLES, Fla. – More than 2,700 miles away from Brighton Massachusetts, Tami Noel hung on every pitch.
She cheered every strike, celebrated every out and from her home in St. Thomas in the U.S. Virgin Islands, Noel watched with pride as her son worked his way through the Boston College lineup with near picture-perfect precision.
Alex McFarlane threw five shutout innings that Saturday afternoon. He struck out a career-high five and scattered three hits to help the Hurricanes secure what was eventually a 2-1 win.
Not bad, especially for a freshman making his first weekend start at the college level.
"For me, my whole mentality out there was trying to do what's best for my team, to help my team win," McFarlane said. "That's what everyone should go out and do. That was my mentality going into it – throw the best I can for as long as I can and give my team the best chance to win every time."
Back home in St. Thomas, the reaction to his performance wasn't matter-of-fact.
"Well, watching it was nerve-wracking. I mean, I was on the edge of my seat because you just want him to do well. You want that first start to go well," Noel chuckled. "I was obviously proud of him and happy for him. I'm a nervous mother, but he knows how that goes."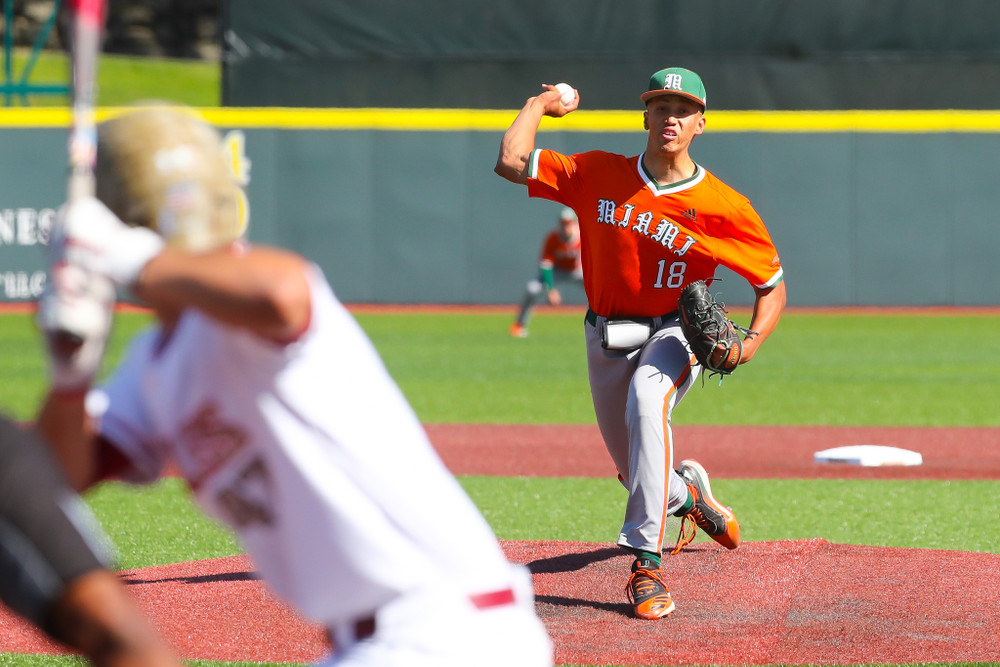 Noel, it turns out, had plenty of reason to cheer last weekend. Now, both she and the Hurricanes (24-15) are eager to see what's next for McFarlane – especially as he prepares to make his first Friday night start when Miami hosts Appalachian State (16-23) for a three-game series this weekend at Alex Rodriguez Park at Mark Light Field.
For McFarlane, who honed his skills pitching against some of the top young players across the Caribbean, the Friday start will be the culmination of a somewhat non-traditional baseball journey that often included playing in places like Bonaire, St. Martin, Puerto Rico and the Bahamas.
He began playing the game when he was just three years old and though he didn't have nearly the resources many of his current Miami teammates had when they played youth ball, McFarlane worked his way up through several Virgin Islands leagues before eventually landing a spot on a U.S.-based summer travel team.
Those experiences, he says, not only helped him catch the eye of college recruiters on the mainland, but helped him develop a wide-range of skills that helped him grow as a pitcher.
"It all came together and it's been an amazing process," McFarlane said. "You have all these kids with all these different playing styles on all these islands and you pick up a lot of things. You play a lot of tough competition, which in the long run, only makes you better. In 2015, we traveled to California and we played teams like Japan, South Korea and that was even more experience, picking up a lot of things."
But in 2017, McFarlane and his family faced a series of unexpected challenges when a pair of Category 5 hurricanes – Irma and Maria – tore through the U.S. Virgin Islands. Homes were destroyed. So, too, were schools and baseball fields.
The situation in St. Thomas was bad enough that Noel eventually made the tough decision to send McFarlane to live with friends in Georgia, where during his senior season at Habersham Central, McFarlane posted a 1.66 ERA, struck out 69 batters and hit .479 with 33 runs scored.
He was named his team's most valuable player and best hitter and was drafted by the St. Louis Cardinals coming out of high school. McFarlane, though, chose to become a Hurricane.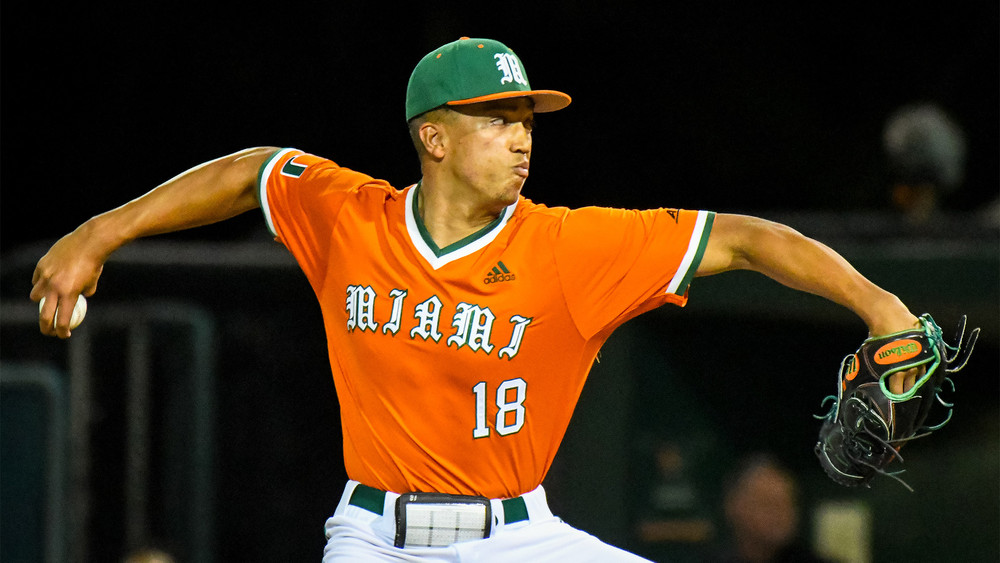 But his freshman year brought a very different kind of setback when COVID-19 struck and college sports across the U.S. were halted last spring.
McFarlane had appeared in six games and posted a 2-2 record when Miami's season came to an end. Suddenly, the opportunity to try and gain invaluable experience was gone.
Unable to return home to St. Thomas because of the pandemic, McFarlane threw himself into training as best he could on his own. He took advantage of open fields to work out and focused on getting stronger and adding muscle to his 6-foot-4 frame.
Still, when he returned to Coral Gables, McFarlane concedes there was a bit of an adjustment period and he didn't pitch as well as he would have liked in the fall.
"I had to mentally push through it to get where I am now," McFarlane said.
After a tough conversation with pitching coach J.D. Arteaga earlier this year, McFarlane started the year in Miami's bullpen. There, he pitched well enough to work his way into the weekend rotation.
Now, he's the Hurricanes' new Friday starter.
"The ones that do everything right and work hard and just don't quite get the job done, those meetings are always very tough. And he was one of those," Arteaga said. "As the season's gone on, our starters have had their ups and downs and we decided to make a change last week. He'd been pitching well out of the bullpen, so we told him he was going to get the chance to start Saturday and of course, he did a great job.
"This week, he's moved up another day. Now he's throwing Friday night and we hope he can kind of anchor the staff and give us good outings on these next three Friday night starts that he hopefully gets…and carry us from there. I think he's going to take this opportunity and run with it."
McFarlane and Noel share a similar hope – and the hope that Noel will be able to travel to South Florida soon enough to see her son pitch in person.
"When I start to think about it, he has had a pretty fabulous journey," Noel said. "From age three when somebody called me up on the phone and said, 'Tami, you know, you might want to think about putting Alex in baseball…I was like, 'Well, okay, we'll give it a try' and look what's happened. Yeah, it's been a good journey."