CORAL GABLES, Fla. – Brian Van Belle always dreamt of being a professional baseball player and the former Miami standout will make his first start as a pro Wednesday night.
Van Belle's debut for the High-A Greenville Drive will mark his first official outing as a member of the Boston Red Sox organization and a return to competitive action for the first time since his final outing with the Canes.
"The juices are flowing. I'm excited to see what the atmosphere is like on opening night," Van Belle said. "We're at home so I'm pumped up about that. The Greenville area, I've seen it now the last couple days and it's beautiful. I've heard the fans are great agree and it gets rowdy in there. So, I'm excited for it, and pumped up to go out there and do my thing in a competitive atmosphere again.
"I haven't pitched in front of fans or crowds since March 6, 2020 against Pitt," Van Belle said. "I got my feet wet in professional baseball but it was in a different realm, whereas you're pitching on the backfield and you're pitching in JetBlue Park with just some scouts, some coordinators and coaches watching. This is definitely more exciting knowing that you're going to be playing in front of fans and a more competitive atmosphere."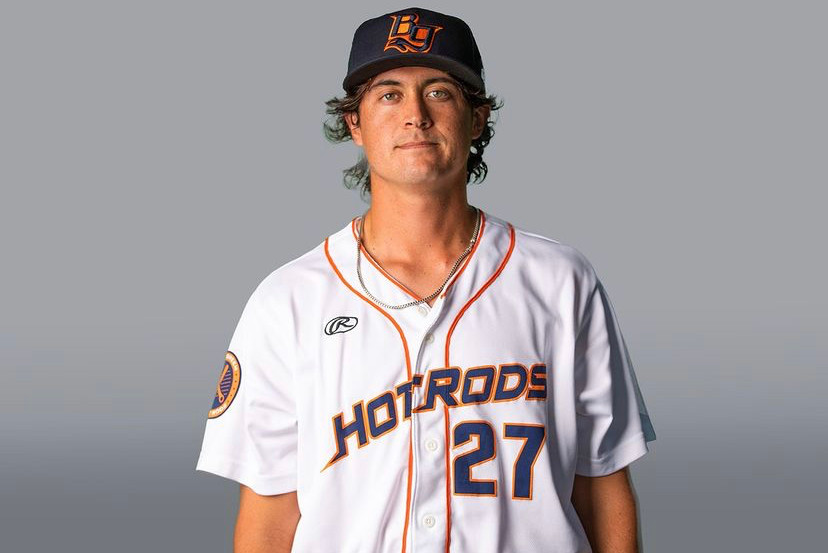 Van Belle will see a familiar face in the opposing dugout to start his 2021 season, as former UM teammate Evan McKendry is in his first season with the High-A Bowling Green Hot Rods of the Tampa Bay Rays organization.
"It's definitely exciting to know Evan's going to be there," Van Belle said. "He's a guy that I was a teammate with at Miami and still keep in touch with today. There's actually another guy on their team that I went to high school with, Michael Gigliotti. It's cool to know that I'll get to experience my first pro outing and know that some guys that I know will be there, too. We can all look back and see how all of our hard work and passion for the game and the time that we put in has come to fruition and we're all here now."
"It's his first pro outing and I'm glad I'm going to be there," McKendry added." It's going to be really cool to watch, especially with a guy like him that has been through so much on his journey to get to this moment. It's a great moment for him."
For McKendry, facing off against Van Belle in the season-opening series adds a little extra excitement to an already highly anticipated start to the season.
"It's super exciting, especially because it's Van Belle," McKendry said. "He and I have such similar work ethic and we have been throwing together in the offseason and doing stuff together in the offseason. It's really nice to see both of us starting in such good positions in High-A and, of course, going against each other to start the season."
The two former Hurricane hurlers spent time working out together before heading to spring training and it brought back memories of their time in Coral Gables.
"We were pretty much just throwing bullpens together but it was a lot of fun," McKendry added. "I was joking with him that I used to love throwing changeups back and forth with him in college. So, doing it again this offseason was so much fun. I enjoyed it."
The pair could not have imagined crossing paths again so soon, but are excited to face off against each other in 2021.
"This whole thing was uncertain," Van Belle said. "We both said 'bye' to each other our last bullpen and we said 'good luck' and now we come to realize that we're going to be playing against each other throughout the season in High-A so that's definitely exciting."
Van Belle and McKendry are two of 22 Hurricanes currently on professional baseball rosters in 2021. Yasmani Grandal, Zack Collins and Bryan Garcia give the Hurricanes a trio of big leaguers, while Van Belle is joined by fellow right-handers Slade Cecconi, Chris McMahon and Tyler Keysor, as well as infielder Freddy Zamora, in making their professional debuts in 2021.
"All of our hard work and passion for the game is coming to fruition and now we're all here starting our professional careers, which is definitely exciting," Van Belle said.
A complete list of ProCanes and their current assignments is below.
Player
Position
Organization
Assignment
Zack Collins
C
White Sox
MLB – White Sox
Bryan Garcia
RHP
Tigers
MLB – Tigers
Yasmani Grandal
C
White Sox
MLB – White Sox
Carl Chester
OF
Rangers
AAA – Round Rock Express
Chris Herrmann
C
Red Sox
AAA – Worcester Red Sox
Jon Jay
OF
Angels
AAA – Salt Lake City Bees
David Thompson
INF
Mets
AAA – Syracuse Mets
Willie Abreu
OF
Rockies
AA – Hartford Yard Goats
Frankie Bartow
RHP
Nationals
AA – Harrisburg Senators
Romy Gonzalez
INF
White Sox
AA – Birmingham Barons
Jacob Heyward
OF
Giants
AA – Richmond Flying Squirrels
Michael Amditis
C
Indians
Hi-A – Lake County Captains
Andrew Cabezas
RHP
Twins
Hi-A – Cedar Rapids Kernels
Evan McKendry
RHP
Rays
Hi-A – Bowling Green Hot Rods
Chris McMahon
RHP
Rockies
Hi-A – Spokane Indians
Brian Van Belle
RHP
Red Sox
Hi-A – Greenville Drive
Greg Veliz
RHP
Angels
Hi-A – Tri-City Dust Devils
Freddy Zamora
INF
Brewers
Lo-A – Carolina Mudcats
Tyler Keysor
RHP
Reds
Slade Cecconi
RHP
Diamondbacks
Peter O'Brien
OF
Mexican League
Toros de Tijuana
Andrew Suarez
LHP
KBO
LG Twins