CORAL GABLES, Fla. – The University of Miami women's tennis team is headed into its final match of the regular season playing its best tennis of the year.
The Hurricanes are 8-2 in their last 10 matches and both setbacks were narrow 4-3 margins against teams currently ranked in the top five. They have found a consistent lineup in both singles and doubles, ascending from No. 30 in the ITA Coaches Poll in early March up to their current spot at No. 19.
Miami's final match before the postseason comes Friday afternoon against Florida Atlantic. The South Florida schools will square off at 2 p.m. at the Neil Schiff Tennis Center.
"We're super excited," fifth-year senior Estela Perez-Somarriba said. "We, obviously, want to finish the regular season on a good note. I think that everybody is in a very good spot. They've been showing that on the court, in practice and matches."
When No. 23/19 Miami (11-7, 8-5 ACC) faces Florida Atlantic (8-5, 2-0 CUSA), it will mark the first time since 2016 it plays a non-conference opponent twice in the same season.
The two sides met all the way back on Jan. 23, in the first match of the spring. The Hurricanes earned a 5-2 victory at FAU Tennis Complex in Boca Raton, Fla.
"We know what to expect," Perez-Somarriba said of facing the Owls for a second time. "That was a tough match and I know that we're not going to take it for granted. We're not going to overlook FAU at all. Everybody is ready to battle."
While the match is, of course, of the utmost importance on Friday, the subplot centers around Perez-Somarriba.
One of the most accomplished athletes in ACC history—no, that is not hyperbole—Perez-Somarriba will be recognized before the contest during Senior Day ceremonies.
A four-time ITA All-American, two-time ACC Player of the Year and the 2019 NCAA singles champion, Perez-Somarriba, understandably, has many thoughts about what should be a special day in Coral Gables.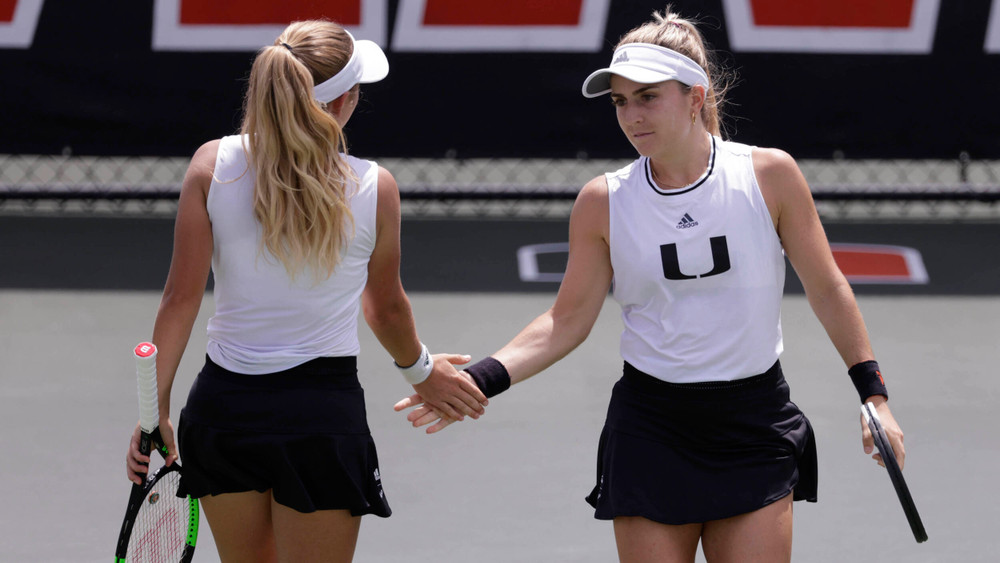 "I'm going to try very hard not to cry because I definitely get emotional. I'm … looking forward to it. I do have a mix of emotions at the moment," she shared. "UM is my home and it's hard to put into words how much the past five years have meant to me and how much they've transformed my personality and my mindset. Even physically, I've changed a lot. At the same time, it's kind of the end of a chapter and we've just got to accept that, even though I don't think I'm ever going to be ready to say goodbye."
As the nine-time ACC Player of the Week mentioned, she has spent five years at The U. That, of course, was not the initial plan, but the COVID-19 pandemic altered her journey a bit.
Soon after the NCAA granted student-athletes in spring sports an extra year of eligibility, Perez-Somarriba made the decision to return to Miami in 2020-21.
Over a year has passed since she made up her mind to come back and she not once questioned whether it was the correct thing to do.
"It was definitely the right choice," Perez-Somarriba said. "I knew I would never regret making this decision because being here is only going to help me in all possible aspects. I'm super grateful that the University of Miami and the NCAA gave me the opportunity to come back for one more year and finish like I always dreamt I would."
Although it is a year later than expected, Perez-Somarriba is now heading into the final few weeks of her illustrious college tennis career and that finish is creeping ever nearer.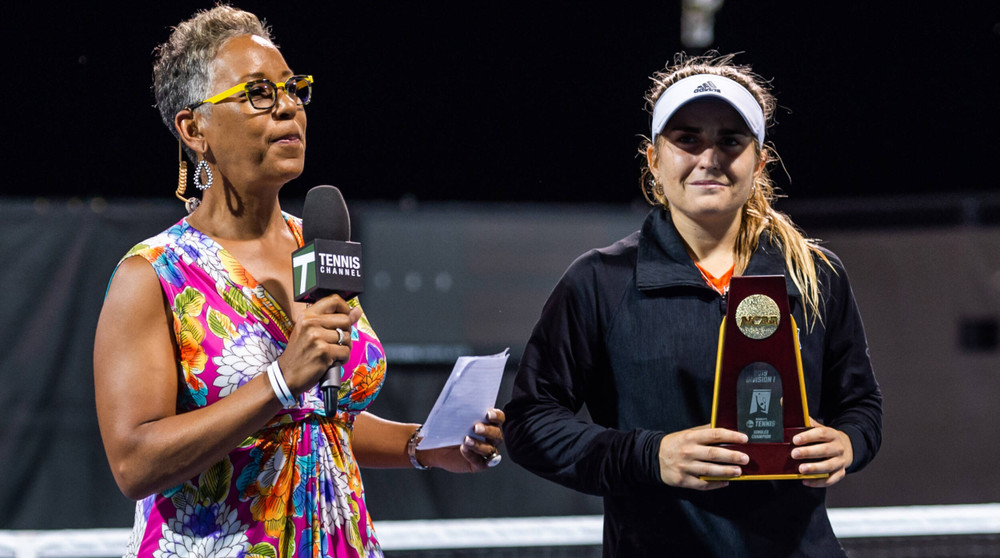 After Miami plays the Owls, it will turn its attention to the postseason. That is the time of year during which Perez-Somarriba hopes to cap her career the way she dreamed of doing.
The Madrid native is not focused on a specific goal, individually or team-wise, but rather about the opportunities that lie ahead, as well as about how she and her teammates are feeling.
"Personally, I'm very, very excited to play at ACCs and the NCAA tournament. I'm happy that I'm [going to be] able to … implement everything that I've been working on during the regular season," Perez-Somarriba said. "That's going to be reflected in my tennis, I'm sure about that. And, to be honest, I just want to enjoy my time on the court with my teammates, with Paige [Yaroshuk-Tews], with Alex [Santos], with Maci [Epstein], with Julia [Rapicavoli]. That's something that I'm really looking forward to.
"I think we deserve to finish on a very good note because of all the hard work that we've been putting in," she continued. "I'm ready to go, I'm ready to play Miami tennis. Let's see how it goes, but I'm definitely excited; that's for sure."
While Perez-Somarriba is looking to the future, the lead-up to Senior Day also presents the opportunity to look back.
Among the most decorated athletes to ever don the orange and green at the University of Miami, Perez-Somarriba's list of accolades is seemingly never-ending.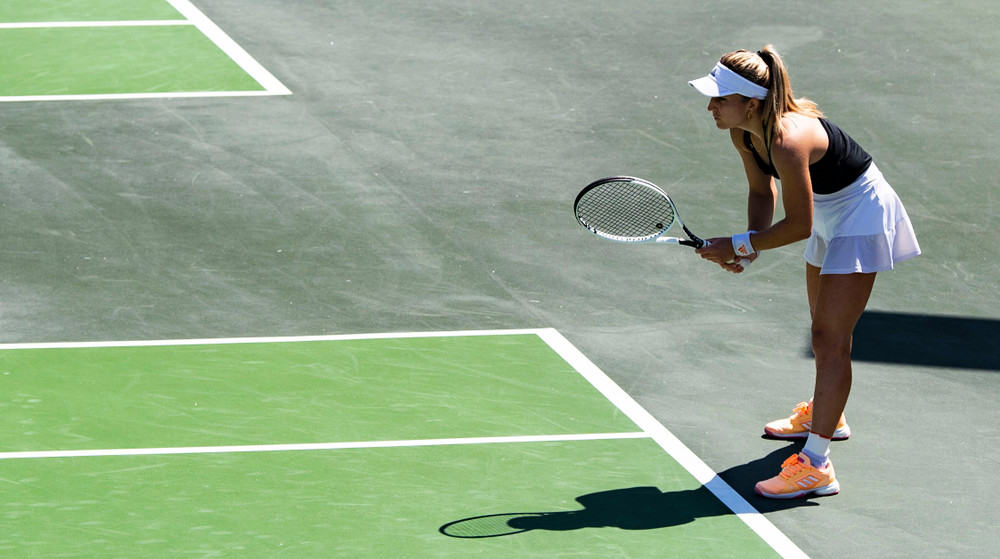 The 2019 Honda Sport Award winner and soon-to-be four-time First Team All-ACC honoree, though, does not harp on her past plaudits. Rather, she focuses on what it took to earn them.
"I think, from my perspective, it's just life-changing to see how much I've evolved and how much I've accomplished," Perez-Somarriba shared. "The most interesting part is that I never thought of accomplishing all of these things. I never thought of truly winning all of these titles or getting to a certain amount of victories or stuff like that. I've always kind of trusted the process and, along the way, all of these things happened and I think I embraced them. They gave me confidence and I used that confidence very well. Honestly … the process is the most fulfilling and gratifying award that I am ever going to get here."
Given the way she describes her approach to racking up so many distinctions during her career, it is no surprise that Perez-Somarriba feels the primary on-court improvement as a tennis player at Miami has been the mental component of the game.
That adjustment has helped Perez-Somarriba rack up a staggering 156-25 singles record, good for the third-most victories in ACC play and, by far, the most by a Hurricane.
It has also helped the nine-time ACC Player of the Week, who is currently ranked third nationally in singles and No. 34 in doubles alongside freshman Isabella Pfennig, prepare for the professional career she plans to pursue after earning her master's degree at The U.
"I would say that my mindset has changed a lot in how I respond to adversity, to circumstances that might be out of my control," Perez-Somarriba remarked. "Now, when I have some goal in mind, I know that I'm going to perform at my best. That's something that I've learned here. No matter the circumstances, no matter how you feel or the type of adversity [you face], you always have enough to accomplish what you dream, what you want. That's something that Paige has told me since freshman year. That is, I believe, something that is going to help me a lot in my tennis career in the future."
As much as Perez-Somarriba has developed on the court en route to becoming one of the most successful college tennis players ever, she has also transformed as a person, outside of her athletic feats.
Her growth as an individual may not garner the attention her tennis prowess does, but Perez-Somarriba has come a long way off the court over her five years at Miami.
"I've learned how to be more independent, more confident. I've learned that my actions have power, that I have a voice," she said. "I've learned to always keep going, no matter what. Personally, I'm very grateful for everything. I think that I've never taken anything for granted during my time here and I'm definitely going to try to implement that in my future. I've become a woman, honestly, during my time here. I was a little girl and I think that is a big change."
Even during a week that is deservedly centered on her, Perez-Somarriba knows she has not achieved all her progress, either as a player or person, by herself.
Rather, there are individuals around here both in Miami and back home in Madrid who have helped her get to this point. Ever gracious, she made it a point to thank those individuals for aiding her during her five-year journey at The U.
"I would like to say how grateful I am to Paige and the athletic department for giving me the opportunity to become who I am today," Perez-Somarriba shared. "In the distance, my parents and my sisters have been my biggest supporters all these years. They have passed down to me respect for hard work and conveyed to me important moral values. I believe this has contributed to the team culture and created value around me. I owe them everything."
All that support—from family, coaches, administrators, teammates, fans and more—has helped Perez-Somarriba put together a textbook career.
As she begins to write the final pages in the closing chapter, Perez-Somarriba took a moment, while holding back tears for the first time in an emotional week, to share what it means to be a Miami Hurricane.
"I think it's about commitment, passion, love, care, teamwork and pride."
Perez-Somarriba undoubtedly has demonstrated each of those descriptors, tenfold, during a historic tenure at Miami.
Those who have watched her do just that will have the chance Friday to honor Perez-Somarriba for all she has meant to them and to The U over the past five years.
And then she will undoubtedly get right back to work on completing her college career the way she has always dreamt.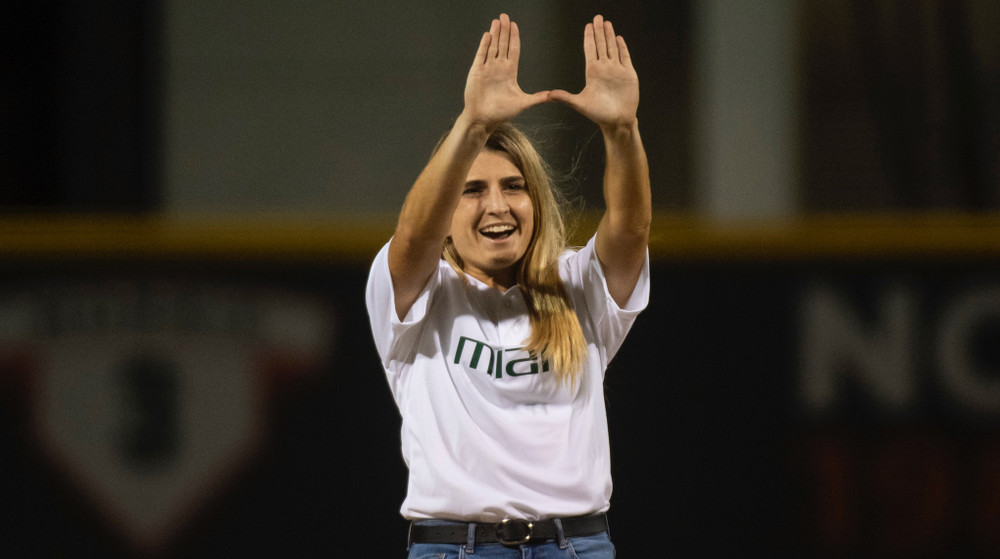 Live video for Miami's Senior Day matchup versus Florida Atlantic, against whom the Hurricanes are 32-0 all-time, will be available HERE and live stats can be found HERE.
Fan attendance at the Neil Schiff Tennis Center for Miami home matches will be limited to immediate family members of the participating teams.
To keep up with the University of Miami women's tennis team on social media, follow @CanesWTennis on Twitter, Instagram and Facebook.