Toral and Wanger Named Senior CLASS Candidates
CORAL GABLES, Fla. – The University of Miami's Alex Toral and Ben Wanger were among the 30 NCAA baseball student-athletes who were selected as candidates for the 2021 Senior CLASS Award.
For the last two years, Toral has been one of the best left-handed power hitters in college baseball. His ability to hit the ball out of the park at any time makes him an extremely dangerous hitter.
In 2019, Toral finished as the ACC home run champion with 24. That ranks second in Miami history for a single season. Prior to 2021, Toral received multiple preseason All-America accolades, including a first-team selection from Baseball America.
An outstanding student-athlete, Toral carries a 3.01 GPA and is on track to earn his Bachelor's of Business Administration in Management. He has earned All-ACC Academic Team honors once, Athletic Director's Honor Roll once, ACC Honor Roll twice, and Book Busters four times.
Wanger has had a decorated career and he entered the 2021 season as a pre-season Collegiate Baseball All-America second-team selection. In 2020, Wanger was named to the Collegiate Baseball All-America second team while at USC.
At Yale, he earned 2018 All-Ivy first team honors as a pitcher and 2018 All-Ivy second team honors as a first baseman. Wanger was also named to the NEIBA Division I All-New England third team. In 2017, he was named to the ABCA/Rawlings Division I Northeast All-Region first team, NEIBA Division I All-New England first team, and All-Ivy first team as a designated hitter.
Wanger graduated from Yale in 2019, earning his bachelor's degree in economics and environmental engineering. He transferred to USC in 2020, starring for the Trojans while completing a master's in entrepreneurship. Wanger is working toward a master's in international business.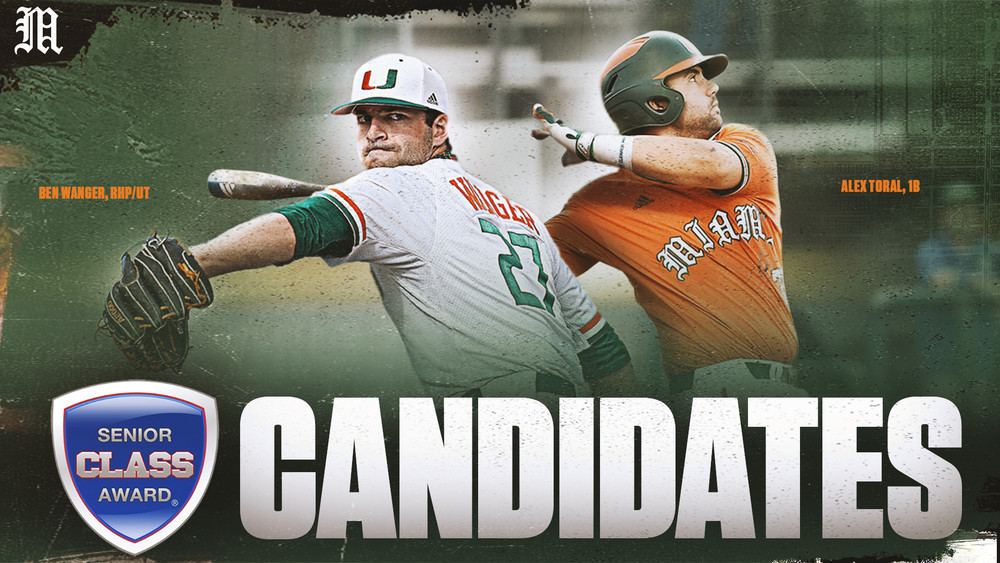 Six of the 30 NCAA baseball student-athletes selected as candidates for the 2021 Senior CLASS Award hail from the Atlantic Coast Conference, tied for the most of any conference.
Toral and Wanger were joined by Georgia Tech's Austin Wilhite, Louisville's Luke Smith and Notre Dame's Daniel Jung and Christian Scafidi as candidates. Miami and Notre Dame were two of just three schools to have more than one player recognized.
To be eligible for the award, a student-athlete must be classified as an NCAA Division I senior and have notable achievements in four areas of excellence: community, classroom, character and competition. The complete list of candidates follows this release.
An acronym for Celebrating Loyalty and Achievement for Staying in School, the Senior CLASS Award focuses on the total student-athlete and encourages students to use their platform in athletics to make a positive impact as leaders in their communities.
The 30 candidates will be narrowed to 10 finalists in May, and those 10 names will be placed on the official ballot. Ballots will be distributed through a nationwide voting system to media, coaches, and fans, who will select one candidate who best exemplifies excellence in the four C's of community, classroom, character, and competition.
The Senior CLASS Award winner will be announced during the 2021 College World Series in June.