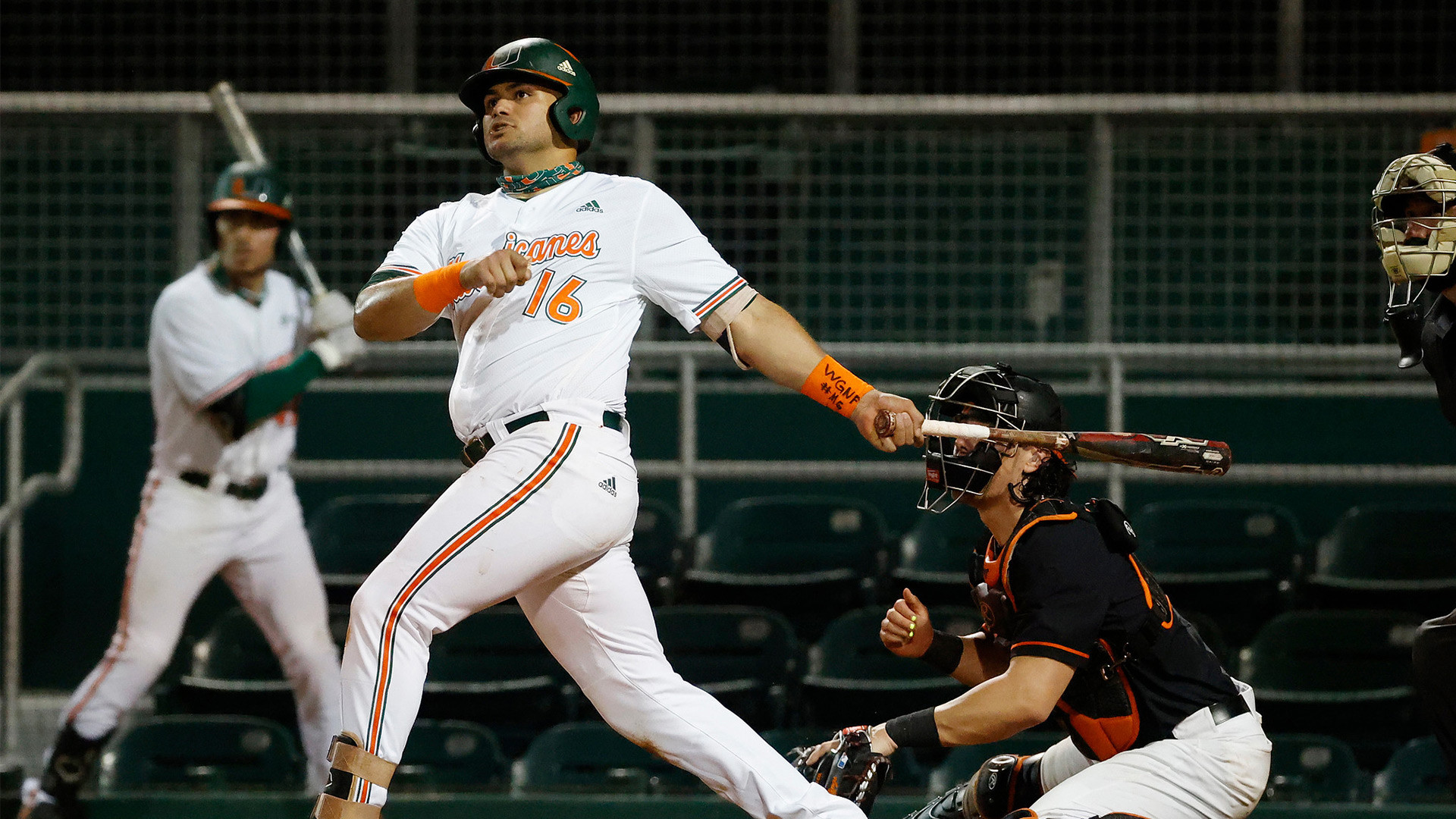 Duke (11-10, 5-7 ACC) at No. 20 Miami
(13-8, 7-7 ACC)
Roster | Schedule
April 2-4, 2021 | 7 p.m. | 7 p.m. |1 p.m.
Alex Rodriguez Park at Mark Light Field | Coral Gables, Fla.
CORAL GABLES, Fla. – Throughout his time at the University of Miami, Raymond Gil has dealt with injuries, but this year presented new, unprecedented challenges for the junior third baseman.
After the coronavirus shuttered the Miami Hurricanes 2020 season after just 16 games, Gil was excited to get back onto the baseball diamond this fall. However, prior to the beginning of fall camp, Gil suffered a concussion in a car accident, which left him in neck brace and unable to practice.
"It was tough," Gil said. "I wanted to be out there with my teammates,"
Yet, the adversity did not stop Gil or "Ray-Ray," a nickname family and friends often call him, from helping his teammates prepare for the upcoming season.
"He was always at practice," said assistant coach and recruiting coordinator Norberto Lopez. "He'd be at practice with a neck brace just walking around and talking to guys and just doing what he can control at that time."
After weeks in a neck brace, Gil was finally cleared to return to practice in November. During his first day back on the field, he went for a routine grounder and throw over to first when he landed awkwardly on the pitcher's mound. He broke his fibula and tibia on that play, a crushing blow to Gil who now was expected to be out through at least January.
"I thought I was going to be able to come back," Gil said. "Then, especially halfway through my recovery, it started setting in that I couldn't play, and I thought maybe I won't be able to play this season."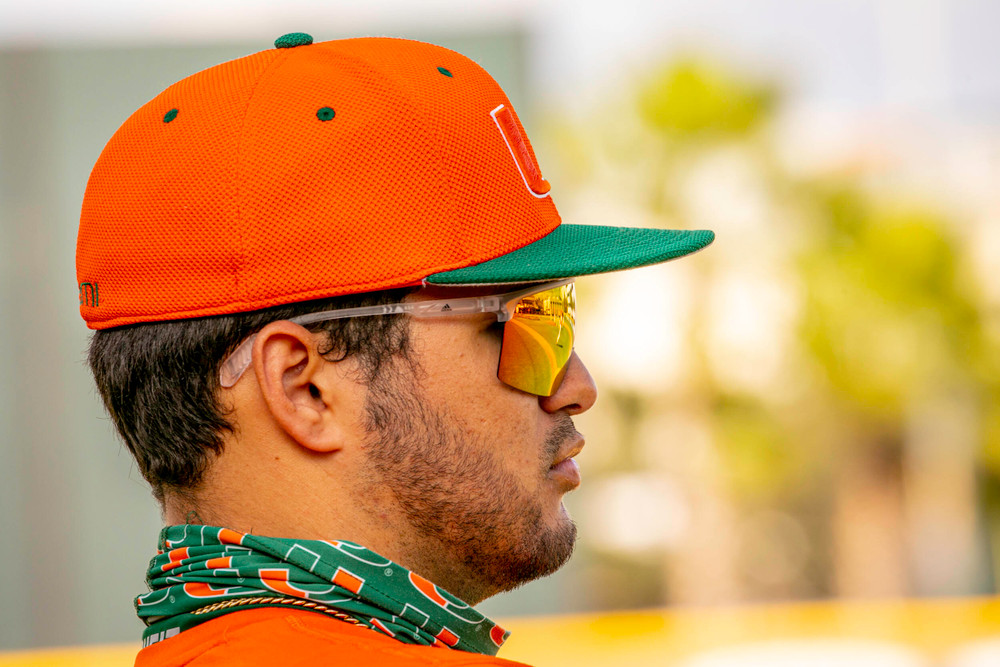 Baseball has always been an outlet for the Miami native. Therefore, not having the ability to play made this already trying year more challenging.
"The end of December was difficult [between] those two injuries and not playing in the fall," Gil said. "It's been a tough year— my grandmother passed away. Then everything tied together, baseball was an always outlet for me and I didn't have that either.".
As a child, Gil was surrounded by family and sports, especially baseball. Every weekend, the family traveled to one of his older sisters', Patty and Fabiola's, volleyball games or his baseball tournaments.
"I don't really have many more interests," Gil said. "I play baseball and then go home to my family to watch some form of sports."
He initially played soccer like his father, Jose, who played in Cuba and the United States, but he found the sport to be boring and fell in love with baseball like his grandfather, who played in Venezuela.
"He lives for baseball," said Patty who is seven years older. "He would eat, sleep and breathe baseball."
As he excelled on the field at Gulliver Prep, many college programs came calling. It was the ability for his family to be in the stands at his games that ultimately swayed him to enroll at UM.
"It seemed like a win-win," Gil said. "A top baseball program at home and my family can come see me play. It's always great seeing them up there."
For the rest of the family, Patty explained, it is a blessing her younger brother is at UM. They attend every one of his games.
"Our family is baseball so anything that has to do with baseball we're there." Patty said. "Having Raymond so close couldn't be any better."
Although Gil doesn't live at home, he always finds a way to make time for family whether it is bonding over sports or playing their favorite board game Parchessi.
"He's a family person," Patty said. "If we're doing something, he's here. He's not the type of usual college kid that is like, 'Oh, I'm gonna go out and party,'… he's always with us."
It was through that support system that fueled Gil's perseverance to get through his most recent injury. His high school varsity coach Manny Crespo sent him daily motivational messages to get him through his rehabilitation. One included the story of Vinny Pazienza, a former professional boxer who made it back to the ring after almost losing his ability to walk in a car accident.
"My job as a coach is to keep him motivated and show him there's other people that support them because it's a lonely road back," Crespo said. "It's nice to have some people just keeping tabs on you and just trying to push you to go out there and do your best. The reality is there's people that have faced these kinds of circumstances before and I know he could do it."
One quote that struck Gil was a quote Crespo sent him from Star Wars: "Do or do not, there's no try." That message was instrumental in motivating Gil to get through his injury quickly even to the shock of his sister Patty, a registered nurse.
"He never once said, at least to us, that he wasn't going to be back. He was up the next day [after surgery] and physical therapy came and he was like, 'Alright let's go. What do we need to do?," said Patty. "He got injured in November and he was back in January. To me, that is superhuman. It shows you his drive and the heart."
Lopez echoed a similar sentiment about Gil's drive and work ethic.
"I never heard him complain," said Lopez. "His therapist told me that he worked hard every day and did everything he had to do to get himself healthy. I never saw him miss meetings. He always was where he used to be when he needed to be there"
Gil worked tirelessly to get back prior to the season opener against the No. 1 ranked Florida Gators on Feb. 19 and he did just that. After losing the first game of the series, Miami was on the brink of dropping another until the team tied in up in the ninth. With the game still tied in the 13th inning, Gil hit the game-winning two-out RBI single. His heroics did not stop there as he hit his first home run of the season in the final game to bring Miami's lead to five, sealing the series against UF. He called this series win one of his highlights at UM.
"To hit that home run, it felt good," Gil told reporters following the series win. "I'm just glad I could help my team.
Gil and the Hurricanes are back in action this weekend, hosting Duke in a three-game series set to begin Friday at 7 p.m.