Seasoned Canes: Fans Share Their Stories
Shelton Douthett
Hurricanes fans across the globe have special game day wardrobes – a favorite jersey, a vintage hat or maybe a lucky pair of socks.
Of all the familiar sights on a University of Miami game day in the fall, however, a decked out Shelton Douthett is likely near the top of every Hurricanes fan's list.
No one, outside of the Hurricanes football student-athletes on the sidelines, can match the enthusiasm of Douthett, who makes regular appearances in tailgate lots and on the jumbotron at Hard Rock Stadium every season in full uniform – shoulder pads, helmet, cleats and all.
Douthett's game day wardrobe made its debut at the 2009 Champs Sports Bowl against Wisconsin in Orlando.
"When I went up [to Orlando], everybody was looking at me like I'm a player and wondering, 'Why is he doing this? Who is this guy?' But when I would tell them why, and the promise I made to my brother, they all were moved by the story," Douthett said.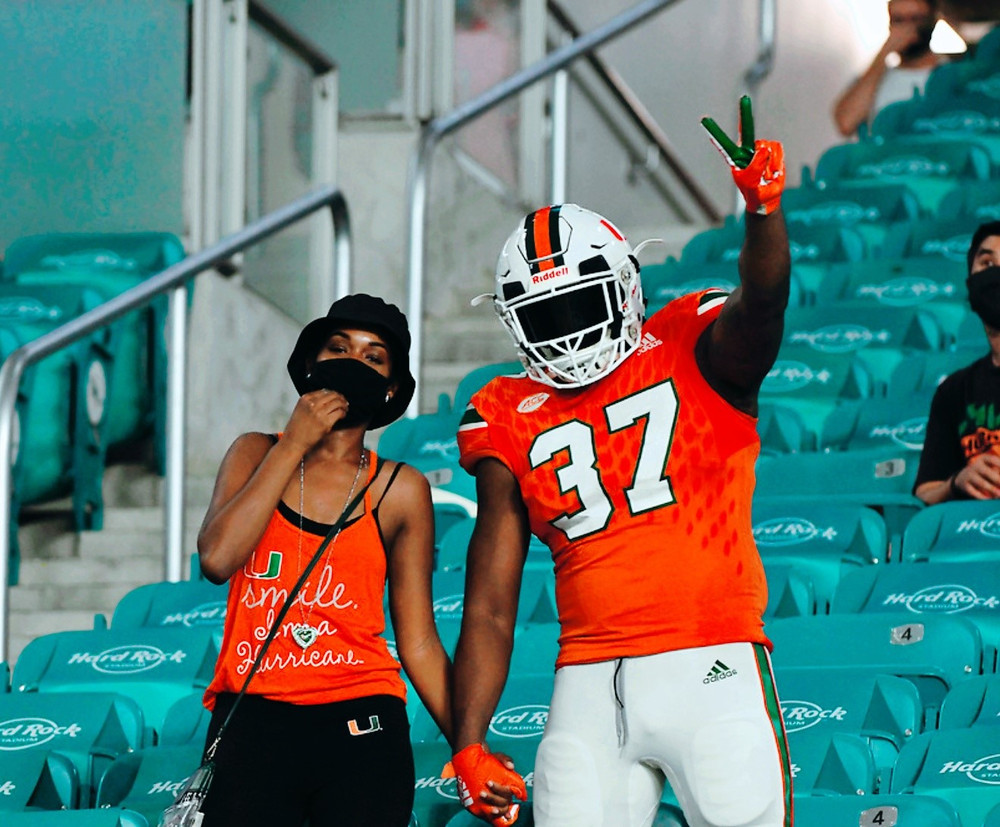 Douthett and his older brother, Wayne, were one year apart in age but were inseparable as kids. It didn't matter that Wayne was autistic or had a mild case of Down syndrome – they were best friends.
The Douthett brothers' mom, Gloria, is a retired police officer for the City of Miami. During her days working a security detail at the Orange Bowl, she got tickets to Hurricanes games and gave them to her husband, also named Wayne.
What started as a trip to watch the Hurricanes with their dad turned into a lifelong obsession for the two brothers.
"When my dad took us down there for the first time, we were hooked," Douthett said. "We have been fans for years and years and years. We would get tickets whenever we could."
It was during their first year as season ticket holders in 2009, on a road trip to Doak Campbell Stadium, that Wayne, Jr., first developed a significant cough. He was eventually admitted to a hospital and diagnosed with pneumonia upon returning to Miami.
Douthett gave away his tickets for the remaining games of that season, opting instead to watch Miami play on television from the hospital with his brother.
"I didn't feel right without him," Douthett said.
Douthett spent days by his brother's side. It was in the hospital bed that Wayne first brought up a unique idea to his younger brother.
"We were watching the game one time and he asked me in his own way, 'When are you going to wear a helmet and pads to a game?'" Douthett said. "We collected jerseys and all kinds of stuff. I said, 'I'll wear it to a game when you're out of the hospital.'"
With some words of encouragement from his mother, and with his brother still ailing, Douthett had made the decision to travel to Orlando for a regular season game against UCF without his brother.
As fate would have it, he never made the trip.
"I was packing up one night and just didn't feel right," Douthett said. "It was at that moment the phone rang, and it was the hospital. They delivered the news to my mother that my brother had passed away."
Douthett was lost upon hearing the news.
"I didn't know my way. I was in a dark place. I didn't know what to do," he recalled.
Douthett pondered different to honor his brother's memory, and Hurricanes Football was always near the top of the list.
"It was the year UM was selected to play in the Champs Sports Bowl against Wisconsin, and I had never been to a bowl game before," Douthett said. "I thought to myself, 'I might as well do it there.' I bought shoulder pads and everything."
Douthett was happy to share his story with curious onlookers in Orlando tailgate lots. His parents had started a scholarship fund in his brother's memory at a school for special needs children in Opa-Locka.
"Everyone was moved by the story, and a lot of people even game me money to donate to his scholarship," Douthett said. "I try to go to at least one road game per year, and try to pick a city I've never been to."
The tradition has continued to this day.
Douthett wears a full uniform to honor the memory of his brother, whose legacy lives on every Saturday in the fall.
"When I was a kid, I didn't have too many friends. I was kind of an outsider," Douthett said. "Wayne was always that one to pick up a controller and play video games, or come talk to me…as close as we were, we were different. But I didn't see the disability in him. I saw him as my brother."