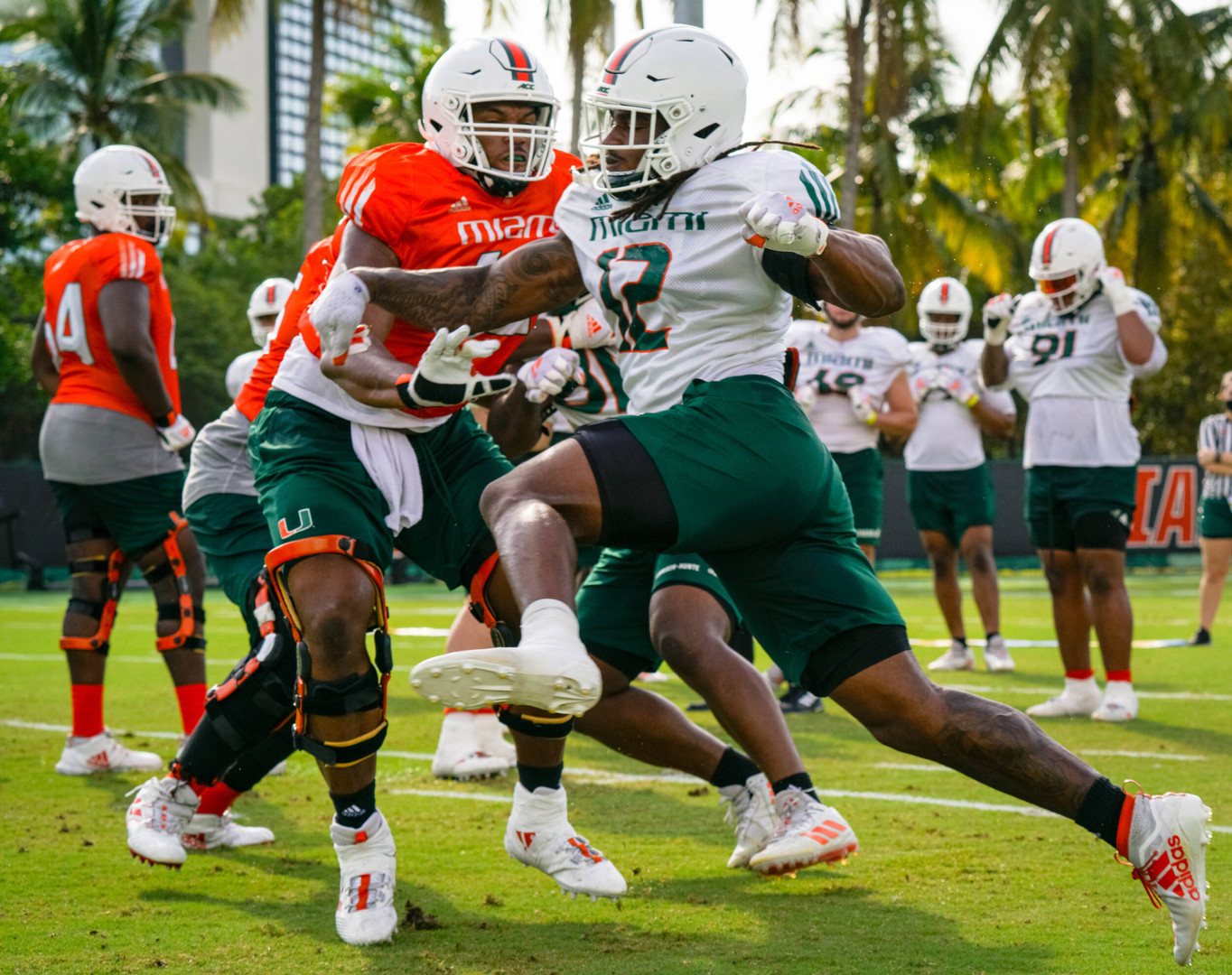 CORAL GABLES, Fla. – For Zach McCloud,  a fresh start on the football field began almost in jest.
As coaches outlined some of the Hurricanes' defensive game plans for Oklahoma State ahead of last December's Cheez-It Bowl, McCloud saw what was being asked of Miami's defensive ends and the words came tumbling out of his mouth.
"I was like, 'Man, coach, I can do that.' I was being cocky and making a joke, but he perked up and was like, 'Really?' and it kind of turned into a serious thing," McCloud laughed Tuesday. "I took my first reps at d-end that day and then just started rolling in at practice as a d-end. [It] went from being just that third-down package to 'Well, if I get caught on the field in base, I have to know that technique.'…It just happened naturally."
As the Hurricanes continue their second week of spring practice, McCloud now finds himself a full time defensive end, hoping to lead on a unit that will look markedly different this fall.
Veterans Quincy Roche and Jaelan Phillips, who led the Hurricanes with 14.5 and 15.5 tackles for loss respectively – are both preparing for the upcoming NFL Draft. So too is end Greg Rousseau, who opted out of the 2020 season after leading the 2019 Hurricanes with 19.5 tackles for loss and 15.5 sacks.
Replacing that kind of productivity will be a challenge, but it's one defensive line coach Jess Simpson says many of his younger linemen embracing, especially with help from McCloud and transfer Deandre Johnson, who totaled 15.5 tackles for loss and 10 sacks during his time at Tennessee.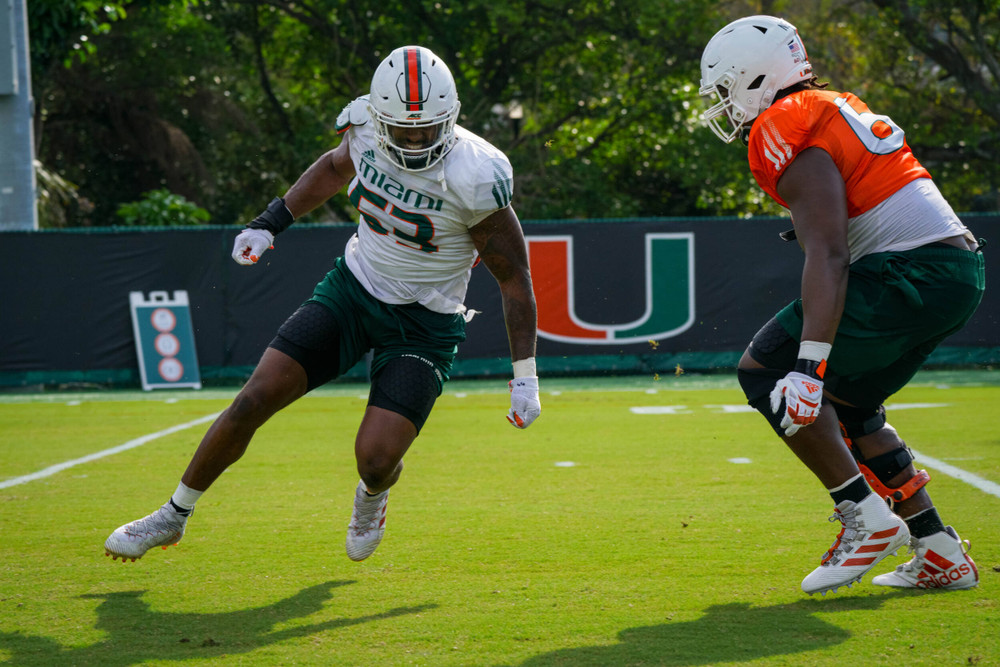 "They do want to be taught. They do realize what they don't know and it's fun when you feel like as a teach or coach, you can help a young person," Simpson said. "That's a big part of just coaching college, this age. You've got a bunch of 18-22-year-olds you can still help mold. Whether you help a young man as a person or you help them as a player trying to get to the next step wherever they are in their career, those are always [the most fun] things, watching those guys take those next steps."
Simpson, who rejoined the Hurricanes coaching staff this offseason after spending two years with the Atlanta Falcons, already has a proven track record of success at Miami.
In 2018, he led a defensive line that was among the best in the nation. The Hurricanes finished that season ranked No. 4 in the country in total defense, allowing just 278.9 yards per game. They also ranked No. 1 in tackles for loss (10.46 per game), No. 1 in third down conversation percentage (25.27) and passing defense, allowing an average of 135.6 yards per game.
That season, defensive tackle Gerald Willis III earned All-American recognition from multiple outlets including The Associated Press and Sports Illustrated after totaling a career-high 59 tackles, four sacks and 18 tackles for loss.
It remains to be seen if any of Miami's linemen can duplicate that success this year under Simpson's guidance, but the coach sees potential from the likes of redshirt freshmen Jared Harrison-Hunte and senior Jon Ford.
"Each guy's got his own style of play. You can see some of those traits. Jared Harrison-Hunte has got some twitch and athleticism that I think is special. He's still just a young guy, though. He's still learning how to play. He's definitely improving," Simpson said. "Big Jon Ford, I saw it a few years ago. I hear he's a great mover. He's just moving and playing with better eyes now and better conditioning. I don't know if anyone's in the exact mode of a G-Willis, but I know those guys have some traits that if we can develop, they can be really, really good players."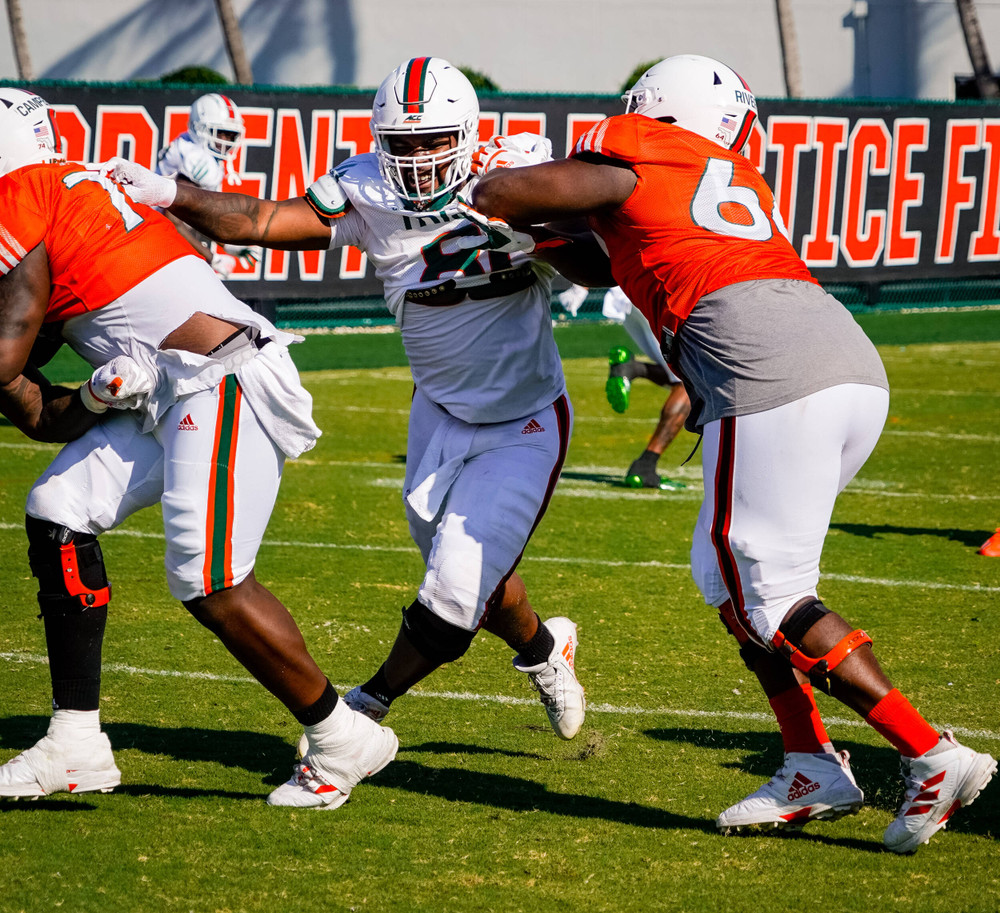 Meanwhile, though he's not participating in spring workouts as he recovers from a shoulder injury, junior tackle Nesta Jade Silvera has been a constant presence at practice and has thrown himself into learning his position on a different level.
That, Simpson said, will make a difference come the fall.
"His desire to learn football right now is probably higher than it's ever been. We've had a lot of one-on-one, we've watched a lot of his tape. We've watched a lot of NFL guys, from all around the league, not just one. Obviously, coaching Grady Jarrett and Tyler Davison the last couple years in Atlanta, that's all over my tape that I teach off of," Simpson said. "But, Nesta's a guy with great movement skills. At the end of practice, we do walk-throughs every day, we walk through schemes, we walk through drills and you can see the light coming on for him in some ways of just the things that he's learning. He's a vertical, penetrating guy, like we want. And I think his biggest focus going into next fall is just how he plays with his eyes."
At the end position, Simpson says early in spring drills, Jahfari Harvey, Chantz Williams and Elijah Roberts have all impressed in their own ways. For all of them – and for McCloud and Johnson – growth will be key.
"That's a process for all these guys," Simpson said. "Nobody's going to get crowned king in the spring and there's a lot of improvement that has to take place, but [Harvey and Williams] are two young guys that I see having a lot of potential for us."
Starting to reach that potential is a goal for the rest of Miami's defensive linemen, too, this spring.
Many of them have had the chance to learn from some of Miami's past defensive linemen and have already gotten their first tastes of college football.
Now, it's time to take things to the next level, with Simpson leading the way.
"You have to play very hard [at this level]. Every play is full speed. That's what I learned last year," said Harrison-Hunte, who had 17 tackles, six tackles for loss and three sacks last season. "In high school, I played hard, but I didn't play hard every single play. Last year, I learned you have to go 100 percent all the time. Playing hard, playing with great eyes and great technique, you'll do better."