Soccer Sweeps ACC Weekly Honors
CORAL GABLES, Fla. – Fresh off a 4-0 win over FIU, the University of Miami soccer program swept conference weekly honors, as announced Tuesday afternoon by the ACC office.
Contributing on both ends of the pitch in the Hurricanes' victory over FIU Sunday night, junior defender Selena Fortich garnered ACC Offensive Player of the Week. Meanwhile, earning her third consecutive start in net, sophomore goalkeeper Melissa Dagenais secured conference Defensive Player of the Week plaudits.
It marks the first time the Hurricanes have earned both weekly awards since Sept. 27, 2016, when Gracie Lachowecki was the offensive player of the week and Phallon Tullis-Joyce garnered defensive player of the week honors.
"This Sunday's win against FIU was a big one for us as a team mentally moving forward," Fortich said. "It gave us the validation that we needed to know that we are more than capable to create opportunities that we weren't able to see in the fall. I think it's a good step in the right direction and we just need to keep building off this energy and mindset moving forward."
Fortich made an impact on both ends of the field in Sunday night's 4-0 win against FIU.
Scoring her second-career match-winner, the junior captain gave Miami a lead in the 20th minute it would not look back on, heading home a goal off a set piece from Gabriela Rusek. The goal marked the third of her career.
Hailing from Glen Head, N.Y., not only did she help orchestrate the offensive attack, the center back also anchored a young back line to a shutout performance.
"Getting ACC Offensive Player of the Week is an honor to me because as defenders you're used to just grinding and doing the little things, and don't expect an award," Fortich said. "But, to get this award as a defender helps validate all the work we've put in as a team and shows that every player, whether a defender or forward, is capable of scoring."
Dagenais put together the top performance of her collegiate career in Sunday night's victory, recording her first collegiate clean sheet in 70 minutes of action.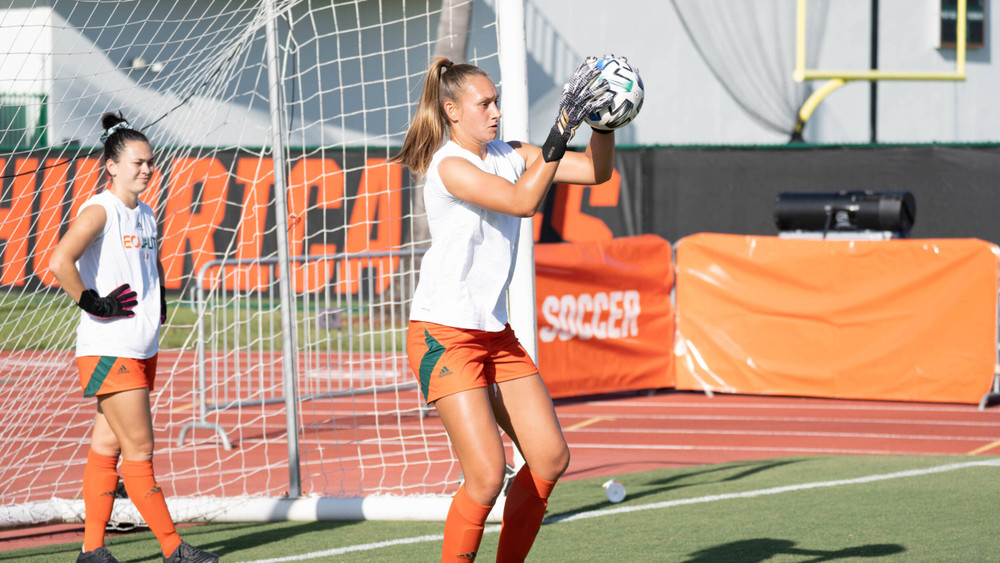 The Saint-Hubert, Quebec, Canada, native corralled six saves in the win, while also making an impact on the offensive end, collecting her first career assist off a goal kick.
The sophomore found Maria Jakobsdottir 50-yards down the field, which the midfielder one-touched to Gudrun Haralz for the team's third goal of the night.
"It definitely makes me happy to be recognized for all the efforts I have been putting in since my time here at UM," Dagenais said. "This is only the beginning, it's all the way up from here.
"I was very thrilled that we got the three points against FIU this weekend. We deserved to get a win," Dagenais added. "This win is a good motivator to make us keep going and win some future games."