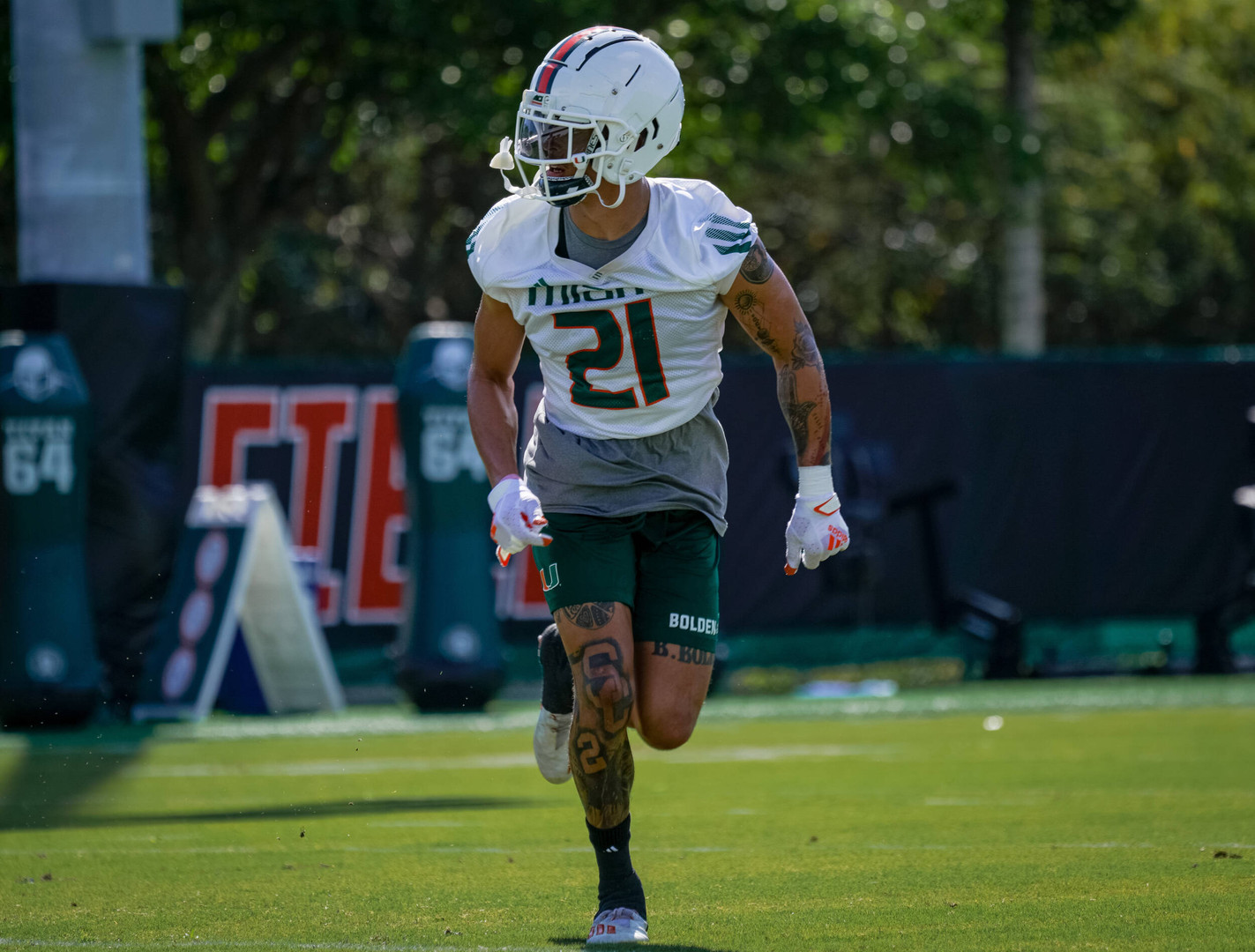 CORAL GABLES, Fla. – Last March, the Hurricanes managed four spring practices before a global pandemic changed everything.
Workouts were canceled. After an extended spring break, Miami pivoted to remote learning. Players returned home, unsure when they'd see their teammates and coaches again.
The Hurricanes – like the rest of South Florida – are still navigating COVID-19's impact on day-to-day life, but, after implementing a number of safety precautions last season and adjusting as needed, they expect this spring will be markedly different than last year.
And with a number of new coaches and faces on the roster, they're excited to get to work.
"I thought today was a great day. We came out for the first day and we showed good effort. That was a big emphasis [in] today's practice, just showing effort, showing you could be tough and get through this first practice," safety Bubba Bolden said Monday after the Hurricanes wrapped up the first of their 15 scheduled spring workouts. "The first day is always one of the hardest days and I think we did good overall."
The team that took the field Monday looked a bit different from the squad that wrapped up the 2020 season in Orlando last December in a hard-fought Cheez-It Bowl loss to Oklahoma State.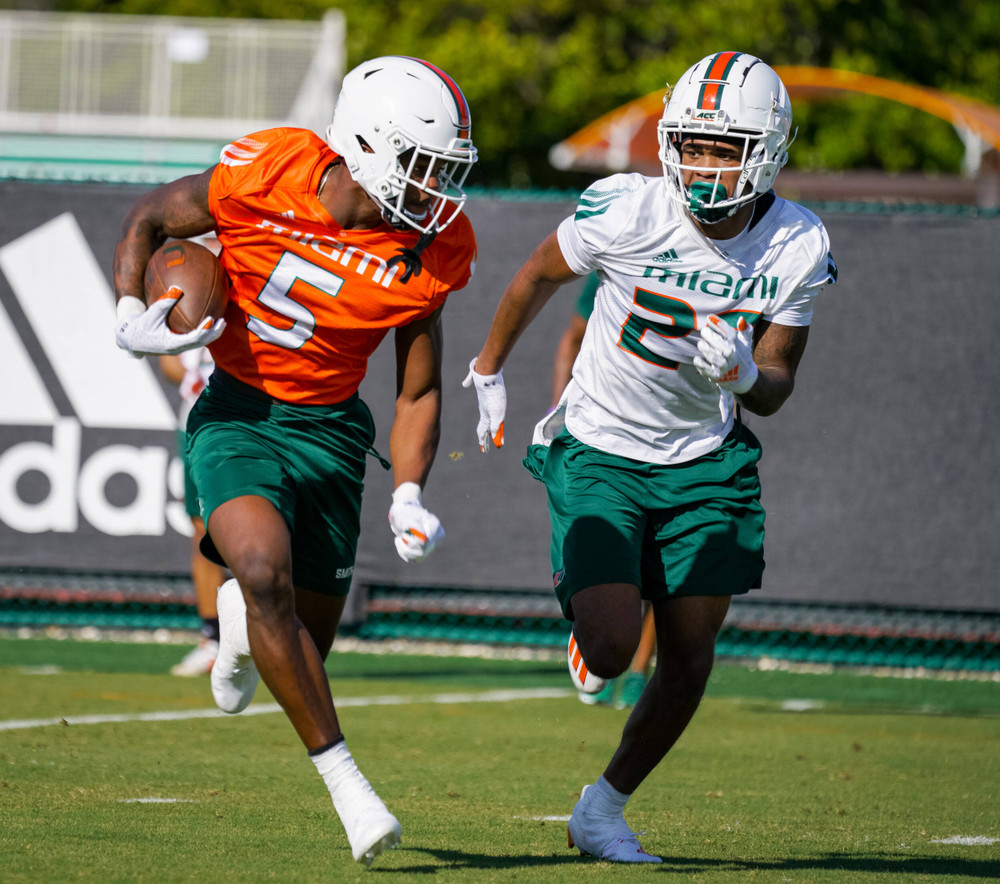 Veteran quarterback D'Eriq King will be watching spring drills from the sideline as he continues working back from a knee injury he suffered in the bowl game. That opens the door for freshman Tyler Van Dyke, redshirt freshman Peyton Matocha, redshirt sophomore Ryan Rizk and newly arrived freshman Jake Garcia – once he recovers from a minor foot injury of his own – to get significant work over the course of the next few weeks.
That, offensive coordinator Rhett Lashlee said, will be key as the start of the 2021 season inches closer over the course of the next few months.
"I fully expect [Garcia] to continue to improve and do more and more as the spring goes on. We're excited about that," Lashlee said. "I don't think at this time, there's any reason to believe there's any major issues there. And with regards to Peyton and Tyler, I'm really just excited to get to see them. I'm going to learn a ton about them myself. They work extremely hard. Both guys have been in our system for a year, so they know what they're doing, but there's no substitution for real reps, whether it's with the [first-string offense], [second-string offense] or in a scrimmage. That's the blessing of this spring. With D'Eriq being out, those guys are going to get more reps than they ever would have gotten, to grow and develop and show what they can do."
Once the Hurricanes got on the field Monday, it didn't take long for the young quarterbacks – Van Dyke, in particular – to make an impression.
"Tyler's cool, calm and collected, but he's really a competitor. He's not that vocal, but on the field, he's a solid general," said Hurricanes receiver Mike Harley. "He gets the ball where it needs to be, calls out the plays and runs the offense like he's QB1."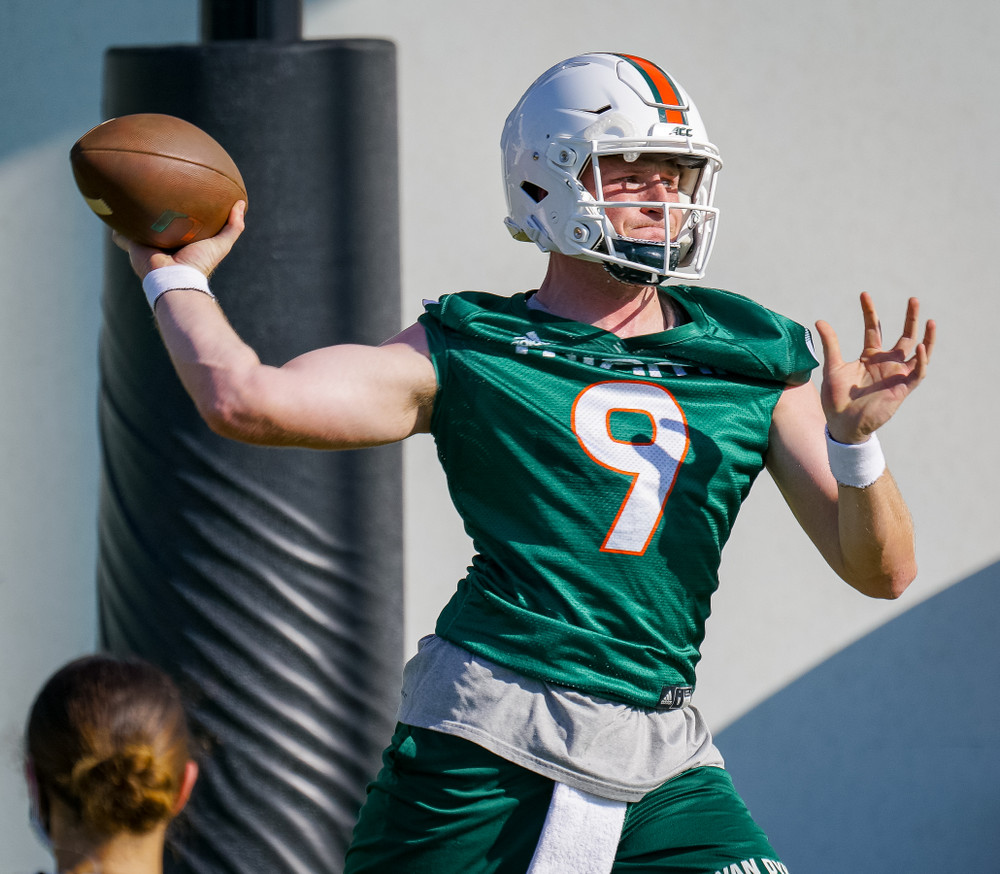 As the offense goes through some transition this spring, Miami's defense will look different, too, both on the field and on the sideline.
Head coach Manny Diaz has taken over play calling duties for Miami's defense, while several new assistants – including defensive backs coach Travaris Robinson, cornerbacks coach DeMarcus Van Dyke, defensive line coach Jess Simpson and outside linebackers coach Ishmael Aristide – will be getting to know their new players.
Several early-enrollees have already joined the program, as have several transfers, including receiver Charleston Rambo, defensive end Deandre Johnson and cornerback Tyrique Stevenson.
All may still be learning the Miami playbook, but like Van Dyke, they wasted no time making their presence felt on Greentree during Monday's practice.
"He's a great player, very football minded, very football smart," Bolden said of Stevenson. "He went to Georgia and that's obviously a big-time school. … Him coming here gives us extra depth, extra knowledge, extra veteran experience. He's played against Alabama and those types of teams. He knows the feeling. But at the same time, he's still new to the program. He's still got to work his way in. He's still got to learn the plays and stuff like that, but I think he's coming along very well and he'll be a big key to our team."
Said Harley of Rambo, "Fast. He's fast. He can run and get open well. First thing, is just getting used to the atmosphere, getting used to Greentree, getting used to the sun. But he's a great receiver already. He's definitely a competitor."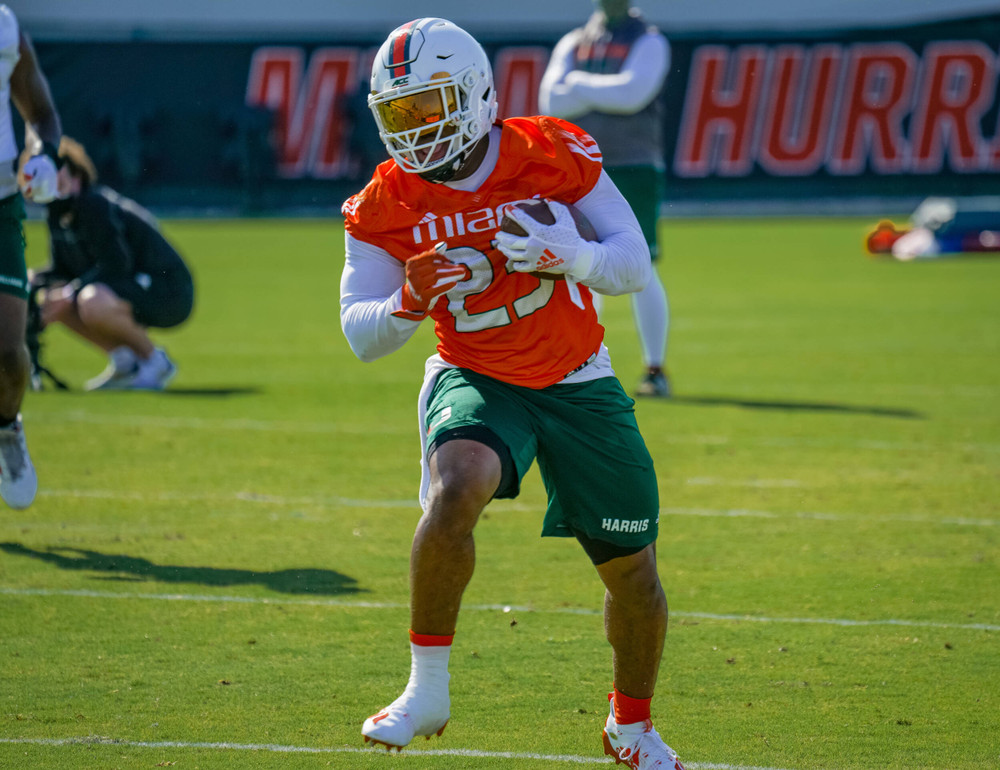 The Hurricanes' work over the course of the spring won't be limited to what they do on the field.
Because players were away from campus for an extended period last year, there will be an emphasis on making sure the Hurricanes improving on the  offseason gains they've made in the weight room with David Feeley, Miami's director of strength and conditioning.
Harley noted Monday he's already added about 12 pounds of muscle, while dropping his body-fat percentage to about 8%. Safety Amari Carter, meanwhile, said he has added 10 pounds of muscle to his frame.
To compete in their season opener against Alabama later this year and be in contention for an ACC title, getting stronger on and off the field will be crucial.
"It's been encouraging to see our guys really get after it and the work Dave Feeley and his staff have done in the weight room with our players," Diaz said last week. "We'll continue to lift pretty heavy throughout spring ball and we'll max out at the end of the semester. I think we've already had 30 guys hit [personal records]. … It's been fun to see the guys work and develop. … A lot of guys are doing the right thing in our program. Excited to get on the grass … get back to playing some football."