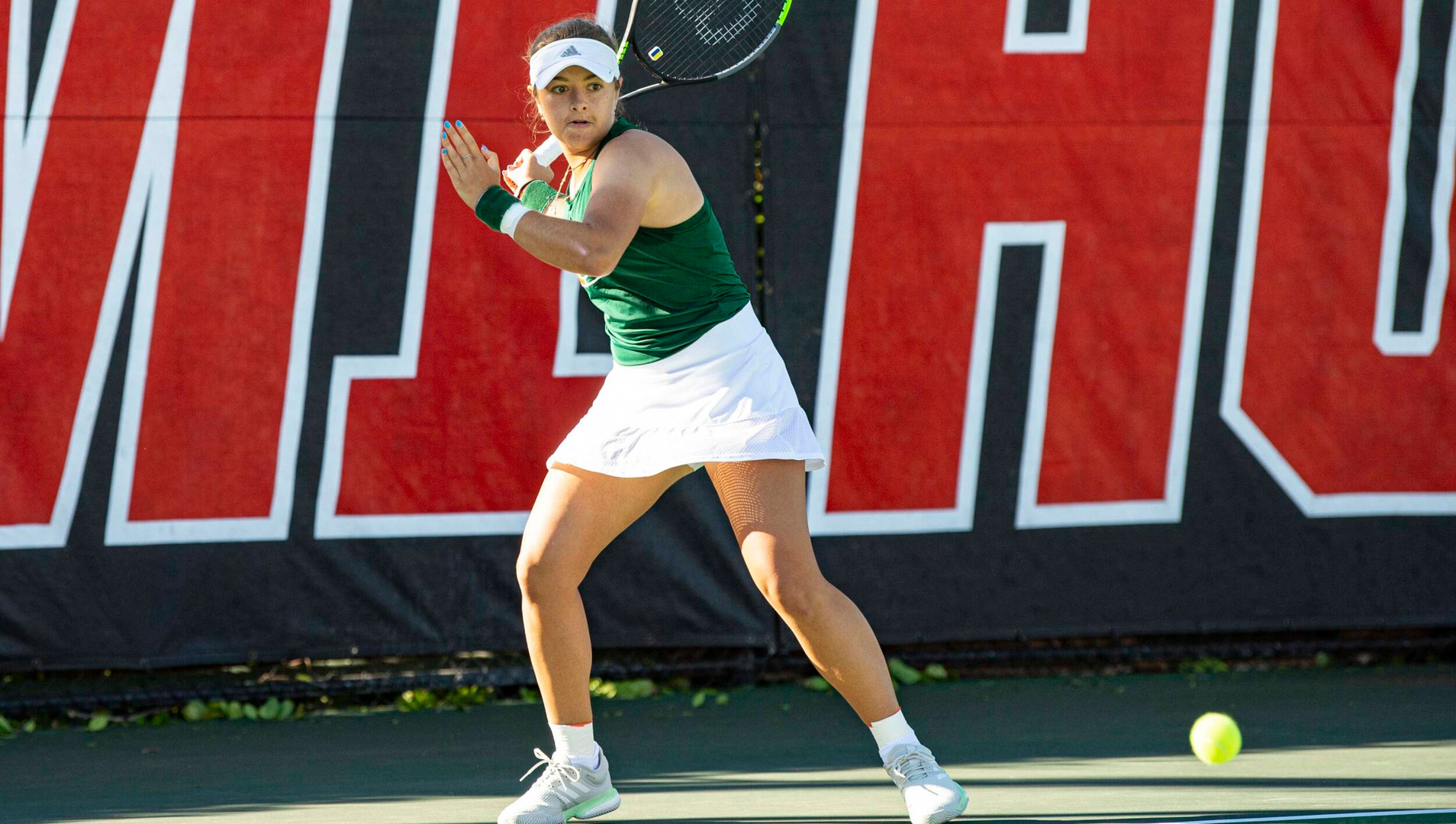 CORAL GABLES, Fla. – It would be difficult to think of a tougher match situation a program could face than the one the University of Miami women's tennis team had last weekend.
The Hurricanes went on the road and played a pair of top-10 teams and did so with only five available players due to positive COVID-19 tests, subsequent quarantining and contact tracing within the program.
Thus, Miami started with a 1-0 overall deficit, as well as down a match in doubles, against both top-ranked North Carolina and eighth-ranked Duke.
Nonetheless, the Hurricanes competed vigorously.
After a 7-0 setback Saturday against the Tar Heels, who have dropped only 10 points in 13 matches this year, they turned in a stellar showing the following day versus Duke.
Despite its limited numbers, Miami nearly upset the Blue Devils, dropping a 4-3 decision after taking three singles matches.
"Everyone had a huge responsibility for every single point we played, just to show that about what Miami is. It doesn't matter how many players, six or five," second-year freshman Diana Khodan said. "We are here only for one reason. I think … the mindset was, especially for me, just play to win. That was a goal. I believe that everyone had the same [mentality to] just play to win."
While the Hurricanes did not quite come away with that win against the Blue Devils, they did put forth an admirable, impressive performance.
Three Miami players earned straight-set, top-50 singles victories in the match. Fifth-year senior Estela Perez-Somarriba logged her 12th-career top-10 triumph with a 6-2, 6-4 result against eighth-ranked Kelly Chen in a meeting between 2019 NCAA Singles Championship semifinalists.
Freshman Isabella Pfenning bagged the second ranked win of her young career, including the first over a top-50 foe, by downing No. 28 Georgia Drummy, 7-6 (7-5), 6-4.
Khodan, meanwhile, rolled to a dominant 6-3, 6-2 victory against No. 44 Margaryta Bilokin, a player with whom she had prior familiarity.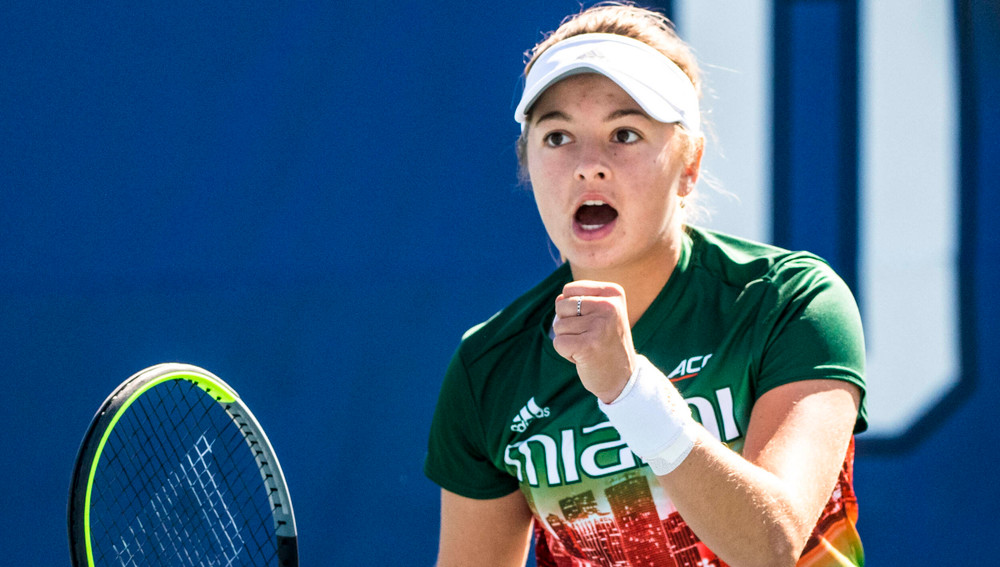 "I did remember this girl from my junior career, from an ITF tournament. I did remember that she is a really good player; her ranking was good," Khodan shared. "She is also Ukrainian and, for me, that was kind of tough mentally, to play against her. But I believe it played in key moments because at the same time, I knew how hard I should work to get a point. I think it made me fired up. That's why when I stepped on the court, I was ready to play … with the right mindset. I knew how I should play. The right actions let me get a 'W' for the University of Miami."
For Khodan, the road to her first-career ranked singles win was a long one. She had surgery in November 2019 to repair torn cartilage in her left wrist, just a few weeks before arriving at Miami in January 2020 to begin her collegiate tenure.
The injury limited her to just three matches during the abbreviated 2020 spring campaign and she logged a 1-1 record in singles play. She was unable to hit a backhand and needed to continue rehabbing not just during the season, but throughout the summer and fall.
Finally, after all she has gone through, Khodan is healthy and showing what she can do on the court for the Hurricanes.
"Right now, I'm in the spot where I'm hungry to win. I missed this taste of winning, to be fully ready on the court," Khodan said. "After every match I've won, I have this incredible feeling inside. I just want to feel this more and more. This is kind of my goal. I play to win and just to get a point, especially when I was out for such a long time.
"I forgot how good it is to be healthy, but right now I really appreciate every single moment that I'm on the court that I can play," Khodan added. "It makes me feel good."
In addition to getting to her health back, the Ivano-Frankivsk, Ukraine, native has also improved as a tennis player over the past year.
Her strides, however, have mostly come in areas that are not obvious to observers. Khodan, though, knows exactly where she has gotten better.
"I think most changes that I made are in my head. I set goals that I need to reach in my head to be prepared to play against good players," she remarked. "Also, I would say that it was important for me to keep my physical preparation because, obviously, I didn't work [as much as] the girls worked last year [because of my injury]. I knew that when I'd be back, I needed to be ready to run down balls and to play hard matches. So, I think these two things I am still trying to work on, but they are the most important."
Khodan will have two more chances this weekend to continue her improvement, as No. 34 Miami (3-5, 1-3 ACC) is set for yet another pair of road matches.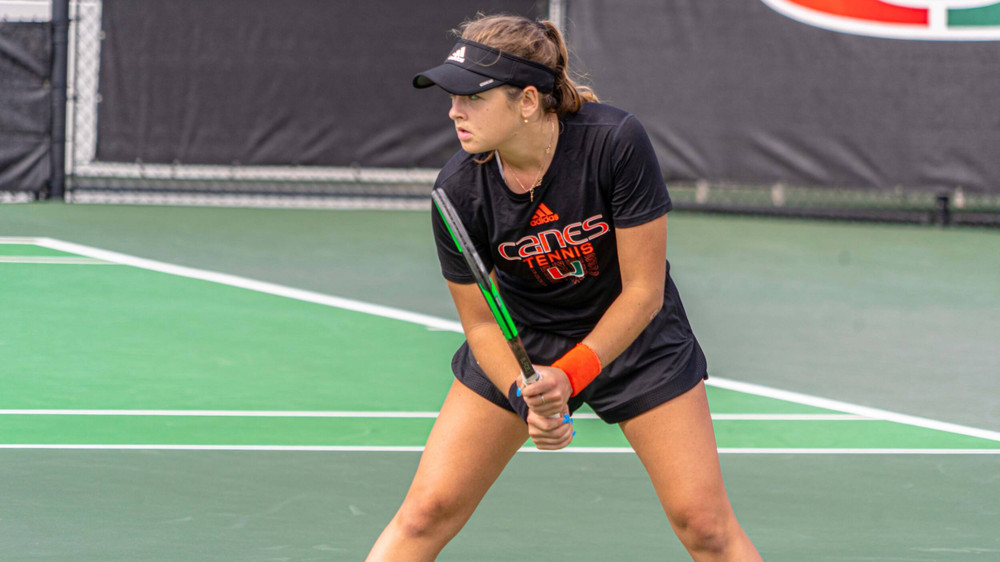 The Hurricanes first take on No. 50 Syracuse Friday at 3 p.m. at Drumlins Country Club in Syracuse, N.Y. Then, Sunday at 10 a.m., Miami meets Boston College at Weymouth in Weymouth, Mass., in its 10th straight outing away from home.
The Orange are 4-4 (3-2 ACC) on the season heading into the weekend and have two ranked singles players in Guzal Yuspova at No. 81 and Viktoriya Kanapatskaya at No. 121. They do not have any ranked doubles pairs.
Miami is 11-1 all-time versus Syracuse, including 3-1 on the road. The two sides did not meet last year due to the shortened season, but the Hurricanes won the most recent matchup, notching a 5-2 road victory on April 7, 2019.
Boston College, meanwhile, sports a 4-3 (2-3 ACC) ledger on the season. It has one ranked singles player in No. 76 Yufei Long and one ranked doubles pair in Long and Kylie Wilcox at No. 25.
The Hurricanes are 25-2 all-time against the Eagles, including 6-2 on the road. The teams did not play one another last year and Boston College took the last affair, a 4-3 home result on April 5, 2019.
Miami enters the weekend with a trio of singles players in the ITA rankings, led by second-ranked Perez-Somarriba. Third-year sophomore Daevenia Achong comes in at No. 87, followed by second-year freshman Selma Cadar at No. 102.
The Hurricanes do not have any ranked doubles pairs, but they are expected to be back to a larger roster. While that ensures they will not enter either match down a point this weekend, it also aids them when it comes to their spirit.
"We are feeling better, feeling stronger; we have our players back. I think our team is going to be better," Khodan said. "Also, during the match, if we are playing with only five players, there is no one who can cheer for us. But right now, we have our girls and I think we're just ready to go. We're super excited because we're still healthy and we have a huge opportunity just to play, especially during this tough situation, and we're still playing against good teams. We're lucky. We're just ready."
Live stats for the Hurricanes' contest against Syracuse can be found HERE, while live stats for Miami's matchup with Boston College will be available HERE.
To keep up with the University of Miami women's tennis team on social media, follow @CanesWTennis on Twitter, Instagram and Facebook.