CORAL GABLES, Fla. – When Diana Khodan showed up at the University of Miami to begin her college tennis career, she was not ready to play.
It was not because of her conditioning or her skills or her mindset. It was nothing under her control.
Rather, Khodan was simply injured.
Last year, in the second week of November, Khodan had surgery to repair torn cartilage in her left wrist. Although she is a righty, the injury came from falling on her wrist, following overuse before that.
After going under the knife, Khodan had to deal with the reality that she would not be able to compete on the court for an extended period of time.
"I've been playing tennis all my life and tennis is everything for me," she said "…I was, honestly, in deep stress and I'd never wish for athletes to feel the way that I felt that day and that month. It was horrible."
About two months after her surgery, the Ivano-Frankivsk, Ukraine, native arrived on campus at Miami. She was still wearing a wrist brace every day and could not do regular everyday tasks with her left hand such as carrying a bag or opening a jar.
Meanwhile, on the tennis end, she was prohibited from serving, as she needed her left hand to toss the ball, and from hitting a backhand. All she could do was hit forehands and slices.
In addition, soon after getting to Coral Gables, she quickly got to work with Julia Rapicavoli, the team's athletic trainer and physical therapist. While the injury needs time to heal and has limited options from a physical rehabilitation standpoint, the two still did some light movements and massages, as well as focused on surrounding areas.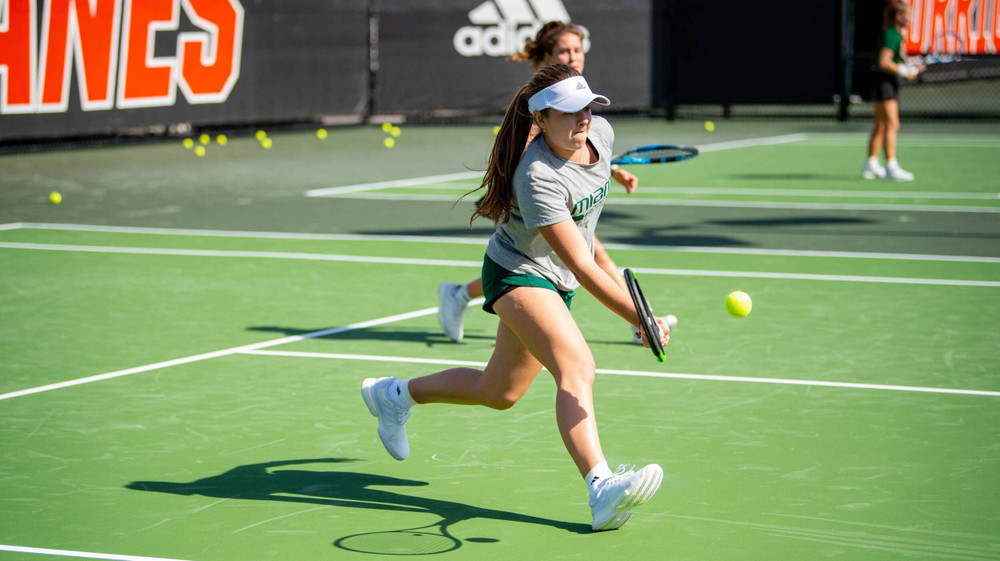 While Khodan was disappointed to be limited in practices and withheld from most matches, she did not let that get in the way of how she approached her rehab.
"From an attitude standpoint she became a bit of a rock star; grinding while playing, in the weight room extra," Rapicavoli shared. "…From an effort standpoint, it was fantastic. It was more than we had hoped for because, obviously, you can imagine how sad and depressing it might be to not be able to play your first season and experiencing an entirely new environment and not having family or friends around. So, we were really happy with how she carried herself through the spring."
Before the COVID-19 pandemic cut short the 2020 campaign, Khodan did have the chance to take part in a few matches. She made her debut Jan. 26 against UC Santa Barbara in Tallahassee, Fla., and won a lengthy first-set tiebreaker, but the match was left unfinished.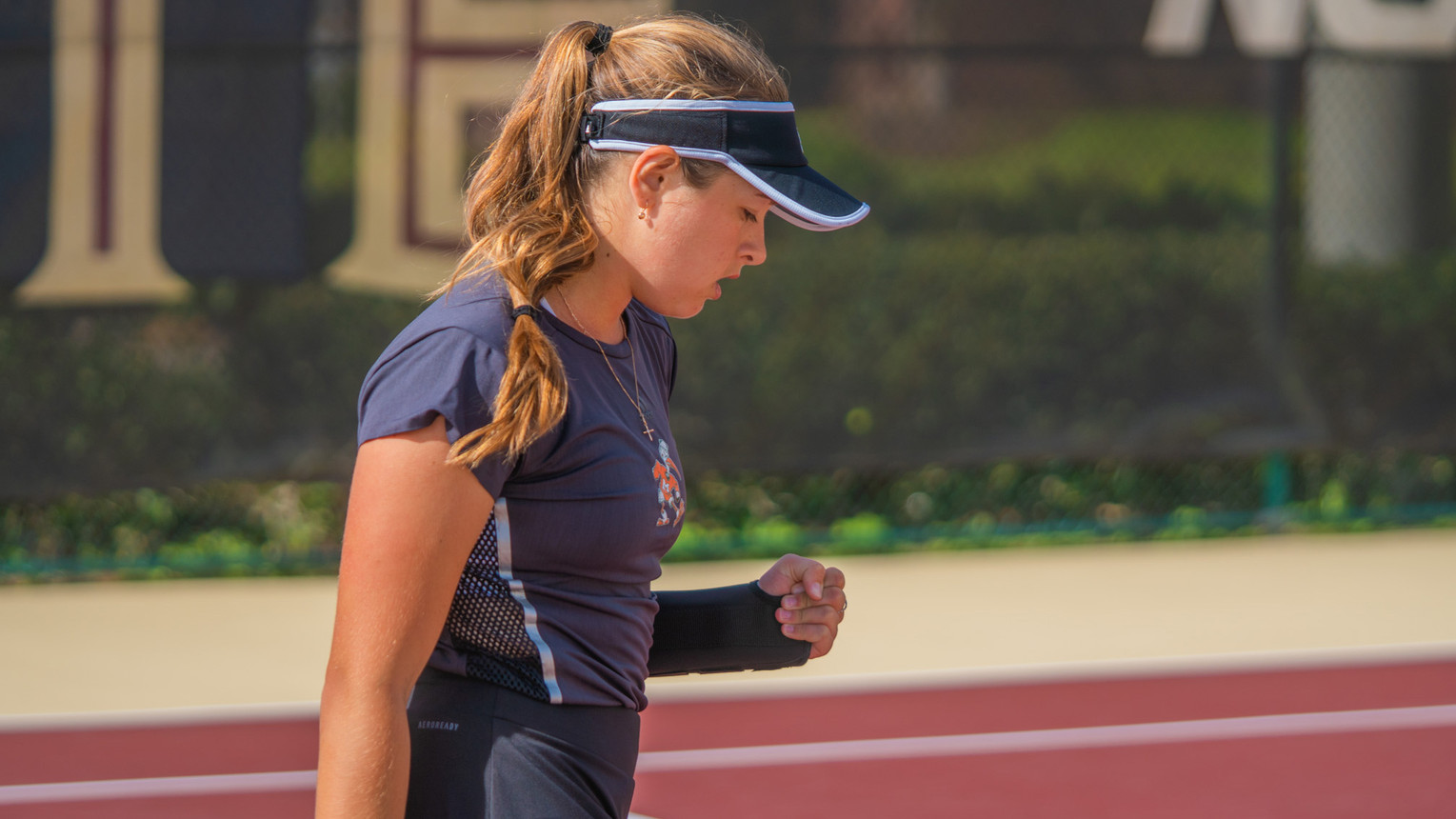 On Feb. 8, she logged a straight-set victory in a road affair at Tennessee State for her first collegiate triumph. Fifteen days later, Khodan made another singles appearance, as well as her doubles debut, versus Florida Atlantic.
She did all that despite still being unable to hit a backhand, which—specifically down the line—was her favorite shot before getting hurt.
"I was just trying to do my best, really," Khodan recalled. "I moved so well. I just ripped my forehand and just used my slice and ripped my serve. I was so—not like happy, [but rather] I was hungry."
In mid-March, after the pandemic hit, Khodan returned home to Europe and communicated with Rapicavoli from afar.
The former Ukrainian Junior National Team member continued her normal rehab routine and her wrist progressed closer to full health.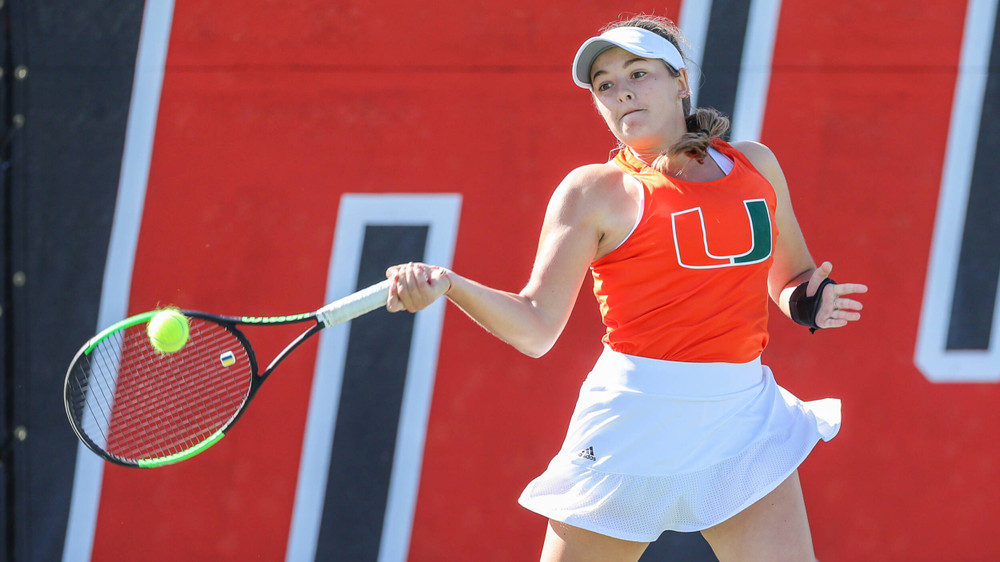 "I gave her some equipment to take home and it basically just consisted of keeping her shoulder and elbow strong," Rapicavoli said. "And then when she hit six months [after surgery], I changed it up to do some more stuff focused on the wrist, but still no backhands at all. Throughout this entire period, we would've normally started backhands, but because of the quarantine [we did not] and it actually was kind of a good thing because it let her heal up a little bit more."
Khodan returned to Coral Gables in late July and, after a two-week quarantine period, got right back to work in-person with Rapicavoli.
In fact, the primary reason she returned to Miami rather than spending the fall semester in her homeland was to get hands-on assistance from her physical therapist.
"It's absolutely the right decision," Khodan said of her choice to come back to The U. "We talked a lot with Paige [Yaroshuk-Tews] and Julia because, of course, me and my parents were a little bit scared [for me] to come here during the time that COVID here was bad, but … I can't get as good [rehab at home] as here. So, that's why me and my parents decided, 'Yeah, this is what I need. If I want to play, I need to go there and go rehab there with Julia.'"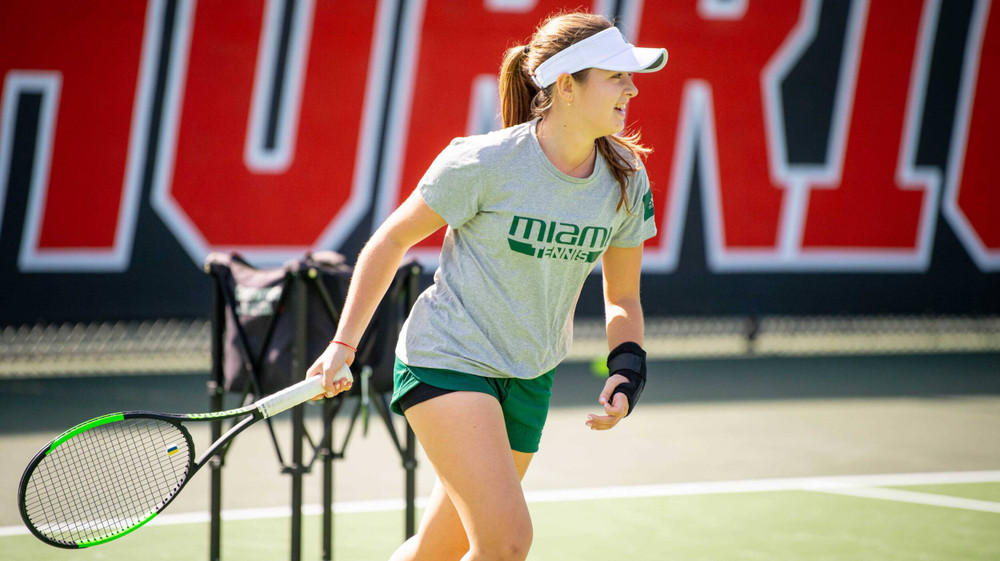 The decision has certainly paid off for Khodan, who started hitting backhands shortly after finishing her quarantine.
In the month from then to the Hurricanes starting team practice, Khodan—who no longer needs to wear her brace on-court—spent a considerable amount of time with Rapicavoli.
"That entailed four to five days a week of me going out on the court with her and starting a progression of backhands," Rapicavoli explained. "So, basically, me hand-feeding her balls from the service line, starting off really, really light, progressing to rally from the baseline with me. I don't play tennis, but I kind of made it happen."
After nearly nine months without the ability to use it, Khodan was thrilled to finally have her favorite shot back in her arsenal.
"It was one of the best feelings I've probably felt in my life—one of the happiest moments—because I was able to hit balls with my left wrist," Khodan shared. "Thanks a lot to Julia that she helped me and is still helping me like every day to go through it."
The help has indeed continued, as there is more work still to do for Khodan to be ready when the 2021 spring campaign begins in January.
The ultimate goal is to get Khodan back in a position where she can practice for two-plus hours without any restrictions. There is, however, more on-court work that needs to be taken care of before she gets to that point.
"The next steps are to continue just kind of increasing her tolerance and improving her racket hit speed so that she's able to get a full swing. Every rep is still not a full, confident swing hitting the ball hard. So, that would be one thing," Rapicavoli said. "And then, from a tennis standpoint, just kind of tolerating volleys a bit more. As you can imagine, there's more force placed on the racket. And then returning serves with her backhand would probably be the last step."
Along with the physical element of the sport, Khodan knows that after approximately a year without being full-go in a match, she will need to cross some mental hurdles, as well.
That, in addition to her efforts with Rapicavoli, is what Khodan is now focusing on as the season draws closer.
"The most important for me right now is to be mentally ready," Khodan shared. "I work on a lot [on my mentality] … because after a long and difficult period of time, I need to understand, firstly, that I can play and it's time to get back. [I need to] not be scared that my wrist will hurt again."
Khodan is also spending time with Miami's strength and conditioning coach, H.R. Powell, to prepare her body overall after such a long layoff from unrestricted match action.
The progress Khodan has shown in all areas, along with the prognosis moving forward, has Rapicavoli fairly confident the redshirt freshman will be ready for match action when the calendar turns to 2021.
"If all goes well and we kind of continue with what we're doing now and she continues to make progress, there's no reason why she shouldn't be playing some matches in January," she said.
After getting a brief taste of college tennis' team environment earlier this year, Khodan is ready to approach it with full health next year.
"I like the atmosphere, the kind of pressure. And even when I played last season, my first match here, the feeling was kind of different than, of course, when I played in my personal tournaments," Khodan shared. "I'm so excited for next season because I want to feel the same with the girls around, coaches around. I'm so excited and, of course, I'm missing a lot [the chance] to be ready and use everything that I have."