Baseball Climbs in Coaches Poll
CORAL GABLES, Fla. – The University of Miami baseball program moved up one spot in the USA TODAY Coaches Poll, climbing to No. 14 in the first update to the coaches' rankings since February 4.
The Hurricanes (3-3, 1-2 ACC) are ranked highest by Baseball America and the NCBWA, sitting at No. 6 in both polls. The Canes are also ranked No. 7 by Perfect Game and No. 9 by both D1 Baseball and Collegiate Baseball.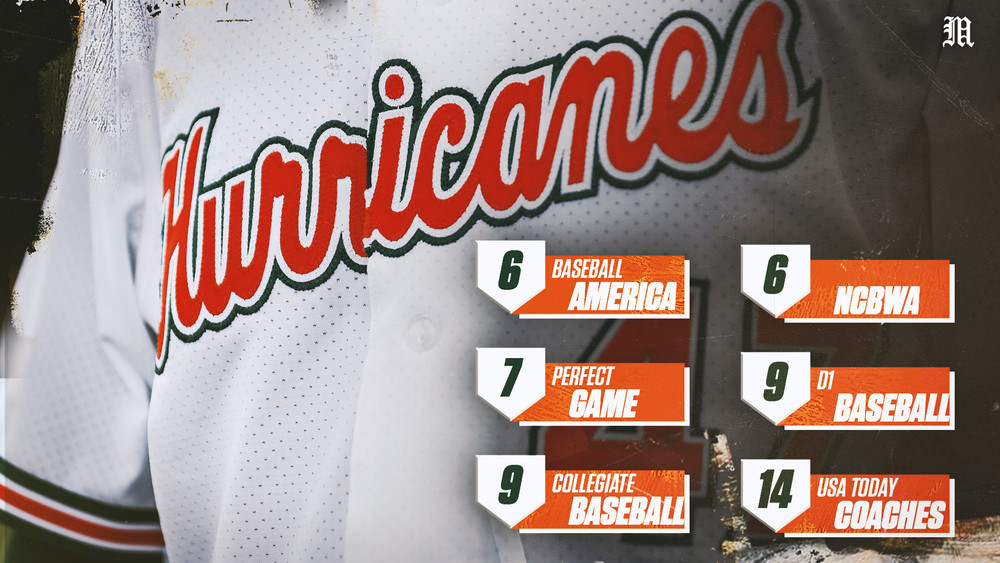 Miami remained in the top 10 in five polls after going 1-2 against Virginia Tech in its first weekend of ACC play. The Canes came up short in two of the three highly competitive games but earned a 3-0 victory on Saturday thanks to a dazzling performance by true freshman Alejandro Rosario.
The 6-foot right-hander was brilliant in his first start at Mark Light Field, tossing seven shutout innings before a sold-out crowd of 652 fans. Rosario scattered three hits while striking out a career-high seven batters over a career-long seven innings, earning his first collegiate win.
Miami is back in action this weekend, traveling to Raleigh, N.C., for a three-game swing at NC State on March 5-7.