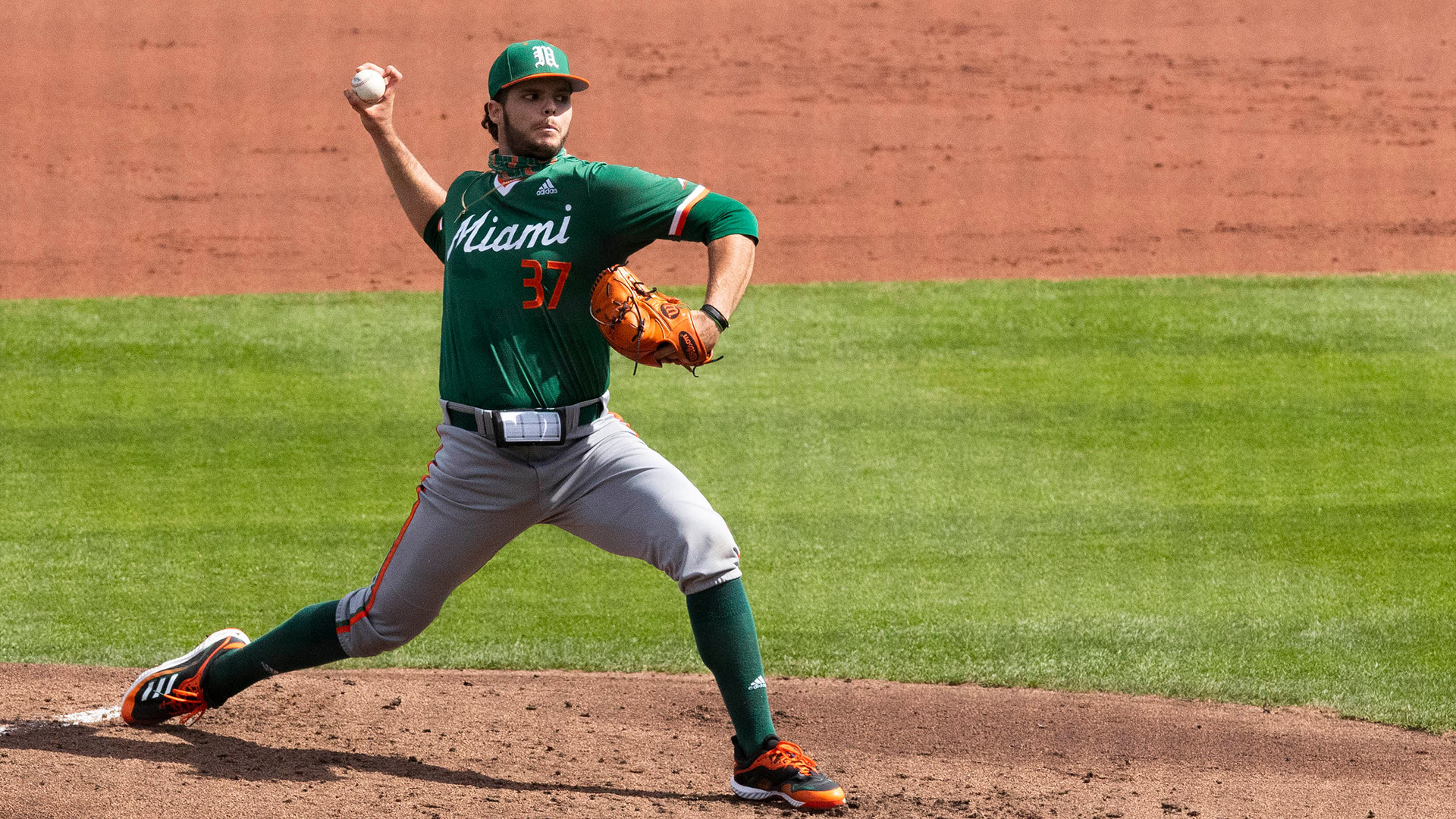 Virginia Tech (3-0) at No. 3 Miami
(2-1)
Roster | Schedule
February 26-28, 2021 | 7 p.m. | 7 p.m. |1 p.m.
Alex Rodriguez Park at Mark Light Field | Coral Gables, Fla.
CORAL GABLES, Fla. – Victor Mederos and Alejandro Rosario are like any longtime friends.
There are daily text messages, laughs and conversations. Meals together. And before the world came to a complete stop because of the COVID-19 pandemic, the two spent plenty of time together away from the baseball fields where they first met.
But once the two are on the diamond, the friendship, somewhat, comes to an end.
And things get plenty intense.
"We're brothers off the field, but when it comes to competing, when it comes to working out, when it comes to practicing, we're going for each other's heads," Mederos laughed. "The mentality is 'I've got to beat you, you're going to try and beat me' and I love it because at the end of the day, that's only going to push us both to be better. We have a great relationship. Ever since we started playing baseball together, we knew we were going to compete."
While it was once Mederos and Rosario's travel baseball team that benefited from the pitchers' innate competitiveness, now it's the Hurricanes who are enjoying the perks that come with having two driven friends in the rotation.
Ahead of last week's season-opening series against Florida, Hurricanes head coach Gino DiMare and pitching coach J.D. Arteaga announced the two highly-touted freshmen had earned starting roles, along with veteran pitcher Daniel Federman.
And though both Mederos and Rosario took some lumps in their debuts in Gainesville, the two found ways to bounce back, working out of jams to help set the tone for Miami's two wins over the then top-ranked Gators in Gainesville.
"The most impressive part was looking at how you can learn a lot from adversity," Arteaga said. "That first inning for Alejandro was not a great one, giving up five runs. But you have to love the way he responded afterward, going three scoreless innings after that. He could have easily imploded and just kind of cashed it in, but he didn't and that shows a lot of maturity. Same thing with Victor. [He allows] a leadoff double to start the game and then strikes out the side. … Then, having bases loaded with nobody out, he gets out of that with a strikeout and a double-play ground ball. That to me shows the character, the ability to throw the baseball there. The wanting to learn is there, wanting to get better, the fight is there. Both of those guys are very special and have the ability to go down as some of the best pitchers we've had here at Miami."
Said DiMare after the series win at UF, "I think both [Mederos] and Alejandro Rosario, our two freshmen, really did a solid job. They're only going to get better coming out of a performance and experience like this weekend here against the number one team in the country. Those two guys, I think, did a very, very good job for their first outings as freshmen, first college starts as freshmen."
Since returning from Gainesville, both Mederos and Rosario have heard from plenty of family and friends, excitedly celebrating their debuts and Miami's rise in the polls.
But the pair has tried to keep perspective – and they've relied on each other to help navigate the spotlight, just as they've relied on each other to help go through so many of the challenges they've faced during their young careers.
"Nothing for us has really changed. We still have the same mentality that we have to make it to Omaha," Rosario said. "This wasn't a series we were going to get a trophy out of. But we definitely went there with a goal and we came out there accomplishing that goal. … It helps a lot that I was up there with [Mederos]. I give him feedback, he gives me feedback. I give him the experience that I face, he gives me the experiences he faces. We just help each other and we know we'll be more prepared next time we go out there."
For Mederos and Rosario, it's not just the season that's getting started, but their journeys at Miami. This weekend, they'll face another new experience – their first starts at Mark Light Stadium when the Hurricanes open up a three-game series against Virginia Tech on Friday.
The two pitchers, who grew up in South Florida, expect there will be plenty of excitement moving forward, especially with a limited number of fans allowed in the ballpark this season.
For both, it will be their first time having the opportunity to throw against a real opponent in South Florida since their high school seasons were cut short by the pandemic last spring.
Both, of course, are eager for the challenge and both are excited to have the opportunity to share the experience with their friend – something they weren't sure might happen early in the recruiting process as both committed to Miami at different times.
"I just have to stay within myself and do the same thing as last weekend, help my team get a victory and learn more about myself every day that I go out there," Rosario said. "It's definitely a moment you have to be grateful for. It's a moment not everyone gets to experience and it's a moment you'll never forget."
Added Mederos, "I think it's going to be very special. I grew up down here. I've always wanted to be able to pitch and have friends and family come watch me play. It's going to be one of the most exciting games I've ever been a part of, just because it's my first and it's always good to get the first one out of the way. It's going to be a lot of excitement, a lot of adrenaline, it's going to be very fun."
And the Hurricanes hope the fun is just beginning – both for themselves this season and for the two young pitchers whose careers are just getting started.
Those who know them will point out their personalities are quite different – Mederos is a bit more outgoing, a natural talker not afraid to share his thoughts and opinions, while Rosario is a bit more quiet.
But they bring out the best in each other and that, Arteaga notes, will only help them each continue to grow.
"They're polar opposites as far as their personalities go … but I'll tell you one thing: during the weekend, the biggest cheerleaders in the dugout for each other were those two guys," Arteaga said. "They root for each other and want success for each other, which is great. The end game is the same for both – they both want to get better and they both want to be great."