Christian Del Castillo Earns ACC Player of The Week Honors
CORAL GABLES, Fla. – After a stellar debut as a Miami Hurricane, Christian Del Castillo was named ACC Co-Player of the Week, as announced Monday by the conference.
The Del Castillo name is a familiar one when it comes to Canes baseball and Christian made a huge impact in Miami's season-opening series win at No. 1 Florida.
"It's huge to win this series," Del Castillo said. "It means a lot to me, especially that I'm playing with my brother. It's a once-in-a-lifetime kind of thing. I'm just glad to be a part of it and to fight with my brothers along my side. I'm very happy to be here."
Del Castillo, who is the older brother of Miami star Adrian Del Castillo, came to The U as a graduate transfer after a standout career at Seton Hall. He earned the starting position in right field and led the Hurricanes in hitting on opening weekend.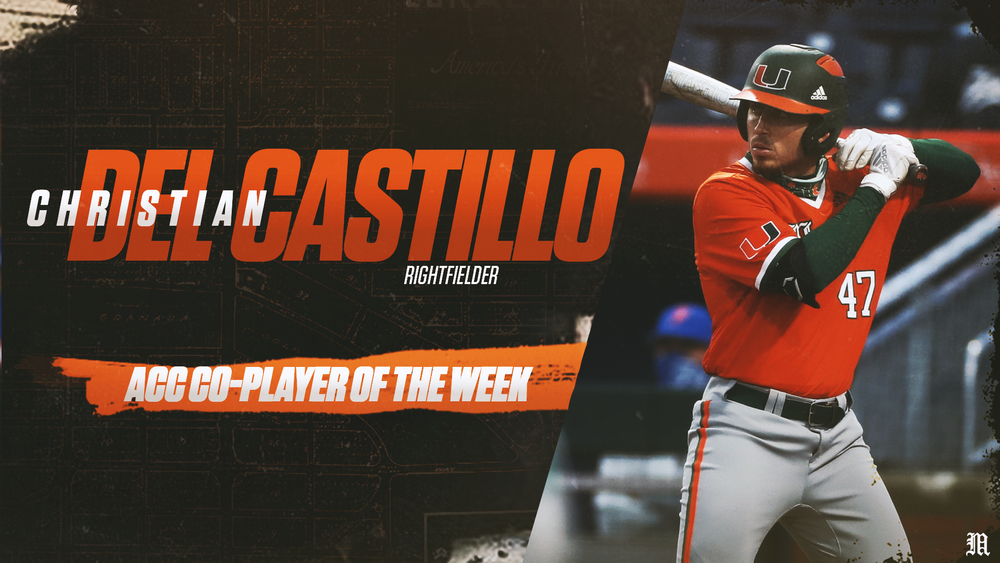 The left-handed hitter went 4-for-12 with a double and six RBI in his first series as a Hurricane. Christian wasted little time showing what he could do, going 2-for-3 with three RBI on opening night. He drove in a run in Miami's improbable comeback win over the top-ranked Gators on Saturday and had two hits and two RBI in Sunday's series finale.
Del Castillo, who had a .917 OPS over the weekend, scored two runs and had a stolen base while adding an outfield assist on the defensive side to help the Hurricanes earn a series win over the Gators for the first time since 2014. The series victory was also Miami's first in Gainesville since 2009.
Miami heads back to Coral Gables for its first home series of the 2021 season. The Hurricanes will open conference play with a three-game set against Virginia Tech beginning Friday at 7 p.m.