Two Canes Named to Golden Spikes Award Preseason Watch List
CORAL GABLES, Fla. – University of Miami catcher Adrian Del Castillo and first baseman Alex Toral were named to the preseason Golden Spikes Award watch list, as announced Thursday by USA Baseball, beginning the process of identifying the top amateur baseball player in the country for the 2021 season.
The preseason watch list features 55 of the nation's best amateur players from high school and college baseball. The Golden Spikes Award Advisory Board will maintain a rolling list of players, allowing athletes to play themselves into consideration for the award throughout the season. Miami is one of 11 schools with multiple student-athletes represented.
"We are thrilled to be bringing the Golden Spikes Award back this year and kicking off the 2021 amateur baseball season with the fifty-five-player preseason watch list," said Paul Seiler, Executive Director/CEO of USA Baseball. "The athletes who make up this year's initial watch list have an incredible amount of talent and we are looking forward to their return to the diamond so we can follow their journeys during what will undoubtedly be a highly competitive season."
Del Castillo and Toral are two of the premier hitters in college baseball and they enter the 2021 season as two of the most decorated bats in Division I. Both players were named to Baseball America's Preseason All-America first team, making the Hurricanes one of two programs with two such honorees.
A consensus preseason All-American, Del Castillo received first-team accolades by Baseball America, D1 Baseball, Collegiate Baseball and Perfect Game and second-team honors from the NCBWA.
Toral is one of four players to repeat as a Baseball America preseason All-American, as he was voted to the third team in 2020. In addition to his first-team selection by Baseball America, the fourth-year player also garnered second-team honors by both Collegiate Baseball and Perfect Game and a third-team selection by D1 Baseball.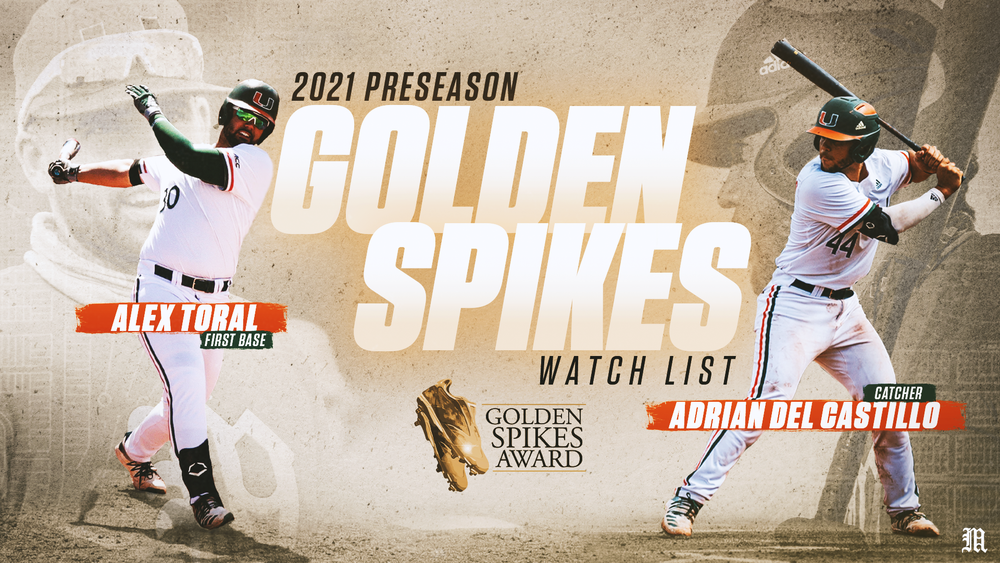 One of the best hitters in America, Del Castillo is considered among the top prospects in the 2021 MLB Draft class and is on the Golden Spikes Award watch list for the second consecutive year. The third-year catcher has been a machine at the plate in his two years at The U, hitting .336 with 24 doubles, 14 home runs and 87 RBI over 77 games played. In a 16-game shortened season a year ago, Del Castillo led the Hurricanes with a .358 batting average and was tied for the team lead in runs scored (13) and hits (19), while his 15 RBI tied for second on the club.
A 2020 Preseason All-American by four different publications, Del Castillo was an offensive juggernaut in his debut season with the Canes. The standout finished the 2019 campaign batting .331 with 78 hits, 22 doubles and 72 RBI, all team-bests. The Miami native also scored 58 runs and clubbed 12 homers, while striking out just 24 times in 236 at-bats. A versatile player who saw time in right field, catcher, designated hitter and third base, he tied for the team lead with 22 multi-hit games and was second on the team with 18 multi-RBI performances.
Del Castillo's 72 RBI were the second-most by a UM freshman in program history, finishing just four shy of Ryan Braun's record 76, set in 2003. The 72 runs batted in were also the most by a Miami freshman since Yonder Alonso drove in 69 as a freshman in 2006. His 18 multi-RBI games were the most by a Hurricane freshman since Zack Collins posted 15 in 2014. A Freshman All-America selection by four publications, Del Castillo earned a host of awards after his collegiate debut season, including Second Team All-ACC, ACC All-Freshman Team, ABCA All-Region and All-Starkville Regional Team honors.
Already one of the top power hitters in the nation a year ago, Toral brings his big bat back to the heart of Miami's lineup after leading the team with five home runs and 16 RBI in 16 games a year ago. The Davie, Fla., native posted a .296 batting average in 2020, while leading the team with a.593 slugging percentage and was second on the Canes with .435 on-base percentage.
Toral flexed his muscles at the plate in 2019 for the Canes, hitting an ACC-leading 24 home runs to rank third in Division I and helped propel Miami to a conference-high 85 homers on the year. The herculean first baseman's 24 homers moved him into a tie with Yonder Alonso for the second-most home runs by a Hurricane in a single season.
In addition to his prolific power numbers, Toral hit .293 with six doubles, 47 runs scored and 67 RBI. His 19 multi-RBI games led the Canes and he also posted 15 multi-hit performances. An outstanding performance in his first NCAA tournament earned Toral a spot on the 2019 All-Starkville Regional Team.
This is Del Castillo and Toral's second award watch list distinction, as both were named to the Bobby Bragan Collegiate Slugger Award (BBCSA) Watch List. The BBCSA is based on performance at the plate, academics and personal integrity.
Miami has had 13 different players named to the preseason Golden Spikes Award watch list since 2008. Chris Hernandez (2009-10), Zack Collins (2015-16) and Del Castillo (2020-21) each were two-time selections, while Yonder Alonso (2008), Jemile Weeks (2008), Ryan Jackson (2009), Yasmani Grandal (2010), Harold Martinez (2011), Peter O'Brien (2012), Andrew Suarez (2015) and Carl Chester (2017) preceded Del Castillo and Toral as preseason honorees.
Fan voting will once again play a part in the Golden Spikes Award in 2021. Amateur baseball fans will be able to vote for their favorite players on GoldenSpikesAward.com, starting on June 8 with the naming of the Golden Spikes Award semifinalists. USA Baseball will announce the finalists for the award on June 24 and fan voting will open at GoldenSpikesAward.com concurrently, remaining open through July 2.
The winner of the 43rd Golden Spikes Award will be named in July. To stay up-to-date on the 2021 Golden Spikes Award visit GoldenSpikesAward.com and follow @USAGoldenSpikes on Twitter and Instagram.
The 2021 Golden Spikes Award timeline:
April 14: USA Baseball Golden Spikes Award midseason watch list announced
June 8: USA Baseball Golden Spikes Award semifinalists announced, fan voting begins
June 15: USA Baseball Golden Spikes Award semifinalists fan voting ends
June 24: USA Baseball Golden Spikes Award finalists announced, fan voting begins
July 2: USA Baseball Golden Spikes Award finalists fan voting ends
July: USA Baseball Golden Spikes Award trophy presentation
A complete list of the 55-player USA Baseball Golden Spikes Award preseason watch list is as follows:
Name; Position; School; Conference
Andrew Abbott; LHP; Virginia; Atlantic Coast Conference
Kevin Abel; RHP; Oregon State; Pac-12 Conference
Hunter Barco; LHP; Florida; Southeastern Conference
Alex Binelas; 3B; Louisville; Atlantic Coast Conference
Mason Black; RHP; Lehigh; Patriot League
Tyler Black; 2B; Wright State; Horizon League
Brooks Carlson; 2B; Samford; SoCon Conference
Parker Chavers; OF; Coastal Carolina; Sun Belt Conference
Maxwell Costes; 1B; Maryland; Big 10 Conference
Colton Cowser; OF; Sam Houston State; Southland Conference
Ryan Cusick; RHP; Wake Forest; Atlantic Coast Conference
Henry Davis; C; Louisville; Atlantic Coast Conference
Adrian Del Castillo; C; Miami; Atlantic Coast Conference
Trenton Denholm; RHP; UC Irvine; Big West Conference
Josh Elvir; OF; Angelo State; Lone Star Conference
Jud Fabian; OF; Florida; Southeastern Conference
Max Ferguson; 2B; Tennessee; Southeastern Conference
Richard Fitts; RHP; Auburn; Southeastern Conference
Christian Franklin; OF; Arkansas; Southeastern Conference
Sal Frelick; OF; Boston College; Atlantic Coast Conference
Zack Gelof; 3B; Virginia; Atlantic Coast Conference
Hunter Goodman; C/UTL; Memphis; American Athletic Conference
Peyton Graham; INF; Oklahoma; Big 12 Conference
Steve Hajjar; LHP; Michigan; Big 10 Conference
Mo Hanley; OF/LHP; Adrian; Michigan Intercollegiate Conference
Jaden Hill; RHP; LSU; Southeastern Conference
Gunnar Hoglund; RHP; Ole Miss; Southeastern Conference
Grant Holman; RHP/1B; California; Pac-12 Conference
Jordan Lawlar; INF; Dallas Jesuit High School
Jack Leiter; RHP; Vanderbilt; Southeastern Conference
Seth Lonsway; LHP; Ohio State; Big 10 Conference
Tommy Mace; RHP; Florida; Southeastern Conference
Christian MacLeod; RHP; Mississippi State; Southeastern Conference
Ty Madden; RHP; Texas; Big 12 Conference
Robby Martin; OF; Florida State; Atlantic Coast Conference
Michael McGreevy; RHP; UC Santa Barbara; Big West
Matt McLain; SS; UCLA; Pac-12 Conference
Troy Melton; RHP; San Diego State; Mountain West Conference
Robert Moore; 2B; Arkansas; Southeastern Conference
Cody Morissette; 3B; Boston College; Atlantic Coast Conference
Dylan Neuse; OF; Texas Tech; Big 12 Conference
Doug Nikhazy; LHP; Ole Miss; Southeastern Conference
Braden Olthoff; RHP; Tulane; American Athletic Conference
Andrew Painter; RHP; Calvary Christian High School
Connor Pavolony; C; Tennessee; Southeastern Conference
Zach Pettway; RHP; UCLA; Pac-12 Conference
Connor Prielipp; LHP; Alabama; Southeastern Conference
Kumar Rocker; RHP; Vanderbilt; Southeastern Conference
Bobby Seymour; 1B; Wake Forest; Atlantic Coast Conference
Alex Toral; 1B; Miami; Atlantic Coast Conference
Jose Torres; INF; NC State; Atlantic Coast Conference
Luis Vargas; OF; Wayland Baptist; Sooner Athletic Conference
Luke Waddell; SS; Georgia Tech; Atlantic Coast Conference