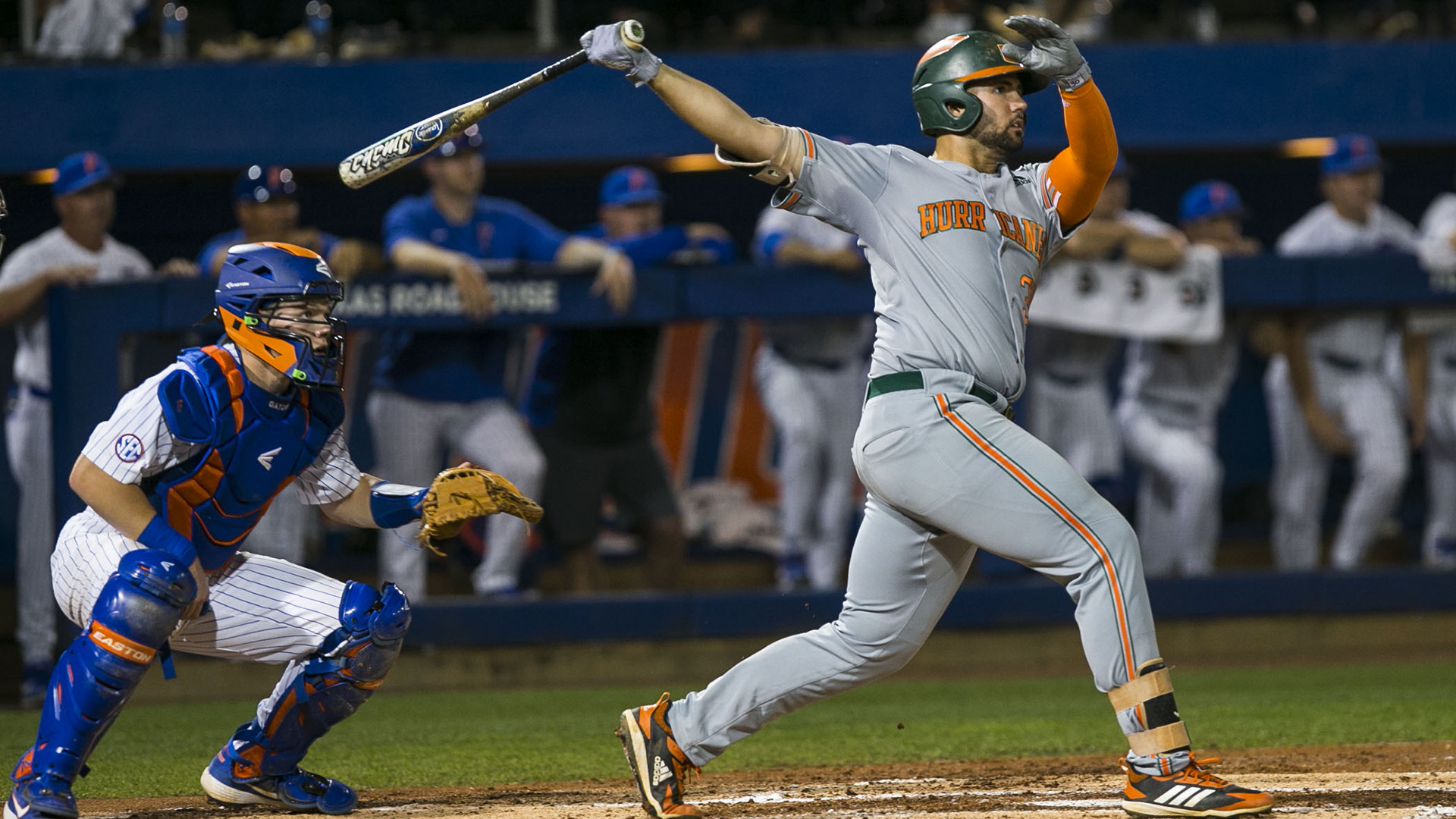 No. 11 Miami at No. 1 Florida
Roster | Schedule
February 19-21, 2021 | 3 p.m. | 1 p.m. |1 p.m.
Florida Ballpark | Gainesville, Fla.
GAINESVILLE, Fla. – After 345 days, the wait is almost over.
On Friday afternoon, the Miami Hurricanes are set to take the field for the first time in 11 months and eight days. The Canes, who last played a game on Mar. 11, 2020, are set to open the 2021 season against one of their oldest rivals, the Florida Gators.
"This is going to be a great test right out of the gate because they got basically everybody back," head coach Gino DiMare said. "Their offense and their pitching, everybody's back. I think in every poll they're ranked preseason number one. This will be a good test for us. The national championship game isn't going to be played on Friday afternoon. But we're going to go in there with the expectations that we always do that we expect to win the game, just like we did last year."
Last year's series was a hard-fought battle between the top two teams in America. All three games were tightly contested, with the first two matchups going into extra innings, but the then No. 2 Gators came away with a sweep over the top-ranked Canes.
"To me, the games were very well played," DiMare said. "The thing that stood out last year was we didn't swing the bat enough and their pitching is good. I didn't expect those games to be high-scoring games, which they weren't, but we need to swing the bat better and we've got to play better defense.
"I feel very, very confident in saying, and we're going to play some young guys defensively, that our defense is as good as we've had here in a while,"DiMare continued. "I'm very, very confident saying that our offense should be good. We've got a lot of our guys back so hopefully, we can put nine guys out that that will give good at-bats so we can find a way to produce runs."
Last season's series against Florida left a sour taste in the mouths of everyone in orange and green and that's something that has driven the Hurricanes all offseason.
"That's the only series we've been talking about this past year," infielder Anthony Vilar said. "It's the only series we all pretty much remember, two close games on Friday and Saturday that we think we should have won. So, we're definitely excited to go back up there and get some wins."
"It's going to be exciting, no matter how the outcomes have been in the past," first baseman Alex Toral said. "Playing against a rival school, Miami versus Gainesville, it's going to be a huge rivalry weekend. It should be exciting. It's our first game of the season and everybody's always got that energy to get back out there once you see the lights turn on. It's just that excitement of getting out there and you get to see the other team because you're finally going against a different type of competition, not just your intrasquads. It's going to be fun, the juices are going to be flowing and I'm excited to get out there and see how we compete against one of the best teams in the country."
The No. 11 Hurricanes will face the consensus preseason No. 1 Gators in a three-game set that will mark the opening series of the 2021 season and the inaugural series at the new Florida Ballpark. Friday's game features veteran right-hander Daniel Federman going against Gators ace Tommy Mace in a game that will be broadcast on SEC Network.
"It's been a goal of mine, ever since I committed to Miami," Federman said. "I remember going into my freshman year, we had a goal sheet and I wrote on that paper four years ago that I wanted to be a team captain and I wanted to be a Friday night starter and I'm glad I'm getting the opportunity and I'm grateful for it."
Toral, who has been teammates with Federman since high school, believes the fourth-year pitcher has the right mindset and ability to lead the Hurricanes on Friday.
"Federman has always been a bulldog on the mound," Toral said. "I've played with him for as long as I've been playing baseball, my whole life pretty much, and that guy goes out there and competes if he's got his stuff that day or he doesn't. He's going to make you believe that he's got all four of his pitches and everything's working for him even though he might have felt a little bit off on one of his pitches in the bullpen. That's the mentality that you want to have as a Friday night guy and as a guy that you want going out there and leading your pitching staff."
The Hurricanes and Gators will meet on the season-opening weekend for the 11th time, but this year's series is the first to start a season since 2004 when Miami took two of three games in Coral Gables to begin a 50-win season that ended with a trip to the College World Series. The two sides first faced off to start a season in 1947 and also did so in 1954, 1962, 1964, 1966, 1968, 1969, 1971 and 1984. The Hurricanes hold a narrow advantage in the all-time series, 130-127-1.
"We're all excited; I'm super excited," catcher Adrian Del Castillo said. "It's been about a year that we haven't played an actual game instead of intrasquad. Obviously, we're opening up with Florida and the juices are going to be rolling and it's going to be fun and that's what we want."
In addition to opening against the rival Gators, the Hurricanes will also open away from Mark Light Field for the first time in over two decades. Miami last started a season away from Coral Gables when it traveled to Hawaii for a four-game set to start the 1997 season.
"It's a long time coming for us. It seems like an eternity ago," DiMare said of the nearly year-long respite between games. "The situation that happened last year was a tough one. We felt good about our team last year and that opportunity came and went, and it's just been a long, long process. I can't recall in all my life being involved in sports being away from the game this long in terms of not being able to play games and competing."
Del Castillo and Toral, who were named to the Golden Spikes Award preseason watch list, will be focal points in a Miami offense that brings back eight players who played in at least 11 of the Hurricanes' 16 games a year ago. While the Canes have featured a potent offense over the previous two seasons, DiMare would like to see Miami's bats come alive against the Gators this weekend.
"We've got to do better job offensively than what we did last year," DiMare said. "I don't even think we challenged them a whole lot offensively last year and that just cannot happen if you're going to go play a team like this and play in their new ballpark. It's exciting and certainly a big, big challenge, but it's a great opportunity to go in there and play well and be able to hopefully come out and win a series."
While Mace will take the ball on Friday, Florida is scheduled to throw right-hander Jack Leftwich on Saturday and lefty Hunter Barco in Sunday's series finale.
"They're all great competitors," Toral said. "They bring high-level stuff to the table, they all have high-velocity fastballs and mix in good off-speed pitches so it's going to be a great battle between them and our lineup. But at the end of the day, no matter who you face, you still got to have the same approach. It's been the same game we've been playing our whole lives for most of us at least and the ball still has to cross the center of the plate and we've still got to swing at it so it's going to be a fun weekend."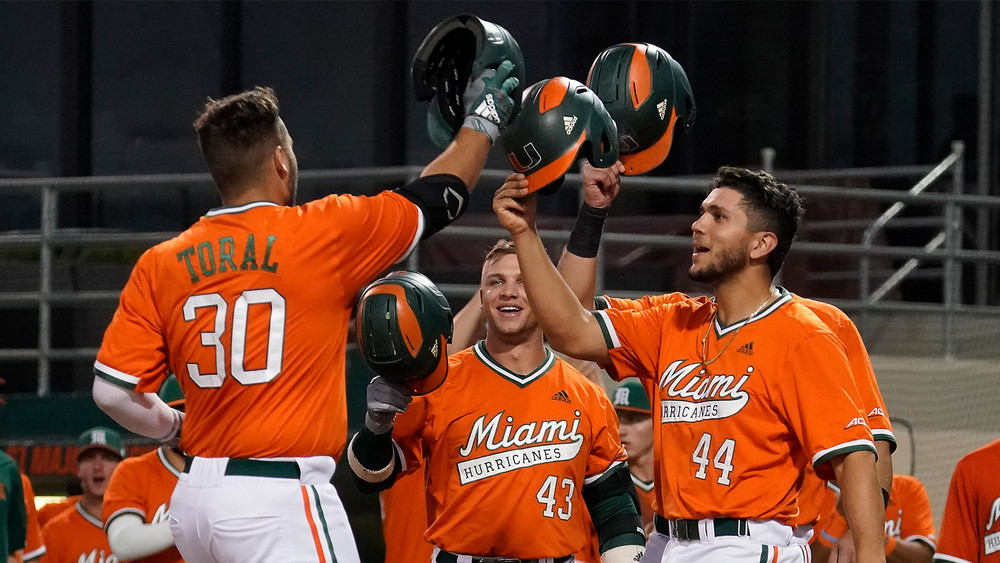 Miami has a roster filled with experience in the UM-UF rivalry, but two of the newest Hurricanes will have the opportunity to make a mark on this year's series. True freshmen right-handed pitchers Alejandro Rosario and Victor Mederos are slated to start Saturday and Sunday, respectively, in games scheduled to begin at 1 p.m.
"We ended up getting the news right after our scrimmage on Sunday," Mederos said "[Pitching coach] J.D. [Arteaga] and Gino called us in, one-by-one, all the starters and I am very blessed to have this opportunity. I've been working really hard on everything they told me to fix and everything they told me that they want to see from me and I was able to bring it to the table. I'm very blessed to have this opportunity."
Rosario will become the first true freshman to start a game on the mound for Miami since Bryan Radziewski toed the rubber on opening night in 2011. The thought of making his collegiate debut against the top-ranked Gators does not faze the hard-throwing right-hander.
"I've been in a lot of pressure situations and I've faced a lot of good teams," Rosario said. "I'm a competitor. I don't care who's on the mound and who's in the batter's box or what team we are playing, I just go out there and compete."
Del Castillo knows what it's like to be a freshman contributor in the annual UM-UF series. In 2019, the gifted backstop hit his first career homer when he crushed a Leftwich pitch out of McKethan Stadium in the series finale. Now in his third year at The U, he feels Rosario and Mederos are ready to step up when the Canes need them most.
"The two freshmen are lights out," Del Castillo said. "I think they've got really good stuff. Rosario has been very consistent in our intrasquads. He's got a really hard fastball and he's got good movement. I know J.D. has worked with him a ton on his the off-speeds, which is what he needed to work on when he got here, and it's looking a lot better now. And as far as Mederos, his off-speed was always good since he got here. He just needed to discipline himself and just throw more strikes and go right after the hitters."
DiMare has been very successful in his brief tenure as Miami's head coach, guiding the Canes to an NCAA Regional in 2019 and putting together a top-10 team in last year's COVID-19 shortened season. But beating the Gators has been a challenge and he is looking to turn that around this weekend.
"Florida has been a very good program for a long time," DiMare said. "It's not just that they're doing it to Miami, they're doing it to everybody. It just so happens they're our rival and we don't like it. I don't like losing, period. I certainly don't like losing to them."
With the No. 11 Hurricanes headed to Gainesville to face the No. 1 Gators, the college baseball world will be watching with anticipation as these two giants of college baseball do battle to open the season.
"It's honestly a great opportunity for us as a team going against a team like that that's had a good past against us since I've been here," Toral said. "I feel like it's motivating for me as an individual, and also the rest of the team. A lot of us have been playing them the last couple years and we haven't come out on top. So, we're going up there hungry and I'm looking for a good weekend series."