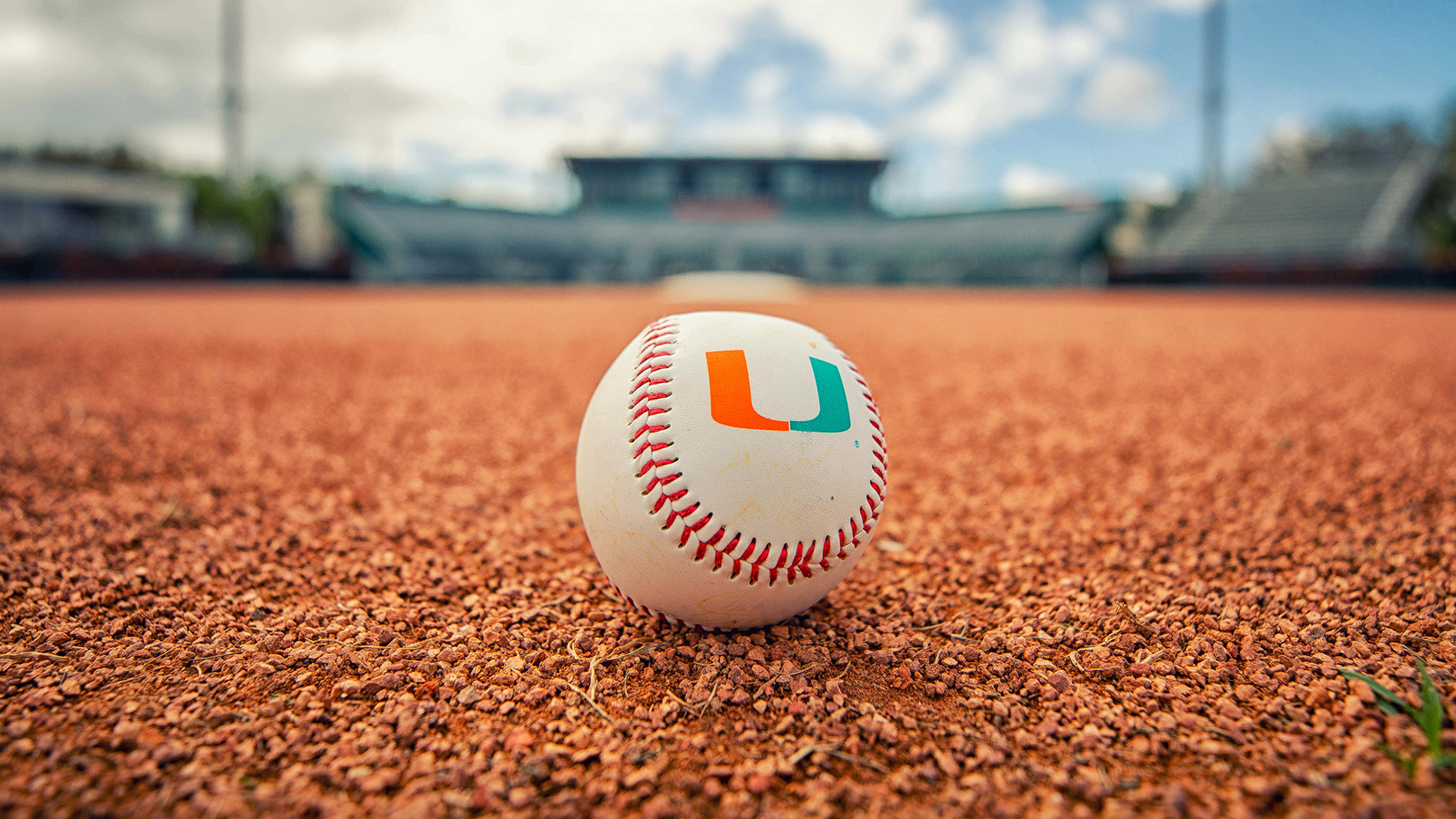 CORAL GABLES, Fla. – Recruiting is the lifeblood of any college athletics program.
Much like the draft process in professional sports, recruiting provides an influx of players to every program across the country. But the recruiting process was turned upside down when the COVID-19 pandemic struck.
"I think we've adapted very well to recruiting in this COVID era," head coach Gino DiMare said. "It's certainly unorthodox and not something we'd ever imagined we'd be in this position of having to do. It's not the ideal way to do it but we're using what the rules are allowing us to do and the tools that we have to do it."
A summer filled with coaches traveling across the country to scout and evaluate players and prospective student-athletes visiting schools to see where they wanted to further their educational and athletic career was radically changed, as the NCAA enforced a dead period that continues today.
A dead period is the most restrictive of all the recruiting periods. During a dead period, coaches may not have any in-person contact with recruits and/or their parents. In other words, coaches are not allowed to talk to recruits at their college campus, the athlete's school, an athletic camp or any other location where they would have in-person contact.
While no in-person contact is allowed in a dead period, athletes and coaches are still allowed to communicate via phone, email, social media and other digital communication channel. So, the coaches and support staff at Miami adjusted their recruiting efforts to continue to market their program in this unprecedented age of virtual recruiting.
"I think we've done a heck of a job adjusting to the new landscape of recruiting and the credit goes to our coaches and support staff," recruiting coordinator Norberto Lopez said. "We hit the ground running with our presentations and we got a bunch of videos made to help show off our campus and our facilities. We get a lot of great feedback from the recruits telling us how much access we give them to Miami through our virtual tours. And then Gino is very accessible, so we have them Zoom with our head coach and that helps build those relationships."
Virtual recruiting is not all that different from normal recruiting at Miami. DiMare, Lopez, associate head coach J.D. Arteaga, infield coach Chris Dominguez and director of player development Jonathan Anderson each play key roles in helping market Miami's baseball prominence to prospective student-athletes. All that has really changed is the medium for showing potential future Hurricanes all that Miami has to offer them academically, athletically and beyond.
"A big part of the recruiting process is trying to build a comfort level with a coaching staff, build a comfort level with the campus and see if you could see yourself with those coaches and for us to see if we can see those players and those families joining our program," Anderson said. "Towards the end of the spring and into the summer, kids were really interested in our program and they weren't able to come and see everything. At that point, we had started doing some Zoom meetings and we thought to ourselves, 'Well, why don't we just bring the campus and our facilities to them virtually?' We wanted to provide a way that they can kind of get a good idea of what the University of Miami is all about you campus-wise, academically, baseball-wise, facility-wise and all that type of stuff."
The virtual tours and Zoom meetings have proven effective for Miami, as the Hurricanes have secured many commitments during the current dead period. But DiMare believes their Zoom meetings had an immediate impact on the 2021 Canes, too.
"When COVID hit and our season ended back in March, Zoom was new to most people, but we pretty quickly got a taste for what it was and realized how important it was going to be to our program," DiMare said. "We got on it right away and we utilized it really for the class that's here right now. We got really after it with Zooms and meeting with families and these kids because they were dealing with the draft coming up and I thought that Zoom really helped us in getting this number one recruiting class here.
"Just knowing that we couldn't go see a kid like we normally would go watch him play and talk to him in person, the ability to switch those conversations and meetings to Zoom was huge," DiMare added. "I thought we did a good job of really spending time with the kids and their families on a regular basis. It was almost like being in their home because you're meeting with them while they're in their home and you can talk face-to-face instead of on the phone. I thought that was important and it played a big role in really helping close the deal so we could get these kids to come to our school and join our program."
Miami also used Zoom to court graduate transfer Ben Wanger, who enrolled at Miami this fall after starring at Yale and, most recently, USC. Anderson, who spent 10 years as an assistant coach at Dartmouth, was familiar with Wanger and showed him to Miami's coaches. The staff agreed he was someone they'd want to pursue and began to build a connection with him.
"With last year ending early because of COVID, he was going to get a year back. He was in the transfer portal and, certainly with him being a guy that played in the Ivy League, I was familiar with him," Anderson said. "We were able to watch a significant amount of video of him and J.D. really, really liked him. So, we were in touch with Ben on the phone a few times and started developing a relationship and wanted to see what he was interested in. As the process continued to develop, we said, 'Hey, let's get together on Zoom so we can start having some face-to-face interaction.'"
Wanger picked Miami for his sixth season of college baseball but did so without ever setting foot in Coral Gables. Instead, the talented two-way player was one of the first recruits to experience Miami's virtual tours and Zoom recruiting sessions.
"It's definitely an adjustment for both the recruit and the recruiter," Wanger said. It was an interesting process because I never visited Miami in person before I committed. For me at least, coming to campus was definitely not an option so Zoom was the next best thing.
"I feel like once you get older, you care a little bit less about the glamour of particular schools and you care more about the substance. So, I was more interested in the baseball aspect more than anything else," Wanger continued. "I did the whole Zoom meeting where Lopes takes us around and shows us the clubhouse and all the facilities and things like that, but I think talking to the coaches and just seeing what the program is all about was the most important factor for me."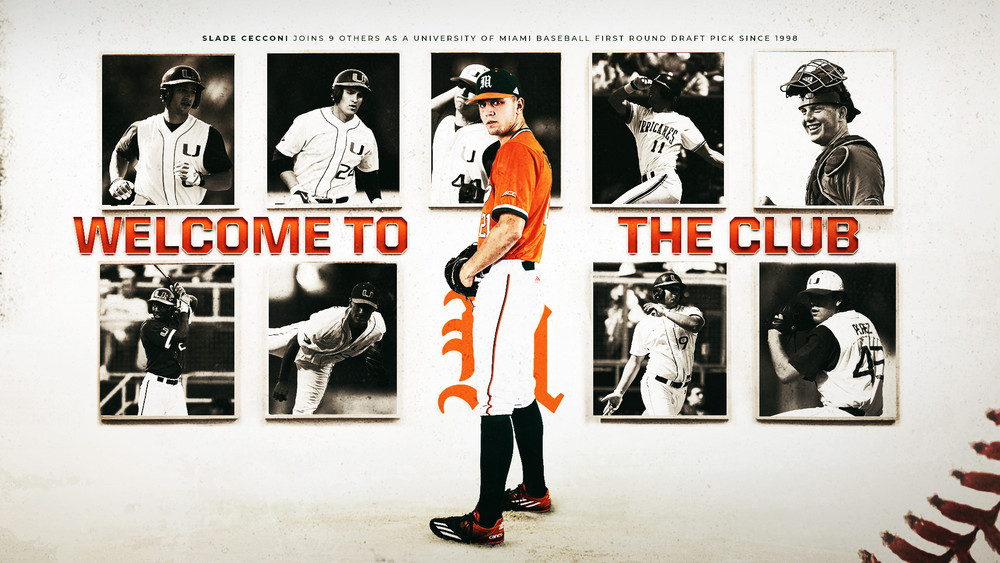 The virtual recruiting process has been an adjustment for everyone involved, but there are several positives that Miami's coaches have noticed since they began this new form of recruitment.
"You get to talk to kids more now," Arteaga said. "We used to spend two hours at a game watching a kid play but didn't get to talk to them as much. Now we spend a lot more time with them on the phone and on Zoom. The rules still apply for kids that are a certain age where we can't contact them before certain dates, but they contact us. We set up schedules where a kid will call us every week at a specific time on a certain day and that's his time to call. You find out the kids that are responsible, detail-oriented and are on time and call you every week.
"These Zoom meetings are as face-to-face as you can possibly get," Arteaga added. "It's the athlete and his parents on the Zooms with you and you didn't do much of that before with the phone calls. With young kids, they might come on campus and you spend one day with them, but we now get to spend more time on the phone and on the Zooms having meetings and just talking, getting to know each other and building relationships. And as far as character and makeup, those guys that are on time every week calling you, you know that they really are interested in your program and they've got good character and makeup to be on time and keep a schedule."
For Lopez, who is in his sixth year on staff and third as Miami's recruiting coordinator, the virtual recruiting has a bit more of a personal touch compared to an unofficial visit that many young prospective student-athletes take early in the process.
"When you do an unofficial visit, sometimes you're flying through trying to get to everything in a small amount of time because you don't want to keep them here all day," Lopez said. "They might have driven in just for the day and need to get back on the road. But with the Zooms, we can show them things and they are back home and have more time to see things and get to know us. And if we don't get through everything on one Zoom, we can show them the rest on another one and we are able to answer all of their questions and spend more individualized time on things than if we were trying to squeeze all this information in a few hours while they're on an unofficial visit."
Miami's recruiting coordinator also believes this virtual recruiting period has forced programs to become more innovative in what they do to market their program to recruits.
"We've always been a program that had PowerPoints that we use to help in recruiting presentations. Once we saw that COVID hit and the dead period came out, we jumped on it and we had this virtual recruiting plan ready within a week," Lopez said. "We've had to really create a lot of PowerPoints on the campus, on our facilities, on what we do with hitters, on what we do with position players and show the recruits how we develop players. There's a lot of new things that we've had to create and that's the part that I love and think that it is going to make recruiting a lot better because now you can market your program a lot more through these new forms of recruiting."
Anderson, who spent seven years as Dartmouth's recruiting coordinator, believes recruits and their families have been very receptive of Miami's virtual recruiting presentations.
"Just being able to interact with them on Zoom has been a really big piece for us," Anderson added. "The videos and graphics that our support staff put together allow us to show off not only our campus but the tremendous facilities that we have here, the new facility that we just completed with our indoor facility and the future renovations that we're going to be doing here. To be able to show all that off virtually, I still think is extremely worthwhile for the kids. I think they love it and I think it really only furthers their interest in our program. I think it makes them want to come see campus even more."
But how have Miami's coaches identified what players they want to recruit in a year where they did not get a chance to go watch summer travel ball?
Virtually, of course.
"As we moved forward in the year, we started realizing the dead period kept getting pushed back and we knew we had to adjust in order to continue to recruit," DiMare said. "Our coaches have done a good job, starting with Lopes and all our staff have really done a good job of working hard daily on that, watching as much video as you can watch and trying to identify kids we want to recruit. Some of it is not good in terms of the video quality, some of it is very hard to watch and some of it is short clips that you can only watch for maybe 10 to 20 seconds, so it's becoming harder to find and evaluate talent. What you have to do is make sure you're on the phones and you're talking to the coaches, high school coaches, travel coaches, different people that have relationships with the kids and know those kids personally. So, you're trying to get as much information as you can through the phone conversations and from watching video and I think we've done a very good job of that."
Miami has also turned to Synergy Sports to get access to video of prospective student-athletes and that service is something Lopez believes is a difference-maker now and when recruiting returns to normal.
"Synergy came out with a system that they're recording all the games and you type in the player's name and it shoots out all this video on the kid," Lopez said. "That's awesome because you can go back now and review tape of someone you might have seen at an event and review your notes. So, it's helping the process for you to be more thorough."
While the dead period currently runs through April, the Hurricanes have positioned themselves to be prepared to find talent regardless of if they are watching games in person or on video.
"I think we've been proactive. We didn't sit back and wait for things to get back to normal. We recognized that things have changed and things are going to be different for a while, so we adjusted," Arteaga said. "There's talk of the dead period going through July and if that happens, that's the heart of the normal recruiting period. Come August, you've got a couple of showcases and tournaments here and there, but the majority of it is from late June through the month of July. So, if they extend it through July again, it would be another summer where we don't get to watch our normal tournaments and competitions that we get to see. I would like to think that we were as proactive as possible and we've adjusted and we're as busy as it has ever been, it's just from home and not from the road."
While adjustments have been made, the new system is far from perfect. Watching video clips and highlights makes evaluating some of the intangibles that do not show up in the box score.
"One thing that you miss about not being able to go out and recruit is watching kids compete," Arteaga said. "Most of the things that we get to watch online are some of the biggest showcase events and they're not really playing to win. They're not really competing and it's more about showing themselves off and how good they are as a baseball player. I miss watching the games and then watching kids compete to win a game to move on in a tournament or to win a playoff game. Especially for the pitching side, you don't see a kid ever throw more than two innings in any showcase. Those events are more like go out there and go max effort, show your best stuff and get out. Recruiting was hard before and this makes it close to impossible to make the right picks every time because you don't see enough."
While evaluating talent has become more challenging, Miami's coaching staff features four people with recruiting coordinator experience in DiMare, Arteaga, Lopez and Anderson. Add in a former major leaguer in Dominguez and the Hurricanes have five experienced baseball minds looking at players for the future of the program.
"We've all been recruiters for long periods of time and certain guys have strengths in certain areas," DiMare said. "Some guys have strengths in more than one area but to have that many experienced guys' eyes on a prospect is huge. Maybe now more than ever, you need that because it is harder to predict, evaluate and try to recognize the potential of somebody and project these players. We're recruiting young guys in our sport. Most of the seniors and juniors have been committed already for some time. You're looking more at the younger guys, the sophomores and freshmen, and trying to project these guys. So, the more eyes you can get on him that have a lot of experience is certainly going to benefit us as we try to project a prospective recruit because it is harder when you're just going off what you see on a screen and not in person."
For Lopez, having so many colleagues with recruiting and player evaluation experience has been especially helpful as he navigates through hundreds of potential prospects.
"Having all of these guys here helps me tremendously in my job as recruiting coordinator because I've got so many people I can lean on," Lopez said. "I don't care how good of a recruiter you are; you need to listen to other people's opinions, and I have a guy like J.D. that has a lot of years of experience and a guy like Jonathan that has experience. Most importantly, I have a guy like Gino DiMare that was arguably one of the best recruiters in the country before he became a head coach. They've all been a recruiter and they bring valid points and they've done the job. Their input is invaluable to our recruiting process. It's a tremendous benefit that we have all these recruiters because it makes us a better program."
While the trio of DiMare, Arteaga and Lopez is in its sixth year together, Anderson is in his second season with the program and Dominguez arrived in August. But the two newest additions have been very helpful since arriving at Mark Light Field.
"Chris and Jonathan have been huge, huge additions to our program," DiMare said. "Chris came in this year and, of course, Jonathan was with us last year. With Jonathan, you're limited in his role as the director of player development, but he still can prepare a lot of things, do a lot of things, especially with this digital age that we're in now with Zooms. Jonathan can help prepare things for Lopes and that just frees up Lopes with his time because he's got so much on his plate as the recruiting coordinator. Chris can do things because he is a coach, so he can talk to kids and help with that aspect of recruiting. The two of those guys are a big part of our recruiting. It takes a lot of guys to do it and the additions of Jonathan and Chris are invaluable."
Recruiting at Miami falls primarily on Lopez's shoulders, but it is a collaborative effort and that is why Anderson believes the Hurricanes have had so much success in this new recruiting landscape.
"I definitely think we were able to transition pretty well into this new form of recruiting because Lopes is always thinking of new and creative ways to be able to do things," Anderson said. "Everybody knows he has a lot of energy and he wants to figure out ways to where we can continue to develop relationships. And obviously, J.D. has a ton of experience and certainly Gino because they both were recruiting coordinators for a very long time and had a lot of success with it so they know what works, what doesn't work, how to develop relationships with families, what to make sure we touch on when we talk with families.
"Chris may not have been in college baseball long as a coach, but Chris has a lot of experience playing professional baseball and the relationships he's developed there and how he was developed as a player," Anderson continued. "So, there's a lot to add from him too because when we talk to players, we talk a lot with them about how we're going to develop them because the guys that we're recruiting are expecting to have very similar careers to Chris in terms of playing professionally and getting to the big leagues. He certainly has added a lot.
"And I think my experience just being in a little bit different situation up in the Ivy League has been helpful here, too," Anderson added. "We had to be very involved in terms of interacting with recruits and their parents quite a bit. As the recruiting coordinator, I had to be well versed on a number of different things from an academic side to a financial standpoint to putting together junior days and everything for recruits, so I had an idea about PowerPoints and videos and all that type of stuff and having to make it work. So, we've all just blended the ideas into one and I think it's been very, very beneficial for us to do all of them and we've all put our key points in there and blended it into one plan and it's worked out really well."
In addition to having a staff that touches on a variety of aspects of recruiting, DiMare believes the current coaching staff has a passion for the program that is easily conveyed to recruits.
"Coaches say all the time that they have the best staff in the country, but I feel very, very lucky and fortunate that we have this staff," DiMare said. "I have a lot of confidence and feel very good about our staff. One, they're all Miami guys. Everybody on the staff is a Miami guy. Whether they played here or didn't, they're all from Miami and grew up Canes fans so they have a lot of pride in our program. Two, they've got a lot of pride in what they do and they all love what they do. So, when you've got people like that surrounding you, you're going to get maximum effort and you're going to get the best of everybody and these guys have certainly given their best, not only as coaches but also as recruiters. When people love what they do, and love where they're at and really enjoy it, it really makes it a lot of fun and I think recruits can feel that passion we all have for being Hurricanes."
Have the Hurricanes revolutionized the recruiting process? Lopez doesn't believe so, but he thinks a lot of things Miami's coaches have done during this virtual recruiting period will carry over once regular recruiting begins again.
"I believe we're marketing the program, but the virtual tour and these things aren't going to like take over the traditional way of recruiting," Lopez said. "What they will do is assist us more in getting information to recruits, especially to kids that aren't from nearby. For example, these Zooms and virtual tours might open the doors now for a guy from California to get on a plane and fly over here. That's something that wasn't happening too much because it's obviously a big commitment to fly across the country to see a school. But with a virtual tour and these other presentations we have, they might raise that player's interest to the point that he wants to make that trip to see our program in person."
Anderson agrees that in-person recruiting helps both recruits and coaching staffs get a better understanding of what it would be like if a prospect joins the program, but he believes Miami's success recruiting in this uncertain time is proof the program is connecting with prospects and continuing to build for the future.
"Everybody would prefer to step foot on a campus and see it and get the vibe of the campus, see the students when they're walking around and go to a sporting event while you come visit campus or something like that because that's a big part of it," Anderson said. "But at the end of the day, we have to adapt to the times that we're in. Right now, there are no campus visits and not as many people are traveling. So, the best way to do it is to do it through Zoom and I absolutely think it's been a really big help for us for a variety of reasons; not only seeing campus and our facilities but just having good face-to-face interaction with recruits and their families and them getting to know our coaching staff, as well as being able to have really good positive interaction with them and them being able to ask us a good deal of questions and getting to know us and getting comfortable with us. I think our virtual recruiting is absolutely working and the commitments we have gotten during this time proves that."