"I'm Going to Give My All"
CORAL GABLES, Fla. – It was his mother who maybe took the news the hardest.
At work, DeMarcus Van Dyke had already had a few bittersweet conversations with some of his Miami colleagues who were saddened about his impending departure, but happy about the opportunity he'd have out west. At home, his wife Kiawana and 3-year-old daughter, Kai, were excited, while 10-year-old DeMarcus Jr. had questions aplenty about the snow that awaited.
But his mom? Well, she wasn't exactly sure how to feel about the prospect of her son potentially coaching at Utah State, where he would have joined the staff of former Hurricanes safeties coach Ephraim Banda, who was hired by the Aggies in January.
"My mom was kind of against me going to Utah State," Van Dyke laughed. "She said, 'You're not going to take my grandkids all the way over there. … She would have been really mad at me if I'd gone all the way out there."
Turns out, the Van Dykes won't be going anywhere after all.
Last month, as Van Dyke considering what path his coaching career might take, an unexpected option emerged when Miami head coach Manny Diaz offered him the opportunity to stay home and coach the Hurricanes cornerbacks.
For Van Dyke, a Miami alum who starred for the Hurricanes from 2007 to 2010 before being drafted by the Raiders in the third round of the 2011 NFL Draft, it was a dream come true.
"To be able to stay home and coach cornerbacks at my alma mater, it means a lot," Van Dyke said. "To coach where I've been a fan of since I was probably four years old and where I played, it just means a lot that Coach Diaz believes in me to do this job. … When I got into coaching, obviously, I wanted to coach here. But I didn't think it would be like this."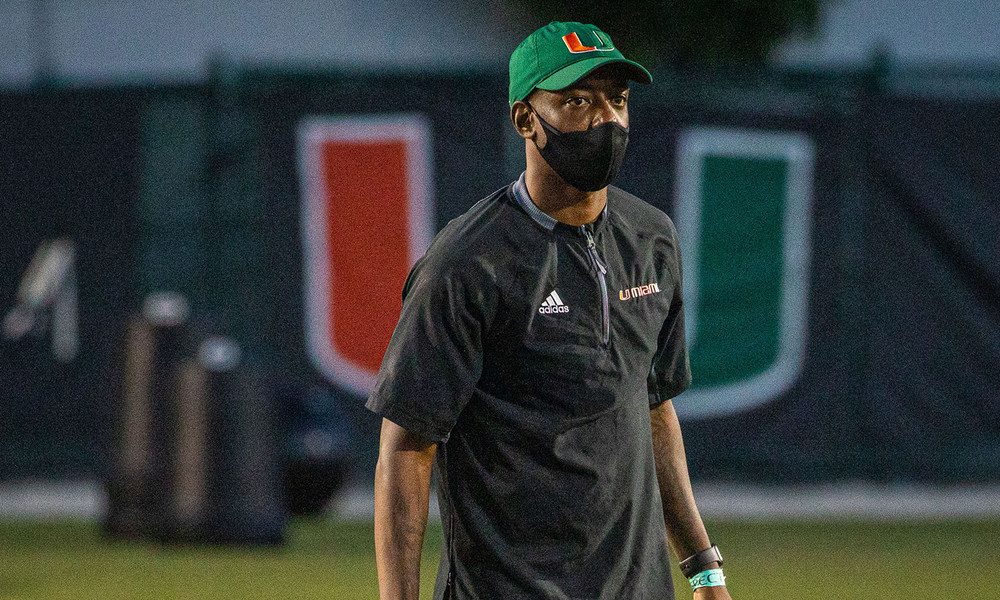 Van Dyke's journey to this point has taken a few turns.
He first imagined coaching might be a possibility for him during his six-year NFL career when he'd spend his offseasons mentoring high school football players across South Florida. Working with his son's youth teams only made the idea of coaching that much more intriguing.
He got his first chance to coach at the college level in 2017 when he was hired to work with the defensive backs at ASA College in Miami. It was there that he realized how much he truly enjoyed building relationships with his players and finding unique ways to teach them, both on and off the field.
"To see those kids develop, to see those kids lean on me for advice and things like that, I just thought, 'This is something I want to do for a long time and I think I have a good shot of doing that,'" Van Dyke said.
As much as he relished the on-field work, though, when his alma mater gave him an opportunity to come home, he took it, joining Miami's staff as a defensive quality control analyst in 2018.
Not long after that, Van Dyke became a part of the Hurricanes' recruiting staff, his deep connections in South Florida and love for Miami making him a natural fit there.
Now, there's a new challenge, but it's one Van Dyke feels more than ready to tackle, especially since he already knows the players and coaches around him.
And those players and coaches are confident Van Dyke will shine.
"One of the great things that our administration allowed us to do was expanding our staff. You get people in the building and there's that old adage that you interview for your job every day. … DVD was doing such a great job where he was and he's highly connected in our community and recruits have really taken to him," Diaz said. "My job is to find out what roles highlight people's strengths the most and DVD, by essence of doing a great job in the job he had, proved he could warrant taking a step up and becoming one of the on-the-field coaches. …
"I think [former Hurricanes players] understand everything that goes into wearing that helmet and I think DVD's an individual that everybody in our program already had an immense respect for … He's ready to coach corners and he's ready for his own room."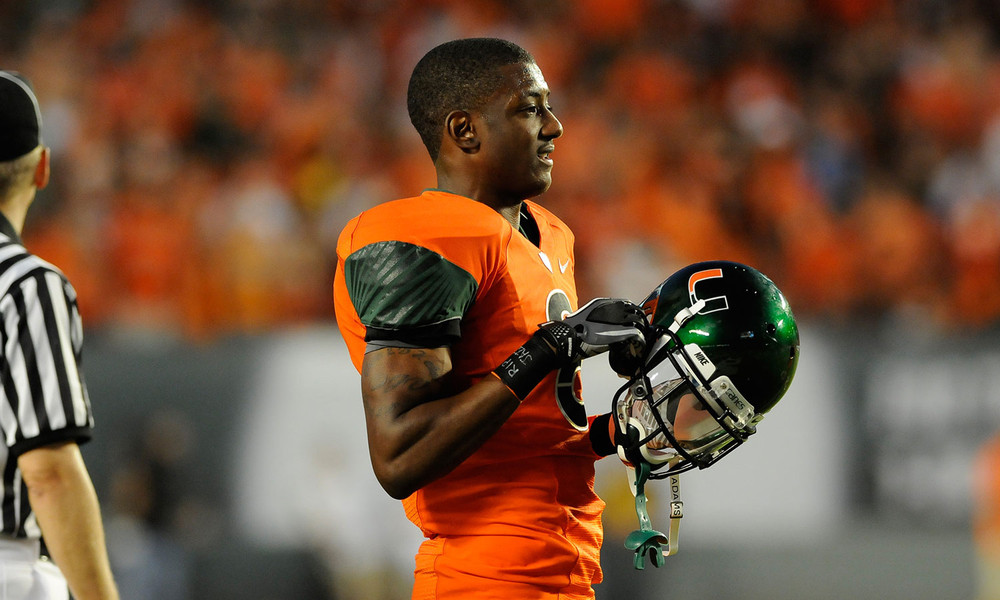 Already, Van Dyke has jumped into his new role, spending mornings studying game film with new Hurricanes defensive backs coach Travaris Robinson. The two have also started tackling their recruiting responsibilities, with Van Dyke relying on his background to help on that front.
He's fielded plenty of congratulatory text messages and phone calls from his new players and one of the things the new coach says he is most looking forward to is discovering in which ways those players learn best so he can teach them to be the best corners they can be.
"I've got a head start because I know these guys. I know what they can do and I'm going to make sure I get everything out of them," Van Dyke said. "I know what DJ [Ivey] can do. I know what Te'Cory [Couch] can do. I know what Al [Blades Jr.] can do. I know what Isaiah [Duncan] can do, Marcus Clarke. I expect those guys to keep getting better every day in practice and on into game day. … I want them to play with confidence. You have to always remember if you get beat, there's a next play. Go about the next play because you play a position that requires a lot of confidence, a lot of swagger and being aggressive. Go out there and play with all those things; play like Miami cornerbacks of old, guys like Antrel Rolle, Phillip Buchanon, Mike Rumph, Kelly Jennings, Ryan McNeil, those guys. Those guys could do it and I think we have a great group that can show that this year."
As much as he wants to teach, though, Van Dyke understands there's much for him to learn himself, also. He notes he's grateful for the opportunity to work so closely with Robinson, a 15-year veteran and he expects he'll rely on Diaz, defensive line coach Jess Simpson, strikers coach Jonathan Patke, linebackers coach Travis Williams and Bob Shoop, Miami's new defensive quality control coach, to help him deal with any bumps along the way.
Van Dyke also expects it will be "surreal" to be on the sideline this fall, white board and marker in hand to help his players adjust in real-time as games are played and the Hurricanes look to build on the success of last year's eight-win season.
There will highs and lows. There will be challenges. Van Dyke understands all of that.
But he is determined to do his part to make sure his players – and his alma mater – succeed.
"There's nothing like coming home, nothing like coaching at home," Van Dyke said. "Being around the program you grew up rooting for, playing for, you just put so much effort into it. You want it to be great. I'm going to give my all at everything in this job."