Walters Continuing the Legacy at The U
CORAL GABLES, Fla. – Andrew Walters is in his first year at the University of Miami, but he has always been a Hurricane.
A newcomer on the baseball team, Walters comes from a family filled with athletes and one of those happened to be a standout on one of Miami's national championship teams. Now the 6-foot-4 right-handed pitcher is looking to continue the legacy his uncle, Matt Walters, established at The U.
"It's exciting to be part of an athletic family. My dad played college basketball and my mom played college softball," Walters said. "The main thing growing up was my uncle Matt played football at Miami when they were the elite team in America. Being able to carry that on in the family is pretty sweet."
Andrew always loved the Hurricanes and remembers watching Matt play football for Miami from 1998-2002. As his own athletic career began to blossom, he dreamt of one day suiting up for the Canes and is eager to get that chance this spring.
"I grew up as a Miami fan and always watched the football games and the baseball games," Walters said. "I didn't think this was going to happen but I'm at my dream school and it's an elite school. I've always wanted to play at the highest level and go to the College World Series, so to be here at Miami and have this opportunity is really cool."
The chance to be a Hurricane means a lot to Walters and his family. Just like they did when Matt was at Miami, the Walters family will be driving south from their home near Melbourne, Fla., to support Andrew and the Canes.
"I think it's great because this helps them relive what they used to do back from 1998 to 2002 when they were coming down for all of Matt's football games," Walters said. "I think it will be cool for them to recreate that drive. I think it will be an exciting moment to come watch me play and I think that's just amazing for all of us."
Walters came to Miami after spending the shortened 2020 season at Eastern Florida State College. The right-hander pitched well before the COVID-19 pandemic cut short his first year in junior college, but he caught UM's attention prior to his first official game with the Titans.
"We saw him last fall in a junior college tournament," Miami pitching coach J.D. Arteaga said. "He was a freshman but we spoke to the coach and we were the one school that if we wanted him, he could leave after one year. We weren't ready to do anything then, but at some point this summer we realized that we had money and there was a very talented right-hander out there that we could have and figured why not get him in now and start developing him and getting him better. He's a freshman again, but with some experience at the junior college level coming in. We figured let's get him in the system now rather than later, and start developing for our future."
Walters knew Miami was interested, but he was a bit surprised when they offered him a spot for the 2020-21 academic year.
"I was talking to Miami for a little bit. I was at JUCO and we were talking back and forth and I planned on just going back to Eastern Florida one more year, and hopefully getting to come play after that," Walters said. "But then coach [Norberto] Lopez said, 'We want to bring you in.' It was very discrete. I didn't really care about much publicity stuff. I was just excited to be able to get to Miami. It's my dream school."
With his dream becoming a reality, Walters knew the first people he wanted to tell: his Miami-loving family.
"It was rush; just telling my family was the coolest thing ever," Walters said. "They all were so excited for me and looking forward to go back down to Miami and watch more games. For me, it was the top school on my list and be able to get here earlier than I expected was definitely a dream."
Having a familiarity with the program and its decades of success, Walters knew he would be joining an elite fraternity of college baseball talent. When he arrived in August, he got his first taste of what playing for Miami was like.
"It's definitely just a higher and better level of baseball," Walters said. "It's something that pushes you to get better because it's definitely more competitive and more challenging. It's been very fun and the competitiveness is on a different level than what I experienced in JUCO and that has motivated me to work harder and elevate my game."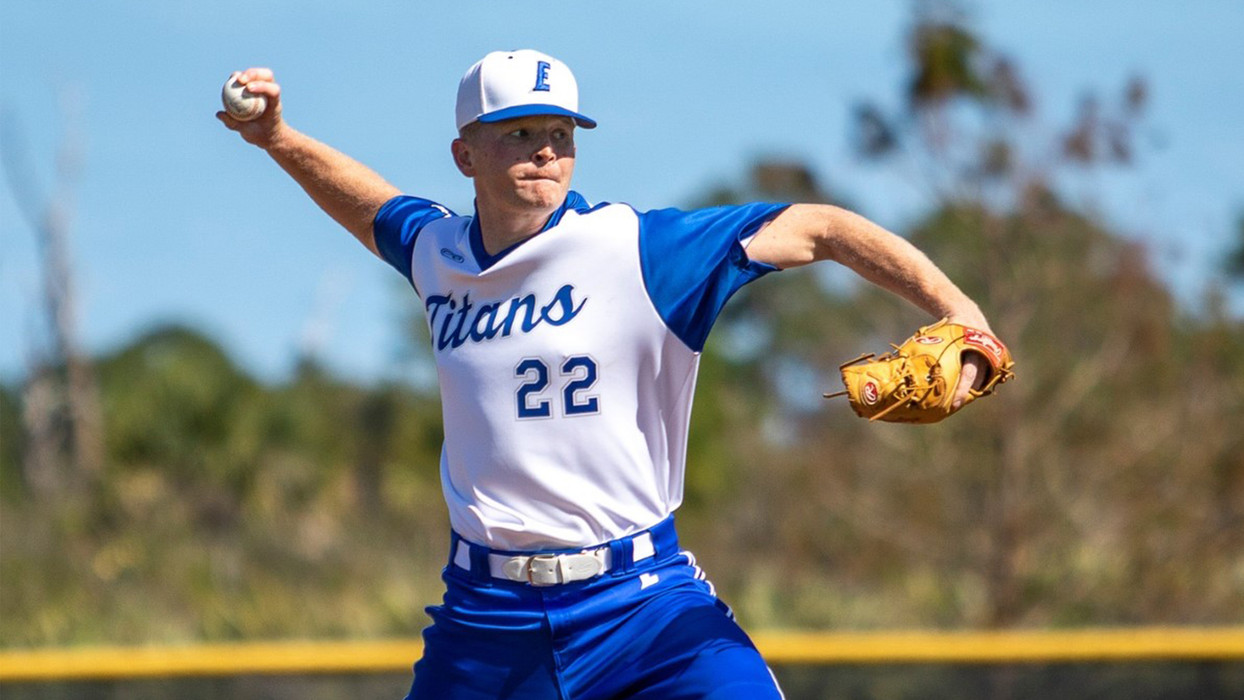 Walters has enjoyed getting to know his new teammates at Miami and believes they have helped him improve a lot in just a few months in Coral Gables.
"I love just being around the team; we're just a bunch of guys that love to play ball," Walters said. "I just like to play baseball. I've always loved to be a part of a team and try to be part of a winning tradition. Being on this team now is another elite level and it makes me want to keep getting better to help us win."
His development as a player began at Eastern Florida State, where Walters posted a 2.00 ERA and 26 strikeouts over 18 innings pitched.
"I look at myself now and compare to where I was out of high school and I wasn't as good of a player as I am now," Walters said. "I thought JUCO was the best route to get to one of these big schools. And looking back at my half a year and how much better I really got, that was pretty cool to see."
Walters pitched well in his prep career at Bayside High School but did not have a lot of team success. Despite accumulating a 1.57 ERA and 213 strikeouts over 125 innings pitched, his record was just 5-12. But that taught the right-hander to be mentally tough and focus on his job as a pitcher regardless of other circumstances.
"It's very hard to pitch a seven-inning game and end up losing in the last inning because we didn't score a run," Walters said. "But I've always just wanted to keep working to get to a place where we can finally start winning some games and be around guys that want the same thing as I do. As I got to JUCO, we won a little bit more but now I feel like I'm at a place where we can seriously win some games and that's really exciting for me."
His success on the mound has come largely due to an impressive fastball that Arteaga describes as having 'an extra gear.'
"He has great arm strength," Arteaga said. "He might not be the hardest thrower on the staff because we have a lot of hard throwers, but his fastball has a different gear to it where it kind of accelerates as it gets to the plate. His secondary stuff has some work to do, but his fastball has got something special about it that you really can't teach where it kind of has that second gear to it."
Walters likes to study one of the most electrifying young arms in professional baseball in Los Angeles Dodgers' standout Walker Buehler. Miami's new right-hander sees some similarities in their fastballs and has tried to incorporate some of Buehler's pitching style into his approach on the mound
"Watching Buehler, I can see how hitters react to him and how he pitches in certain situations," Walters said. "He is a more fastball-type guy and I do tend to throw a lot more fastballs so I just try to base my game off what he does because he's very successful. I want to be in that situation one day, so I watch him and I look at his pitch selection. I think Buehler is more of my mindset, so I think modeling myself off him gives me better insight."
In addition to fine-tuning his fastball, Walters spent much of the fall working on his secondary pitches and improving his mechanics.
"It's not really clicking yet, but we're trying out a splitter now," Walters said. "J.D. thinks it's going to be the best thing for me and it started working a little bit more towards the end of the fall. But he has mainly been teaching me to work more with my legs. I like that he sees that he can get more out of me. We will continue to work on mechanics and different pitches to help me succeed."
Arteaga has enjoyed working with Walters and believes he has the right approach to getting better as a player.
"He's very soft-spoken and very quiet, but a great listener and a very, very hard worker," Arteaga said. "In our conditioning, he's out in the front end winning every drill we're doing. Andrew works very hard and he's more of a listener than a speaker, but definitely a guy that's very fun to coach."
Walters has built a good bond with Arteaga and appreciates his hands-on approach to coaching his pitchers.
"J.D. is always working with us and I love that I have the opportunity to learn from him," Walters said. "J.D. is always in there working with us and you never have to worry about anything. You're always getting the time you need with him and he's making you a better player in all aspects of pitching. I like that and it's definitely helped me a lot."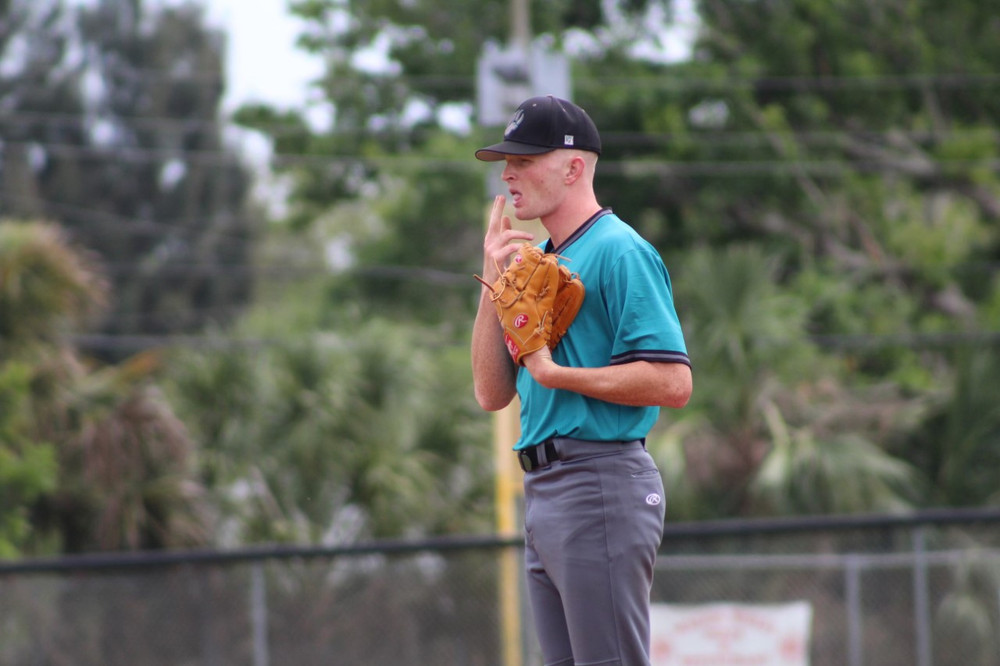 With Miami looking to replace several important parts of its pitching staff from a year ago, Walters will have the opportunity to be a factor in his first season at The U. Arteaga believes his fastball will make him a weapon out of the bullpen in 2021.
"He's a guy that right now can be a really tough guy to hit going one time through the order," Arteaga said. "The ball really, really jumps on you, and following the right guy, it is a big adjustment for the hitter to make going from whoever to him because it's just a different look. That's something that we've always kept in mind when we try to build a bullpen; we try to throw out different looks at the lineup as they come in so, ideally, no back-to-back at-bats are the same. Whether it's righty/lefty, hard-thrower/soft-tosser, sinkerball guy or whatever it might be, just give a different look every time up."
Walters wants to help the Hurricanes win however he can, but he does have goals in mind for his future at The Light.
"I think I'm looking more like a relief guy this year, but eventually I want to work myself to start once I get some more pitches in the mix," Walters said. "I'm looking to go long relief, but J.D. says I could be on the back end. The truth is I just want to get on the mound as a Hurricane. I'm looking forward to helping this team win a lot of games."
While Walters has been at Miami since August, his opportunity to officially play for the Hurricanes is just a couple months away and he admits that he will be a little nervous when he first takes the mound for the Canes.
"It's going to be a little nerve-racking," Walters said. "I've never pitched at such a high level and never been in front of many fans. I'm looking forward to competing at this level and playing at these really nice fields in front of fans. It's going to be a whole different level of competitive baseball and just thinking about it is exciting."
Knowing the Canes will be looking to make a trip to Omaha for the College World Series, Walters is ecstatic for the chance to help Miami get there.
"Growing up, I always watched the College World Series. I always looked at that caliber of teams and all I wanted to do when I was playing high school ball was give myself a chance to get to one of those teams that goes to the College World Series," Walters said. "I have always wanted to go to Omaha and knowing the reputation of Miami, knowing the level of baseball they play and then adding in the ties I had to the school, it was a no-brainer for me. This is always where I wanted to go. It feels great to be a Hurricane and I'm looking forward to helping us get back to Omaha."