Ready to Represent the Hometown
CORAL GABLES, Fla. – As his pen moved across the paper, James Williams couldn't help but think of his mother.
This moment – the one in which he officially became a Miami Hurricane – seemed as if it had been a lifetime in the making, one Maria Gibson had seen coming more than a decade ago.
"I know it made my mom smile. She worked at Miami before she passed, so I know it made her smile. And it put a smile on my grandma's face, too," said Williams, the nation's top-ranked safety who was among the players to join the Hurricanes during last week's Early Signing Period. "My family, everyone wanted me to stay home and play for Miami and that's what my dream was, so I just went with my heart and what made me happy."
He paused before continuing.
"I know this is where my mom wanted me to play. She was pregnant with me while she was working at The U and I was on campus with her," Williams said. "People would tell her 'No matter what sport he plays, he has to come to Miami. He has to come to Miami.' And she used to say, 'Yes, that's my Baby Hurricane. He has to come here."
Soon enough, Williams will be in Coral Gables. And when he arrives, he won't be the only big-time South Florida high school prospect who chose to stay home to play college football.
Of the 21 players who signed with the Hurricanes last week, 18 hail from the state of Florida and 15 are from the tri-county area of Miami-Dade, Broward and Palm Beach.
For Hurricanes head coach Manny Diaz, keeping South Florida's top talent at home has always been a priority. But this season, that seemed even more essential.
When in-person recruiting stopped in March because of the COVID-19 pandemic, Diaz and the rest of Miami's coaches worked to strengthen the bonds they'd already built with many of those highly touted prospects.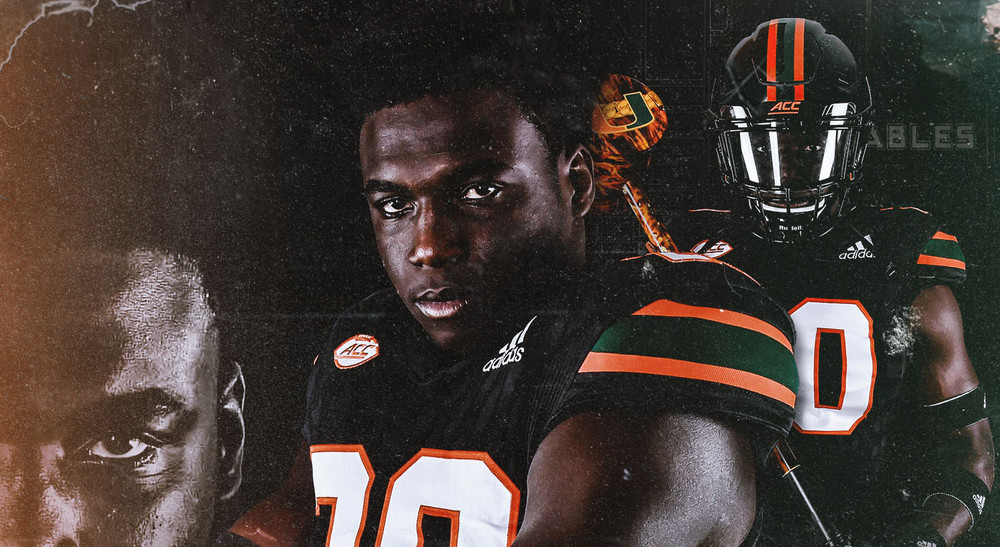 Williams – who as a senior won a state championship and logged 69 tackles, seven tackles for loss, three sacks, two interceptions, four fumble recoveries, two forced fumbles and a blocked punt – was a freshman when he first met Diaz.
Ryan Rodriguez – rated one of the top 10 centers in the nation – received his first Power-5 offer from offensive line coach Garin Justice shortly after Justice joined the staff at Miami. And safeties coach and co-defensive coordinator Ephraim Banda was keeping tabs on the likes of four-star receiver Brashard Smith and five-star defensive tackle Leonard Taylor long before they became stars at Miami Palmetto.
The coaches' efforts paid off.
"Those of us on the staff that have been here over the past few years, we've been talking about this 2021 class since they were in ninth or tenth grade. Everyone who came down here to recruit knew the 2021 class was going to be special in South Florida," Diaz said. "We didn't get them all. You're never going to get them all, but it felt like this year – because of everybody on this staff's efforts – we got a lot more than we normally got and it just happened to coincide with a big-time year in South Florida. Plain, full stop: that is our recruiting formula for success. We always, always want to win Dade, Broward and Palm Beach County first."
Added Banda, "If we didn't recruit the areas and know about the kids at such early ages and get a little bit ahead of everybody else, it would have been really hard to hang on to these kids. And that's what I think this was about. That's what it's always about that. … We were able to have the relationships with kids as freshmen, sophomores and juniors so when Covid did strike and there was no more physically touching the object, we were so far ahead because of the work we had already done through all their years in the recruiting process."
Those strong bonds with their future coaches were, obviously, part of the decision-making process for Miami's newest South Florida recruits.
But for many, the opportunity to represent their communities and their families at their hometown program proved too big an opportunity to ignore.
"Growing up, I was always a UM fan. I was born into a big UM family. We've been going to games since I was born," Rodriguez said. "My uncles, my godfather, they've had season tickets all my life. Since the Orange Bowl, they've been going. That was a huge factor for me and a dream come true. … At my high school, they taught us to have pride in who we played for. … To be able to now play for my hometown, I'm going to have pride in playing there. I'm going to have pride in the program, pride in my teammates and pride in making my family proud and representing my last name."
Added Williams, "Miami was successful with kids from South Florida back then. They had a lot of kids come in and give so much and have so much pride in Miami and that's what we want to do. We want to bring it back home. We want to bring Miami back to what it used to be."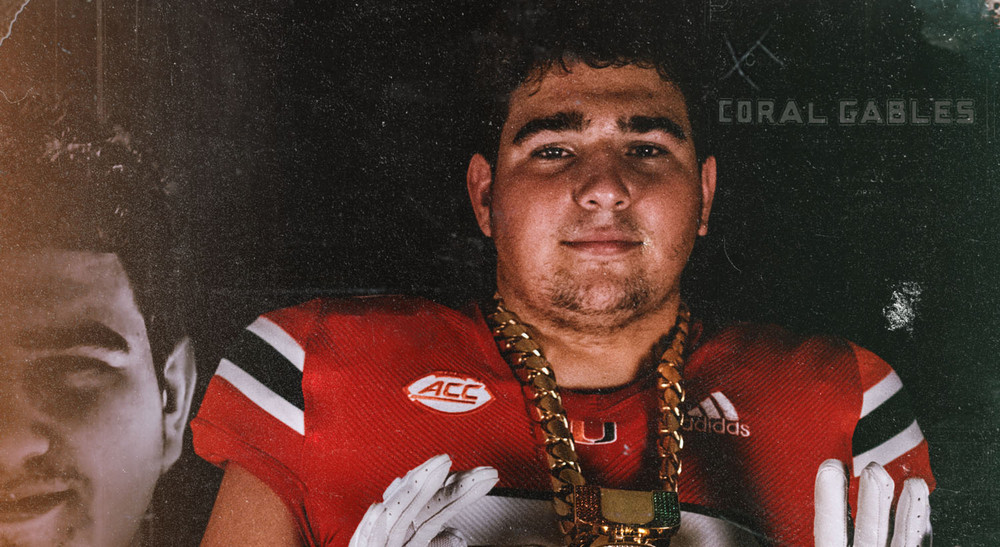 Even one of Miami's signees from outside the state understands the connection the Hurricanes have with the Miami community as a whole.
Tight end Elijah Arroyo may have become the nation's No. 4 tight end prospect while playing in Frisco, Texas, but he spent part of his childhood watching Hurricanes games with his family.
When Miami came calling with an offer, Arroyo couldn't help but feel as if he couldn't ignore the opportunity to come back home.
He eventually committed to play for the Hurricanes without ever visiting Miami's campus.
"I used to live down there and we moved when I was seven. But my grandpa was a big Canes fan and used to take me to games. My dad used to take me to games when I was little and I just remember how fun it was," Arroyo said. "I still remember the energy of the team. I don't know how I remember it, but I do. It really stuck with me, even when I was little."
With the recruiting process now behind them, Miami's South Florida signees are preparing for the moment they'll finally get to be on campus.
For some, that moment will come next month. Others will arrive early next summer.
But they're all expecting tough early-morning workouts with David Feeley, Miami's Director of Strength & Conditioning. They're looking forward to getting to know their new teammates.
And they're confident they can help Miami build on its success this season.
"We're the group of kids that came together. We came together in our group chat and we all committed to one another to make the crib great," Williams said. "We came together as a family, as a brotherhood. We asked ourselves, 'You want to make this class special?' and everyone was like, 'Yeah, let's make this class special.'"
Added Rodriguez, "I think this is a credit to the coaching staff at Miami. They've done a great job instilling their vision at UM. They've put a great perspective of what can happen if we all get together here, if all the great players from Miami come together here. We can work to make our hometown team something special. That's how they used to win: they had all the hometown players come here. They're the ones who changed the culture and that's what we're trying to do with our class."