"It Came Down to Relationships"
CORAL GABLES, Fla. – Jonathan Patke remembers, when it seemed as if the world had come to a complete stop, sitting on his parents' porch, talking to a recruit – Chase Smith – for far longer than he might have otherwise were it not for the fact both had plenty of time on their hands.
Rob Likens has yet to meet any of the incoming freshmen receivers he'll be coaching.
And none of Miami's coaches spent their Decembers watching state high school football championships or chatting up prospects and their families in living rooms across the country.
The Hurricanes signed one of the nation's top-10 recruiting classes earlier this week, and that, in and of itself, is reason for Miami's coaching staff to be proud.
But it's how the Hurricanes did it – amidst a global pandemic that changed life and recruiting as we all know it – that made their efforts all the more memorable.
"It's something we're so proud of, to be able to land the quality of player we were able to land in this class," Miami head coach Manny Diaz said. "Who knew that 2021 would be defined by a pandemic that completely altered the landscape of college recruiting? No camps, no in-person evaluations at spring ball or fall games. No unofficial visits, official visits. No in-home contact, not getting in the living room, nothing. Ultimately, what did this class come down to? It came down to relationships."
Added tight ends coach Stephen Field, "Whether it was via phone or via Zoom, you were able to really, really build relationships with guys and truly get to know them. Though it wasn't eye-to-eye and face-to-face, you were able to have a lot of conversations that helped you get to know the young men and that was very much a big point. Coach Diaz did a great job of leading every scenario and every adjustment we had to make to help us maintain those relationships."
Those relationships helped Miami land the nation's top-ranked defensive tackle in Leonard Taylor. James Williams, the nation's highest-rated safety is a Hurricane now, too. So is Jake Garcia, who is rated among the top five quarterbacks in the nation.
In all, Miami signed 21 prospects on Wednesday with 18 of them hailing from the state of Florida and 15 calling either Miami-Dade, Broward or Palm Beach County home.
They were players coveted by major programs all across the country. But they ultimately chose Miami because of their connections to the program, connections that began long before Covid-19 kept them from in-person conversations with their future coaches.
"I think it comes back to the original philosophy of area recruiting and the benefit of area recruiting," said Hurricanes safeties coach and co-defensive coordinator Ephraim Banda. "If you're able to build relationships within your particular area – whether it's South Florida, Orlando, Tampa, Atlanta or wherever – you're able to withstand what has happened. For me, in particular, being able to build relationships over the last three and a half, four years in my area, that's really the reason I feel like we were able to hang on during Covid. … If we didn't recruit the areas and know about the kids at such early ages and get a little bit ahead of everyone else, it would have been really hard to hang onto these kids. And that's what I think this was about. That's what it's always about.
"Coach Diaz is big about that: 'Get in your areas, learn your guys. Get so far ahead you develop a lead to withstand all that comes.' We never saw Covid happening, but Covid struck. And we were able to have the relationships with kids as freshmen, sophomores and juniors so when Covid did strike and there was no more physically touching the object, we were so far ahead because of the work we had already done through all their years of the recruiting process."
That philosophy undoubtedly played dividends for some of the Hurricanes coaches who have part of the Miami program for several years.
But offensive coordinator Rhett Lashlee and offensive line coach Garin Justice joined the Hurricanes in January. Likens joined the staff in February.
By March, the Hurricanes ended spring workouts, Miami's campus was closed, recruits shifted to online and virtual learning and the world changed.
That time period – and some virtual introductions assisted by their new colleagues – helped those new coaches begin to get to know the recruits at their positions.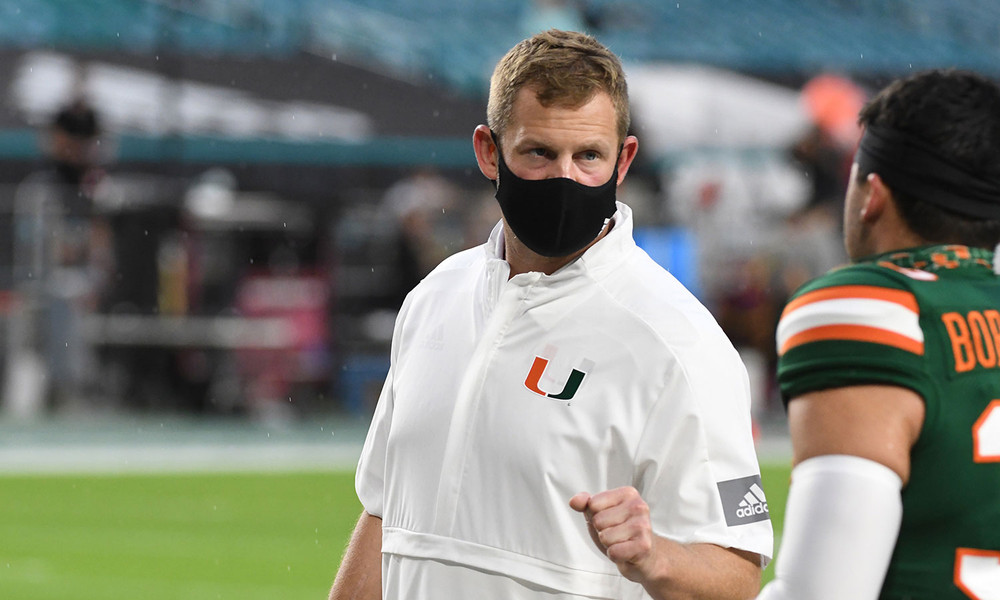 And Likens believed their excitement about joining the Miami program helped those recruits see how special it might be for them to do the same.
"If you move around a lot, like we do as coaches, as soon as you get to a place, you think everything about that place is just so cool and we were still in that state of 'Look at this! There's a palm tree in my backyard! There's a coconut'" Likens laughed. "I'm sure the kids saw all that passion. There was so much energy and positivity in all those conversations and I think that was attractive to them."
As different as this recruiting experience was, there were still more than a few memorable moments.
Likens and Field were on a boat together when one of Miami's prospects committed to them virtually and Field excitedly dove into the bay to celebrate.
Banda remembers all the heart-to-heart conversations he had with former Hurricanes safety Jaquan Johnson and his younger brother Tyler Johnson, who signed with Miami on Wednesday.
And Patke – Miami's special teams coordinator – still recalls how excited he was when kicker Andres Borregales told him at a long-ago camp he wanted to be a Hurricane.
For each of Miami's coaches, this recruiting cycle was one to remember. While many of them have known the players they signed for a bit, they understand that in a way, their time with those players are just getting started.
And they can't wait to see what's next.
"You know you signed a great class, now the next step, you kind of already get butterflies in your stomach. You want to know who's going to do well, who's going to stick out the minute they get on campus and that's the next journey," Patke said. "It's time to see who's going to step up in the weight room, who's going to step up in spring ball and who's ready to play the minute they step on campus."