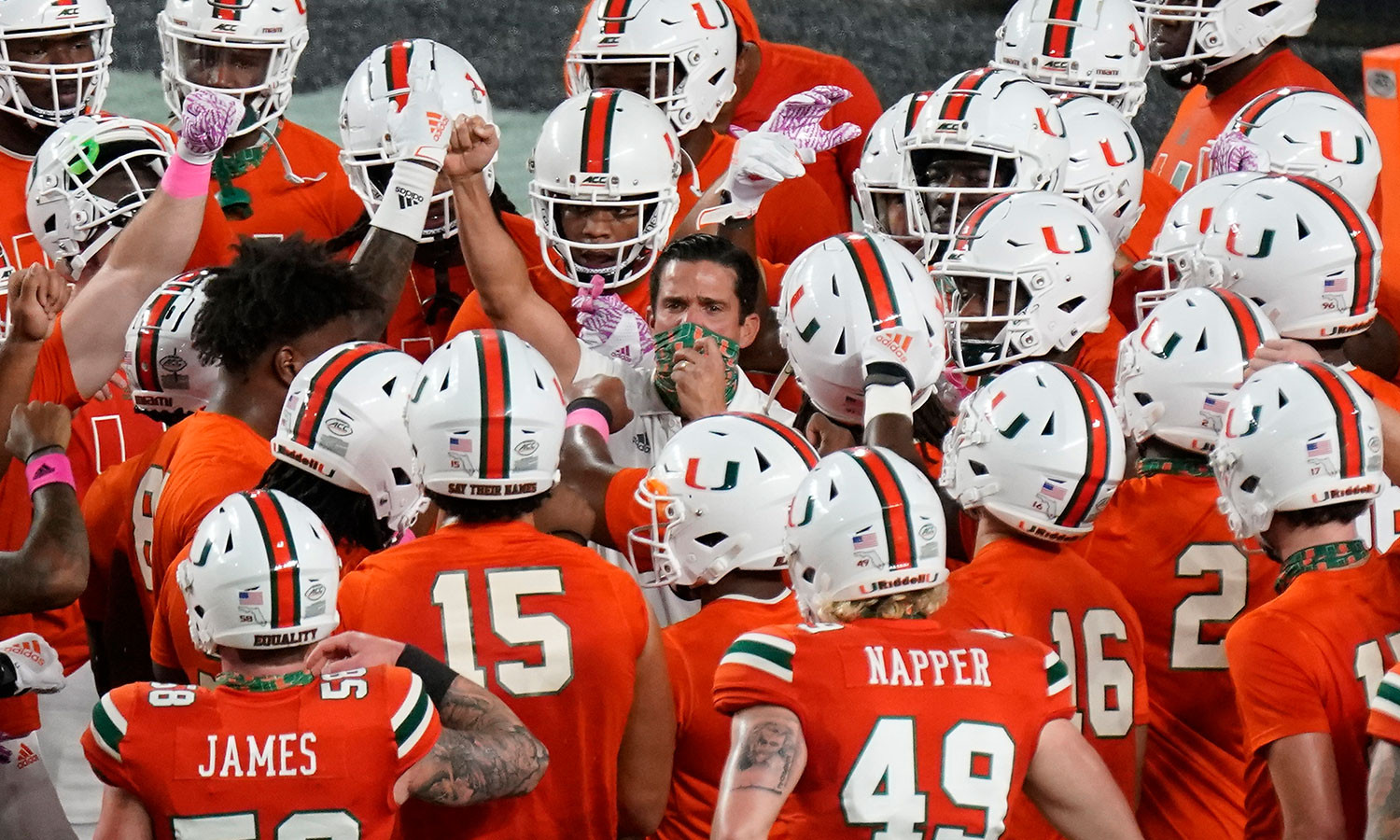 National Signing Day Headquarters
CORAL GABLES, Fla. – It was a story Manny Diaz couldn't help but share on this particular day.
Just hours after some of the nation's top high school football players became the latest Hurricanes, Miami's head coach smiled as he recalled his journey with one of them specifically.
He recounted how he'd been sitting in the office of a local high school coach, watching film, when in walked a ninth grader Diaz already knew had the potential to be an impact player – the kind of player Miami needed on its roster.
The coach's instincts were right.
James Williams eventually became the nation's top safety.
On Wednesday, Williams also became one of the biggest additions to Miami's highly rated 2021 recruiting class, a class that features some incredibly talented players from across South Florida.
"That day, which I think ended up being his first offer, started a relationship with James Williams and University of Miami football," Diaz said. "It was a relationship with myself, [safeties coach] Ephraim Banda, [Assistant Director of Recruiting] Demarcus Van Dyke, [defensive coordinator] Blake Baker and so many other people here in our program and in our building. That's four years. Four years is the duration of a recruitment of a player like James and like our football program, the recruitment itself [was] not without its ups and downs. That goes for so many other of the prospects that are on this list that we're sending out today and are so fortunate to sign today. … The local recruits that, in the past, Miami had been letting slip away."
On Wednesday, more than a dozen of those local recruits chose to stay home.
There was Williams, an American Heritage-Plantation standout who also considered offers from the likes of Alabama, Clemson, Ohio State and others. And Leonard Taylor, a five-star prospect from Miami Palmetto who is regarded as not only the nation's top defensive tackle but the best player in Florida overall, regardless of position.
Four-star wide receivers Romello Brinson, Jacolby George and Brashard Smith all signed with Miami on Wednesday too, as did four-star offensive linemen Laurence Seymore and Michael McLaughlin, four-star running back Thaddius Franklin and four-star defensive end Jabari Ishmael.
All hail from South Florida and played at some of Miami-Dade and Broward County's most successful and well-known high school football programs.
Bringing them – and more players like them – to Coral Gables, Diaz says remains a priority as the Hurricanes look to regain their status as a perennial college football power.
"Those of us on the staff that have been here over the past few years, we've been talking about this 2021 class since they were in ninth or tenth grade. Everyone who came down here to recruit knew the 2021 class was going to be special in South Florida. We didn't get them all. You're never going to get them all, but it felt like this year, because of everybody on this staff's efforts, we got a lot more than we normally got and it just happened to coincide with a big-time year in South Florida.
"Plain, full stop: that is our recruiting formula for success. We always, always want to win Dade, Broward and Palm Beach County first. We have just not always done that. And because we did it this year we're not guaranteed to do it at the same clip in the following years. But we will always begin here. We'll always push out to [the] I-4 [corridor] from there and we'll always push up through the rest of the state and nationally if it's guys that are the right fit. That's who we're going to be. It's what's won here in the past. But like many things: it's simple but it's not so easy to do. Sometimes it takes a few years to crack the puzzle, crack the code and I do think we're getting and better at it."
As Diaz noted, keeping South Florida's best players in South Florida isn't an easy task, given how many college programs recruit the talent-rich area year in and year out.
Things were even more challenging this year because of the coronavirus pandemic, which limited in-person contact between Miami's coaching and recruiting staffs and the prospects they hoped to bring to Coral Gables.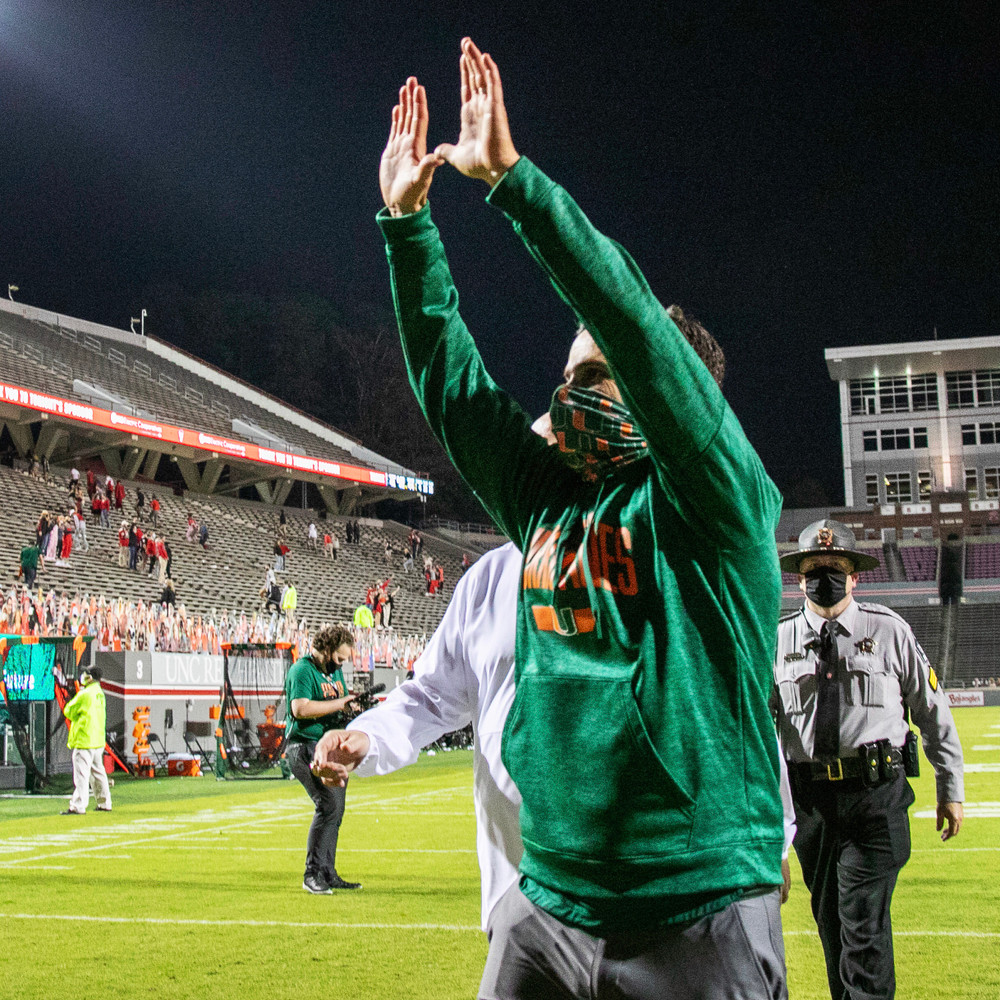 Instead of hosting those prospects at home games at Hard Rock Stadium this fall, Miami's coaches relied on phone calls and video conferencing to stay connected with players and their families. Instead of official visits, there were virtual tours of Miami's campus that showcased all the opportunities and amenities the University could offer those prospects.
Still, Diaz said, Miami's staff powered through and relied on the connections they'd built with their recruits in recent years to get the class solidified.
"Who knew that 2021 would be defined by a pandemic that completely altered the landscape of college recruiting? No camps, no in-person evaluations at spring ball or fall games. No unofficial visits, official visits. No in-home contact, not getting in the living room, nothing," Diaz said. "Ultimately, what did this class come down to? It came down to relationships.
"Some relationships – like James' – were four years in the making. Some – like our very talented offensive signees – had to make up ground and [offensive coordinator] Rhett Lashlee, [receivers coach] Rob Likens and [offensive line coach] Garin Justice, along with the help of the phenomenal [tight ends coach] Stephen Field and [running backs coach] Eric Hickson made up for lost time and really developed great relationships with the offensive players that ultimately ended up in our class."
The next step for the newest Hurricanes is now one of their biggest: finishing up their high school careers and officially enrolling at Miami.
Diaz said Wednesday he expects a "double digit" number of the Hurricanes' 21 signees to be on campus as soon as next month.
Then, their respective journeys as Hurricanes will really begin.
"They love Miami. Like I said, I don't know the exact number, but I bet 85 percent of them were committed before we even played a game, coming off 6-7 from a year ago," Diaz said. "You add them to the ones that signed with us this day last year when we'd just lost to FIU and Duke. There's something about them. They believe in what we're doing. They believe in this place. They believe in what it means to be a Miami Hurricane and they're really, really talented. They're tight. They want to come in. They want to go right to work and like I said, as a coaching staff, we can't wait to get them in here."