Takeaways from Miami's loss to North Carolina
MIAMI GARDENS, Fla. – It was their first home game in nearly two months. Senior Day. A top-20 matchup. And a chance for the Miami Hurricanes to finish the regular season on a positive note.
Instead, Saturday's game against North Carolina proved to be a disappointment.
The 20th-ranked Tar Heels and their high-powered offense scored three quick touchdowns on their first three possessions and never looked back in what was eventually a 62-26 win over the ninth-ranked Hurricanes.
With the regular season now behind them, the Hurricanes (8-2, 7-2 ACC) will soon begin preparing for their upcoming bowl game, while Miami's coaches will turn their immediate focus to the Early Signing Period, which begins Wednesday.
Before all of that, a look at some of what the Hurricanes can take from Saturday's home finale at Hard Rock Stadium.
A tough end to a memorable regular season
There's no question the 2020 season has brought with it a series of unique challenges. And even through a late-season pause, the Hurricanes seemed to handle those challenges.
After going three weeks between games, Miami put together one of its best performances in recent memory last week at Duke, the Hurricanes even recording their first shutout in ACC play in their 48-0 win over the Blue Devils.
That followed comeback wins at both NC State and Virginia Tech and a massive win over rival Florida State earlier in the year.
Those memorable wins only made Saturday's performance against North Carolina that more difficult to understand, for both Miami's players and coaches.
"We had a good week [of practice]. I felt like we were ready. It's very peculiar and different from anything I've seen. That's just not the way that we play. We'll have to take a hard look at the film," Hurricanes head coach Manny Diaz said. "Thank goodness that we have a chance to play another game and end 2020 on the right note. I did tell the players that it has been a long year. Over the course of the year, I am still proud of what they've done and finishing the season 8-2. We do not have to be defined by this…but we damn sure better learn a lesson from it."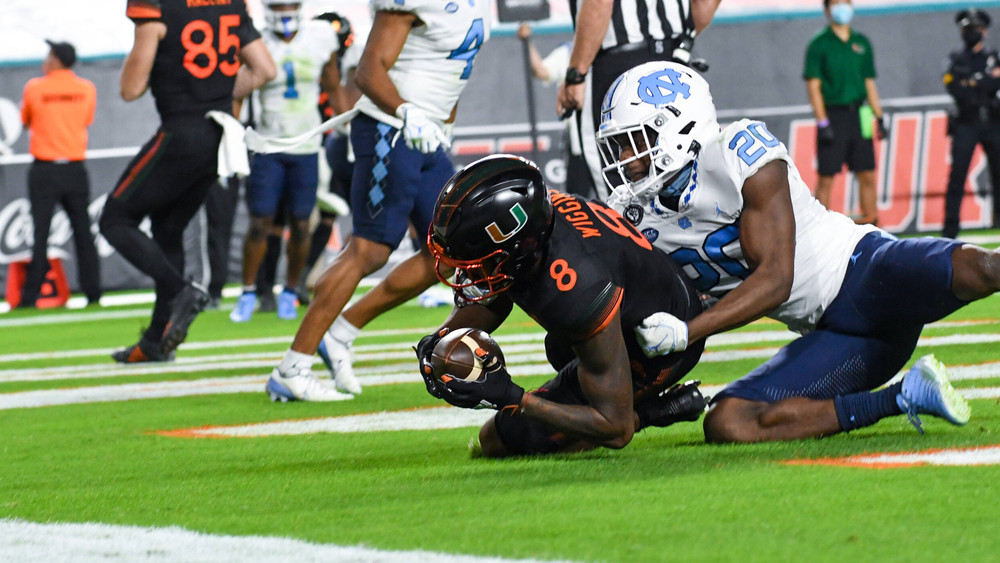 The defense collapsed
After the Duke win, Miami's defense was riding high.
The Hurricanes picked up their first shutout in ACC play in Durham. They collected five turnovers, totaled 13 tackles for loss and held the Blue Devils to just 56 rushing yards.
Things went much differently against North Carolina.
The Tar Heels put up dizzying, record-breaking numbers, totaling 778 total yards, including 554 yards on the ground. No Miami defense has ever allowed numbers that high. And running backs Michael Carter and Javonte Williams combined for 544 yards, an FBS record.
UNC quarterback Sam Howell, meanwhile, threw a touchdown, ran for another and caught a third – and yet, his 14-of-19, 223-yard performance was almost a footnote given what the Tar Heels were able to do with their run game.
"I think a disappointing part and where I have to do a better job is that obviously, we did not make the adjustments through the course of the game on what they were doing to get stops," Diaz said. "They were able to continue to do the same two or three things over and over again and have the success that they had. Once you've got those backs out in the open field, then they really become a problem. We were not ourselves tonight and that was the disappointing part. That is going to make everything look really bad against a motivated football team. The biggest disappointment is that, with everything on the line tonight, we took our eye off the ball. Very disappointing."
Added defensive end Jaelan Phillips, "I think that they just came to play and we didn't. I have to give credit to their running backs. Those are probably the two best running backs that I've ever seen other than [Clemson's] Travis Etienne. All credit to them and what they did. They obviously came out here ready to play and they just outplayed us."
Penalties, again, proved costly
Penalties have, at times this season, been a tough hurdle for the Hurricanes to overcome.
Saturday was another one of those instances.
Miami was whistled seven times for 68 yards – and several of those penalties proved costly, including an early substitution infraction that negated a third-down DJ Ivey interception.
North Carolina kept possession on that drive and went on to score its second touchdown of the day.
"It was the same thing offensively as it was defensively," Diaz said, when asked about the penalties after Saturday's game. "To me, after the first drive on offense, I don't think we had 50 yards of offense for much of the rest of the first half. We had practiced all week and the plan all week was to really push the tempo and to line up fast. That wasn't what we did and that's what we talked about in the locker room."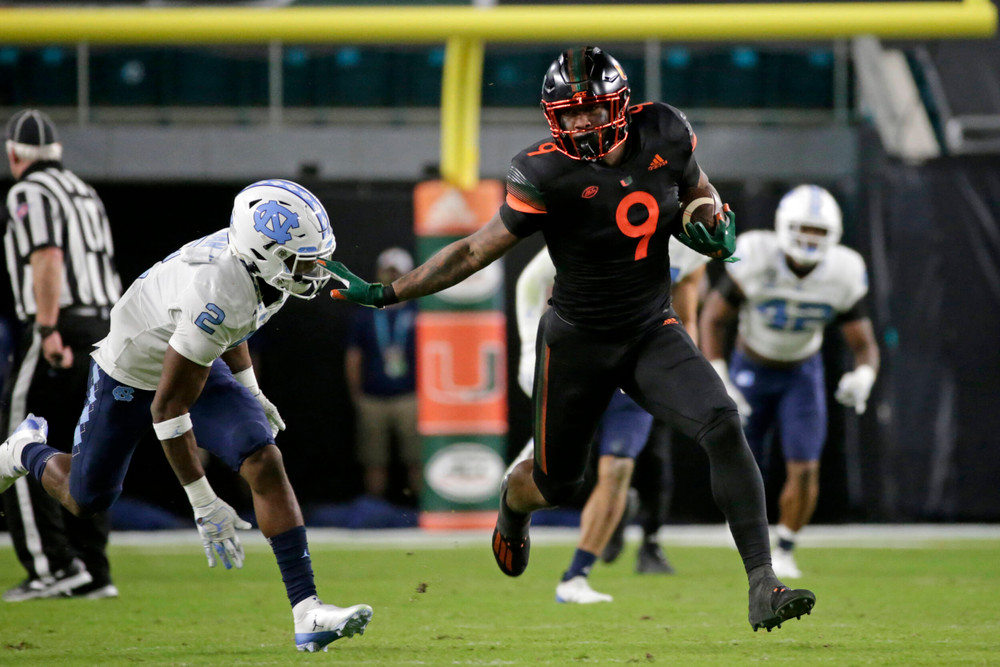 No comeback this time
Twice this season, the Hurricanes have shown their ability to put together second-half comebacks.
Against both NC State and Virginia Tech, the Hurricanes rallied for wins and while Miami's offense managed a pair of second-half touchdowns, the early deficit the Hurricanes had to overcome was far too great and Miami's offensive leader was clearly disappointed in how his group performed.
"We didn't play well on offense. We didn't play well on defense. We didn't play well on special teams. It's tough losing a game like this," quarterback D'Eriq King said. "I thought we had a really good week of practice. Everybody was locked in and everybody was excited to play. Being the quarterback of the team and being a leader, it's my responsibility to pick everybody up and have positive energy on the sideline. At the end of the day, I am supposed to win the game. Being the starting quarterback, if they scored 63, we have to score 64 and we didn't do that tonight."
Second-half time-of-possession took a toll
Any faint hope of a Miami comeback was made all the more difficult by the fact that for much of the second half, King and the Miami offense were relegated to the sideline.
While there wasn't exactly a huge disparity when it came to time-of-possession in the first half, North Carolina's potent running attack helped the Tar Heels hang on to the ball for 13:59 in the third quarter and 11:46 in the fourth.
North Carolina – which allowed a Miami touchdown just before halftime – opened the third quarter with a 13-play, 75-yard drive that took 7:36 off the clock – and pushed the lead back over 30.
Lou Hedley remains a bright spot
Consistency was hard for the Hurricanes to find against North Carolina on Saturday, but one player continued to prove how essential he is, especially on the toughest days.
Lou Hedley averaged 48.5 yards per punt, despite being called on six times. He had a long of 53 yards, downed one of his punts inside the 20 and on Sunday, reiterated on social media that it's his intention to continue punting for the Hurricanes next season.
"Not the way we wanted to finish, but extremely proud of this team and what we've accomplished this year," wrote Hedley, a Ray Guy Award semifinalist. "Love everybody within this organization and I'm extremely excited to come back next year for one last ride. Miami for life."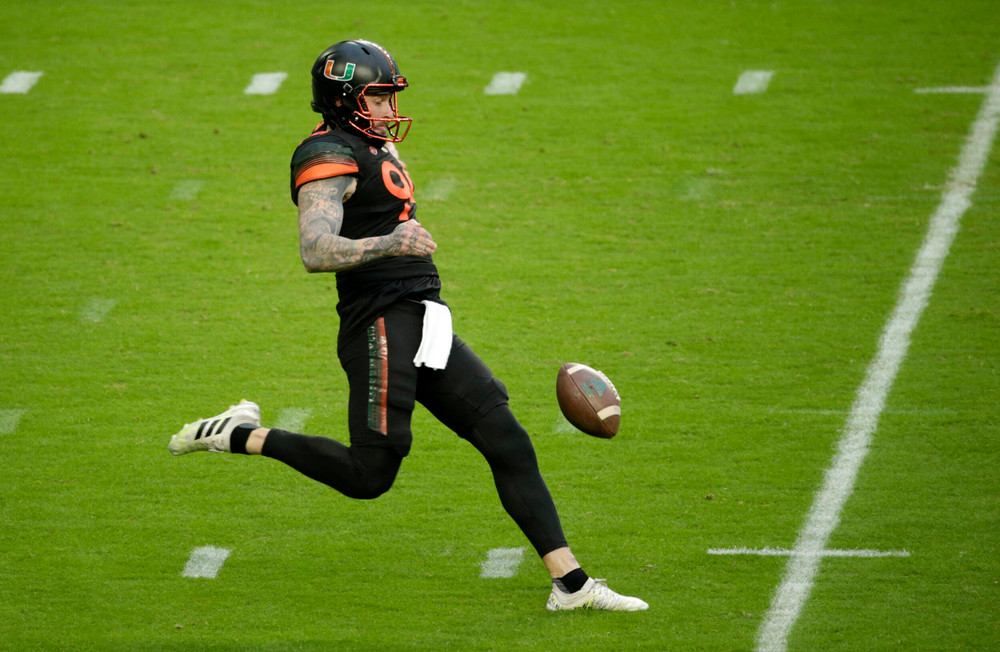 The Early Signing Period is (almost) here
 Like everything else, recruiting has been different in 2020 and over the next few days, Miami's coaches will try to secure its next recruiting class – from a distance.
Because of the COVID-19 pandemic, the Hurricanes have had to rely on virtual visits, phone calls and Zoom meetings to connect with some of the nation's top prospects in recent months. And when asked how Saturday's loss could impact the upcoming recruiting class – which will be formalized when the Early Signing Period begins Wednesday – Diaz was blunt.
"A majority of this class committed before we had even played a down of football this year. It's recruiting time and it's obviously closing time, always an important time of year," Diaz said. "But, heck, if I was a recruit and I saw that, I'd double down on why I'd want to come and feel like there's some great opportunities to do similar to what the 2020 class has, to get in here and make a difference."
Bowl season looms, too
Entering Saturday's game, the Hurricanes understood a win would – more than likely – put them in a premier postseason game, even potentially the Orange Bowl in their home stadium.
Though their bowl destination is a bit murkier now, the Hurricanes know they have one more opportunity to try and end the season on a positive note and that's one thing neither Diaz nor his players said Saturday they are taking for granted.
Now, they know they have to find ways to bounce back and address the issues that contributed to Saturday's tough loss.
"It's obviously huge for Miami. I think we've only won one bowl game since 2004, so our focus is definitely on winning this next game," Phillips said. "It's paramount for us to stay together. It's the key for us as a football team, connectivity and togetherness. So I think we'll need to regroup, assess what happened and focus on the next game."
Added King, "I think there's an opportunity for us to end the season the right way, with a win and just to get this taste out of our mouth. It's going to be a while before we play, whenever that is, but I think it's important for us to go out there and get a win. It would give us momentum for the next year or next season for whoever is coming back."
Diaz echoed his players' sentiments when asked about the need to finish strong.
"I think it is very important. It's very important to me for this football team because, over the course of the season, they've done a lot more right than wrong. You want them to feel the reward for that," he said. "Certainly, that's not the way some of the seniors wanted to have their Senior Day remembered. I do think it is important we put on a great performance in whatever bowl game we get to go to. This is going to be a big offseason and I think our players sense that. It would be great to go in there with some momentum from a bowl win."