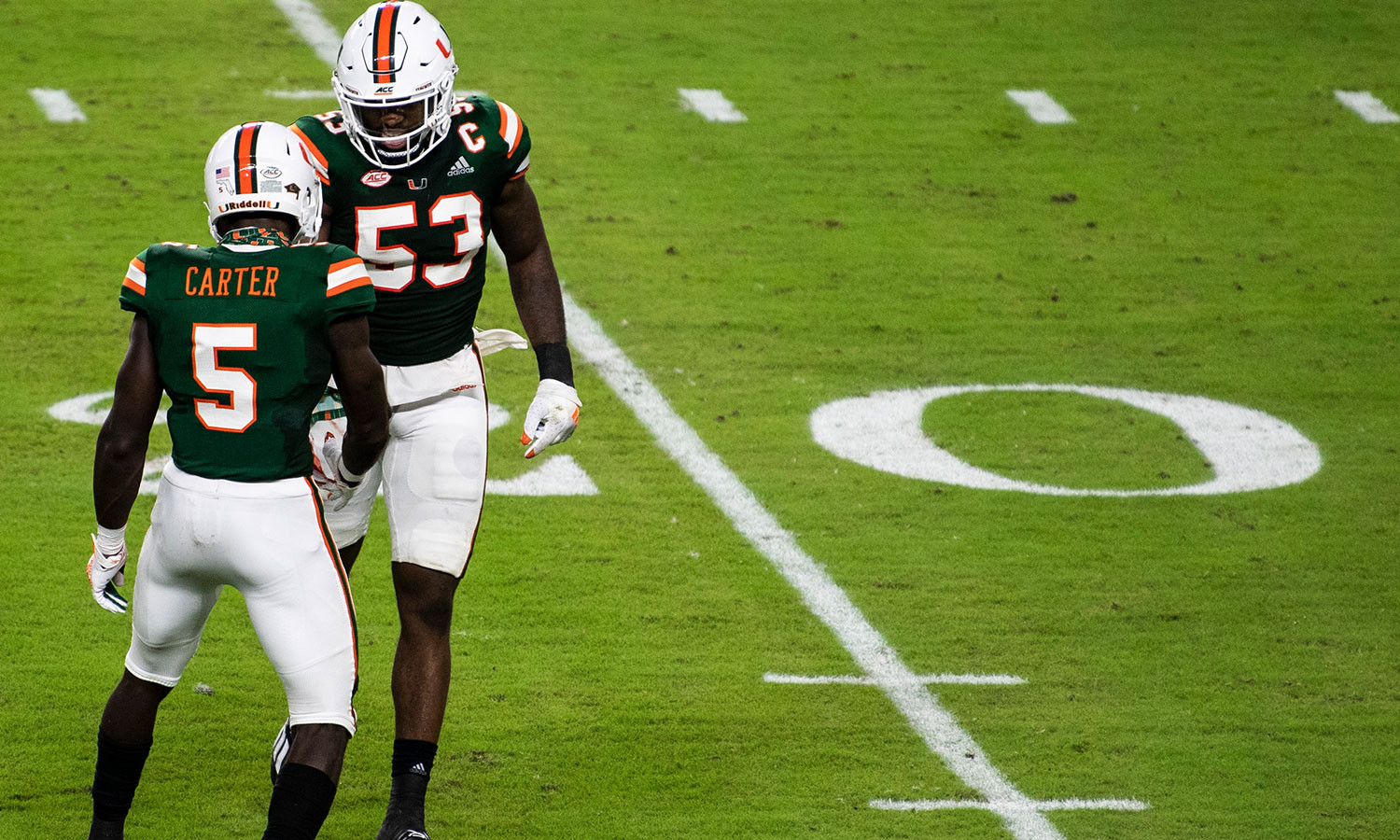 CORAL GABLES, Fla. – It was a simple errand, a quick trip home to deliver some food.
But as Mike Harley drove from Coral Gables to Fort Lauderdale recently, he felt a twinge.
The wide receiver looked to his left on his trip up the turnpike, saw Hard Rock Stadium and let the reality wash over him.
"I was like, 'Wow, this really can be my last or second-to-last game at Hard Rock as a University of Miami football player,'" Harley said. "It hasn't hit me quite yet. I keep looking at the schedule and thinking about possibly having a chance at the Orange Bowl and you think 'I have plenty more time' but to have the event called 'Senior Day' here, it's just…wow. Time really flies."
Though it's been a mere four years since Harley and several of his teammates excitedly arrived in Coral Gables as highly recruited freshmen ready to make their mark, it's easy to understand why some of them – now as seniors – feel like they've experienced what Harley described as "an emotional roller coaster."
In their first months as Hurricanes, they saw their team rise as high as No. 2 in the College Football Playoff rankings. Some of them were on the field when a frenzied Hard Rock Stadium celebrated a dominant 2017 win over longtime rival Notre Dame.
That night, it seemed anything was possible.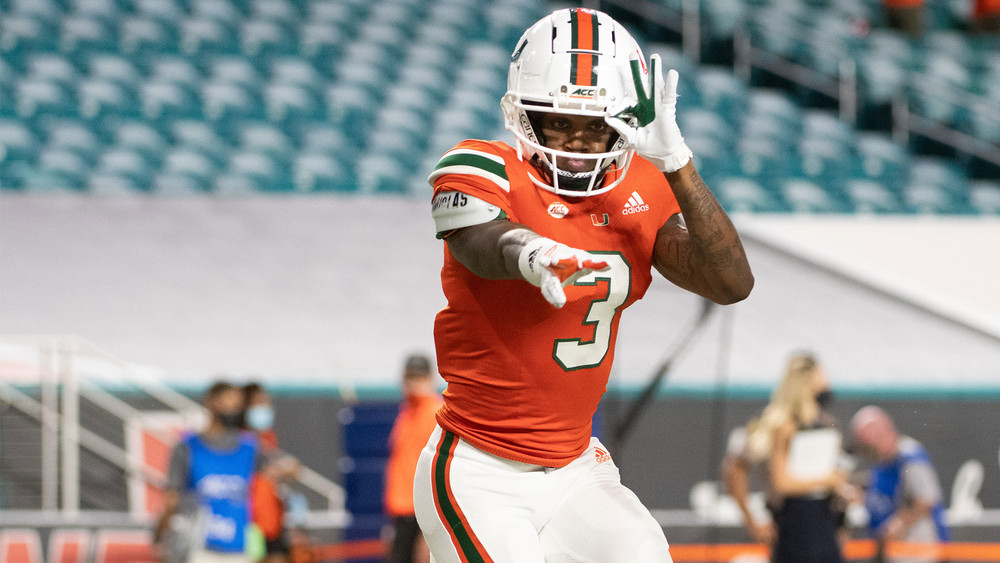 But after that memorable season, things changed.
Miami's seniors weathered coaching changes. The departures of teammates. Unexpected transitions. And some tough losses that seemed unimaginable when their careers began.
Then after all of that came a year unlike any other.
When the Hurricanes took the field in March for the first of their spring workouts, their seniors were focused on finding ways to look ahead and help Miami bounce back from a disappointing 2019 season that had ended just months earlier.
But the seniors and their teammates – which now included some very high-profile graduate transfers – managed just four practices before the coronavirus pandemic ended workouts, closed Miami's campus and put the 2020 season in jeopardy.
For months, the seniors trained – alone, at home in many cases – not knowing whether they'd have the opportunity to play this fall or what their futures would hold.
Uncertainty reigned.
"From January to now, there's no way you would have been able to tell me that this year would have been so hectic and re-arranged with everything," safety Amari Carter said. "I look back at when we were home for all those months and there was a lot of doubt in the air about whether there was going to be a football season or not. But I remember just sticking to what I knew to do and that's to train and work out wherever and whenever I could. It's been a lot of ups and downs."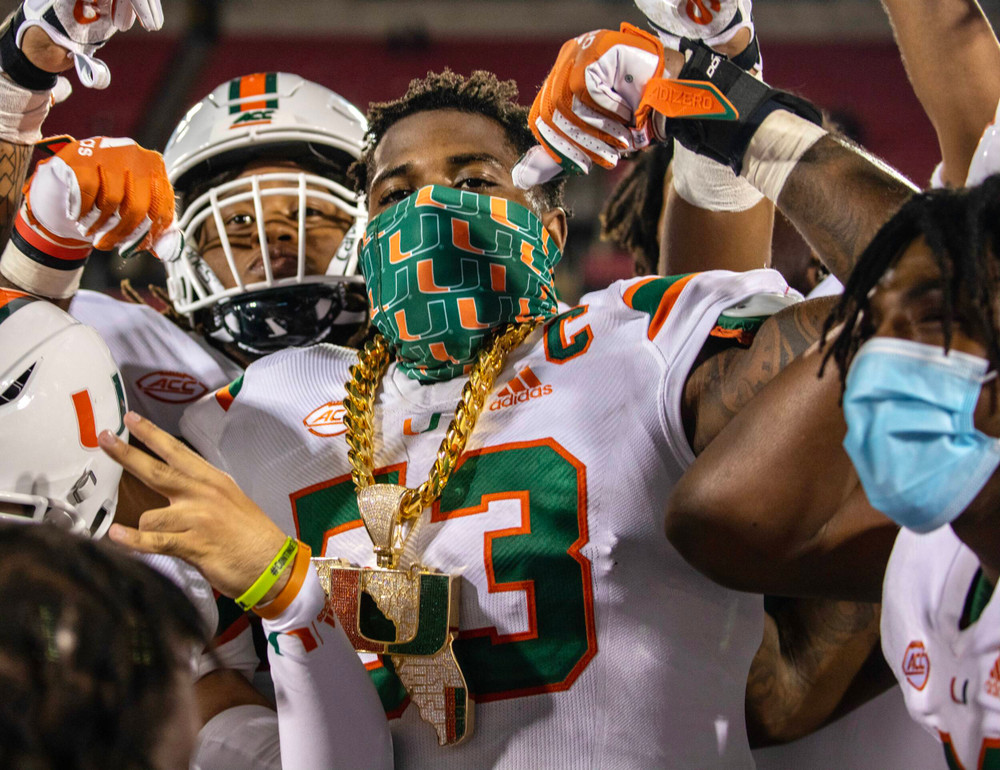 By August, cautious plans were in place for the season to proceed and Miami's seniors found themselves back on the field, back in their meeting rooms and back in a locker room where their jobs no longer merely included inspiring and guiding their teammates in practice or in games.
Their coaches asked them to help set an example for Miami's younger players – and the University community as a whole – by modeling the kind of safety protocols that would allow their season to proceed.
It was a challenge they tried to embrace as best they could.
"As seniors, we're the ones the rest of the team looks to when things start to go a little crazy," linebacker Zach McCloud said. "Guys are going to have their own thoughts and personalities, but when it comes to things they're unsure about, they definitely look to the older guys to guide them. And if you don't have that strong leadership at the top, then the program is going to struggle. I think that's why the coaches asked us to help hold this all together."
Added Carter, "We as leaders and older guys had to be what we were – the leaders and older guys. When we came back, we had to make sure everybody was on the same page. We had to make sure our weakest link was strong and that's what we were trying to do best."
Once the games actually began, it was Miami's seniors who set the tone.
Quarterback D'Eriq King, a graduate transfer from Houston, sparked the Hurricanes' new-look offense, while fellow graduate transfer Jose Borregales, Miami's new kicker, helped put points on the board. Harley emerged as one of King's top targets while McCloud, Carter and defensive linemen Quincy Roche and Jon Ford worked to lead on the other side of the ball.
Through starts and stops, the seniors helped guide Miami to top-10 status with wins against the likes of UAB, Louisville, Florida State, Pittsburgh, Virginia, NC State, Virginia Tech and Duke.
And though pandemic-adjusted rules mean they are all welcome back in Coral Gables next fall if they so choose, some of them could be playing their final games in orange and green over the course of the next few weeks.
Saturday, the seniors take the field at Hard Rock for a top-20 showdown against North Carolina. And they'll be honored for their contributions to Miami, on and off the field.
It has been, for all of them, a journey – one they say they'll treasure the rest of their lives.
"You can't go wrong playing quarterback at the University of Miami," King said. "It's one of the best universities in the country, one of the historic programs in the country."
Added Harley, "Just knowing that 2020 was a crazy year, and it just so happened to be the year this group of guys were seniors, we want to finish strong and make history, be one of the best teams to be in this program. I know it's going to be something we're going to remember forever, just the brotherhood and everything Coach [Manny] Diaz and the other coaches have done to help us become something special. We'll remember all of this forever."