Defense Dominant in Win over Duke
DURHAM, N.C. – Blake Baker wasn't quite sure what to expect at Duke.
After all his players had endured over the course of the last three weeks – a season pause, illness, the uncertainty of when they'd play again and who they'd face – Miami's defensive coordinator was hopeful that when the Hurricanes returned to action for the first time since a Nov. 14 win at Virginia Tech, that they'd be able to get back into a rhythm and find success.
Miami wound up doing all of that – and more. Lots more.
Against a Duke team that had won two straight against them, the Hurricanes forced five turnovers. They held the Blue Devils to just 56 rushing yards and totaled 13 tackles for loss.
And most notably – ninth-ranked Miami kept Duke out of the end zone in a dominant 48-0 win that came despite the fact the Hurricanes were without several starters and key contributors.
It was Miami's first road shutout since 2000; its first ACC shutout since joining the conference in 2004; its first shutout of a Power 5 opponent since beating Syracuse in 2001 and its first shutout of an FBS opponent since holding FIU scoreless in a 35-0 win at the Orange Bowl in 2006.
No wonder Baker was effusive in his description of the Hurricanes' performance Saturday night.
"I'll be honest – I didn't come into this game thinking we were going to put together a masterpiece, you know, a Picasso if you will," Baker laughed. "When you talk about how many guys we had out, how many guys we didn't have throughout the week, just from a preparation standpoint, it was a special night. It was a lot of fun. I know I could get used to this."
So could the rest of the Hurricanes.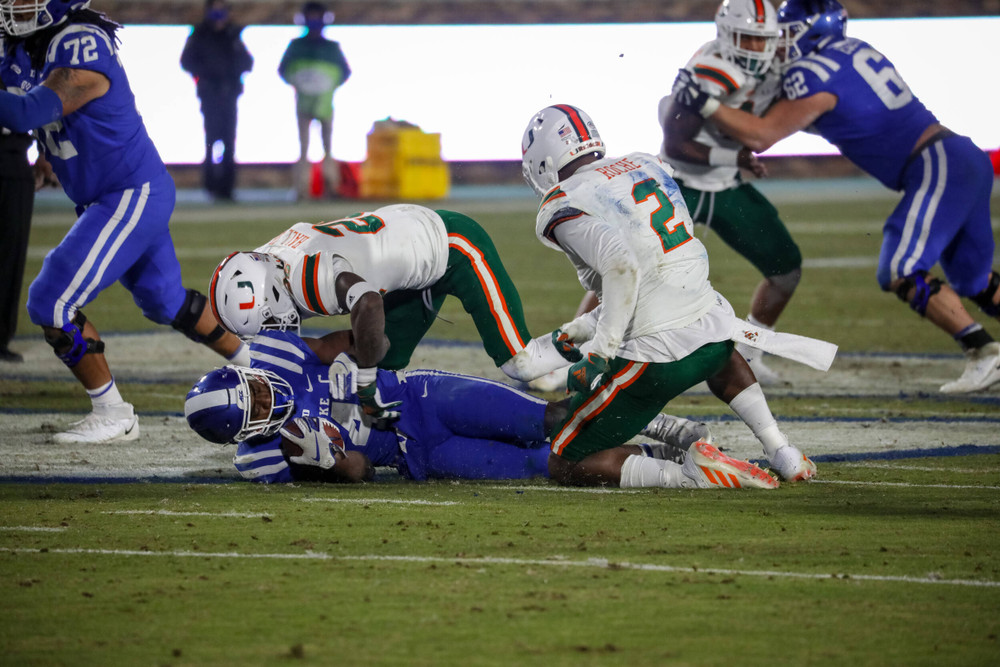 Though Miami (8-1, 7-1) won't be in Charlotte for the ACC Championship Game later this month, the Hurricanes are still in the running for an 11-win season and a berth in a New Year's Six bowl game, two things that would help Miami finish the season on a positive note.
And the defense would like to do its part to help make both of those things happen.
"That's big. I don't remember the last time that's been done here," said defensive end Quincy Roche, who had six tackles, including three tackles for loss, 1.5 sacks, a fumble recovery and a forced fumble against Duke. "That would be big."
Their performance against Duke was the defense's first step in a strong finish to the year.
Despite playing without the likes of Al Blades Jr., Zach McCloud, Jon Ford, Sam Brooks, Jared Harrison-Hunte, Avery Huff, Patrick Joyner Jr. and Jalen Harrell – all of whom were unavailable against the Blue Devils – the defense wasted little time setting the tone in Saturday's game.
The unit found itself in a tough situation early after the Hurricanes fumbled in Duke territory on Miami's second play from scrimmage.
But on Duke's first play of the drive, Bradley Jennings Jr. stopped Deon Jackson at the line of scrimmage. Then Roche and Jaelan Phillips combined on a sack of Blue Devils' quarterback Chase Brice and on 3rd-and-14, Bubba Bolden got to Brice before he could pick up any yards.
And just as quickly as the defense found itself on the field, it forced a Duke (2-8, 1-8) punt.
After that, the Hurricanes defense would force three fumbles – with Roche, Amari Carter, and freshman Corey Flagg Jr. all recovering those fumbles and getting their respective Turnover Chain moments. Freshman tight end Dominic Mammarelli would recover a special teams fumble and later, freshman cornerback Marcus Clarke picked off a Gunnar Holmberg pass.
Those takeaways – and the fact that so many of the youngest Hurricanes were in on them – Baker acknowledged were key in Saturday's win.
"Huge. It was huge. Obviously, Duke was last in the country coming into the game from a turnover standpoint, but turnovers are funny. We were even saying in the fourth quarter 'He's got to throw us one. We've got to get an interception,'" Baker said. "To finally get our hands on a ball that was in the air was awesome, especially seeing it from Marcus Clarke, who really, this was his first significant action in his career. It was huge and it's one of those deals, they come in bunches. I always say when it rains, it pours and the ability to put our offense with short fields over and over again, as explosive as our offense is, we knew if we were able to do that, the game wouldn't be close. The turnovers were paramount to our victory, without a doubt."
Added head coach Manny Diaz, "It's hard to go somewhere on the road and shut somebody out. Defense, I thought, from the opening kickoff, was spectacular. Just the way our front played, just getting after them and then [being] relentless to the football. Obviously, Duke has had an issue with turning the ball over, but I think we got five [turnovers] … to get five turnovers [is great]. This is kind of the field where the Turnover Chain sort of became a household name back in '17, so it was nice to see it come back out as often as it did tonight."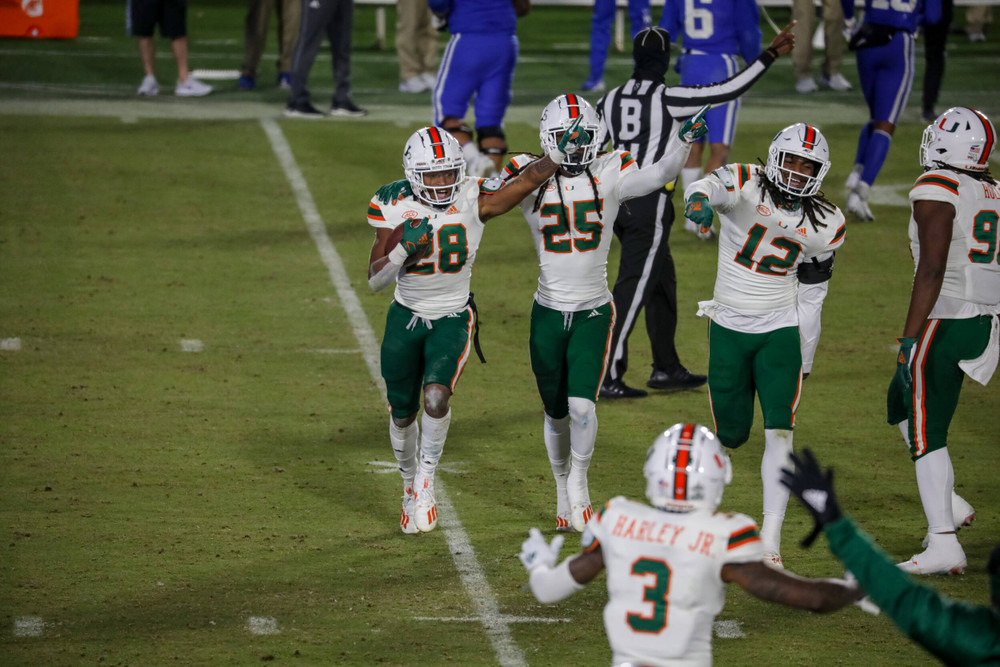 As crucial as the turnovers were, Baker and Diaz both noted something else they were pleased with from the Miami defense: its tackling.
While some players were able to practice tackling in the days ahead of Saturday's game, the coaches noted that wasn't the case for everyone, given when some Hurricanes were medically cleared to return to practice. And that, Diaz pointed out in the days leading up to Saturday's game, could be problematic given that some of those players hadn't tackled a live body since the Virginia Tech game 21 days ago.
But against Duke, missed tackles weren't an issue. The Hurricanes were effective and efficient in getting opponents to the ground, with 10 different players notching at last four stops.
That, too, was an area where the youngsters excelled, Diaz said.
"Again, I give the credit to the players. It was a great performance. Obviously, we drill the heck out of tackling and take a lot of pride in it," Diaz said. "I was very excited with all of our tackling, but again, seeing Marcus Clarke get in there and tackle [was great]. The interception—he's got great ball skills, we've known that. But to see him get in there and tackle, to see [Isaiah] Dunson get in there and tackle, Keshawn Washington get in there and tackle, that's big because that means that their role on defense can increase."
Said Roche, "That's the main thing that Coach Diaz stressed: tackling. A lot of times, when you have long layoffs like that, a lot of teams – you can see it across the country with teams that had the same problem we had – they kind of struggled coming back the first week with tackling. And that was a point that Coach Diaz made, the biggest point that Coach Diaz made. And I think we answered well."
That they did. Now, the Hurricanes know they face another significant challenge.
While Miami's players and coaches are eager to return to Hard Rock Stadium where on Saturday they'll play for the first time since an Oct. 24 win over Virginia, they know that once there they'll have to contain one of the nation's top offenses – North Carolina – if they want to attain the postseason goals still within their reach.
The Tar Heels (7-3, 6-3) have a top-10 offense and are led by Sam Howell, who has completed 69 percent of his passes and thrown for 3,129 yards on the season, along with an ACC-leading 26 touchdowns.
None of the Hurricanes expect it will be easy, especially given what the uncertainty of the last few weeks and all of the challenges the 2020 season has brought.
But Baker is confident Miami can build on Saturday's defensive effort in the weeks to come.
"They understand there's always room for improvement and I really don't think this week is going to be hard to motivate the guys when you have one of the best offenses in the country rolling in," Baker said. "Obviously, we didn't forget what happened last year in this game. I think our guys are going to be up for the challenge and I don't think trying to get them motivated is going to be an issue, even though we're not playing in the ACC Championship. There's a lot to play for from a bowl standpoint and then also, the opportunity to compete against one of the best offenses in the country.
"And these guys, man, they like playing for each other and playing together and when you have that, usually it's not hard to get up for any game."