CORAL GABLES, Fla. – For Dr. Marcos Mestre, it's always been about helping others.
A pediatric specialist with over 20 years of experience in the medical field, Mestre was appointed vice president and chief medical officer for Nicklaus Children's Hospital in October. The UM baseball alumnus is thrilled to have an opportunity to make a lasting impact on his local community.
"It's not just being in that position, but being in that position here in Miami," Mestre said. "This is home for me and to see what I can do and perhaps leave a legacy of improving the health care of children in the area and beyond — not just here, but possibly internationally given our location — to me, that's what drives me."
Mestre was part of three College World Series rosters for the Hurricanes, lettering from 1994-96. The former relief pitcher, who went by Marc as a player at The U, believes lessons he learned at Miami helped him achieve all his dreams on and off the field.
"I look back to what did Miami teach me and what did Hurricane baseball teach me, and it is always strive to be the best and do whatever it takes, in terms of putting in the work, to do that," Mestre said. "In baseball, I did it to represent my dream school and now I do it to represent the kids of South Florida so that makes it even that much more special; to do it and to be able to do it with the colleagues I have at work is that much more special."
A Miami native, Mestre spent five seasons at The U from 1992-1996. He experienced a lot of history in his five years with the Canes, beginning his time in Coral Gables on legendary head coach Ron Fraser's final team and making three consecutive trips to Omaha at the start of head coach Jim Morris' 25-year hall of fame tenure at Miami.
"Growing up in Miami it was always a dream to be a Hurricane," Mestre said. "That was our big leagues because, back then, we didn't have a major league team. So, making the team and playing for the Hurricanes was a dream every kid has in Miami. And then once you get there, from coach Fraser to coach Morris, you just understand the emphasis on excellence and what it takes to be excellent. That's something that I've carried with me since that time and I've been able to apply it. Obviously, I didn't have the talent in baseball to continue a pro career but, obviously, I can apply it in the medical field. And then on top of that, all the relationships you formed with teammates that you still keep in touch with today and the friendships that you create are amazing."
A graduate of Belen Jesuit, Mestre has unforgettable memories of his first day as a Hurricane and his initial encounter with his new teammates and the man they called "The Wizard."
"It was indescribable. I still remember walking into the locker room that first day," Mestre said. "I was not a scholarship guy, but kind of a recruited walk-on and coming in there and seeing the legend of coach Fraser there was like seeing somebody that seemed unreal and then realizing that you're in the locker room with him. And then you are sitting just a few steps away from Charles Johnson and, who would know it at the time, but another couple seats away was Gino DiMare, the man who will be the manager of this program later on. So, that just kind of took me aback and took my breath away."
Mestre did not compete in the 1992 season, redshirting as a true freshman to retain his eligibility. The right-handed pitcher worked out and practiced with the Canes in his first year in Coral Gables and he supported his teammates at every game. That 1992 season was also when he met a younger version of Miami's current director of player development Jonathan Anderson and the two quickly formed a bond.
"Marc Mestre is one of the most genuinely good people you will ever come across," Anderson said. "He was terrific to me as a kid. Terrific to a lot of people, but he was just really, really good to me as a kid and so many guys were when I started coming to all the games. He was a part of that 1992 team that really kind of took me in, but he was just a tremendous, tremendous person."
As a redshirting player, Mestre was ineligible for the postseason roster and not allowed to join his teammates in the dugout. But that did not stop him from being at Mark Light Stadium and supporting his team at every game Miami played in that 1992 regional.
"Times have changed where today it seems like if kids aren't on a postseason roster or whatever it may be, they just pack their bags and they go home," Anderson said. "Marc brought his own chair and he sat there and he watched every single game and encouraged his teammates and supported them and he had seven-year-old me sitting on his lap watching the game with him. I think that goes to show a lot about the type of person he is because he was there to support his teammates and he was also there hanging out with a little seven-year-old. There are not many college freshmen that would be that mature."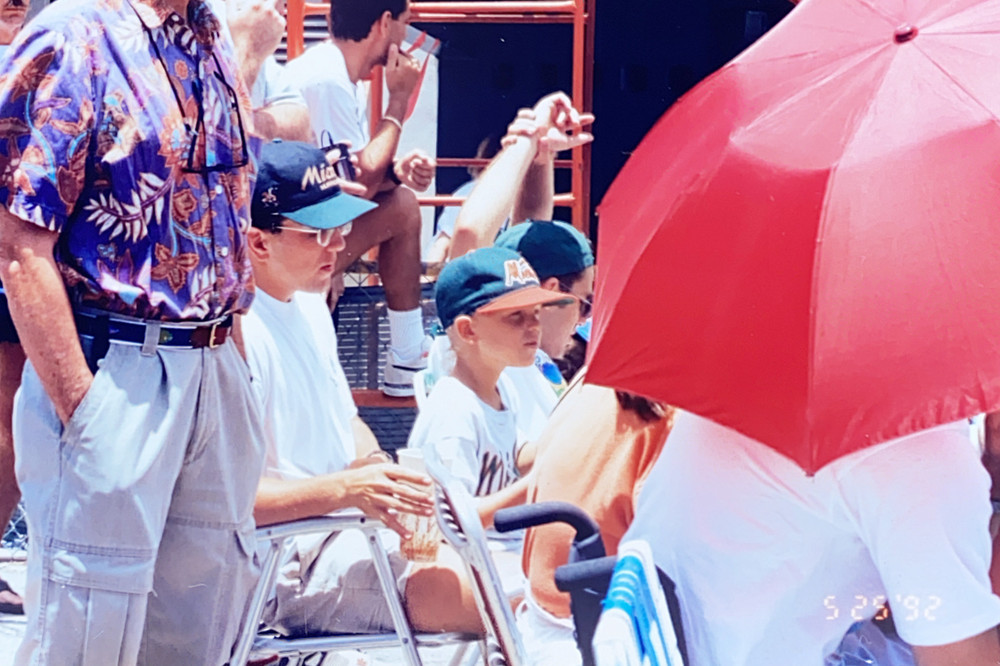 Mestre had plenty of postseason memories ahead of him, as he helped the Hurricanes reach the College World Series in each of his final three years with the program. Morris, who took the reins of the program in 1994, recalls Mestre helping get Miami to Omaha in his first season at The U.
"He was a great teammate, great person and needless to say a great student, too," Morris said. "He's a guy that was a reliever for us and the highlight I remember is he had a really good regional for us that propelled us to my first College World Series.
"Back then you had six-team regionals and it extended your pitching staff more than ever. So, to be able to get quality innings out of the bullpen to help get you to the next level being the College World Series was huge," Morris added. "I'm not sure people remember just how important it was, but back then it was even tougher and even more important to have the pitching depth and quality pitching in regionals and Marc stepped up for us and did just that."
While Mestre gave his new head coach some quality relief pitching in the postseason, his most memorable moment from that regional involved a play he was not even a part of.
"Obviously being at home and clinching at home, it's exciting and that was something I'll always remember but one of the most memorable moments was one of the little things that you pick up on the field that you try to pass on to the other players," Mestre said. "I was noticing something that a pitcher might have been tipping. Kenny Henderson had to pinch hit for Mike Torti and I think it was his only at-bat in his college career and he ended up getting a home run, which was probably the funniest and most memorable thing about that regional."
A fellow pitcher, Henderson was not typically asked to hit, but Mestre's keen eye for details helped him connect with a big homer that helped punch Miami's ticket to Omaha and gave Mestre another unforgettable memory.
"Obviously, that was my first year going to Omaha," Mestre said. "When you walk through the gates of what was that Rosenblatt Stadium, it's what you saw on TV all these years so it's kind of like it was truly a field of dreams. That was something that I'll never forget and I'll cherish the rest of my life."
The 1994 season sparked an incredible run of six consecutive trips to the College World Series for Miami. Mestre has fond memories of watching his team grow into a perennial power over the course of his career and he credits the right combination of talent and leadership for helping those teams improve every year.
"Our first year going to Omaha, I was still 'one of the younger guys' and our big leader back then was Wicho Hernandez; he was the guy that you followed his way and then tried to help out," Mestre said. "That year was when all the young guys came; we had a great freshman class that year with J.D. [Arteaga], Alex Cora, Mike Torti and a bunch of other guys. I think that was the top recruiting class in the country that year and they were coming in with a new coach in coach Morris. That was a bunch of young guys, but we were a bunch of guys that had no fear. That's also when we started working our way and each year, we got a step closer.
"In '95, we ended up third in the World Series and, obviously, the heartbreak in '96 where we ended up second to LSU that year. Even though it's been so many years since the loss, we still talk about what we could have done differently that game. It's such a memorable experience to be part of the greatest game of all-time in the College World Series. Again, we were on the short end of the stick, but it was something great and the friendships have lasted well beyond that game and that year."
As a fifth-year senior, Mestre was the veteran on the 1996 squad and he tried to lead by example. On a team filled with star players, Mestre earned respect from his peers by the way he carried himself and how he treated them.
"The great thing about people like J.D., Alex Cora, Pat Burrell and all the other guys on that team, they were superstars, but they treated me like I was a superstar," Mestre said. "I consider myself not being that big a deal, but they treated me like a superstar, which, to me, meant the world. I was a guy that didn't play much, but they would treat me so well, just like any other teammate. And, in return, what I gave to them was the respect that I gave everybody and trying to make them better individually."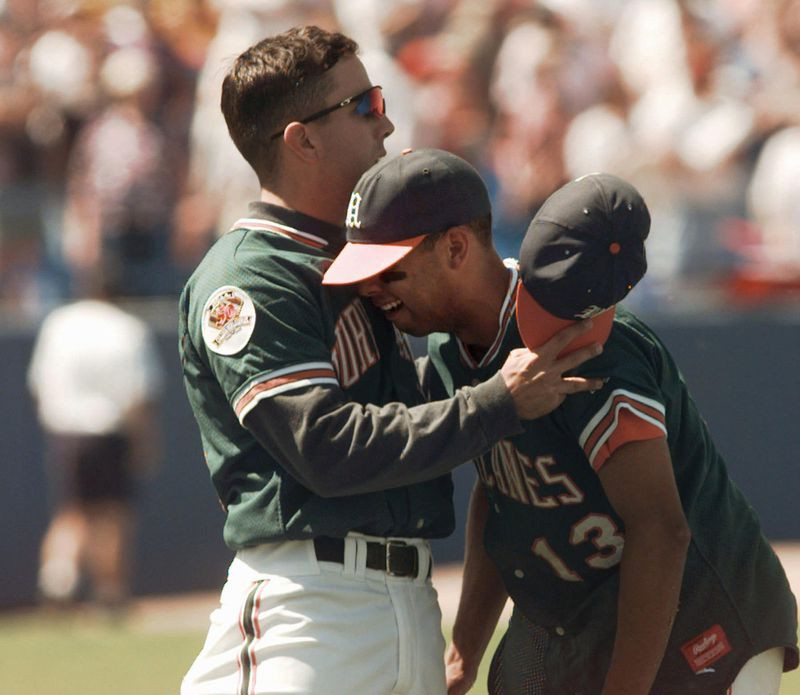 Miami's loss on the final pitch of the 1996 College World Series was gut-wrenching to everyone in orange and green. Cora, who would go on to play 14 years in the big leagues, was inconsolably crying on the ground at shortstop. As a veteran team leader, Mestre put his pain aside and stepped up when one of his teammates needed him most.
"You're in shock, at first, but once you see your brother out there laying, you've got to go pick him up," Mestre said. "And that's what we always say, 'You pick each other up,' — literally at that moment — and I went to pick him up and just kind of talk about it. Then he gave a speech in the locker room and he picked everybody else up. We were all in shock at that time and we still talk about it. Again, that's not the outcome that we wanted but an incredible experience that we all had. Alex Cora, you would think this guy's won World Series and as a player and as a manager, every time they're showing that World Series game on TV, he's texting all of us and we're all going over it and being Monday morning quarterbacks and seeing what we could have done differently."
The LSU game marked the end of Mestre's college career and the beginning of the pursuit of another dream, becoming a doctor.
"Going into undergraduate, that was the track that I wanted to do because as I studied, I enjoyed the sciences and always wanted to participate in that field," Mestre said. "Then as I got into medical school and did my rotations, I just saw when I did pediatrics that the kind of effect that you can have on kids was kind of that feeling that you get where you're doing the right thing and you're always doing it for the right reasons. So, once I saw that and I did that rotation in pediatrics, I knew that's what I wanted to do for the rest of my life, and I ended up choosing pediatrics."
Morris knows the sacrifice student-athletes need to make to be successful and the two-time national champion head coach understands that is even greater for those who want to pursue advanced degrees. But Mestre mastered balancing his academic and athletic aspirations and was able to meet his goals in both areas.
"I don't remember Marc missing a beat on the field because he's so smart," Morris said. "He seemed to juggle both academics and athletics without any problems. If I remember correctly, he made all 'A's while he was at the University of Miami. He was a guy that was a 4.0 student that loved to do both and wanted to do both and had his goal and his game plan on what he wanted out of life at an early age."
After nearly two decades playing baseball, Mestre turned his attention to medicine and began his career as a doctor in the year 2000. But the same skills that made him a great teammate and leader at Miami have also proven effective in the medical field.
"One of the great things about team sports is learning how to work as a team," Mestre said. "Whatever industry you go in, you've got to learn to work as a team. In baseball, I wasn't the most talented guy, so I had to work in different ways to help my team, not so much on the field because I didn't play much but it was more about how do you help out the guys that are playing? For me, that might be seeing little things that you pick up and helping them out because it's all about the team and winning isn't necessarily all about you.
"I'm not a genius either in the medical field. I've always considered myself to be a good physician, but there are plenty of other people out there that are great," Mestre continued. "It's not about you getting all the glory, it's about the team getting the glory, the hospital getting the glory and really it's about the patient. It's all about the patient and making sure that you do everything right for the patient. So, I think that translates tremendously to any industry but especially in healthcare, where it's not about you getting the glory, it's about doing what's right for the patient."
Morris, who coached at Miami for 25 years, spent a lot of time mentoring his players on the importance of academics and taking advantage of the education they received at Miami. The former head coach points to Mestre as an excellent example of what a person can accomplish when they study at the University of Miami.
"I always talked with our players about the University and what it could do for you, not just baseball-wise, but I always felt, and I still do that the University of Miami is a great school academically and can help people do whatever they want to do," Morris said. "It's got so many majors and it's just a school that looks after the students, not just the athletes, but students in general and gives them an opportunity to do whatever they want to do and Marc's a great example of that. He had an opportunity to get an education at Miami and was part of some great teams for us, too. I'm proud to say we have the opportunity to call Marc Mestre one of our baseball alumni."
For Mestre, the opportunity to be a Hurricane on the baseball field and in the classroom was a dream come true.
"My experience playing baseball at the University of Miami, and competing at the level we competed at during the time, I will remember for the rest of my life," Mestre said. "It not only helped me on the field but also later in the field of medicine. The University of Miami means everything to me and I have great pride in being a Hurricane."
As a person who has always put others first, Mestre is most proud of the impact he made on his teammates and the relationships he built with them. But Anderson knows Mestre has affected a lot more people than the ones in the Miami dugout over the years.
"It doesn't surprise me with what he's doing and the type of impact that he's having," Anderson said. "He was always somebody I know my mom pointed to and said, 'you should try to be like him,' because not only was he a really good person but he was going to medical school and he was a tremendous student. He took great advantage of being at the University of Miami and then going to med school and also playing baseball. He was a great person to look up to because he was a good teammate, he was in the baseball program, he was an exceptional student, and he was able to balance all of that. He's a tremendous person to look up to, he's tremendous with kids and he is as good as it gets."