CORAL GABLES, Fla. – After two long weeks without football, D'Eriq King was ready to get back to work.
So, anticipating that Miami's season pause would end with a game at Wake Forest on Dec. 5, King began studying film of the Demon Deacons and excitedly exchanged text messages with Hurricanes offensive coordinator Rhett Lashlee about the plays and schemes the two believed would be most effective against Wake Forest's defense.
Then, another setback.
Because Wake Forest was now dealing with COVID-19 issues similar to the ones the Hurricanes had dealt with themselves over the course of the past few weeks, the ACC made a late Saturday-afternoon announcement the game was postponed.
King and his Miami teammates were suddenly left without an opponent to face on the day they expected their season to resume.
But any disappointment the Hurricanes may have felt about the possibility of going another week without playing was short-lived.
By Sunday night, the ACC announced it had lined up another opponent for Miami: Duke, whose Dec. 5 game against Florida State had also been impacted by COVID-19 issues.
To those outside of the Miami program – or outside the ACC's offices in Greensboro, North Carolina – the entire series of events may have seemed like an improbable whirlwind.
Given the way COVID-19 has impacted college athletics since March, though, it was a 36-hour stretch that Blake James, Miami's Director of Athletics, described as a "microcosm" of what 2020 has been like for student-athletes, coaches, and administrators alike.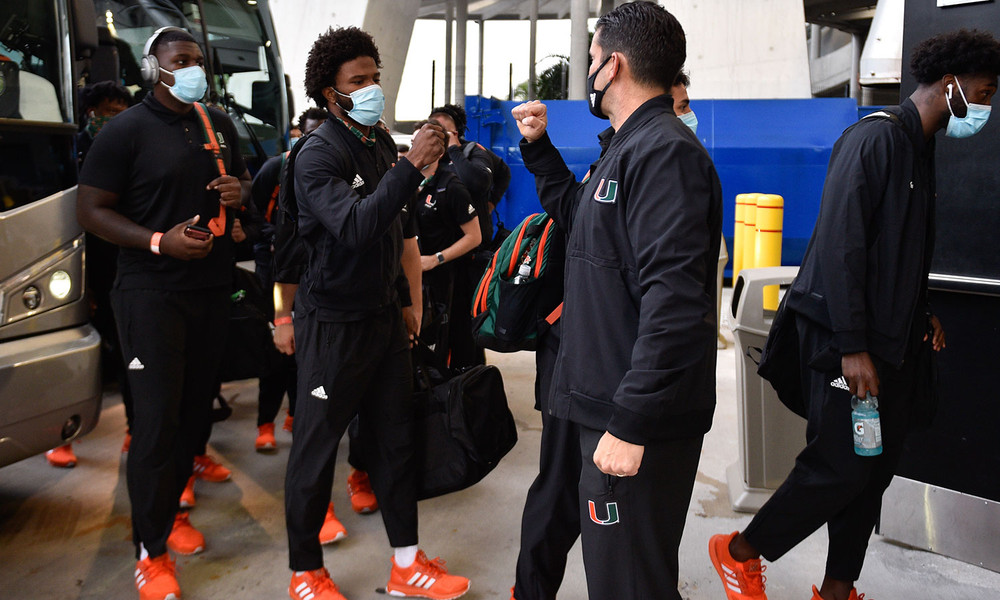 With an opponent and a game secured, now it was up to the Hurricanes to begin preparing.
That, head coach Manny Diaz expected, would come with its own series of challenges.
While the Blue Devils are a familiar Coastal Division foe Miami faces regularly, Duke was not on the Hurricanes' revamped schedule that was announced by the ACC in August. Now, all of the typical game-planning had to be condensed quickly, no easy feat given that Lashlee, offensive line coach Garin Justice and receivers coach Rob Likens are all in their first years on Miami's staff and thus, haven't faced Duke regularly.
Aside from the schematic aspects of preparing for Saturday's game, Diaz and his coaches have had to manage Miami's roster as varying numbers of players have been medically cleared to gradually return to practice.
"We've been picking up maybe five players a day that have been granted access to be able to play full speed and then everybody else is just getting their reps in more of a walk-through, jog-through type of environment," Diaz said. "I don't think there's been any one group that's been affected any more than another, but I think as the week has gone on, I will say this: I think we've had two really good practices. I think the players have come back with a great attitude and they're eager to work. They have the urgency of understanding we need to go hard in practice because of the lack of game-day reps."
Said King, "Missing those two weeks, it makes you really think about football and how much you love football. I would do anything to play in a college football game, man. I'm really, really excited to get back out there this Saturday."
Making sure the Hurricanes are in the best shape possible after their layoff has been another priority for Miami's coaches and staff in recent days.
Over the course of the past two weeks, some players were able to work out unencumbered, while others had their activities restricted.
Diaz expects that means that on Saturday, some Hurricanes will see limited snap counts, though at least with Durham's cooler temperatures, at least players won't be tasked with handling heat and humidity in their first game back after the layoff.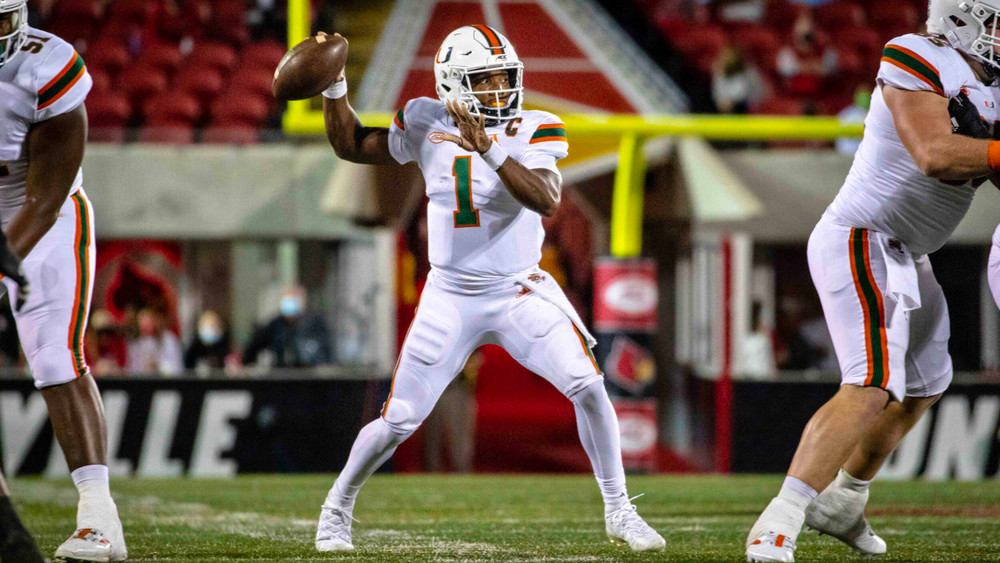 "Part of that's the unknown. If 50-something odd guys get in the game, that could be 50 different levels of conditioning," Diaz said. "We've had some guys that have been fine, that have been able to condition the whole time. Some guys got back to full speed Monday. Some guys will be back to full speed Friday. There's a lot of different levels … And part of it, you have to get back in the game and see how guys feel."
Still, though this game may feel unlike any the Hurricanes have encountered even during this unprecedented season, players and coaches have made it abundantly clear: they're beyond ready to take the field again.
And after winning four straight games before the season was paused and climbing near the top of the ACC standings, they want to make sure the year ends on a positive note.
"That's everything. That's obviously the only goal that we have is just to, week by week, win the game that's ahead of us and that's kind of what we've been doing all season," defensive end Jaelan Phillips said. "This kind of downtime has just made us hungrier and we're just ready to finish the season off the best that we can."
Added King, "That's all we talk about as a team, finishing the right way, taking it one game at a time. We've got to start with Duke. This Saturday is a big game for us. We've got to go on the road [and] play Duke. That's the first step to everything else. We have to focus on this game."
Miami's players aren't the only ones who want to see the season end well.
James, who knows the Hurricanes have made sacrifices and dealt with a series of unexpected challenges all year long, also wants to see the Hurricanes finish this journey the best way possible.
"I'd like to see them finish it out the way they started: committed collectively, as a group, to be the very best they could be on and off the field, to take the steps needed to meet the expectations of living and playing within a pandemic," he said. "I'm confident they're going to come back with the same approach."