MBB Set to Begin 2020-21 Campaign
Nov. 29 | 6 p.m. | ACCN
Watsco Center | Coral Gables, Fla.
Miami (0-0, 0-0 ACC) vs. North Florida (0-2, 0-0 ASUN)

CORAL GABLES, Fla. – Sunday night, for the first time in 263 days, the University of Miami men's basketball team will play an official game.
Following a lengthy offseason filled with uncertainty, Miami (0-0) will host North Florida (0-2) at 6 p.m. at the Watsco Center.
"I think our guys have worked very hard from July to the present leading up to this season," Miami head coach Jim Larrañaga said. "I think they're very excited to get back on the court and start competing again. We've got a very good team when we're healthy, but we've already run into some injury problems that will impact us. Hopefully, our guys will recover from their injuries and we'll be at full strength before too long."
Despite having several players miss practices during the preseason and redshirt senior forward Sam Waardenburg out for the year with a left foot injury, the Hurricanes still have an experienced team.
To Larrañaga, entering his 10th year at the helm in Coral Gables, it is particularly beneficial that Miami has a number of veterans in a certain area.
"I think experience is very important, especially in your backcourt," he said. "I think guards really control the game with their defensive pressure on the ball and with their ball-handling to create shots for their teammates. Having Chris Lykes, Kam McGusty, Isaiah Wong and Harlond Beverly, those guys should really be good leaders for us this year."
This will be the sixth all-time meeting between Miami and North Florida, with the Hurricanes winning each of the prior five contests.
Miami is 3-0 against the Ospreys under Larrañaga and picked up an 85-63 home victory on Nov. 25, 2018, in the most recent affair.
Despite his team's success against the squad from Jacksonville, Fla., Larrañaga knows his group needs to be prepared for an amped-up opponent.
"Matthew Driscoll, their coach, has really done a great job with building that program," Larrañaga shared. "Being an in-state school, they're always excited to play the University of Miami, an ACC school with national acclaim."
Unlike Miami, which has not yet taken the court this season, the Ospreys have already played two games. They dropped an 80-67 decision Wednesday against Eastern Kentucky and an 86-51 contest Friday at NC State, both in Raleigh, N.C.
North Florida, coming off a 21-12 (13-3 ASUN) performance a year ago, was picked fourth in the Atlantic Sun preseason poll and received one first-place vote. The team is led by preseason all-league honoree, Carter Hendricksen, a junior forward who is averaging 15.5 points and 6.0 rebounds through two outings.
"They have a young team. They play a lot of 2-3 zone. They'll change their defenses," Larrañaga said. "But the one thing we have to prepare ourselves to do very, very well in game one is defend the 3-point shot. They were number one in the country in attempting 3-pointers. They are a run and shoot team. They're going to launch a lot of threes and they have a lot of guys who can do it. So, immediately we'll find out if our defense has improved."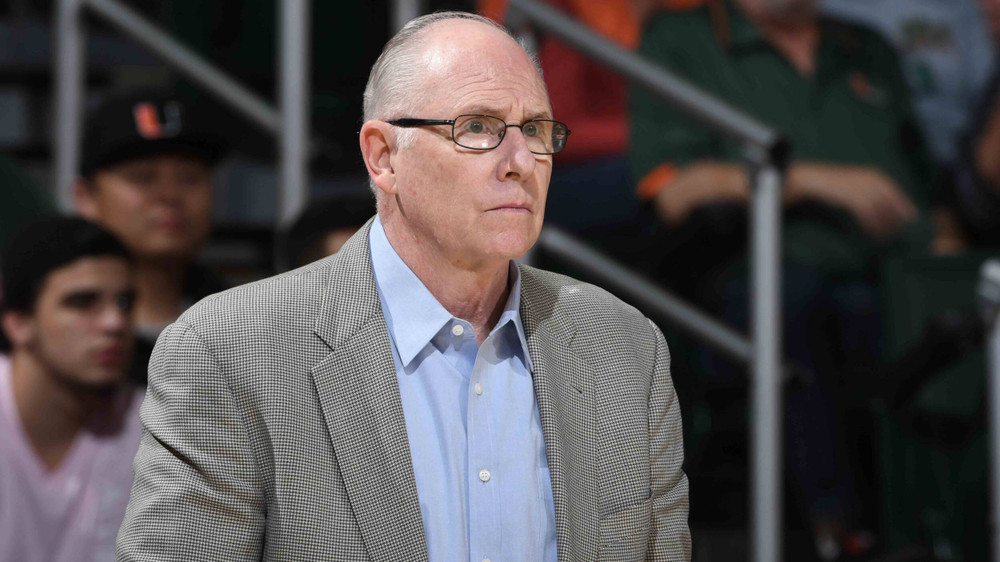 Sunday's game will be televised live on ACC Network HERE, with Mike Corey and Jordan Cornette on the call. Joe Zagacki and Danny Rabinowitz will have the radio broadcast on 790 The Ticket WAXY HERE, while action can also be heard on WVUM 90.5 FM HERE. Live stats for the contest can be found HERE.
After facing the Ospreys, Miami will take on Stetson Dec. 4 at 8 p.m., live on ACC Network from the Watsco Center.
To keep up with the University of Miami men's basketball team on social media, follow @CanesHoops on Twitter, Instagram and Facebook.
The 2020-21 Miami Hurricanes men's basketball season is presented by First National Bank.