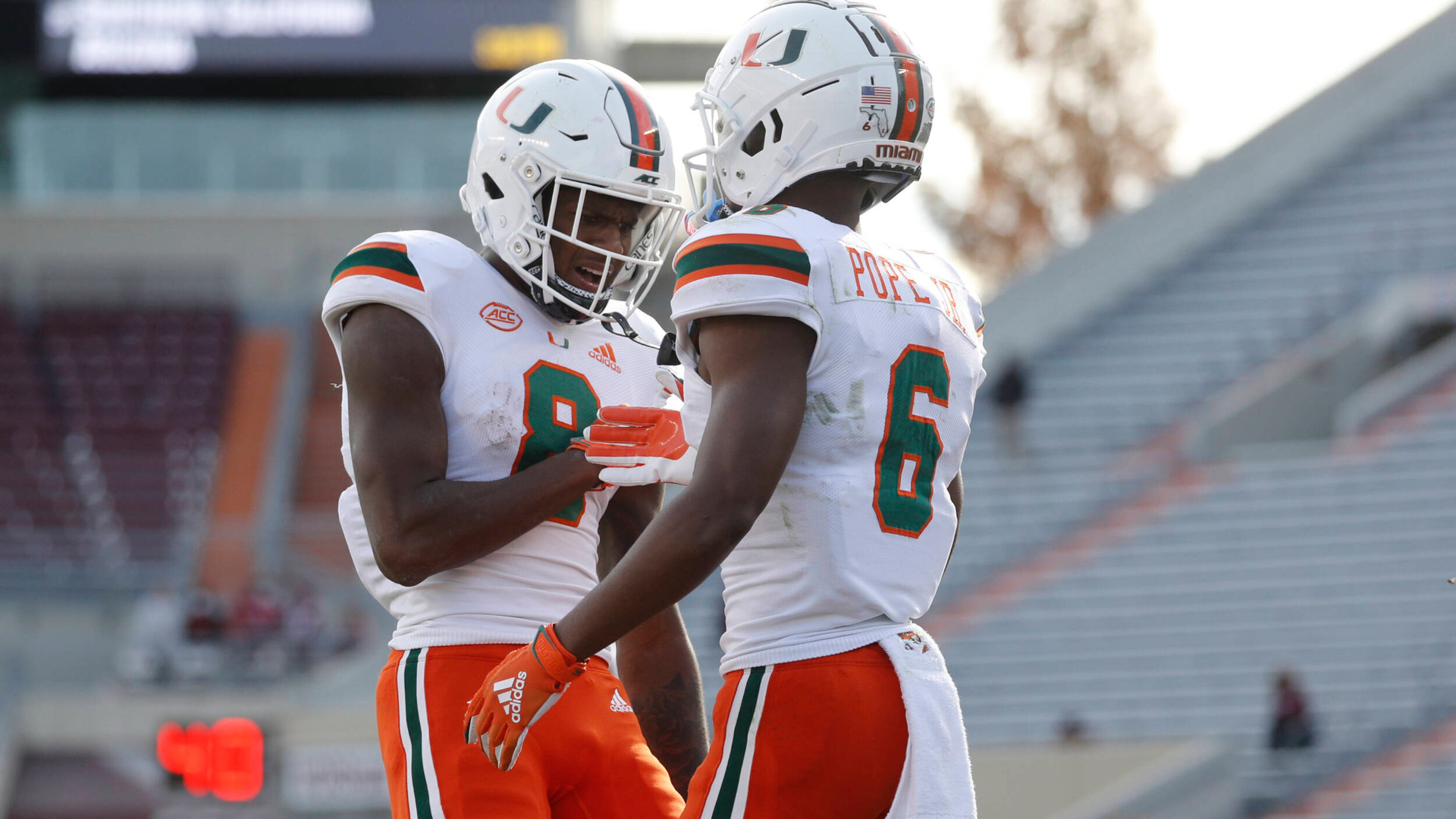 CORAL GABLES, Fla. – It was an exercise borne of necessity – and from a coach's experience.
After weeks of watching Miami's three veteran wide receivers make play after play in practice then struggle to find the same kind of success in games, Rob Likens knew he had to do something.
So ahead of Miami's Oct. 24 game against Virginia, Likens challenged Mike Harley, Mark Pope and Dee Wiggins to find ways to deliver consistently.
If they couldn't, the Hurricanes wide receivers coach warned, he'd find players who could.
"The kids were practicing really hard. They were doing everything I asked of them. But we just weren't making the plays," Likens explained. "So, I said, 'We owe it to the football team to find out if anybody else can make those plays. We're going to open it up and whoever practices the best, whoever produces the most, those would be the guys that would start the game.' And it just so happened that the three guys that were already starting were the guys that produced the most in those coming days. So, they got their shot again."
Harley, Pope and Wiggins haven't looked back since.
Against Virginia, NC State and Virginia Tech, the veteran trio has not only increased its production as a group, but Harley, Pope and Wiggins have delivered individual career performances and made game-winning plays to help keep the Hurricanes near the top of the ACC standings.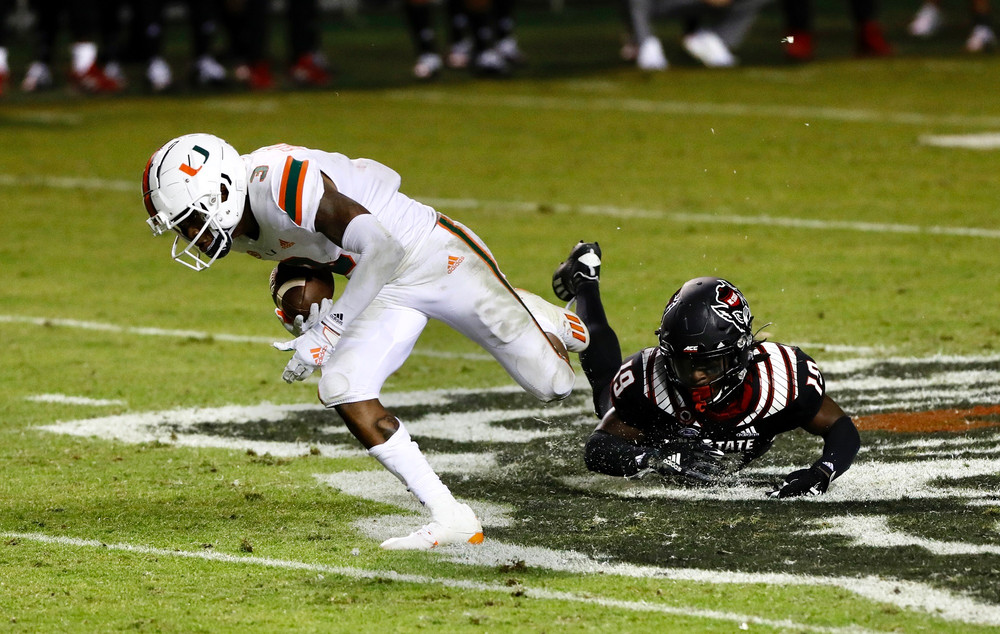 Harley, the lone senior in the group, delivered one of the best games by a Hurricanes receiver in recent memory with his 10-catch, 170-yard effort against the Cavaliers just days after Likens issued his season-changing challenge.
A week later, Harley nearly matched his career day, totaling 153 yards on eight catches at NC State. His 54-yard catch-and-run play with 2:43 left helped lift Miami to a 44-41 comeback win over the Wolfpack – and earned the senior his second straight ACC Receiver of the Week distinction.
"I think I showed how tough I am when our backs were against the wall," Harley said. "I was just trying to make every play, gain trust with [quarterback D'Eriq] King. The receivers have had kind of an up-and-down season and I know how my performance has been. I wasn't pleased. I know we dropped balls, we couldn't get open. … I took that in and I wanted to be that mentor to the young guys. If I go, they're going to follow. So I had to be that leader. I had to take that extra step."
Harley wasn't wrong. His teammates have most definitely followed suit.
At Virginia Tech, it was Pope's 36-yard touchdown grab with 5:59 left that gave Miami its first lead and ultimately, proved the offensive difference in a 25-24 victory. That same day, Wiggins put together his best game as a Hurricane with eight catches for 106 yards.
Those numbers are quite a shift from Miami's first five games of the season during which none of the receivers were able to total more than 65 yards in a single outing. During that same stretch, three opponents – UAB, Clemson and Pittsburgh – each held the trio under a combined 95 yards.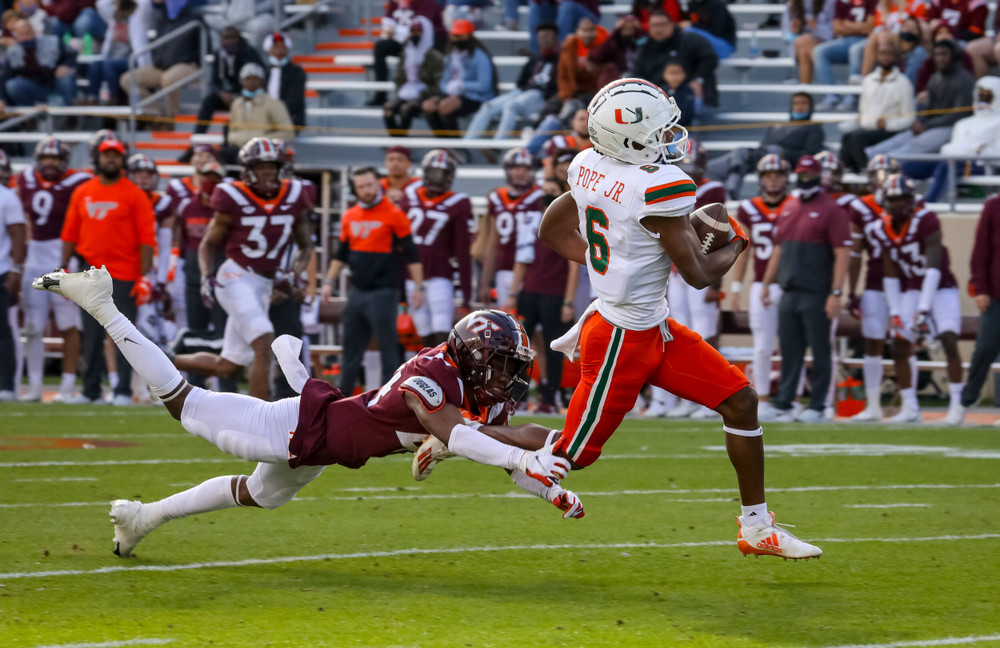 Since the group was challenged, though, Harley, Pope and Wiggins combined for 254 yards against Virginia, 327 yards against NC State and 207 yards against Virginia Tech.
"Coach Likens really taught us how to set standards and focus more on details and to be detail-oriented," said Wiggins, a junior. "He also taught us 'DBS' – don't be soft. As a receivers unit, we had to take that step and take on the challenges that the coaches gave us. We went ahead, kept working hard, kept working hard, kept working hard and every game as you can see, we're progressing and progressing. …
"[Offensive coordinator Rhett] Lashlee and Coach Likens, them being hard on us, it's getting us better and better than what we were. They're our leader and whatever they say, we do. They know what they're talking about and as long as we do what they say, everything will work out. You can see that already."
But as well as they've played in Miami's last three games, the Hurricanes receivers – and their coach – say they aren't satisfied. Not yet.
When the Hurricanes return to action early next month, they'll be looking to extend a four-game win streak and continue their push for a potential berth in the conference championship.
With an electric, playmaking quarterback in King, the receivers know they have a leader who can get them the ball and help them shine. They're determined to return the favor – and help Miami keep winning games.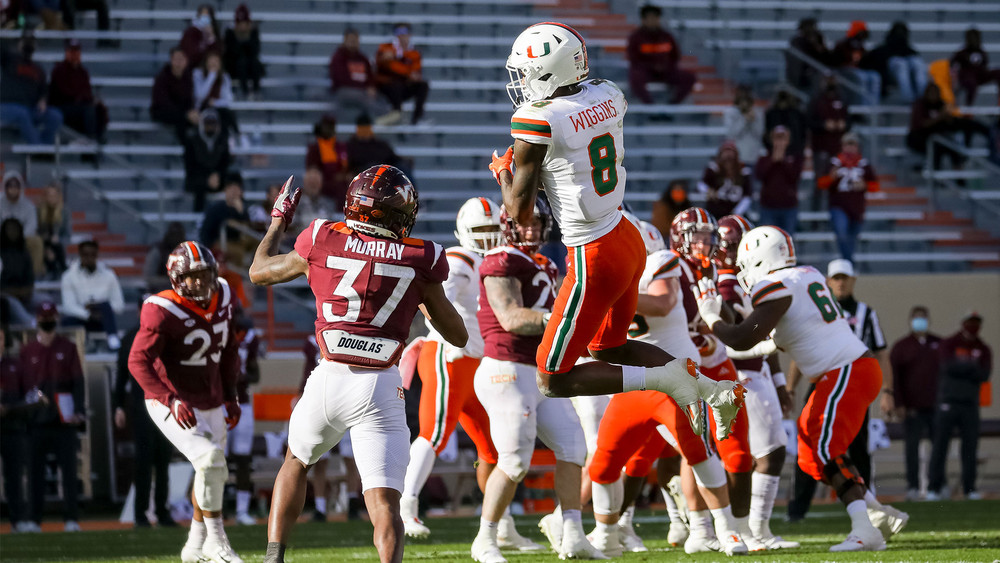 To continue doing that, the receivers – and their coach – know they'll have to continue pushing each other, on and off the field.
"Those three guys, since they pride themselves on being the three guys that go out there first, they hold themselves to a high standard in practice and in meetings, which is very uncomfortable," Likens said. "We have some very uncomfortable meetings where they'll tell a person, 'Hey, man, you've got to make that play. You've got to do it.' And that's not an easy thing to do at their age, but that was one thing I wanted to teach them because I think that's what the great teams at Miami had. They had team accountability with each other. … That's what we want to bring back into this program."
That accountability is another challenge Wiggins says the receivers have accepted.
That one too, he says, will make a difference.
"If we don't have that, we won't get anywhere, really. If you see somebody doing wrong and you don't say anything, they're going to continue to do that," Wiggins said. "We have to hold each other accountable. If I'm running a route wrong, Mike and Pope have to get on me. If Mike and Pope are running a route wrong or they're not doing the right steps, they're not blocking, I have to get on them. We have to keep getting on each other to make each other better. That's all that is. … Nothing can change. We still have to work hard after practice. We still have to do whatever we need to do to get better on the field and prepare better for games."