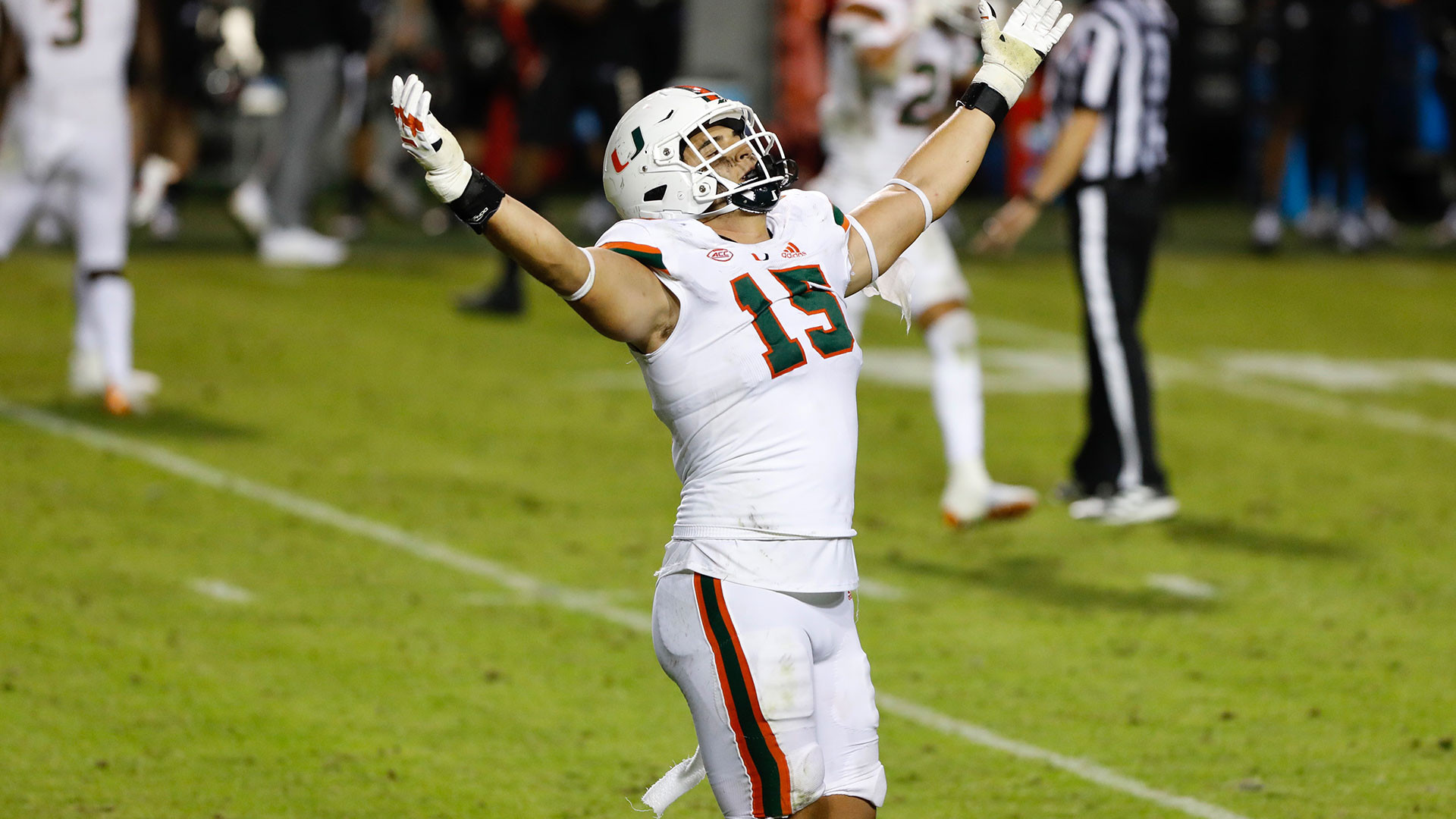 CORAL GABLES, Fla. – Jaelan Phillips fell to the field at Lane Stadium, exhausted and relieved.
Around him, his teammates and coaches celebrated, reveling in the Hurricanes' hard-fought, 25-24 comeback win over Virginia Tech. Phillips, however, needed to catch his breath.
When he finally opened his eyes, the person he saw standing above him was an ecstatic, smiling David Feeley, one of the people Phillips believes had helped bring him to this point.
It was Feeley – Miami's Director of Strength and Conditioning – who helped Phillips reshape his body after a series of injuries kept him off the field for 18 months; Feeley who had believed in him, even when Phillips himself wondered if he could one day regain the form that once made him one of the nation's most highly coveted high school football prospects.
And so, it seemed fitting that in that moment – after Phillips capped an incredible eight-tackle performance by making the final stop on the Hokies' last-gasp attempt at a miracle play – that the coach and the defensive end celebrated his success together.
"Coming in, I was 220 pounds. I wasn't very confident in myself. But I had the desire to get bigger and I was ready. I have a great work ethic when it comes to working out and I think Coach Feeley really respected that," said Phillips, who has added 50 pounds to his 6-foot-6 frame since arriving at Miami last year. "He saw all the work I was putting in the first couple months and he and I got closer. It's a mutual respect between us and a mutual admiration. He's the kind of guy that I see as a mentor, a guy that I really look up to. … We have a really, really tight bond and that moment just kind of summed it all up. … It was just perfect."
Teammates and coaches aren't the only ones who've recognized the magnitude of Phillips' performance last week in Blacksburg, which also included a career-high 4.5 tackles for loss and 2.5 sacks.
The California native earned recognition as the ACC Defensive Lineman of the Week for the second straight week after Miami's win at Virginia Tech. He was also named the Chuck Bednarik Award Player of the Week. And Hurricanes defensive line coach Todd Stroud – a 35-year veteran who has worked with more than a few first-round draft picks – described Phillips' performance last Saturday afternoon as "one for the ages."
Not bad, given the uncertainty Phillips experienced after enduring multiple injuries, concussions and a wrist surgery that, at one point, left him wondering if he would play football again.
But after briefly considering stepping away from the game as he recovered, Phillips made the decision to transfer from UCLA and seek a fresh start at Miami. Since, he's worked to not only get back on the field, but to become a leader for the Hurricanes' defense.
Through Miami's first eight games, Phillips has totaled 37 tackles, a number that ranks fourth among all Hurricanes' defenders. He also has 10.5 tackles for loss, a team-high five sacks, an interception, three passes defended and five quarterback hurries.
The anxiety he felt to start the season has been replaced by a confidence that just keeps growing.
"When I started the season, I was putting a lot of pressure on myself to perform and get numbers. I'd have a couple tackles, maybe a TFL, but I didn't have any sacks and nothing was really popping off the board, numbers-wise," Phillips said. "I kind of had to realize those things come naturally and I had to keep getting better and keep improving my game week to week."
Things shifted when the Hurricanes played Clemson, then ranked the No. 1 team in the country.
While Miami didn't get the win that night, it was one of the first times where Phillips felt more comfortable, more like his old self.
A week later against Pittsburgh, Phillips was in on a sack and had a tackle for loss. Against Virginia, he had a team-high seven tackles. At NC State, Phillips had a career-high 10 tackles, a tackle for loss, a sack and broke up a pass, a performance that earned him his first ACC Defensive Lineman of the Week distinction.
Then came that day in Blacksburg, where Phillips played virtually every defensive snap and delivered one of the most memorable days of his career.
"Jaelan Phillips, holy cow, what a performance. Not just the production, but how hard he plays, how many snaps he had to play," Hurricanes head coach Manny Diaz said after the win. "You have that last drive where you are rushing the passer on basically every snap and I think that was him that made the tackle on the miracle play."
Added Stroud, "I think, really, the thing that sets Jaelan apart from anyone I've ever coached in 35 years is he is the most relentless football player I've ever coached. Just in terms of his effort, his ability to go full-speed every snap that he plays, it's amazing what he's been able to accomplish with making effort plays and rushing the quarterback. I've coached the first player picked in the draft [in former NC State defensive end Mario Williams]. I've coached a lot of first-round draft picks and none of them have had this quality that [Phillips] has. It's an amazing gift."
It's all something Phillips doesn't take for granted, not after all he's endured and how hard he's worked to get back on the field.
But it's also not enough.
With three games left in the regular season, Phillips is determined to finish the year on a positive note once the Hurricanes return to action. And he wants to make sure the postseason – whatever it holds for Miami – provides a fitting end to a season unlike any other.
"I've found my passion for the game again and I've been able to kind of improve on things I wasn't able to improve on before. Other facets of my game are getting better and I'm able to kind of progress in that way," Phillips said. "It's just been a great experience, honestly. You work countless hours in the offseason together preparing for that and looking forward to that. The fact we've been able to come out and be 7-1 at this point, this is what you play college football for. This is The U. This is everything I imagined. It's a dream come true."