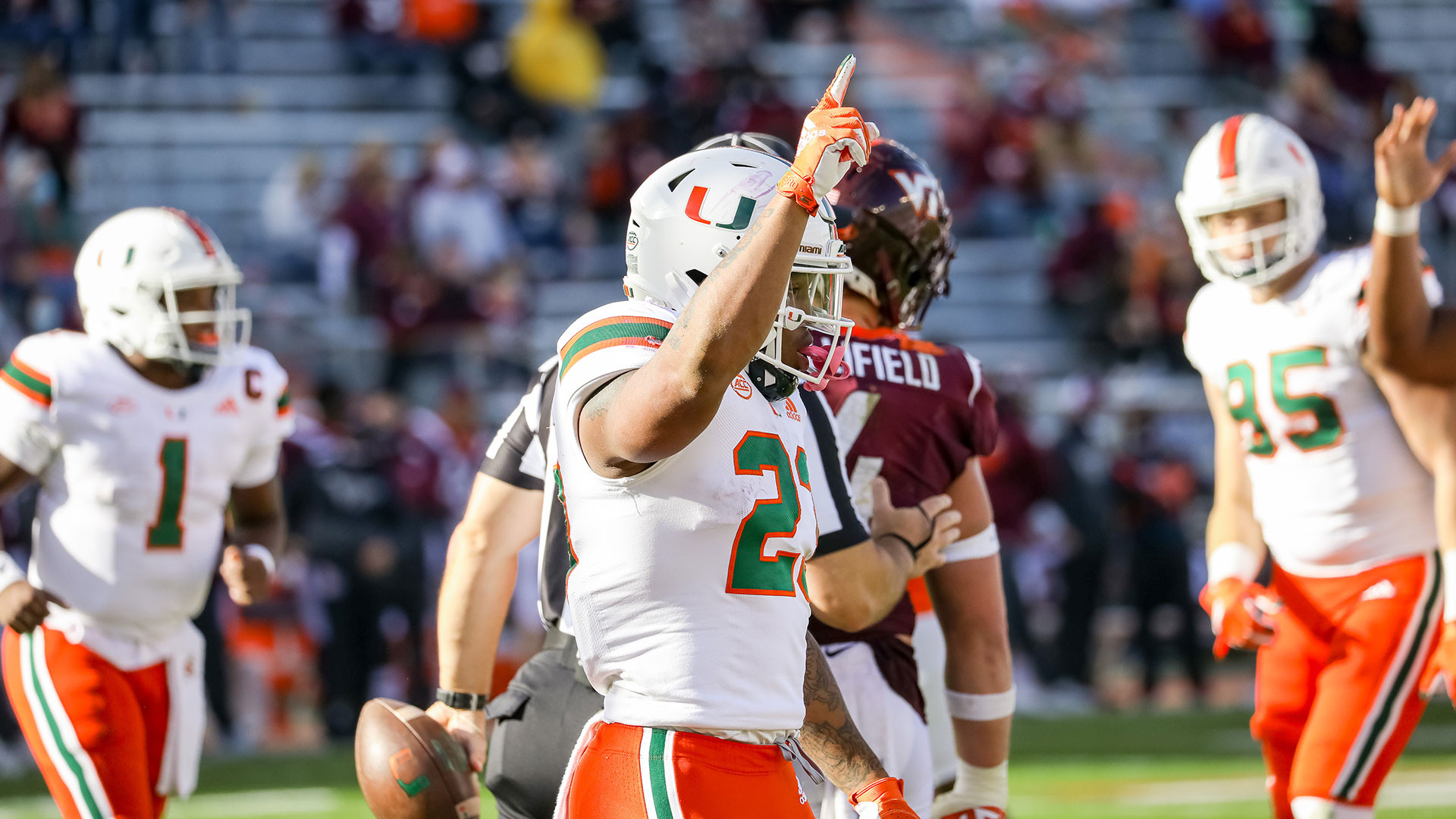 BLACKSBURG, Va. – Like many of his players – and most Hurricanes fans across South Florida and beyond – Manny Diaz had to catch his breath.
"Wow," the Miami head coach said shortly after his team's thrilling 25-24 comeback win at Virginia Tech on Saturday. "That's all I can say. Wow. What an effort. The resilience of this team, week in and week out, is special."
On the surface, Diaz could have been simply addressing how his team – for the second straight week – rallied from a double-digit, second-half deficit to win a conference game on the road.
He could have been simply addressing how quarterback D'Eriq King has, in back-to-back weeks, led his offense on game-winning drives, while Miami's defense has held when its needed to most.
All of that played out in Blacksburg, much the way it did eight days ago in Raleigh.
But there was more at play.
For the second straight week, the Hurricanes found themselves in the position of playing without several starters and key reserves. In a season that has brought with it challenges the likes of which college football teams across the country have never experienced, Miami found itself, again, scrambling to find ways to practice effectively ahead of Saturday's game.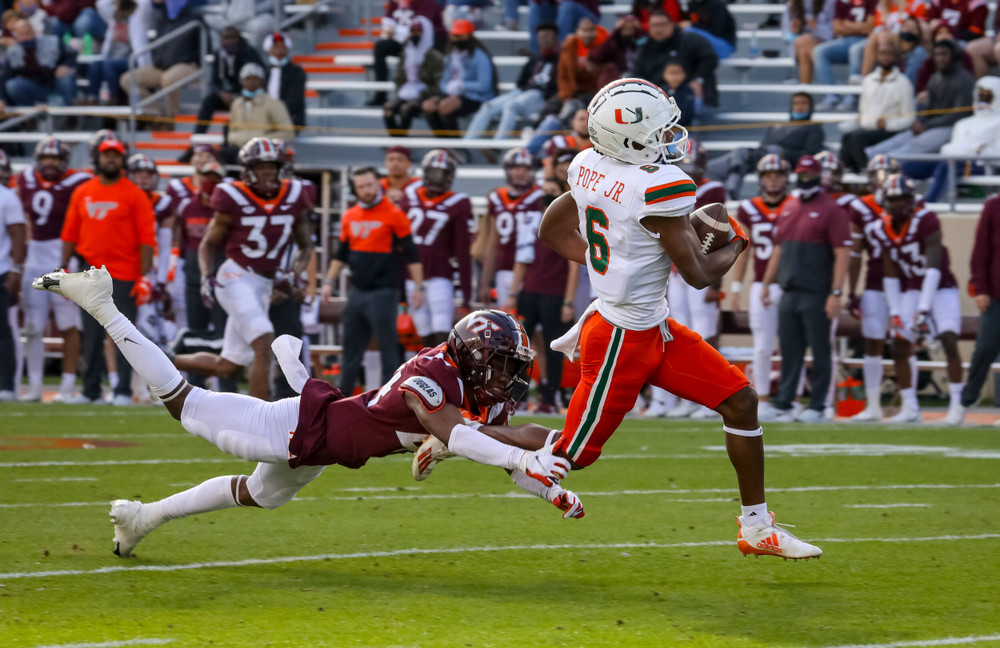 Once those practices were in the books and it was time to take the field at Lane Stadium, more than a handful of Hurricanes delivered the kind of gritty, gutsy four-quarter performances that are often needed when depth becomes an issue.
And yet, despite being without 13 of their teammates, the Hurricanes kept pace with the Hokies all afternoon.
Virginia Tech struck first, but before the first quarter ended, a 42-yard Jose Borregales field goal pulled the Hurricanes within four. When the Hokies pushed their lead to 14-3 in the second quarter, a 10-yard scoring run from King and another Borregales field goal cut the lead to 14-13.
By the time there were six minutes left in the third quarter, Virginia Tech had built an 11-point lead and there were questions about Miami would be able to respond again – or if the deficit would get bigger as the Hokies run game seemed to be finding its rhythm.
What there wasn't as all that played out, Diaz noted, was panic.
"You have got to learn how to win these types of games and I think part of the way you do it is, when you're down 11, not to panic and just play the next play," Diaz said. "You have to believe something good is going to happen and play for each other."
The good eventually happened.
In the final minutes of the third quarter, King engineered a 13-play, 75-yard scoring drive that ended when Cam Harris scored on a 6-yard run.
Then, in the fourth, with 5:59 left, the Hurricanes took their first lead of the game on a 36-yard touchdown pass from King to Mark Pope that put Miami up 25-24.
That was followed by a Te'Cory Couch interception, two 52-yard Lou Hedley punts, and two defensive stops that kept Virginia Tech out of the end zone.
Ultimately, all of that helped Miami escape with its seventh win of the season.
"I think with any great team, you've got to find ways to win. Obviously, this week was really tough for us, missing a lot of guys, but we found a way to win," said King, who completed 24 of 38 passes for 255 yards with a touchdown. "And I think [there] was no doubt in the locker room. Everybody had each other's back. Everybody said we'll go out there in the second half and just find a way to win. Defense stepped up really, really big today. Receivers made plays when they had to. Running backs made plays when they had to. And I think the o-line did a fine job. Everybody just came out and we found a way."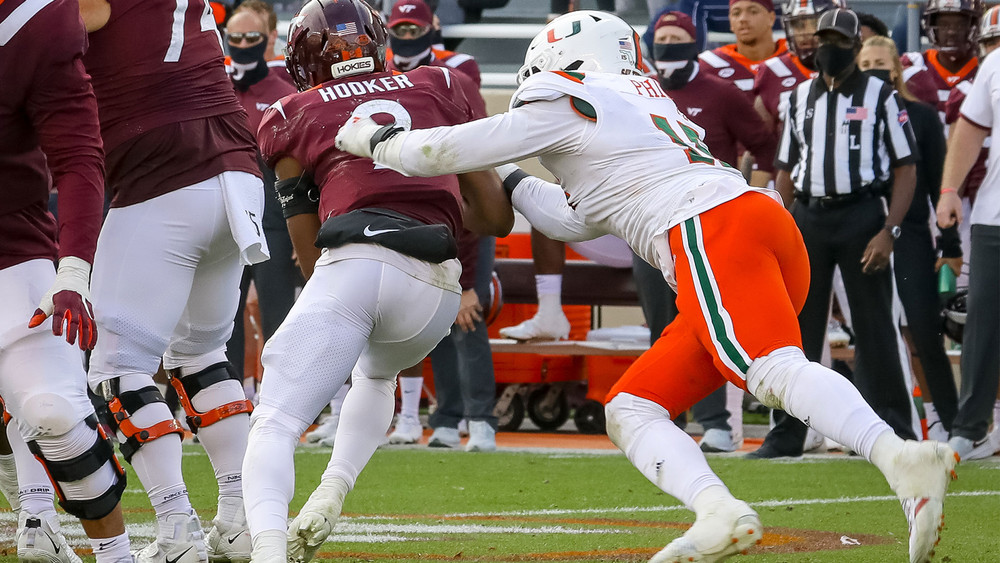 That has been a theme for the Hurricanes, who have now beaten their last three opponents – Virginia, NC State and Virginia Tech – by a combined nine points. According to the Associated Press, Miami hasn't won three straight games by five points or less since they did the same against Arizona, Florida State and Penn State in 1992.
Being able to win games like these, Diaz said, is essential if the Hurricanes want to compete in the Atlantic Coast Conference and remain in the hunt for a berth in the conference title game.
"People have said for a long time this league produces very tight ball games," Diaz said. "You kind of have to learn how to win tight ball games if you really want to be good in the league and then you just continue to recruit to hopefully, where the ball games aren't always so tight.
"There are some things, of course, that we can correct, but they have the same things that they want to correct as well. You can't go back with an eraser on a game. You have got to learn how to win these types of games."
It seems as if that's happened for the Hurricanes in a way it always hasn't in recent seasons.
"It's definitely a lot of positive energy and a lot of belief in the locker room right now," said defensive end Jaelan Phillips, who finished with eight tackles, four tackles for loss, including 2.5 sacks. "Obviously, you don't want to have tight games like that every week, but a win is a win. Ultimately, I think, every week, we're just becoming stronger as a team. All facets of our team are improving. We're feeling more together. We're feeling more confident. … While obviously, it's not a great thing to only win by a point or only win by a couple points, I think it's kind of a blessing in disguise because it just allows us to have that opportunity to just kind of building as a team.
"I'm excited about what we have going on – 7-1."