Orange & Green World Series Raises Fall Competition
CORAL GABLES, Fla. – The level of competition is about to go up another level at Mark Light Field, as the Hurricanes will hold their Orange and Green World Series this week.
The annual event is the highlight of fall baseball, pitting two teams against each other over four days of highly competitive baseball. The World Series begins with seven innings on Wednesday at The Light and the Canes will finish off the series playing Friday, Saturday and Sunday to close out the 28-inning running score format.
"The Orange and Green World Series is always fun," head coach Gino DiMare said. "We have some leading veteran guys who came in and picked the teams on Sunday. We had the draft and they picked the teams after practice and they'll coach the teams and run them."
Fourth-year players Alex Toral and Spencer Bodanza drafted the Orange team, while the Green squad had the first pick in the draft and captains Daniel Federman and Adrian Del Castillo went with a new face with a familiar name: outfielder Christian Del Castillo.
"Honestly, it was Fed who pushed for it," Adrian said. "He was like, 'I don't even want to pitch to your brother. So, let's pick your brother right away.' I kind of heard Toral and Bodanza talking about taking my brother first before the draft. The way he's been swinging the bat has been good."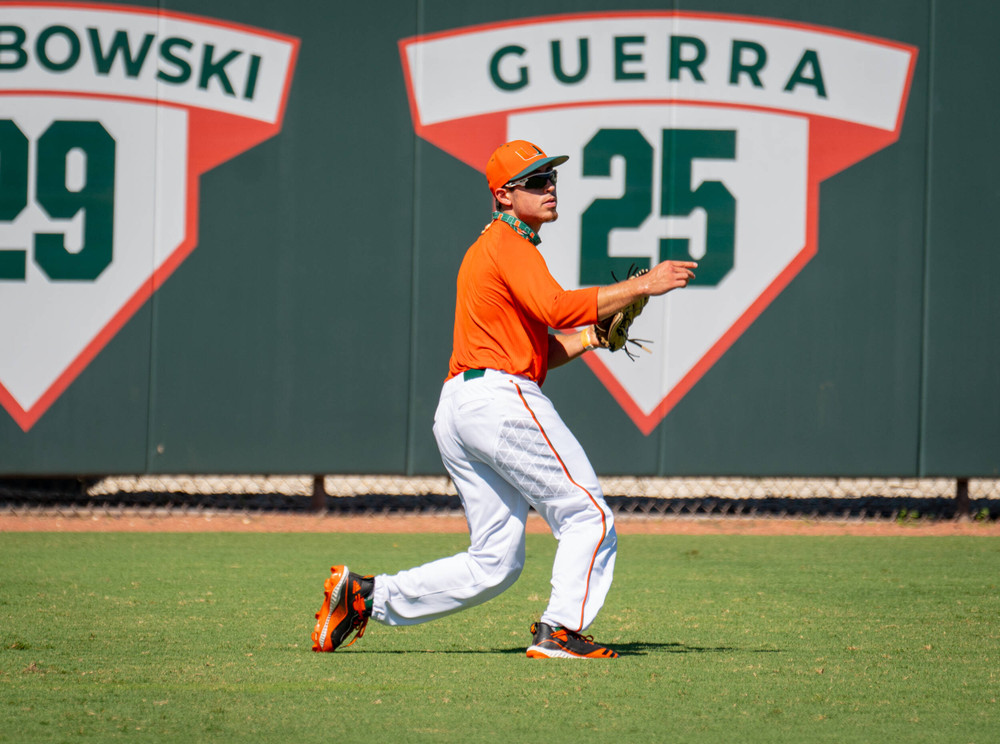 While players in the draft were matched with a counterpart to ensure that teams were even in terms of positions, each set of captains had their own strategy when building a roster.
"From a pitching standpoint, we wanted guys that throw strikes and get ahead of hitters. On the hitting side, we tried to get guys that are good with two strikes, put the ball in play and don't strike out as much," Del Castillo said. "Home runs are great, but you don't need them all the time. We want guys that hit doubles and singles, as well as give good at-bats."
"We were looking at the guys that have been the most consistent in the fall," Bodanza said. "The guys we picked provide the best kind of at-bats, as far as running the pitch counts up. They're guys that don't care about being flashy in the field and just want to get the out. We went for a lot of guys that they didn't make too many errors and they know what they're doing. They don't care about hitting the ball as far as they can, but rather, driving guys in and getting the pitch count up on the pitcher and just things like that. Our hitters care about doing things that will help you win games and will make the other team use a lot more of their pitching staff and eventually tire them out quicker."
Managing a pitching staff is especially challenging during the Orange and Green World Series, as players have pitch limits and required rest built in to prevent overuse and try to avoid injury.
"Pitching is always tough in the Orange and Green World Series because you don't know how some guys are going to be out of the pen and how some guys will handle the new rules," Federman said. "It's a seven-inning game and it's a running score. So, there's not necessarily a strategy where you need a closer and a setup guy. Also certain guys that threw on Sunday and Saturday aren't going to be available on Wednesday or even Friday. So you've got to plan for that and this is also the first time guys are going to probably have to throw on shorter rest, so it's a challenge."
While Federman's Green squad has veterans like Alex McFarlane, Carson Palmquist and JP Gates joining him on the pitching staff, Toral's Orange team is loaded with exciting young arms like Alejandro Rosario, Victor Mederos and Jake Smith.
"I'm definitely excited to see Alejandro Rosario go out there on the mound for my team," Toral said. "He's only pitched a few innings in the fall, but his stuff really impressed me when I was in the box and definitely on defense. He's one of those guys that attacks the zone and he brings high-level stuff to the mound and I'm really excited to see him go out there and compete."
Fall baseball is an opportunity for every player to show what they can do, but several newcomers have made an impression over the first three weeks of team practice.
"The thing that stands out to me is the young guys," DiMare sad. "Our recruiting class is ranked number one by a couple publications, so we knew we had good players coming in. But what I've been most impressed with is the character of the guys. I've been very impressed by that and it's fun coaching guys that want to get coached and want to get better. These guys have great attitudes and love to play the game. It's very exciting to see that in these young guys."
Whether they are freshmen, junior college transfers or graduate transfers, there are plenty of new Hurricanes that have made their mark in their first fall with the Canes.
"Adam Frank, that man is almost like a cheat code," Bodanza said. "He doesn't miss, every at-bat he's making contact and he's putting the ball in play. He's a guy that when he gets up to the plate, you know he's going to do something for you. There's no downside to his at-bats, even when he makes an out. Whether it be a taxing at-bat and he's running up the pitch count before he does get out, he's getting eight or nine pitches on the pitcher. Anytime I see him in a two-strike count, the ball is always put in play. He doesn't miss right now. He's definitely stood out the most to me."
While Frank is a versatile JUCO transfer who can play the infield and outfield, a pair of freshmen outfielders have caught Federman and Del Castillo's eyes.
"The biggest impression I got from someone came from Jacoby Long," Federman said. "He missed a little bit at the start of fall and I had never heard of him or seen him or met him before he got to The U, but he has really stood out to me. His speed is unmatched. I mean, he flies down the line. I don't know what he's hitting average wise, but it's got to be over .500. He's got a home run even though he's not a power guy. The way he's hit the ball and played in centerfield, where he's made two or three diving catches and he's thrown two or three guys out going to the next base [is impressive]. I drafted him, I thought it was the right pick and I like the way he plays."
"Chad Born is a guy that surprised me," Del Castillo said. "I think the first few weeks he was still adjusting and then all of a sudden he just picked it up and he's absolutely raking right now. We didn't get the chance to get him sadly, but you can't get everybody. He's really stood out to me. He's a fast runner. He's really good tracking the balls in centerfield. He's got a good arm. He doesn't talk much. He just does his job."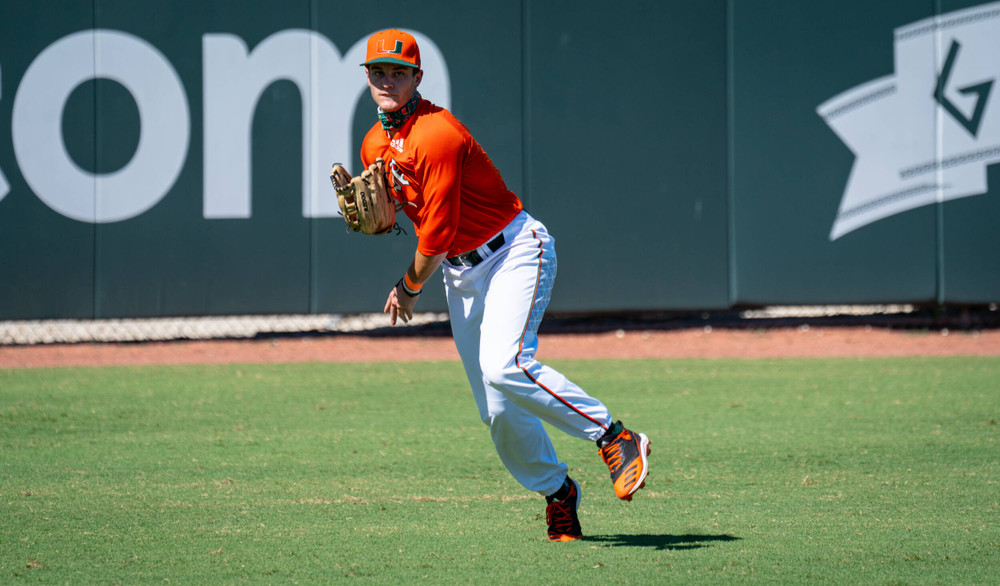 When the two teams take the field on Wednesday and officially begin the four-day intrasquad contest, it will mark the start of a very competitive week among teammates.
"In the time I've been here, I think the World Series has been the coolest part of the fall," Federman said. "You'll get a sense of competing with the new guys and seeing the competitive side of certain guys. Obviously, you're playing against your own team and you want everyone to do well. But now instead of it being more about showcasing what you got, you're playing to win. You're playing situational baseball, you're bunting guys over and you're happy about a sac fly."
"Every day is just as important as the last. It's not like you go down 2-0 and the series is over," Toral added. "With the running score, every day matters and it keeps you locked in all the way through. I feel like the running score is really important from a pitching standpoint. You want guys to go out there and pitch for a few innings and compete. That puts your team in a good position to stay on top."
Del Castillo has been on the winning side of the Orange and Green World Series in each of the previous two years. Now in his third season at Miami, he hopes to remain undefeated in the fall competition.
"In the fall, we look forward to this. It's always a good time," Del Castillo said. "It gets a little competitive and we might get a little bit angry sometimes with each other. But it's all fun and games. It's been a good fall and I'm excited for this weekend and hopefully we come out with a W."
Orange Team
Green Team
C
Carlos Perez
C
Adrian Del Castillo (captain)
1B
Alex Toral (captain)
1B
CJ Kayfus
2B
Jose Izarra
2B
Anthony Vilar
SS
Yohandy Morales
SS
Dominic Pitelli
3B
Luis Espinal
3B
Giuseppe Ferraro
OF
Adam Frank
OF
Jordan Lala
OF
Chad Born
OF
Jacoby Long
OF
Gabe Rivera
OF
Christian Del Castillo
OF
Tony Jenkins
OF/C
Jared Thomas
OF
Mykanthony Valdez
OF/LHP
Mike Rosario
RHP/UT
Ben Wanger
LHP/UT
JP Gates
LHP
Spencer Bodanza (captain)
RHP
Daniel Federman (captain)
RHP
Jake Garland
LHP
Carson Palmquist
RHP
Alejandro Rosario
RHP
Nicholas Regalado
RHP
Jake Smith
RHP
Alex McFarlane
RHP
Anthony Arguelles
RHP
Andrew Walters
RHP
Victor Mederos
RHP
Jordan Dubberly
LHP
Alex Munroe
RHP
Nate Thomas
RHP
Jamar Fairweather