A Campbell Trophy Q&A with Joaquin Gonzalez
A walk-on wonder, Joaquin Gonzalez followed his football dreams while maintaining a healthy outlook on the opportunities that football provided. His balanced perspective, coupled with his natural talents and a strong work ethic, led him to twice being named a First-Team All-American while tallying an impressive 3.98 cumulative GPA. An integral part of arguably some of the best offensive lines in college football history, he played on a Hurricanes' offensive line that allowed only two sacks in 2000. The team finished 11-1 with a No. 2 final ranking after beating Florida, 37-20, in the Sugar Bowl. The following year, defenders only accumulated three sacks as an undefeated Miami marched to the national championship with a 37-14 victory against Nebraska in the Rose Bowl. In addition to his bachelor's degree, he received a master's of business administration in December 2001 from Miami. A 2002 draft pick by the Cleveland Browns, Gonzalez appeared in 46 games during four years with Cleveland and the Indianapolis Colts. After his NFL career, Gonzalez began working for Tire Group International in Miami, and he currently serves as president.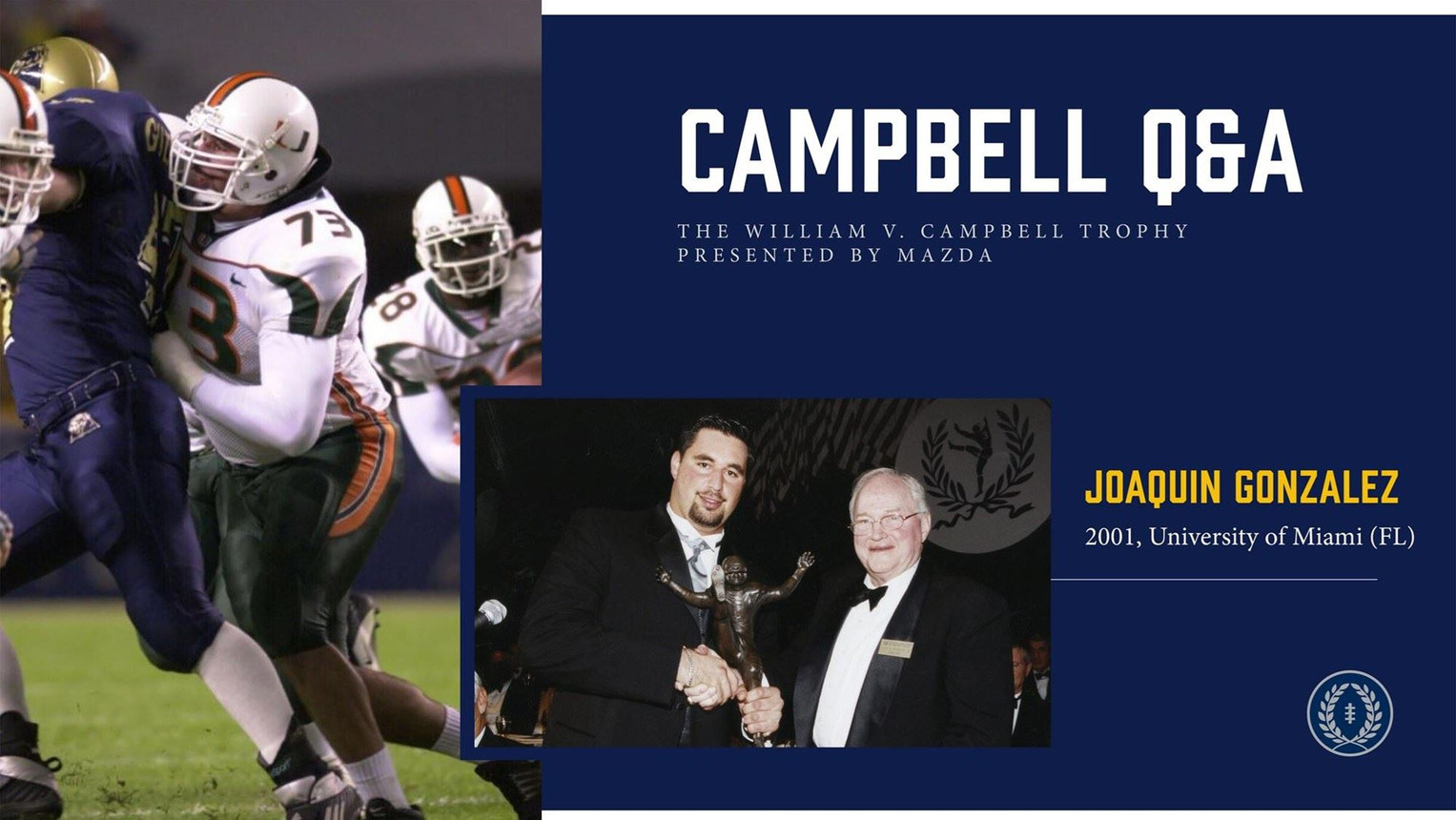 You were part of some of the most successful Hurricane teams in school history, including a 2001 national championship. What made those teams so special?
I feel the struggle we all went through, rebuilding that program from the NCAA sanctions in prior years, made us really come together as a unit. We are all still very close to this day.
Describe that "U" swagger.
It's all about confidence. Sounds a little conceited, but in 2001 every time we stepped on the field, we knew we were going to win. Better yet, our opponents knew we were going to win too!
You started your career as a walk-on and parlayed that into an All-America career on the o-line. What did your success mean to you, and why is it beneficial for colleges to embrace a walk-on program?
I had been walking around with a chip on my shoulder since high school. I wanted nothing more than to be great, and I was not going to stop putting in the effort until I maximized my potential. Looking back, it sure did work out for me. I feel walk-on programs allow guys, who may not have certain measurables, to get an opportunity to showcase something that is hard to measure, and that is "how bad do they want it." Plenty of coaches wished their five-star recruits had some of the same drive their walk-ons do. That's a fact.
As a former college athlete, what do you think about the NCAA's "Name, Image and Likeness" (NIL) plans? Do you think this is a positive or a negative for college sports?
I think it can be a positive if it is managed the right way. One of the beauties of football is that it brings people from all walks of life together. Everybody has a different story, and, if this NIL program allows players to provide [for their families] at an earlier age and stay in college and not be forced to go to the NFL, it can be great for the game.
Did you have any significant pre-game traditions (music, meal, etc.) during your playing days?
I listened to the very same 12-song CD before every game. My thigh pads had my parents' names written on each one, and they went in a specific way. Only my head trainer Scott McGonagle could tape my ankles on game day; during the week anybody could do it but not on game day!
Tell us about Tire Group International and how you got involved with the company.
My family has been in the tire business for over 75 years. TGI is a company my brother started, and I always knew I would get into it once my playing days were over. That was the whole reason for me getting my masters… I would eventually put it to good use. Today we are one of the largest wholesalers in all of the US and distribute tires in over 78 countries worldwide.
Better rivalries: Big East or ACC?
ACC.
Last book you read?
The Corporation by T.J. English.
Favorite vacation spot?
Turks and Caicos.
Guilty pleasure TV binge?
The Walking Dead.
Campbell Trophy Q&A Background:
Click here for more information on The William V. Campbell Trophy® Presented by Mazda, which has been presented every year since 1990 to the nation's top scholar-athlete from the college gridiron. In 2019, Mazda became the sponsor of the Trophy, launching their Power of Potential Platform with ESPN. The trophy is a member of the National College Football Awards Association, which encompasses the most prestigious awards in college football.