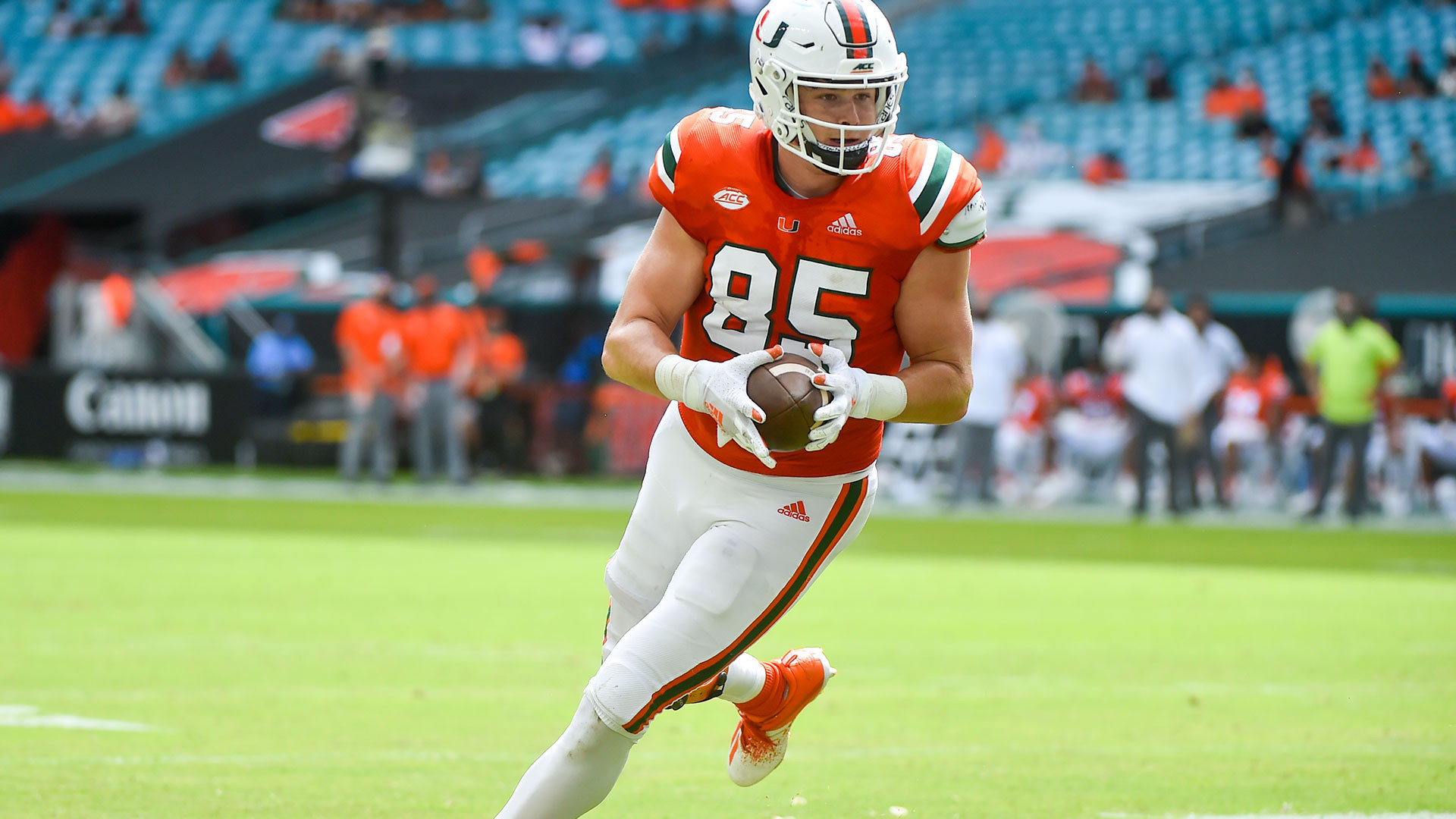 CORAL GABLES, Fla. – Like all of his teammates, Will Mallory took advantage of the off week.
He caught his breath, caught up with his family – and spent time self-evaluating his play.
The tight end studied his film from Miami's first six games of the season, but that wasn't enough. There was time spent watching some of his plays from a year ago when the Hurricanes worked their way through a tough season.
Mallory's conclusion after all that introspection?
"Watching film from last year, I was like, 'Wow. I feel like I look like a totally different player now than I did last year.' And I hope that continues to grow next year and the year after that," he said. "I just want to see my game improve week by week and season by season. It's been really cool just to see how much I've gotten better and obviously, there's still tons of room for improvement. I hope I keep producing and keep getting better and better."
The 11th-ranked Hurricanes are hoping the same, though Mallory has already done plenty of good things for them this season.
Through Miami's first six games, Mallory is averaging 20.1 yards per catch, a team-high among players who have at least five receptions. His three receiving touchdowns are tied for second on the team with fellow tight end and roommate Brevin Jordan, along with running back Donald Chaney Jr.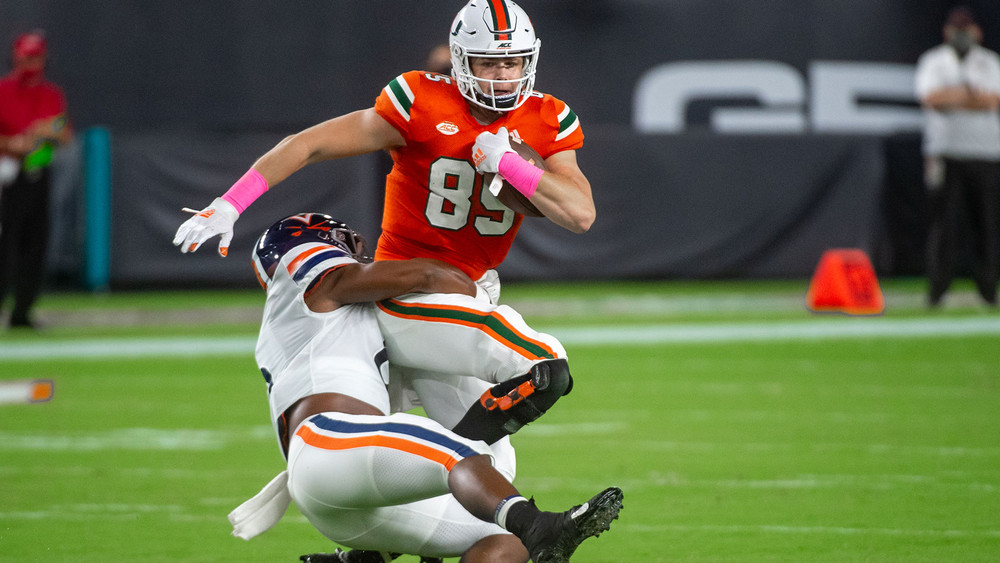 And while Jordan has been out nursing an injury, Mallory has stepped up to give the Hurricanes offense a boost, totaling four catches for 109 yards with two touchdowns against Pittsburgh and Virginia.
Now that Jordan is healthy and expected back for Friday night's game at North Carolina State, Mallory is eager to, once again, see what the two of them can do together.
"It'll be huge. With our wide receivers having good games like they did [against Virginia], defenses are going to have to respect that. And when you have a player like Brevin, that's a mismatch nightmare for defenses. They're going to have to pay attention to that, too," Mallory said. "And hopefully, with my game too, that's something defenses will worry about. I think when you put all of that together, you can have mismatches all through the field that benefit the offense and benefit the team. Hopefully, when we get all together again, that's what we'll be able to do, just keep dominating."
That Mallory now finds himself part of a dynamic tight-end duo at the place known as "Tight End U" is the culmination of an impassioned love for the game that was fostered during his childhood by his football family.
His late grandfather, Bill Mallory, coached at Miami of Ohio, Colorado, Northern Illinois and was the winningest coach in program history at Indiana. His father, Mike, is currently the assistant special teams coordinator for the Jacksonville Jaguars and has coached with the New Orleans Saints, along with a handful of college programs across the country. His uncle Doug Mallory is an assistant coach with the Atlanta Falcons and his uncle Curt Mallory is the coach at Indiana State.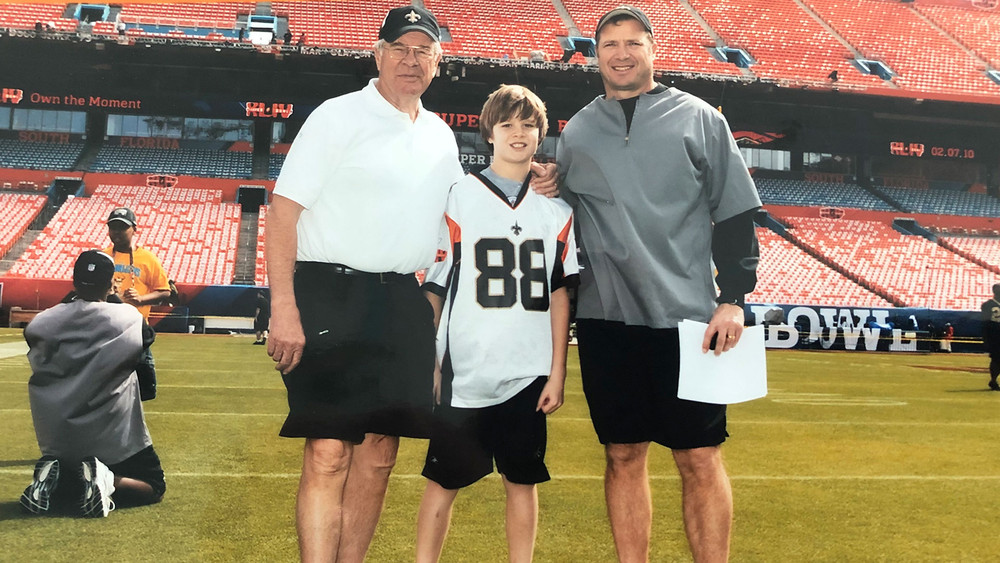 And though he was never pushed into the family business, Mallory knows growing up immersed in the sport helped shaped him. Playing football was a natural fit and as a precocious fourth-grader, he often found himself in team meetings with former Hurricanes stars Jimmy Graham and Jeremy Shockey when his father was with the Saints.
It was during that time – when his father's players sometimes slipped him pieces of candy under the table – that Mike Mallory started to see his son's passion for the game grow.
"I think especially when we were in New Orleans, that's kind of when he was around us a lot more as far as watching the football program," Mike Mallory said. "He got to sit in on the meetings and he got to watch the guys and see how they prepared and how they worked. He'd go in the tight ends room and sit and listen to those guys. I remember being an assistant special teams coach down there and we were watching film one night and William spent the day with us. The lights were out and all of a sudden, we heard some movement in the back of the room. We turned around and there was William, doing push-ups and sit-ups.
"So, it's kind of been his deal his whole life. We've never really had to push him. It was him watching how people operate and see how they got to be where they were. It's really been a neat thing to watch."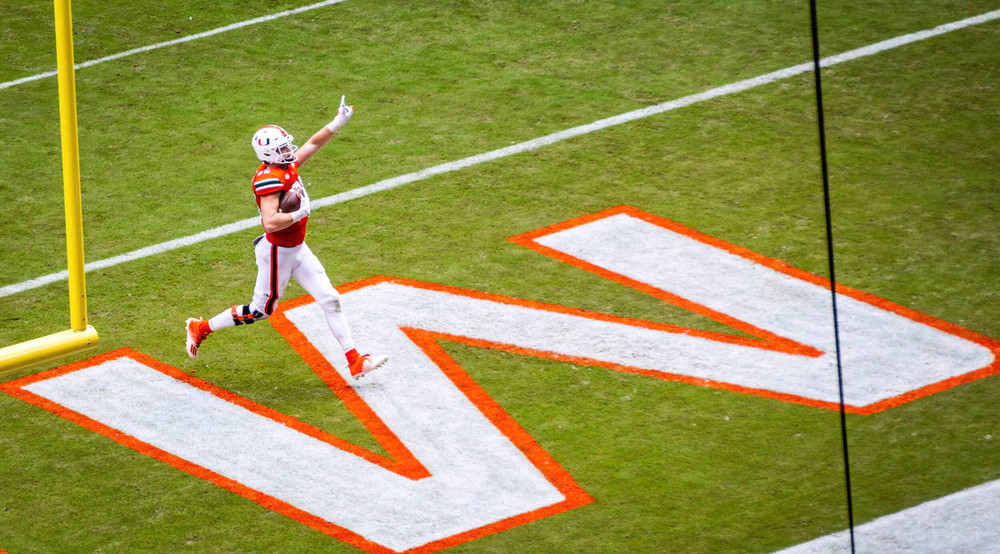 There was no way then the Mallorys could have imagined that Will would one day roam the same practice fields where Shockey, Graham and so many other big-name tight ends toiled.
But now that he's at Miami, Mallory is determined to continue adding to the Hurricanes' indelible tradition – and he's willing to do whatever is asked of him to make it happen.
He's added more than 30 pounds of muscle to his 6-foot-5 frame since arriving in Coral Gables after a standout career at the Providence School in Jacksonville. He's stayed focused and worked through some injuries. And he's sought guidance from the players who have come before him, including former Miami tight ends David Njoku and Chris Herndon, among others.
He's forged a bond with Jordan that has, Mallory believes, made them both better players. And Mallory is determined to do his part, not only this season, to help continue pushing the Hurricanes forward but to add to two already incredible legacies: his family's and Miami's.
"I think that was a main attraction of why I wanted to come here. I grew up around Jeremy Shockey and Jimmy Graham. At that time, I didn't really know about the whole 'Tight End U' thing, but throughout recruiting and then watching all those other guys come out of it, was a main attraction for me and a big reason I wanted to come here," Mallory said. "Now that I'm here, I know it's a real standard you have to live up to. People expect, year in and year out, that Miami's going to have the best tight ends in the country. With that, obviously, comes pressure.
"But I love it. I love the tradition I get to be a part of and I hope I can keep doing my best to keep continuing that tradition and one day, people will look back and say, 'Will Mallory was a part of Tight End U.'"