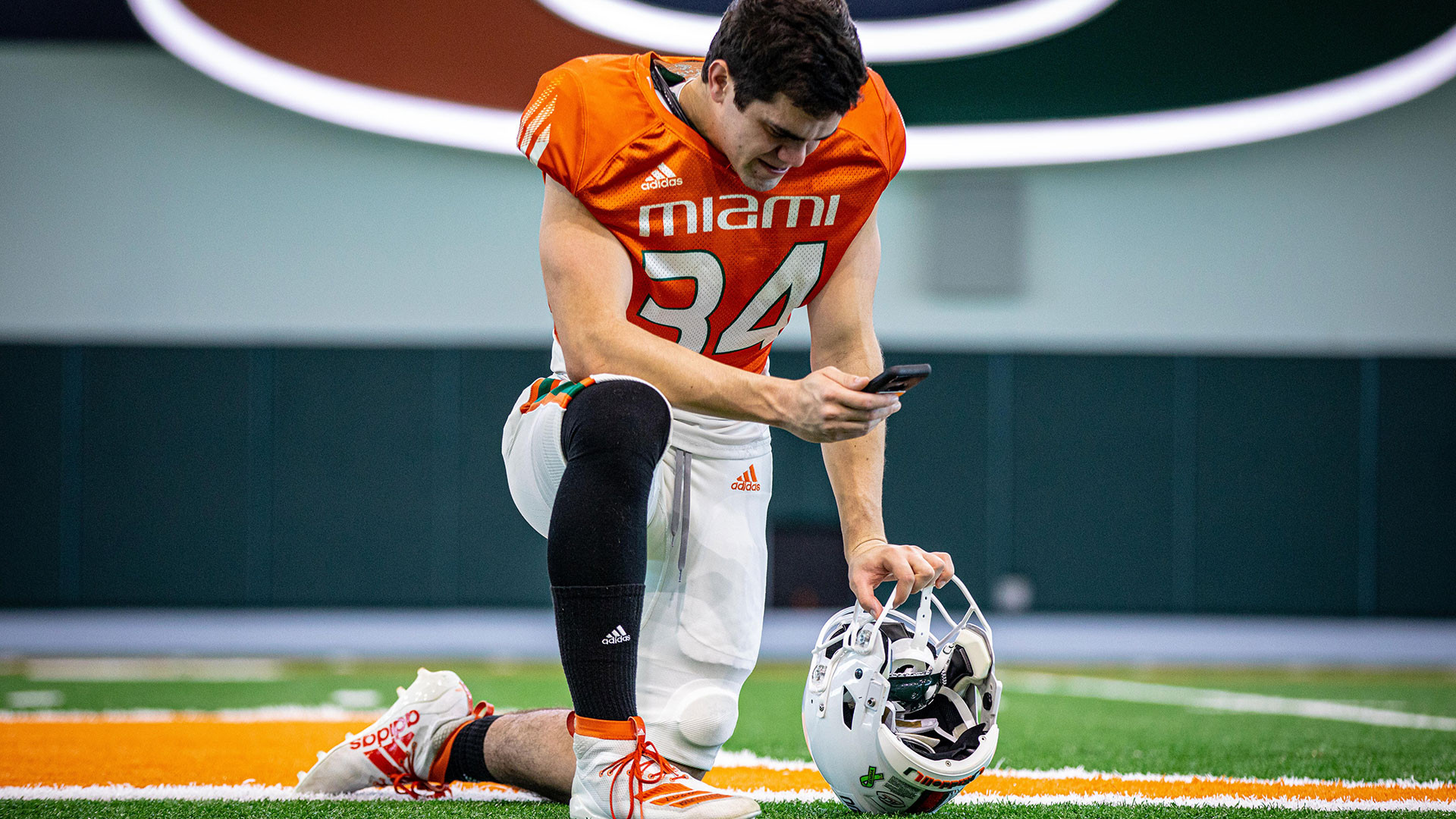 CORAL GABLES, Fla. – They were driving when the phone rang and suddenly, they had to stop.
On the other end of the line, their son – Elias Lugo-Fagundo – was calling from Coral Gables, his voice shaking. Unable to understand him clearly, Carlos Lugo-Olivieri and his wife, Nahir, immediately worried.
It didn't take long, though, for their worry to shift to overwhelming joy.
From a thousand miles away, through tears, their son informed them that after three years of sacrifice, three years of hard work, three years of wondering, he was finally a scholarship football player at the University of Miami.
"My wife and I started crying. It was so emotional for us," Lugo-Olivieri said from his native Puerto Rico. "We ended up stopped there on the side of the road for almost 40 minutes. And even today, every time I think about it, every time we see the video [from that day], it's still emotional. We know how hard Elias has been working. While other kids may have been out having fun, he was studying or practicing. He worked hard to recover from a knee injury. …
"When you realize that [Hurricanes head coach Manny] Diaz appreciated all that he has done and you see that he's going on the right path, it was such a special moment. I would say it was one of the most special moments of my life. … When he said, 'I got put on scholarship,' it was just a fantastic moment."
That moment came in March, on the final day of practice before the Hurricanes went on spring break. In the months since, the world has changed in ways neither father nor son could have fully expected.
Lugo-Fagundo went home to Puerto Rico for what he figured would be a few days. He wound up staying with his parents and three older sisters for weeks when the COVID-19 pandemic halted Miami's practices and closed campus for the remainder of the semester.
But as he wrapped up the academic year, the receiver felt a sense of calm knowing that when he returned to South Florida, he'd have the opportunity of a lifetime waiting for him.
"When I walked through the doors at the Hecht on my first day, that was number one goal, my number one priority, to get on scholarship," said Lugo-Fagundo, a receiver. "It's just a sense of accomplishment and a sense of relief, like 'I did it.' I felt like I was eight feet tall. … And having my teammates and coaches celebrate that day with me, to be able to tell my parents they didn't have to worry about paying for school, that was my biggest accomplishment."
But how exactly does a young football player from Cabo Rojo, Puerto Rico find himself on scholarship at Miami, particularly when football isn't the sport of choice in your homeland?
Lugo-Fagundo can only smile when he recounts the journey that brought him to Coral Gables.
The junior fell in love with the game after watching a few NFL games as a kid. He was enthralled by Tom Brady and the New England Patriots and though he'd grown up playing soccer, he begged his family to let him give football a try.
Once his family moved to San Juan, Lugo-Fagundo found his way onto one of the few youth teams in the Puerto Rican capital and a dream began taking shape.
"I started by playing running back, but in Puerto Rico, you play all the positions. I was also the backup quarterback. I played safety. Punter. Receiver. Everything was on the table," Lugo-Fagundo laughed. "And I just kept watching football on TV and playing. By the time I got to 10th grade, I kind of made a decision and said I wanted to focus on football. I put soccer aside and then one day, I had a really, really good game and when I got in the car with my parents, I just broke down. I knew I wanted to play college football, but I didn't feel like I'd have the opportunity in Puerto Rico. In Latin American cultures, it's not a big sport at all.
"We don't have the facilities. We don't have the fields. We don't have all the necessary [resources] and coaches that we need, especially if kids want to make it to the next level."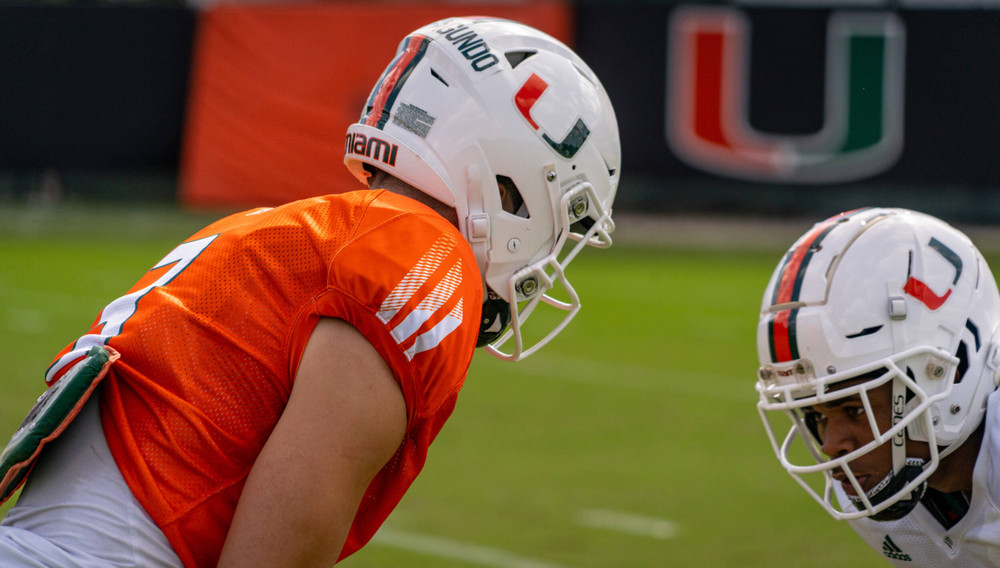 After that conversation with his parents, Lugo-Fagundo and his family started trying to learn more about how to make their son's dream a reality. They explored the option of sending him to the mainland United States for summer camps or specialized training.
He eventually landed at an event at IMG Academy in Bradenton where he performed so well he was asked if he'd be interested in the opportunity to become a full-time student at the school.
After some difficult discussions with his family, Lugo-Fagundo – then just 16 years old – decided to leave Puerto Rico and move to Florida.
It was a challenge, given how close he was not only with his parents, but his sisters.
"It wasn't easy. When he said he wanted to go to the States and go to high school there so he could reach his dream of playing Division-I football … to understand that was what he wanted to do and that he had gone as far as he was going to go in Puerto Rico, that showed us his level of maturity," Lugo-Olivieri said. "At the same time, it was a lot of mixed emotions because he was 16. He's the baby of the family. But my wife and I have always believed that our purpose as parents is to make sure we help our kids achieve their dreams and reach their goals. That's the purpose of every parent in the world. … And I had always told him, 'Whatever you want to do, be the best at it and do it with passion.'"
At IMG Academy, Lugo-Fagundo knew he'd have the opportunity to pursue that passion. And it was there that he learned about the possibility of walking on at Miami.
Though he was considering trying to play at an Ivy League program, the opportunity to become a Hurricane was intriguing. He and his family visited South Florida in 2016 and attended Miami's game against North Carolina at Hard Rock Stadium.
The Hurricanes didn't win that day, but they made an impression on Lugo-Fagundo, who, not long after, told Miami he wanted to join the program, even if he would have to do it as a walk-on.
"It was a no-brainer," Lugo-Fagundo said.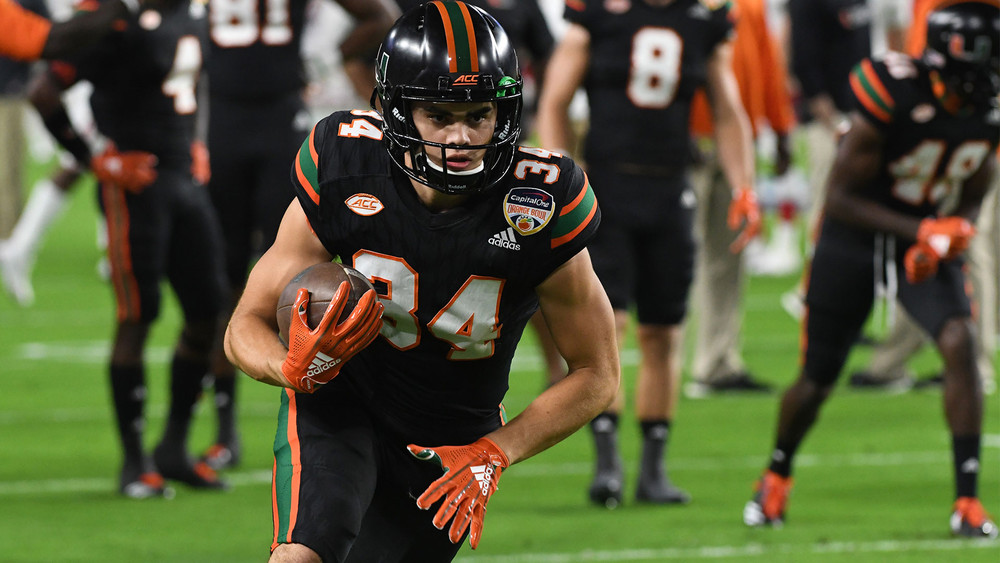 Four years later, he's finally able to wear The U as a scholarship player and every opportunity to suit up in orange and green has feel like a dream come true.
Now, he hopes to inspire other young football players in Puerto Rico to reach for their dreams, no matter how challenging they may seem.
"It hasn't always been easy. I've had to battle injuries and as a walk-on, you kind of have to fight from the bottom to kind of earn your respect and earn your way. … You have to wake up a little earlier to show your coaches that you'll show up five minutes earlier than everyone else. You have to show your interest and your commitment and how bad you want things," said Lugo-Fagundo, who hopes to attend medical school in the future. "But it's helped me build my character. It's given me so many things I could never repay and the friendships I've created, I have friends that I'll have for the rest of my life.
"I'm extremely grateful for this institution, academically and athletically. I know it sounds cliché, but I definitely wouldn't be the person I am today if it wasn't for my experience at Miami. It's made me a stronger person."