Defense Answers Call Against Pitt
MIAMI GARDENS, Fla. – The challenge Manny Diaz and Blake Baker issued was simple.
Though the Hurricanes were going to face a Pittsburgh defense that had proven itself to be one of the best in the nation through the early part of the season, could Miami's defense be better?
By the time the game ended, could the Hurricanes say they had the best defense on the field Saturday afternoon at Hard Rock Stadium?
Turns out the answer to both those questions was yes.
During Miami's 31-19 win over Pittsburgh, the Hurricanes held the Panthers to a meager 22 rushing yards. The Panthers were just 3-of-17 on third-down conversions. And it wasn't until the Panthers started a drive on the Hurricanes' 1-yard line midway through the third quarter that Pittsburgh was able to get into the end zone against Miami for the first time since 2017.
Before that touchdown, the Panthers started two drives inside Miami's 15-yard line and both times, the Hurricanes held them to field goals.
It was the kind of performance the Hurricanes head coach and his defensive coordinator had hoped to see.
"I thought the defense played outstanding. We challenged them to be the best defense in the stadium today and I thought they were," Diaz said. "If you look at the rush defense – 26 carries for 22 yards. That's phenomenal. I thought our defensive front got after them pretty good. … Quincy [Roche], without watching the film, certainly to the eye test, [it] felt like that was his best game for us since he's been here."
The coach continued, "I thought the linebackers played well in terms of the run game. They went to a lot more 10-personnel to throw the ball, which they had run like maybe 36 snaps of so far this year. So, there were some adjustments on that type of deal."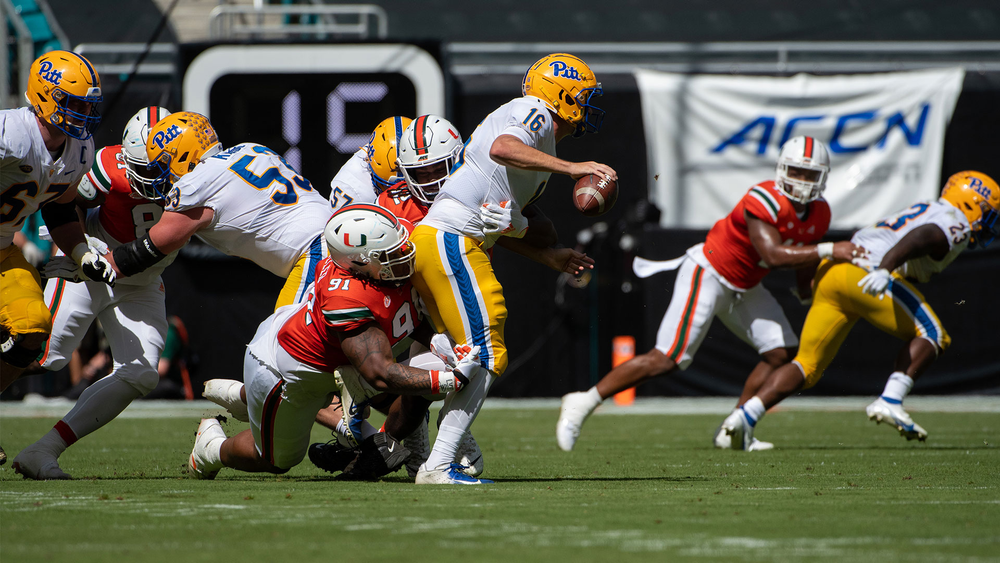 To fully understand what Diaz and Baker had asked of the Hurricanes, it's important to take stock of what Pittsburgh's defense had accomplished in its first five games.
Entering Saturday's matchup, the Panthers had allowed an average of 236.7 yards per game, a number that ranked fourth in the nation. They gave up an average of just 52 rushing yards per game, good enough for No. 2 in the nation. And the Pittsburgh defense averaged a nation-high 10.4 tackles for loss per game.
On this day, Miami kept pace in virtually all those statistical categories. The Panthers managed just 300 yards of total offense, most coming through the air after the Hurricanes' run defense held firm all afternoon.
The Hurricanes collected nine tackles for loss, notched six quarterback hurries, broke up seven passes and forced two fumbles, recovering one.
Miami's defense was even more of a force in the red zone, holding Pittsburgh to four field goals on five of their red-zone opportunities.
"Red zone defense is a mentality and, to me, that's where it gets into the culture that you have in your defensive room. To get down there and to make the stops that we made, I think Blake Baker and our defensive staff deserve a lot of credit for that," Diaz said. "That's three years now that Pitt's only scored one [total] touchdown against us and the one they scored was on a one-yard drive…So, I'm really, really proud of the way that they went down there and never panicked when they hit some plays and [we] made them kick field goals."
Added cornerback Te'Cory Couch, "Everybody came in with this goal of not wanting to give up a touchdown at all. That was our mindset coming into this game."
As well as the Hurricanes played defensively, though, they believe they could have been even better.
Defensive end Quincy Roche, who recovered a fumble and seven tackles – including four for losses – said the performance was a step up from the defensive showing in last week's loss to Clemson, but noted there was room for improvement.
Couch hinted at the same, taking responsibility for a pair of first downs he allowed despite the fact he broke up three Pittsburgh passes.
And that, ultimately, could be what helps the defense continue improving.
They weren't completely satisfied with their performance, despite the big numbers and red zone stops.
"It was something we agreed on as a defense, that we were going to play stout today. We didn't play as well as we wanted to. But, I thought it was a decent game on the defensive side of the ball," Roche said. "I'm really proud of the guys. I thought we had energy on the sideline. I thought we executed the calls. We didn't have as many penalties and mistakes as before. So, I definitely think this is a step up from last week."