Canes Bounce Back with Win over Pitt
MIAMI GARDENS, Fla. – A four-touchdown performance by quarterback D'Eriq King got the No. 12/13 Miami Hurricanes back on track with a 31-19 victory over Pitt.
The 9,000 fans inside Hard Rock Stadium witnessed King and the Canes (4-1, 3-1 ACC) amass 331 yards of offense, while Miami's defense tallied three sacks and nine tackles for loss while holding the Panthers to just 22 rushing yards to issue Pitt (3-3, 2-3 ACC) its third straight loss against The U.
"Really proud of our football team. That was a very difficult game, which we suspected it would be going in," head coach Manny Diaz said. "Pitt, they make everything hard. They're really, really good on defense, which we knew. We knew we'd have to hit some explosive plays against them, which we did. But to me, the highlight of the game was the way that we played great team ball."
With Kenny Pickett out with an ankle injury, quarterback Joey Yellen made his first career start for the Panthers. The former four-star recruit had Pitt's offense moving in their opening possession before Jordan Miller and Jahfari Harvey combined for a 12-yard sack on first-and-10 from the UM 38. The redshirt freshman followed with a pair of incompletions that led to a Pitt punt.
UM punter Lou Hedley bombed a season-long 60-yard punt to flip the field and the Canes' defense forced a second Pitt punt that gave Miami a short field on its second possession.
King and the Canes' offense made quick work of the Panthers' defense on their next possession, needing just three plays and 55 seconds to cover 45 yards and take a 7-0 lead when King connected with running back Cam'Ron Harris for a 35-yard touchdown pass with 5:48 remaining in the opening quarter.
"Rhett [Lashlee] and his staff do a great job, obviously. They're very creative. And what they do a nice job of is they just see potential explosive plays that you don't have to manufacture by just beating a guy because Pitt's hard to beat in their coverage down the field," Diaz said. "I thought D'Eriq [King] threw some great deep balls today that there were some bang-bang plays down the field that we want to finish. I thought his accuracy was amazing. But the ability to have some ones that you can kind of scheme up and it's like, 'Hey, if they play this thing.' It puts a lot of stress on the defense and we see it every day in practice. It makes our defense better. And it's hard to get 31 on Pitt and you've got to have some plays like that. So, full credit to those guys."
Yellen was replaced by redshirt freshman Davis Beville on Pitt's third possession of the game, but the result was the same as the Panthers punted after gaining just eight yards on five plays. The starting quarterback returned on their next possession, but Pitt punted for the fourth consecutive time.
The Panthers tried something different on their first possession of the second quarter, running a fake punt on fourth-and-10 from their own 42. Brandon Hill rushed for three yards before true freshman Isaiah Dunson brought him down to give the Hurricanes the ball on the Pitt 45.
The Hurricanes marched down the short field, reaching the Pitt 5 before Tyler Bentley grabbed D'Eriq King's facemask on a sack to give the Canes a fresh set of downs. Two plays later, King connected with tight end Will Mallory for a six-yard touchdown that doubled Miami's lead, 14-0, with 6:44 remaining in the half.
"When you've got a player like [tight end] Brevin [Jordan] who's out for the week, someone's got to fill those big shoes because he's a heck of a player," Mallory said. "Coming in, I know I haven't gotten as many passes or stuff this year, but I knew I had to step up. It was a good team win. It's really easy to score on those wide-open things when the scheme's that good. So, it was a good win and I felt good coming in."
Pitt drove deep into Miami territory on the ensuing possession, but a 10-yard sack of Yellen by defensive tackle Jared Harrison-Hunte held the Panthers to a 33-yard field goal by Alex Kessman that made it 14-3 with 2:43 left to play before halftime. Harrison-Hunte was a force for Miami, notching four tackles (three solo), a sack, two tackles for loss and a forced fumble.
"My mentality on that play was just to go forward and just tackle him," Harrison-Hunte said. "I can't really explain what happened or what I was thinking. It's throughout the game, I'm just, 'Go. Just go forward.'"
The Panthers got some momentum just four plays into Miami's ensuing possession, as safety Paris Ford intercepted King at the UM 37 and returned the pick 25 yards to the Hurricanes 12.
Miami's defense held firm after the sudden change, limiting Pitt to a 24-yard field goal by Kessman that kept the Hurricanes ahead by eight heading into the intermission.
The quick-strike Miami offense got right to work to open the second half, needing just six plays to cover 75 yards and reach the end zone. King threw his third touchdown of the game, finding senior Mike Harley for a 38-yard completion that put Miami ahead, 21-6, just 1:47 into the third quarter.
"Everybody in the locker room knows that D'Eriq is not going to back down. He's a great competitor," Diaz said. "Like I said, I liked his accuracy down the field. We're learning. We're getting in the mix of hitting these shots and Pitt dares you to do it and they're going to have a guy on you. And look, they couldn't hit their shots on us there at the end when they tried to throw deep on us, as well. So, it's going to be difficult. But his relentless nature inspires everybody on the offense and, in turn, inspires everybody on the football team. Pitt's not going to give any easy throws and contests everything, but the downside of that is there are some of those plays you saw go for touchdowns today."
Pitt's offense answered with another scoring drive, but the Canes managed to keep the Panthers out of the end zone again. After Pitt reached the UM 12, Quincy Roche pushed them back to the 17 with a five-yard tackle for loss on second-and-10. After Yellon failed to connect with freshman wideout Jordan Addison on third-and-15, Kessman converted a 36-yard field goal to bring the Panthers within 12 points, 21-9, and set Pitt's school record for made field goals with 58.
"The one going into the goal line, I believe it was … third-and-1, right before half. They came out unbalanced," Roche said. "It was a look we practiced all week and it was just executed perfectly. So, shoutout to the coaches. Shoutout to coach [Manny] Diaz and coach [Blake] Baker for drawing up a great scheme."
The Panthers picked off King a second time, as Marquis Williams jumped in front of a pass intended for Harley and returned it 38 yards to the Miami 1. On the next snap, Yellen connected with tight end Daniel Moraga for a one-yard touchdown that brought Pitt within five, 21-16.
"Red zone defense is a mentality and, to me, that's where it gets into the culture that you have in your defensive room," Diaz said. "And to get down there and to make the stops that we made, I think Blake Baker and our defensive staff deserve a lot of credit for that. That's three years now that Pitt's only scored one [total] touchdown against us and the one they scored was on a one-yard drive. And our guys were pissed about that. So, I'm really, really proud of the way that they went down there and never panicked when they hit some plays and made them kick field goals. And, ultimately, the red zone scoring [was key]. We got down there twice on offense and had two touchdowns. I think the last [time] when we didn't score in the red zone, I think that's the knee at the end of the game. Ultimately, that was the difference in the game."
Yellen's pass to Moraga was Pitt's first TD against Miami since 2017. The Hurricanes had kept the Panthers out of the end zone for 10 consecutive quarters dating back to the start of the 2018 contest against the Panthers.
"Everyone came in with this goal of not wanting to give up a touchdown at all so that was our mindset coming into this game," said cornerback Te'Cory Couch, who led the Canes with three pass breakups.
Miami's defense came up with a big stop on Pitt's next possession, as Roche sacked Yellen on third-and-2 from the Pitt 43. The redshirt senior forced a fumble with his hit on the QB and recovered the loose ball to give the Canes the ball on the opponent's 38 and earn the first Turnover Chain of his career. Roche turned in his best game as a Hurricane, finishing second on the team with seven tackles, four tackles for loss, half a sack, a forced fumble and a fumble recovery.
"I thought the defense played outstanding. We challenged them to be the best defense in the stadium today and I thought they were," Diaz said. "If you look at the rush defense—26 carries for 22 yards. That's phenomenal. I thought our defensive front got after them pretty good. Like you mentioned, Quincy, just without watching the film, certainly to the eye test, felt like that was his best game for us since he's been here. But I thought the linebackers played well in terms of all the run game. They went to a lot more 10-personnel to throw the ball, which they had run like maybe 36 snaps of so far this year. So, there were some adjustments on that type of deal."
"I agree, I think it was my best game," Roche said. "It was my best game as far as the run is concerned, but I still got to clean it up pass rushing. I got to pass rush better, win some of those on-on-one matchups. And I think that's where I can improve coming out of this game."
King threw his fourth touchdown of the game just two plays after the turnover, finding a wide-open Mallory over the middle for a 45-yard touchdown that extended Miami's lead to 12, 28-16. The redshirt senior quarterback, who led the Canes in rushing, finished the afternoon completing 16-of-31 passes for 222 yards and four touchdowns while throwing a pair of interceptions.
"It was something we'd seen on tape all week," King said.. Hats off to coach [Rhett Lashlee], coach [Jonathan] Brewer, coach 'Coop' [Kyle Cooper], they'd seen that and we put it in and worked on it all week. We were just hoping we had a chance to call it and then we called it and it couldn't have been more open than that. So, it was a great play call."
"It went perfectly as we planned it to be," Mallory said. "When you got a play like that, it really sets you up to be open and you either got to make someone miss or you're just like that middle one, you're wide-open so it's pretty easy, you just walk right in. But yeah, it was perfectly executed by everyone, all 11 guys on the field. So, when you get something like that, usually that's the outcome."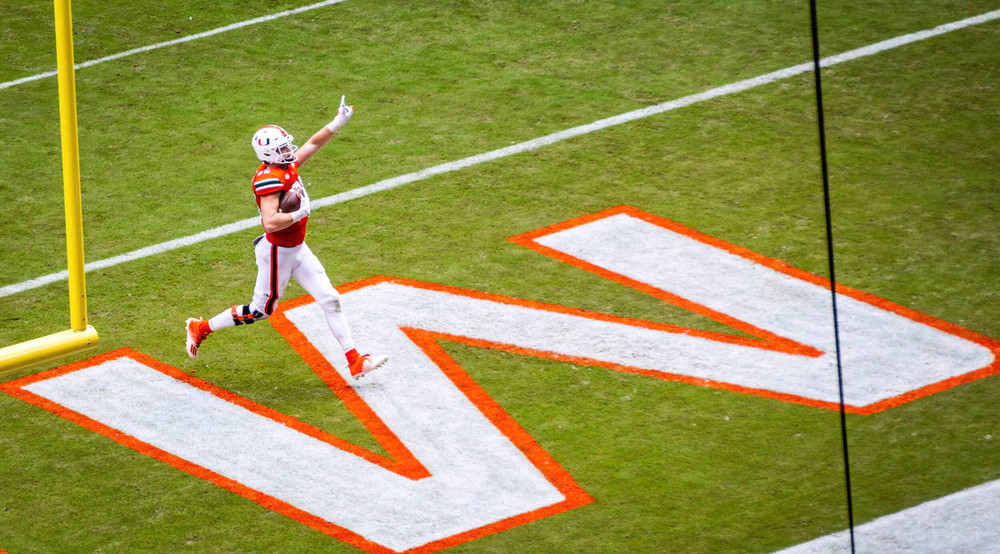 The Panthers answered with three more points off a 30-yard Kessman field goal to cap a 10-play, 74-yard scoring drive that brought Pitt within nine points, 28-19, with 31 seconds remaining in the third quarter. The kick was Kessman's fourth field goal of the day, tying a career-high for the redshirt senior.
After not having a possession last longer than three minutes and 35 seconds over their first 13 drives, Miami ran off seven minutes and 11 seconds on a 14-play scoring drive that ended in a 37-yard field goal by Jose Borregales. The kick put the Hurricanes ahead by 15 points with 4:13 remaining in the game.
Miami's defense followed with a stout showing, getting Pitt to turn the ball over on downs after just five plays to give the Hurricanes the ball on the Panthers' 46 with 3:34 left to play and the Canes ran out the clock to close out their third ACC victory of the season.
"It was a grind-it-out game," Diaz said. "Pat Narduzzi's a great coach, he's going to make it that way. But we were able to see it through and I'm really proud of our guys."